16 Ways to Celebrate the Year of Pulses
2016 is the Year of Pulses (also known as beans), and you won't believe how many ways there are to cook with this  protein-packed ingredient.
Yes, you read that right.  The year of pulses.  NOT the kind of pulses that indicate whether you're still alive, but pulses as in, dried beans, peas, lentils, etc.  Don't feel bad, I didn't know they were called pulses either, until recently. Hey, we just learned something. In case we're ever on Jeopardy, or Who Wants to Be A Millionaire.  Here's another little tidbit of information.  The United Nations declared 2016 – The International Year of Pulses.  Yay!  Time to have a  party.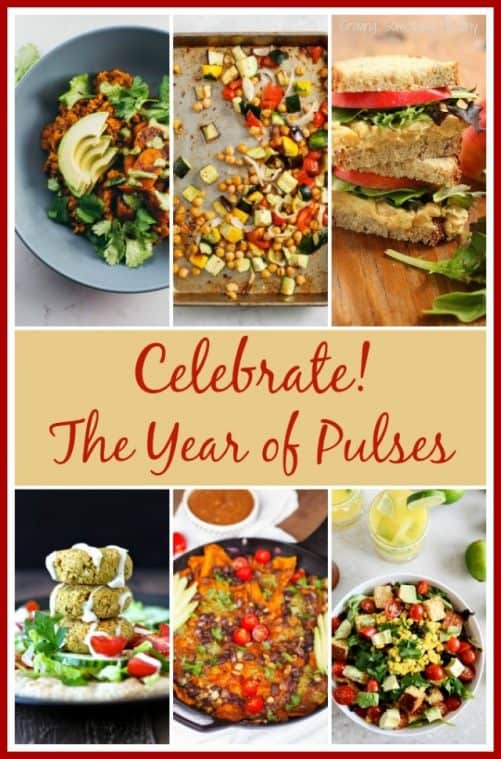 Whatever you call them, they're one of the very best foods you can keep in your pantry.  Beans are full of protein, soluble fiber (the kind that helps manage weight, blood sugar, and cholesterol), and lots of vitamins and minerals.  Plus, they're one of the cheapest good-for-you foods I know of. And, of course, they're perfect for Meatless Mondays. So in honor of the International Year of Pulses, here are some delicious ways to cook with them, from some of my blogging friends.
Bell Pepper Chickpea Tacos|Veggie Inspired Journey
Vegetarian Bolognese over Polenta Cakes|Nutritioulicious
Spicy Kale Lentil Burgers|Healthy Helper
Peanut Butter Breakfast Brownies|Teaspoon of Spice
Copycat Tomato Lentil Soup|Cape Fear Nutrition
Chickpea and Spinach Stew|Food & Wine
Chocolate Peanut Butter High Protein Breakfast Sundae|EA Stewart
Lentil Minestrone Soup|Uproot Kitchen
Lentil Quinoa Bowls with Coriander and Lemon|Healthy Seasonal Recipes
Baked Avocado Black Bean Egg Rolls|Craving Something Healthy
Did you know beans were also called pulses?
Eat well!