52 Shades of Green – How to Love Avocados all Year Long
Remember when avocados used to be that exotic and curiously interesting food found only in Mexican restaurants?  Well, times have changed, and avocados are definitely now the cool kids on the block - the fruit that every other member of the produce aisle wants to be!  They're lovely, luscious and deliciously decadent to eat, and now they're popping up everywhere - even in dessert.
Even though they're high in fat (that's what makes them so buttery and luscious), avocados are one of the healthiest foods you can eat. They're full of monounsaturated fat that can help to reduce your cholesterol. Here's another bit of news – a very recent study showed that avocados could help with weight loss, and keep your insulin levels more stable, if you eat ½ of an avocado at lunch. They're also full of lots of vitamins, minerals and antioxidants, and they help to boost the nutrients in other foods you eat.  So - no, they're not just a pretty green thing to put on your chips anymore. Avocados deserve lots of love for Heart Month – and all year long.   Here are 52 Ways to Love Avocados – one for every week of the year:
For Breakfast:
Poached Egg Avocado Toast|Pinch of Yum
Bacon and Egg Avocado Toast|Kitchen Confidence
Avocado Banana Pancake Stacks|Avocado Central
Avocado Toast with a Twist|Krolls Korner
Avocado Hollandaise|Food & Wine
Scrambled Egg Tostadas with Black Beans and Avocado Mayo|Big Girls Small Kitchen
In a Salad:
California Power Salad|Craving Something Healthy
Grilled Avocado Peach Spinach Salad|Supper for a Steal
 Oven Fried Chicken Cobb Salad|Heather Cristo
Avocado Salad Dressing Bowls|The Kitchn
Corn Avocado and Tomato Salad|The Girl Who Ate Everything
Lemon Cilantro Avocado Pasta Salad|Pia Recipes
Raspberry Avocado Mango Salad|Fitness Magazine
Summer Harvest Ceviche|Craving Something Healthy
In a Sandwich: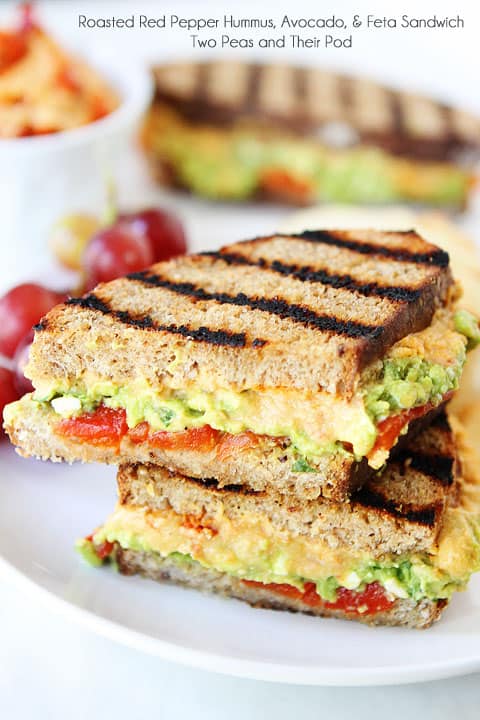 Roasted Red Pepper Hummus Avocado Feta Sandwich|Two Peas and Their Pod
Avocado Tomato Grilled Cheese Sandwich|Cooking Light
Springtime Avocado and Radish Toasts|Blissful Basil
Turkey Avocado Goat Cheese Panini|Once Upon a Cutting Board
Egg White Avocado & Salad |Eat Yourself Skinny
Guacamole Grilled Cheese Sandwich|Cooking Stoned
Avocado Caprese Sandwich|Craving Something Healthy
In Guacamole:
Roasted Poblano Guacamole|The Culinary Chronicles
Pomegranate Guacamole|Just A Taste
Ridiculously Easy Classic Fiesta Guacamole|Half Baked Harvest
Avocado Hummus Dip|Food & Wine
In Mexican Food:
Crockpot Carnitas Tortilla Buritto Bowl|HalfBaked Harvest
Avocado Cream and Chicken Suiza Enchiladas|Foodie Crush
 Slow Cooker Verde Chicken Tostadas|Bake Your Day
Seven Layer Tostadas|Kalyn's Kitchen
Chipotle Lentil Tostadas|Craving Something Healthy
Chipotle Sweet Potato Black Bean and Guac Tacos|Naturally Ella
In Soup:
Chicken and Avocado Soup|Food & Wine
Avocado and Tortilla Soup|Avocado Central
Avocado and Cucumber Soup|Avocado Central
Chipotle Sweet Potato Black Bean Soup|Craving Something Healthy
In Appetizers or Small Plates: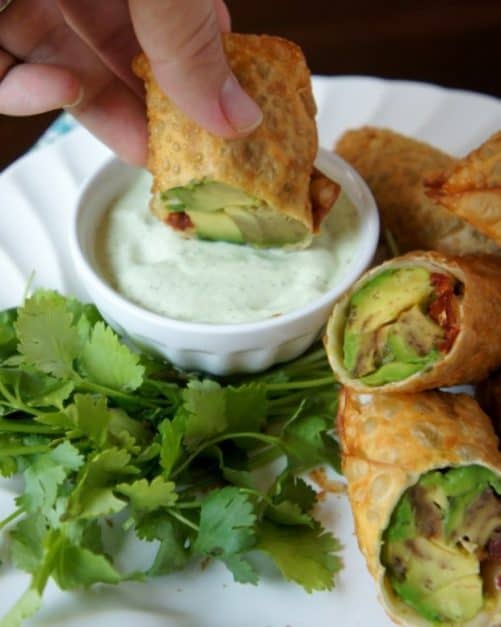 Avocado Egg Rolls with Creamy Cilantro Ranch Dip|I Wash You Dry
Fried Avocado with Chipotle Cream Sauce|Damn Delicious
Avocado Feta and Cherry Tomato Salsa Flatbreads|Food & Wine
Avocado Quinoa Cakes|Craving Something Healthy
In Baked Goods:
Pumpkin Cranberry Muffins|Craving Something Healthy
Avocado Cinnamon Pecan Chocolate Chip Cookies|Avocado Central
Avocado Cheesecake with Pistachio Crust|Created by Diane
Vegan Chocolate Avocado Cake|Joy the Baker
Avocado Red Velvet Mini Cupcakes|Avocado Central
In Ice Cream and Other Sweet Treats:
Creamy Avocado Grapefruit and Honey Ice Cream|The Gouda Life
Grasshopper Pie Shots|EA Stewart
Banana Avocado Smoothie|Mom Spotted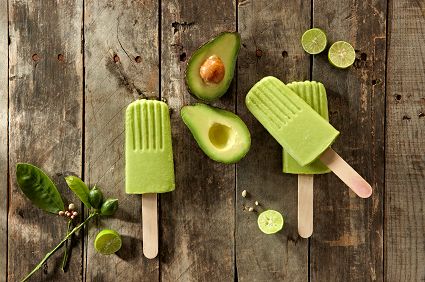 Avocado Lime Popsicles|A Harmony Healing
Brainpower Smoothie|Gimme Some Oven
Whew!  That's quite a list!  How do you love your avocados?  Let me know if there's anything I missed 🙂
Eat well!