Avocado Caprese Sandwich {Meatless Monday}
Are you all swept up in the craziness of fall? It's funny how life just goes from zero to sixty in about 1 minute right after Labor Day. I know cooking is usually the first thing to get taken off the to-do list when life gets busy – it's way easier to make a pass through the drive through or get take out on the way home from picking up the kids from soccer, or a late night at work. But let's see if I can convince you otherwise…
When I don't have time or energy to cook, I usually turn to avocados. Their velvety smoothness and creaminess comes from heart healthy monounsaturated fat, and because they're pretty high in fat, they're also really filling – but in a healthy way. They're good in so many dishes – just check my avocado Pinterest board – but I love them on toast or on a crusty bread sandwich. Just add some sliced tomato, fresh basil and mozzarella (I also love a handful of arugula) and call that dinner.
Make sure you drizzle the entire thing with extra virgin olive oil and dig in with a fork and knife – that makes it feel more like dinner 🙂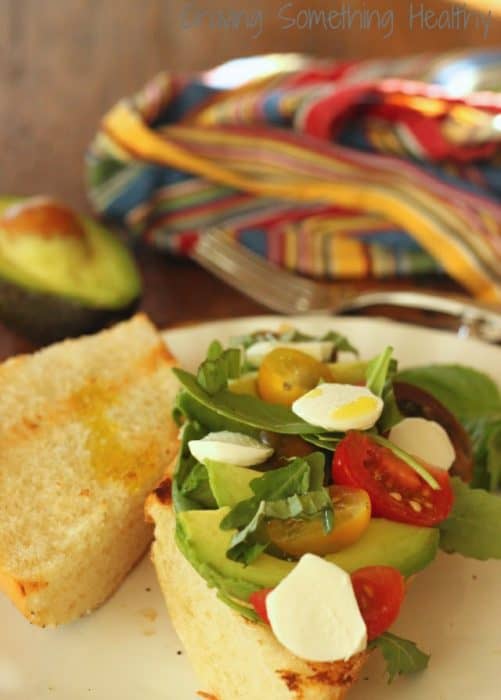 Ingredients
1 12-

inch

baguette or chiabatta bread

sliced in half lengthwise, lightly sprayed with olive oil and toasted.

1

avocado

pit removed

1

ripe tomato

1

bunch fresh basil leaves

optional 1 bunch arugula or other greens

about 3 ounces of fresh mozzarella

extra virgin olive oil

for drizzling

Kosher salt and fresh ground pepper
Instructions
Slice each half of the avocado into lengthwise slices, and using a spoon, remove the slices from the skin. Lay avocado slices across one half of the bread.

Slice tomato into 1/2 inch thick slices and lay on top of avocado.

Lay basil and arugula on top of tomato.

Cut mozzarella into thin slices and layer on top of greens.

Drizzle olive oil over sandwich all, sprinkle with salt and fresh ground pepper and top with other slice of bread.
Do you have any favorite avocado sandwiches?
Eat well!