Tis the season for gift giving, and if you're like me (or the other members of the Recipe ReDux), you're already racking your brain for cute, clever, and  tasty ideas to give a hostess gifts and stocking stuffers.  This month's Recipe ReDux theme is oh so appropriate – Adding Merriment to Mixes.  We were challenged to share the recipe for how we package up a little shelf-stable love from our kitchens.
I actually tested, made and photographed my recipe for this ReDux weeks ago, but I did a last minute change when I spied these adorable bottles of homemade vanilla extract on Joy the Baker's blog recently.  I decided to hold off on my Apple Quick Bread (you'll see it in a few weeks) in favor of something that gets more year round use, and takes just 5 minutes to make – because we have enough baking stress this time of the year.  Plus, I loved the idea of making something with bourbon rather than flour.
This little gift is so quick and easy to make for friends and family – and of course, yourself, and I'm loving the fact that there is no measuring or long list of ingredients involved.  It's also a gift that keeps on giving.  Just refill with your favorite liquor as it gets used up, and an occasional vanilla bean, and it will last for years.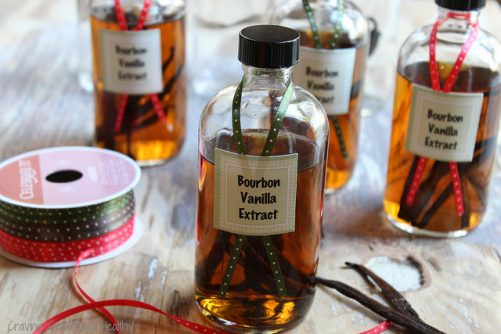 What you'll need:
1 750 ml bottle of Bourbon or Vodka
1 package of good quality Madagascar Vanilla Beans
Small glass bottles
 (4-8 oz)
A funnel to pour and a sharp knife to slice the beans
Slice the vanilla beans down the middle lengthwise to expose beans.  Leave a bit at the top intact so they don't separate completely.  It will smell HEAVENLY.  Cut the beans in half so they fit into your bottles.  Place 4-6 halves into each bottle (I used 6 halves per 8 oz bottle.  Use less for smaller bottles).  Using a funnel, fill the bottles with liquor, tighten caps, shake, and let sit in a cool, dark place for 4-6 weeks or until they smell like vanilla.  FYI the 750 ml bottle of liquor will just about fill 4-8oz bottles, so be careful to not drink any if you need 4 of these :).
If you need any other ideas or inspiration for kitchen made gifts, check my Pinterest board and the ideas from the kitchens of the other Recipe Reduxers!
What are you gifting up this holiday season?
Eat well!
[inlinkz_linkup id=332561]