Dark Chocolate Toffee S'mores Bark and some Blog Brûlée
My attendance at the Blog Brûlée is partially funded by Sponsors of the Blog Brûlée, and I received a discounted registration to the event in exchange for writing this post. Opinions expressed are my own. I was not compensated for my time.
I am totally, completely, beyond excited about a little trip that's coming up for me in less than 2 weeks. I'm also scared to death, but I'm putting on my big girl pants and I'm not even going to think about how shy and awkward and terrified I'm going to be to spend an entire weekend with some of my blogging-photography-recipe developing-marketing and writing IDOLS. 'Cause I'm going to Blog Brûlée 2015!!
Blog Brûlée is a weekend-long blogging conference that was founded by a wonderful group of registered dietitian bloggers with the goal of "setting fire to better blogs".  I've admired this group of writers, recipe developers, and marketing experts ever since I started blogging two and a half years ago, and I'm truly honored to be invited to their second annual event up in the gorgeous mountains of northern Vermont.
Besides the fact that I haven't had a vacation in about a million years, and there are just no words for how beautiful Vermont is in September, I'm really looking forward to attending some fabulous workshops on writing, photography, marketing and social media, as well as eating lots of amazing food (we are all food bloggers after all). I plan to soak in every tip and tidbit that the organizers, sponsors, and other amazing blogger attendees have to share. I'm also really, really excited to meet these super-talented women that I feel like I've known forever, even though I've only known them "virtually". I suspect there will be lots of stories, sharing and laughter, and I'm pretty sure someone mentioned something about a campfire and s'mores…
In honor of the upcoming trip, I had to make something s'morish to share with you today. This recipe is ridiculously easy, and definitely feeds your sweet tooth. It makes a small pan, but believe me when I say a little bite goes a long way.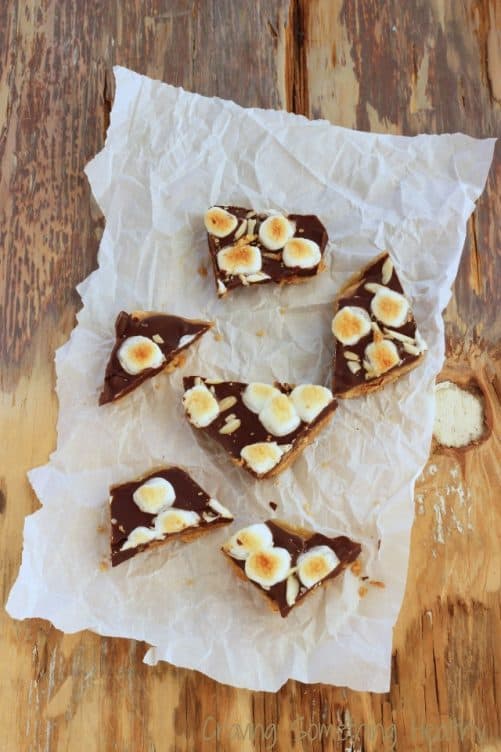 [bctt tweet="I'm getting fired up and counting down to #BlogBrulee 2015! "]
Ingredients
5

whole graham crackers

6

tablespoons

unsalted butter

1/4

cup

brown sugar

packed

1/4

teaspoon

salt

1

cup

dark chocolate chips

1/4

cup

slivered almonds

toasted

3/4

cup

mini marshmallows

1/4

teaspoon

good quality sea salt for sprinkling on top
Instructions
Preheat oven to 350 degrees

Line an 8" x 8" pan with foil, so that it is tucked well into the corners and hangs over all sides

Lay the graham crackers in a single layer, breaking them to fit as necessary

In a small saucepan, melt butter, brown sugar, and 1/4 teaspoon salt, over medium-high heat, stirring constantly until the sugar is thoroughly dissolved.

With a spatula, spread the butter sugar mixture evenly over the charm crackers.

Place the pan in the oven and bake for about 8-10 minutes, or until the caramel is bubbling.

Remove the pan from the oven, and pour chocolate chips over the caramel.

Return the pan to the oven for about 1 minute, until chocolate is softened.

Turn oven off and heat broiler on high. Set oven rack right under the broiler

With a spatula, spread the chocolate chips evenly over the caramel layer. Sprinkle the toasted almonds over, and then marshmallows, pressing lightly so they stick to the chocolate.

Place the pan under the broiler for about 20-30 seconds, just until the marshmallows start to toast. Remove immediately.

Sprinkle sea salt lightly over the bars, and let cool for at least 30 minutes at room temperature, and then refrigerate for at least 45 minutes until chocolate is hardened.

When chocolate is hard, lift the foil out of the pan, and cut the bars into 2-inch pieces.

Store any leftovers in the freezer or refrigerator in an airtight container.
Notes
Recipe adapted from Cook's Country Magazine
Stay tuned for a Blog Brûlée recap when I return.  Many thanks to these sponsors for their help in making this conference happen!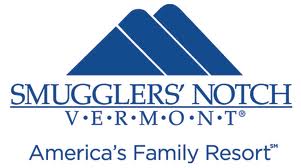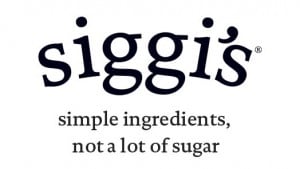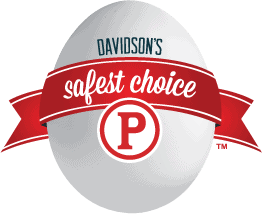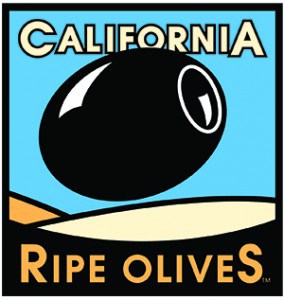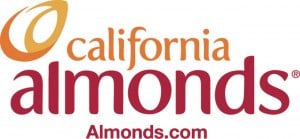 Have you ever been to Vermont in the Fall?
Eat well!