A well-stocked kitchen is an important first step toward tastier cooking, and healthier eating.  Let me introduce you to a few of my favorite foods/ingredients- things I use at least weekly, if not daily, and I have been known to panic if I am out of. 
Oatmeal  -I'll admit I never understood the fascination with oatmeal – couldn't get past the look and texture – until I realized it's all about what you add to it.  That, and the fact that it reduced my cholesterol by about 15 points, sealed the deal for me.  I eat oatmeal almost every day for breakfast.  Mixed with berries, nuts, and dried fruit and topped off with a scoop of Greek yogurt, it's a perfectly balanced meal that holds me for hours.
Plain Greek yogurt  
Thank God for the fine people at Chobani, who introduced most of us to this wonderful food.  I keep at least 2 containers of nonfat plain in my fridge each week.  A spoonful of jam makes it a sweet snack, or some herb mix, turns it into fabulous, savory, high protein dip for veggies and crackers.  Stay  tuned for a whole post on more ways to use Greek yogurt.
Frozen berries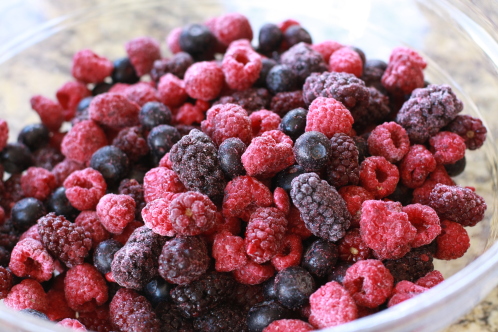 I add them to my oatmeal and yogurt because I love the antioxidants, and because sometimes-fresh berries are just too darned expensive.
Muir Glen Organic canned tomatoes
I haven't bought a jar of spaghetti sauce or any other brand of canned tomatoes, for years, since I read that these are a Cook's Illustrated taste test pick.  Their taste is always perfect, never tinny or acidic.  My favorites are the crushed tomatoes with basil (perfect pasta or pizza sauce) or fire roasted tomatoes, which makes a great base for salsa, tortilla soup, or chili.
Sriracha Sauce
I've heard some people love this spicy Asian chili sauce so much, that they travel with it.  Sriracha sauce (aka Rooster sauce because of the rooster on the label) is a secret ingredient for chefs everywhere, because it zips up the flavor of almost any food from deviled eggs to sautéed greens to mac and cheese.  It's popularity inspired its own Facebook page, and  The Sriracha Cookbook by Randy Clemens which is chock full of imaginative ways to use the sauce.
Stonefire Naan bread
Naan is Indian flat bread that is marvelously soft and chewy, and is perfect for wrapping a sandwich or grilling a Panini.  I find Stonefire Naan at several grocery stores in my area.  I especially love the garlic flavor and use for sandwiches, or a quick and easy pizza crust.
Dean Jacobs Bread Dipping Seasonings
LOVE, LOVE this seasoning mix
! I find it in a gourmet Italian market in Providence, and whenever I drive down to stockup on fresh pasta, I grab a few.  I'm actually not sure I've ever mixed it with olive oil and used it for a bread dip as recommended, but I do use it to season any and all of my grilled or roasted meat, fish, or vegetable dishes.  One container has 4 different seasoning blends – Tuscany (sundried tomatoes, basil and herbs); Sicilian (spices with onions, bell peppers and tomato); Rosa Maria (rosemary, garlic and herbs) and my favorite – Parmesan Blend (roasted garlic, cheese and herbs).  How can you go wrong?!
Frozen cheese  
I love cheese, but as any nutritionist will tell you, it's full of artery clogging saturated fat.  So I use it in moderation, as a condiment.  I love Gorgonzola Dolce (an Italian blue cheese) on mixed greens, or fresh grated Parmigiano-Reggiano on my pasta Bolognese.  However, cheese can get moldy before I end up using it all, so I use a vacuum sealer to package the leftovers for the freezer.  If you try this, beware -hard, block cheese tends to freeze and hold up well, while soft cheeses will change texture when thawed.  Still perfect for a cheese sauce though…
Do you have any favorite foods that you can't live without?
Eat Well!
SaveSave