It's time for the January Recipe ReDux, and this month, our group was challenged to share our healthy pizza recipe.  Timing on this topic couldn't be better, because Super Bowl Sunday is just about a week and a half away.  Correct me if I'm wrong, but isn't that the busiest pizza delivery day of the year?
Before I tell you about my signature pizza, I have to tell you that I was born and raised in Chicago, where pizza is a completely different animal.  A religion almost.  I understand that in other parts of the country, or even in the world, pizza is a flat thing with sauce and toppings, but ask anyone from Chicago, and they'll tell you it's stuffed like a pie.
We had Giordano's and Gino's East whenever we were in the Loop, and Lou Malnati's in the suburbs if we wanted something closer to home.  Every once in a while my parents would load us into the station wagon and we'd make the extremely long drive from the northern suburbs where we lived, down to the "south side" (of the city) for Connie's Pizza – my dad's favorite.  We must have had regular flat pizza somewhere in-between (I recall my mom making the flat stuff), but whenever we went out for pizza, I always remember it stuffed.
So needless to say, my signature pizza is Chicago Style.  It's not the quickest, or easiest thing to throw together for a quick dinner- I'll be honest.  It's a labor of love, with two packages of dough to make or thaw and then roll out, several steps for the filling and topping, and of course, a longer bake time.  But when I pull that thing out of the oven…
Chicago Style pizza is not a low calorie meal.  It's got double the crust, and it's packed with at least a pound of cheese, and usually Italian sausage along with anything else you can think of.  A large pizza probably weighs about ten pounds, and can feed a small nation.  Mine is a little bit better, but this is not an every night meal kind of a pizza.
If I'm feeling extremely ambitious I will make a honey-wheat dough, but usually I buy pre made whole wheat dough.  I think it's just fine.  I also use less cheese, and try to pack it with lots of veggies. My favorite combo is baby spinach, mushrooms and peppers, but you can use any vegetable (or meat) combo you like.
The secret to Chicago Style is no sauce on the inside.  It goes like this:  dough, cheese, flat filling  (ie meat, spinach),  lumpy filling (ie broccoli, artichokes), little filling (sautéed onions, mushrooms, peppers), spices, second layer of dough, BAKE, tomato sauce, BAKE again.  Lots of work, but SOOOOO worth it!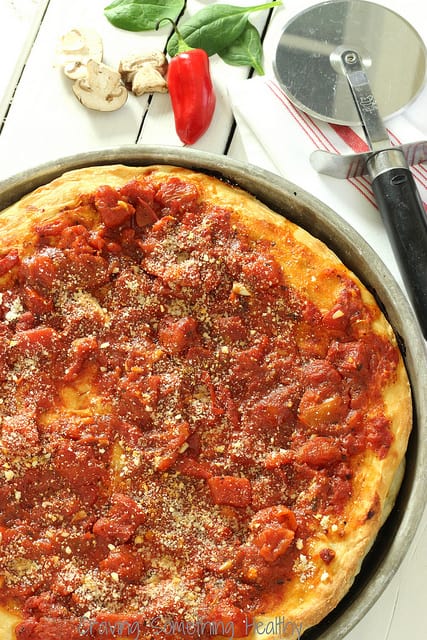 It's best to have a deep dish pizza pan like this one
 (12-inches).  I like the kind with holes on the bottom because the steam can escape and the crust gets crispier.  Worst case, you can use a cake pan, or oven safe sauté pan.
I do recommend cooking the vegetables or sausage before stuffing the pizza.  They will taste better when caramelized, it cuts down on baking time a bit, and it keeps the filling from getting too watery or oily.
Healthier Chicago Style Pizza
Ingredients
2-

one pound packages pre-made whole wheat dough

1/2

pound

shredded mozzarella cheese

optional fillings: 1 medium onion

sliced thin, 1 medium pepper, sliced thin, sliced mushrooms, baby spinach, broccoli, lean italian turkey sausage

1

teaspoon

dried basil

1

teaspoon

dried oregano

2

Tablespoons

olive oil

1-14

oz

can Muir Glen chopped or crushed tomatoes with juice

2-3

large cloves fresh garlic

minced

1/2

teaspoon

kosher salt

optional: grated parmesan cheese
Instructions
Adjust your oven rack to the lowest position, and preheat the oven to 425 degrees.

Prepare a 12-inch deep dish pizza pan by spraying well with cooking spray, and lightly dusting the bottom with cornmeal.

Stretch or roll out one pound of the dough to cover the bottom or the pan, and press up the sides a bit.

Lay shredded cheese over dough in an even layer.

Layer cooked sausage, or any flat filling like spinach over the cheese.

Layer any large toppings over the first layer.

Add any thin, or small toppings like sautéed onions, mushrooms, etc in the last layer.

Sprinkle with basil and oregano

Stretch or roll out the second pound of dough, and gently place it on top of the pizza, pressing the sides into the bottom layer of dough, so that they are well sealed.

Bake pizza for 20 minutes or until top dough is hard and just starting to turn light golden on the sides, and bottom dough is firm and starting to crisp.

While pizza is baking, sauté minced garlic in olive oil in a small saucepan for about 30 seconds. Remove the pan from the heat and add canned tomatoes. Stir to combine, and let simmer for 15 minutes to thicken.

Season with salt to taste.

Remove pizza from the oven, and reduce oven temperature to 375 degrees.

Spoon tomato-garlic mixture over the top of the pizza evenly, and return to oven for another 15-20 minutes, or until bottom crust is crispy and light brown.

Let pizza stand for 15 minutes before cutting. If desired, sprinkle grated parmesan cheese on top before serving.
Have you had Chicago Style Pizza?  Where?  (don't say Uno's unless it's the original!)
Eat well!
[inlinkz_linkup id=354826]