Wait.  Did she say "fast foods"?  Yup, I did.  Let's face it, sometimes we're just too tired to cook, or we get home too late, or we forget to take something out of the freezer and there's no plan for dinner.  So we need some fast food.
Don't worry! I'm not talking about any golden arches here.  I'm talking about dinner food that is quick, easy, no recipe required, and minimal ingredients.  The kind of meal ideas you keep in your back pocket and can whip up in less time than it takes to drive through any fast food establishment.
I think everyone should have a few of these tried and true "Fast Food" non-recipes on hand, because there's nothing wrong with food that's fast, as long as it comes out of your own kitchen.  Keep in mind any meal can be Fast Food if you plan and prep ahead – cook your chicken, cut your vegetables, assemble your ingredients and put them in Ziploc bags.  You get the idea.
One important thing to remember:  In order for these quick meals to work, you have to stock the ingredients.  I've got you covered though – most of these recipes have ingredients that can be kept in the pantry or freezer.  Just add rotisserie chicken, or any fresh produce as needed, and if you don't have it, leave it out – I won't tell!
Tip!  When you buy feta cheese, crumble extra and freeze it for another meal.
Tip!  Buy 2 rotisserie chickens, shred the meat and freeze it for another meal.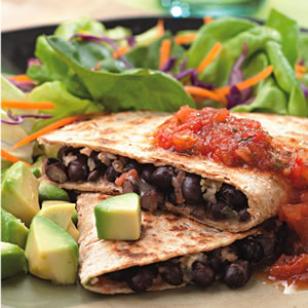 Tip!  Keep extra Naan bread in the freezer for a quick pizza, wrap or panini.
Do you have any favorite Fast Food recipes?  Feel free to share your links!