I really like salmon, both for its flavor, and healthy omega-3 fats.  However, I don't eat it as frequently in the winter, because I prefer to grill it, and for at least half of the year, my grill is covered with snow.  OK, maybe I exaggerate a bit, but it is hard to grill when it's cold and dark out, and that is the case for many months of the year where I live.  When I do get  a craving for it in the winter, this recipe from Ina Garten of Barefoot Contessa, is one of my favorites.  I've scaled it back a bit for 4 servings.  Don't be afraid of the fat grams – they're mostly heart healthy!
Eat well!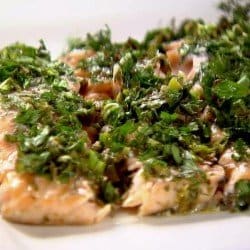 Roasted Salmon with Green Herbs From Barefoot Contessa
Ingredients
1- 1 1/2

lbs

skinless salmon fillet

Kosher salt and freshly ground pepper

2

Tbs

olive oil

1

Tbs

fresh squeezed lemon juice

3

scallions

minced, white and green parts

1/4

cup

minced fresh dill

1/4

cup

minced fresh parsley

1/4

cup

white wine

Lemon wedges for serving
Instructions
Preheat oven to 425 degrees

Place salmon in a roasting dish, and season with salt and pepper.

Whisk together the olive oil and lemon juice, and drizzle it over the salmon.

Let it stand at room temperature for 15 minutes.

In a small bowl, stir together scallions and herbs.

Pat the mixture over both sides of the salmon, so it is evenly coated.

Pour the wine around the fish fillet.

Roast the salmon for 10 minutes, or until just cooked in the center

Cover with aluminum foil and let rest for 5-10 minutes.

Serve with lemon wedges.