Easy Pickled Taco Vegetables
Happy Taco Tuesday friends! Today, I'm sharing my favorite way to kick up your regular old tacos a notch or three with these easy to make refrigerator pickled taco vegetables.
Tacos are a staple food in my house because they're a no recipe and minimal ingredients dinner. If I have lots of time, I'll do them with grilled fish and cabbage slaw. if I have a little bit of time, I'll grill up some chicken and make guacamole and beans. When I have absolutely no time, it's just canned black beans and sliced avocado with a sprinkle of salt.
Because most of my evenings fall into the last category, I love to keep a jar of this Pickled Taco Salad on hand. It keeps for over a month in the refrigerator. And it adds such a fabulous crunchy, zing of fresh flavor to any kind of taco.
It's even perfect served with simple toasted corn tortillas (and a margarita of course).
I've made a similar recipe in the past, with radishes and carrots, but I actually simplified the pickling mixture in this recipe. Jicama and corn add some delicious crunch and sweetness.
If you like, toss in some black beans or shredded cabbage too!
This is one of those recipes that just keeps on getting better no matter what you add to it!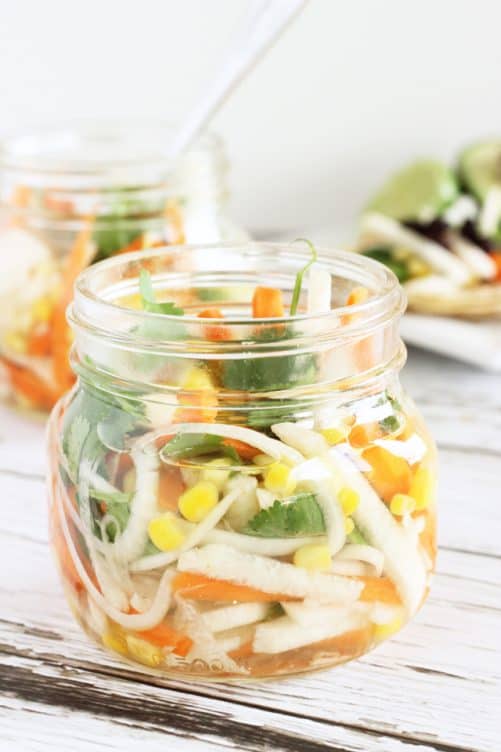 I'm definitely a corn tortilla kind of girl. Just a spritz of olive oil, a sprinkle of sea salt, and a quick toast on a hot pan. Crunchy-chewy heaven. And the cool, crisp, and tangy veggies along with it are all I need for dinner. Maybe a slice or two of avocado if there's one around.
Once you try these vegetables, I swear, you'll never top your tacos with plain old lettuce and tomatoes again. Ever.
Ingredients
2

cups

white vinegar

1 1/2

cups

water

4

garlic cloves

peeled and smashed

3/4

cup

sugar

1

tablespoon

pickling salt

1

medium jicama

peeled

3

large carrots

peeled

1

small or 1/2 large sweet onion

peeled

1/2

pound

about half a 16 ounce package frozen sweet corn

2

large jalapeño peppers

cored, and seeded.

1

bunch of fresh cilantro

about 1 cup lightly packed roughly chopped
Instructions
Combine the vinegar, water, garlic, sugar, and salt in a large saucepan and bring it to a boil. Reduce the heat and let it simmer for about 3 minutes. Turn off the heat, and let the mixture cool.

While the pickling liquid is cooling, slice the jicama and carrots into thin matchstick pieces, about 2-inches long. Slice the onion into thin slices. Slice the jalapeño peppers into thin rings.

Combine the jicama, carrots, onion, corn, jalapeño peppers, and cilantro in a large mixing bowl, and toss well to combine the vegetables.

Pack the vegetables into a large half-gallon size glass mason jar, or several small jars.

Pour the cooled pickling liquid over the vegetables, and lightly press them down to make sure they are covered.

Let sit in the refrigerator for at least one day, and up to one week for flavor to develop.
Notes
If you like black beans, feel free to add a can of rinsed black beans to the vegetable mixture.
Store tightly covered in the refrigerator for up to 6 weeks.
How do you top your tacos?
Eat well!