Mexican Pickled Vegetables (Escabeche)
These Mexican pickled vegetables (also known as Escabeche) feature a blend of crispy carrots, jicama, onions, radishes, and jalapenos in a sweet-spicy, garlic, jalapeno, and cilantro-infused brine. They're so fast and easy to make because there's no water bath canning required.
Just pour the brine over the vegetables and let them pickle in the refrigerator.
A few spoonfuls of Mexican pickled vegetables will take your tacos, burritos, and huevos rancheros (or plain old scrambled eggs) to a whole new level.
Jump to:
Why This Recipe Works
I make refrigerator-pickled vegetables A LOT in the summer, especially when local cucumbers, zucchini, and Hatch chilis are in season. But these Mexican pickled vegetables are perfect for making year 'round because carrots, jicama, onions, and radishes are always in season.
Adding some jalapenos, cilantro, and garlic to the brine turns these pickled vegetables into the most delicious condiment for tacos or any other Mexican dish. They're also delicious tossed into a salad for some sweet and spicy Southwest flavor.
The sweet and tangy pickling liquid makes pretty much anything you add to it taste like a fiesta.
I love this recipe because it's flexible. You can add more or less of any ingredients. It's also easy because it pickles in the refrigerator and it keeps for weeks.
Recipe Ingredients
Here's what I use to make Mexican Pickled Vegetables. Substitutions are listed in the next section.
See my recipe card for the complete list of ingredients with measurements.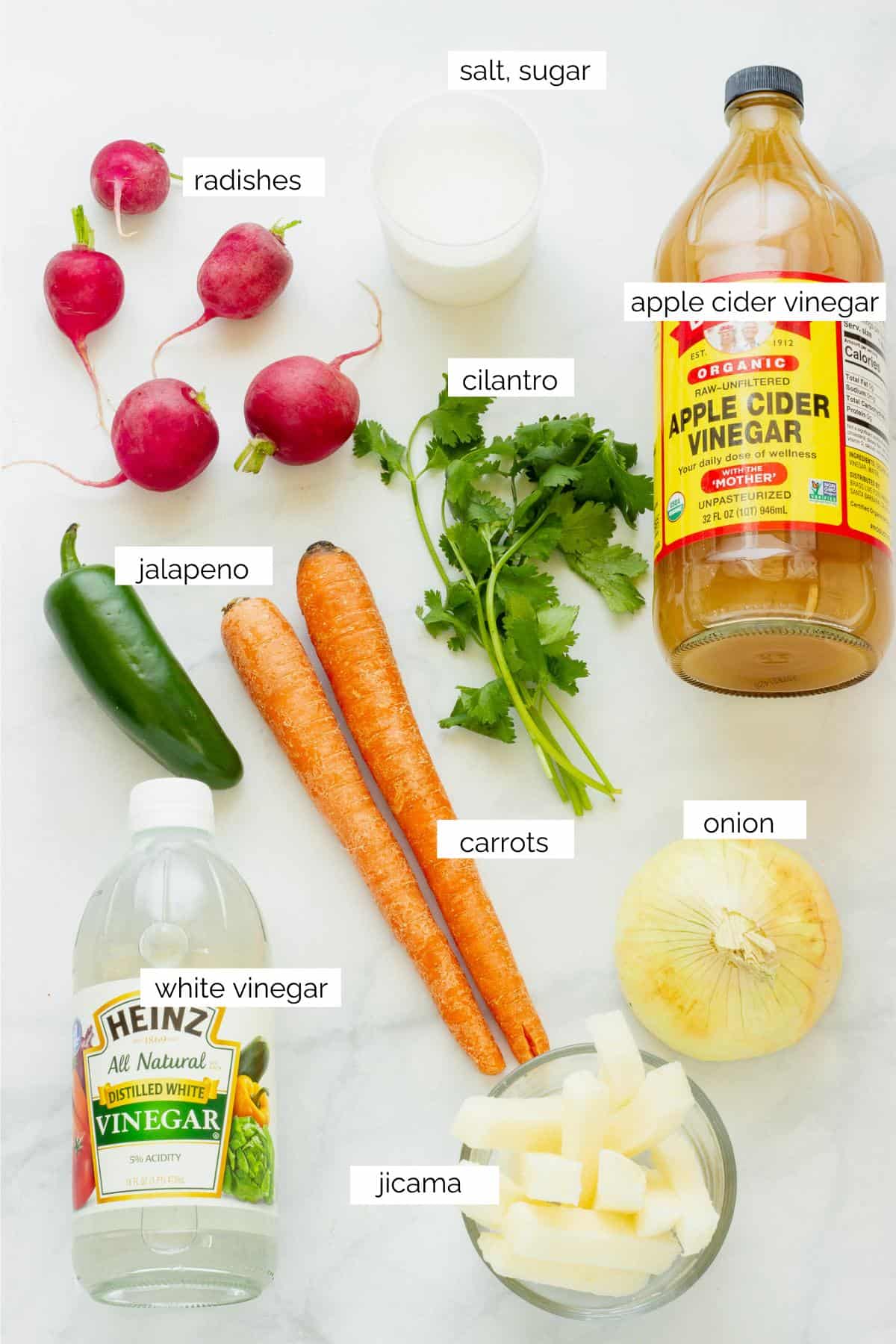 Vinegar: I use a mix of white and apple cider vinegar for this recipe. Apple cider vinegar adds a bit of fruity sweetness and cuts the sharpness of white vinegar.
Salt and sugar: You need both in a vegetable pickling brine. They provide flavor and help maintain the freshness of the vegetables. Since this recipe must be kept in the refrigerator (it isn't shelf-stable), you can play around with less sugar or salt if you like.
Jicama: I love jicama for its health benefits and fresh, crispy crunch. It's also a great source of prebiotic fiber, which supports gut health. It's a little hard to peel and cut the whole jicama. To make things easier, look for jicama cut into sticks at the grocery store in the prepared produce department.
Jalapeno pepper: Jalapenos aren't super spicy, but they do provide a nice kick. I use one large jalapeno and remove most of the seeds and center membrane to make it less spicy. If you prefer more spice, use two peppers and/or leave the membranes.
Substitutions and Variations
You can easily add more or less of any of the vegetables to this recipe, depending on your taste and what you have available.
If you can't find jicama, add more carrots and radishes. Cauliflower florets are also a great variation. I've also added shredded green cabbage, and it's delicious.
You can use any type of onion for this recipe. I typically use a sweet onion, but regular yellow, white, or red onion work well too.
If you don't like cilantro (I know many people who think it tastes like soap), leave it out and add a generous ½ teaspoon of ground cumin and 1 teaspoon of coriander seeds to the brine. The cumin will make the brine a little cloudy, but it's not harmful in any way.
Instead of apple cider vinegar, you can use red wine or white wine vinegar.
For a sugar-free version, you can experiment with Lakanto or Swerve sweetener. I have not personally tested it, but some readers have said that it works. These sweeteners might change the texture of your vegetables so that they're less crisp.
You can also experiment with the way you cut the vegetables. I cut them into rounds (or sticks for the jicama) because I use these pickled vegetables most often on tacos, and I think that shape works well. If you want to enjoy them as an appetizer or snack, cut them into thicker plank pieces.
Step-By-Step Instructions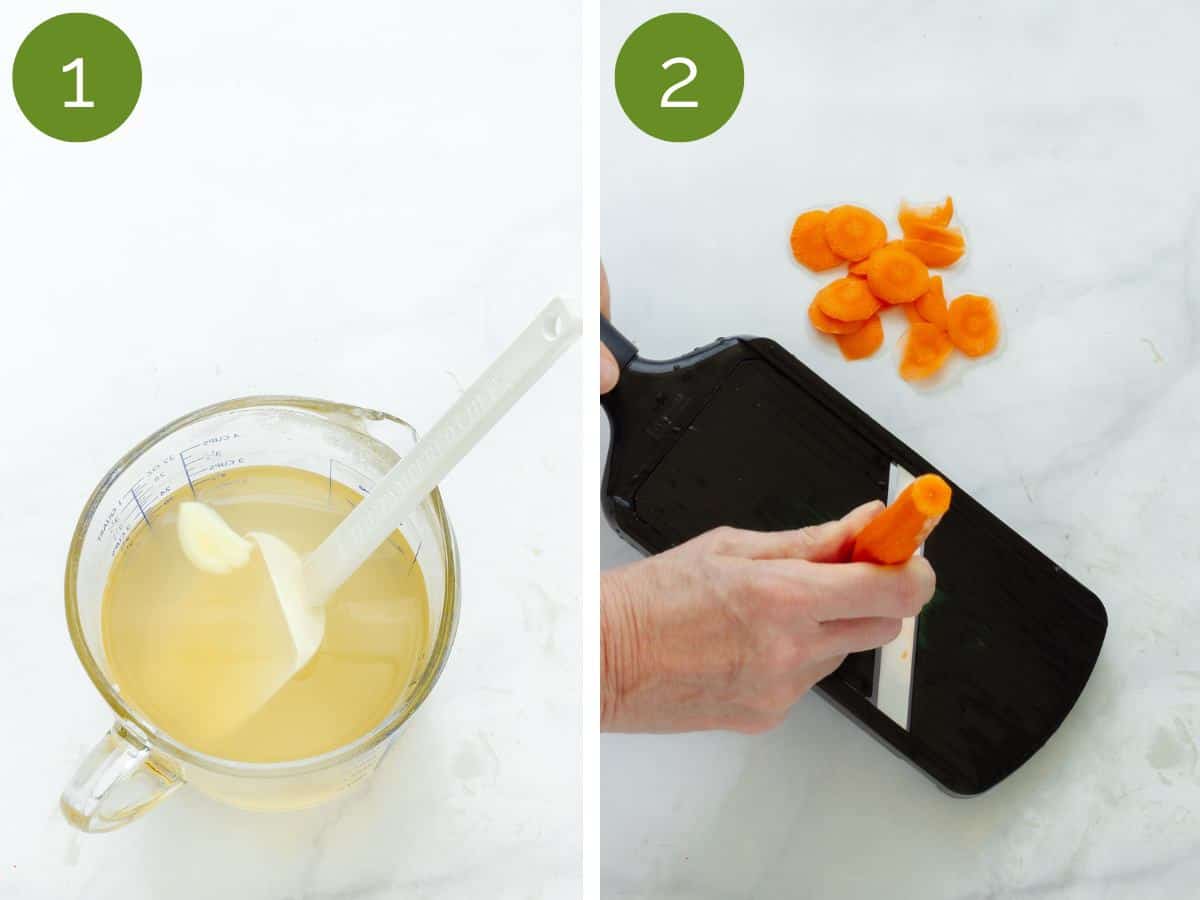 First, prepare the brine. Combine the vinegars, salt, sugar, and garlic cloves in a microwave-safe 4-cup measuring cup or glass bowl. I like to use a glass measuring cup because it's easier to pour the brine over the vegetables.
Microwave for 4-5 minutes or until it comes to a boil. If you prefer, you can use a saucepan and boil the brine on the stove. Stir it well to make sure the sugar and salt dissolve. Let the brine cool for about 15 minutes while you prepare the vegetables.
Second, cut the vegetables. If you're cutting them thin to use on tacos, a mandoline makes this super fast and easy. You could also use a sharp chef's knife.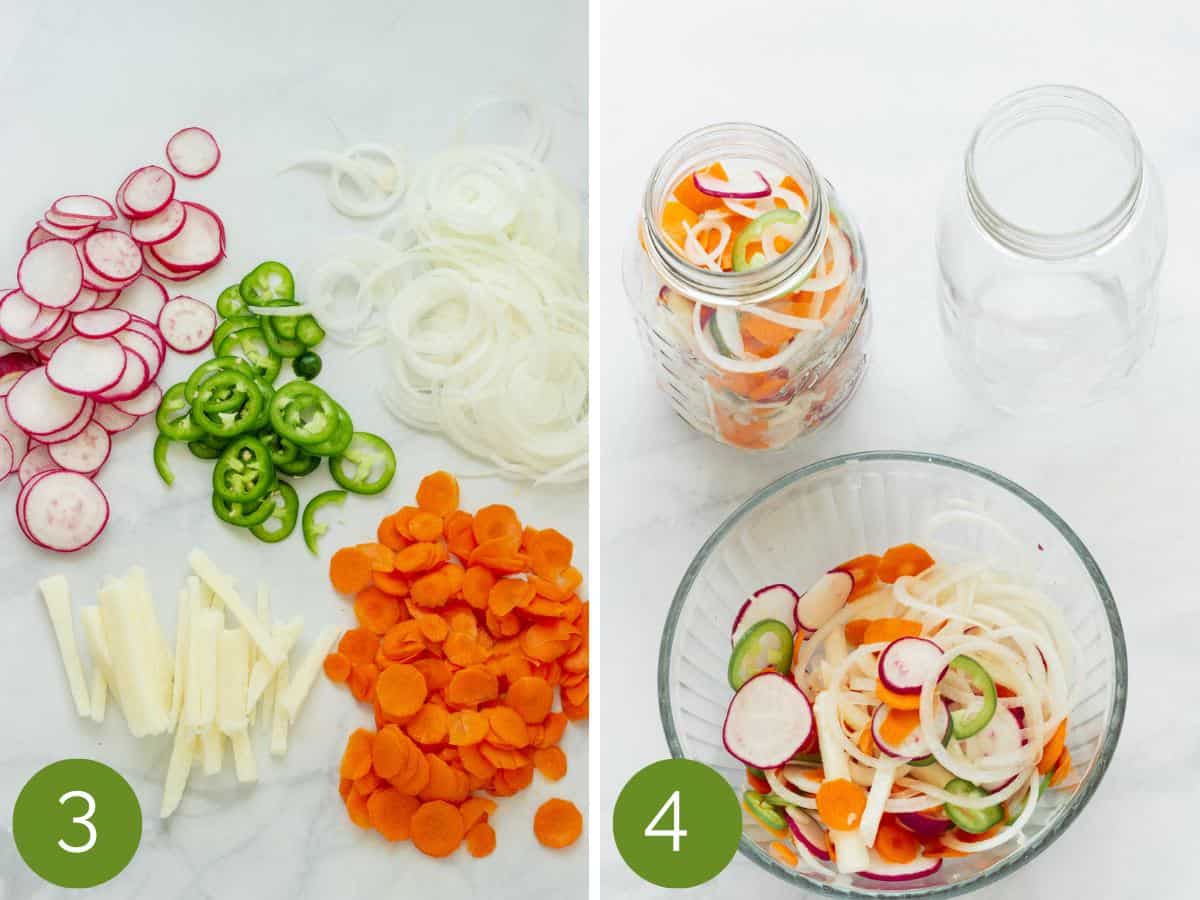 Next, measure your vegetables. You should have a generous 4 cups (a little more is fine). Add more of any vegetable if you're short.
Fourth, mix the cut vegetables in a large mixing bowl and divide them into two quart-sized mason jars. You should have enough vegetables to fill each jar about ⅔ full.
Remove the garlic cloves from the brine and pour the hot brine over the vegetables in each jar. You should have enough brine to almost cover the vegetables. Use a spoon to push them down into the brine. They'll shrink down into the brine as they pickle. Add the cilantro to the top of the jar.
Cover the jars tightly and refrigerate for at least 3 hours.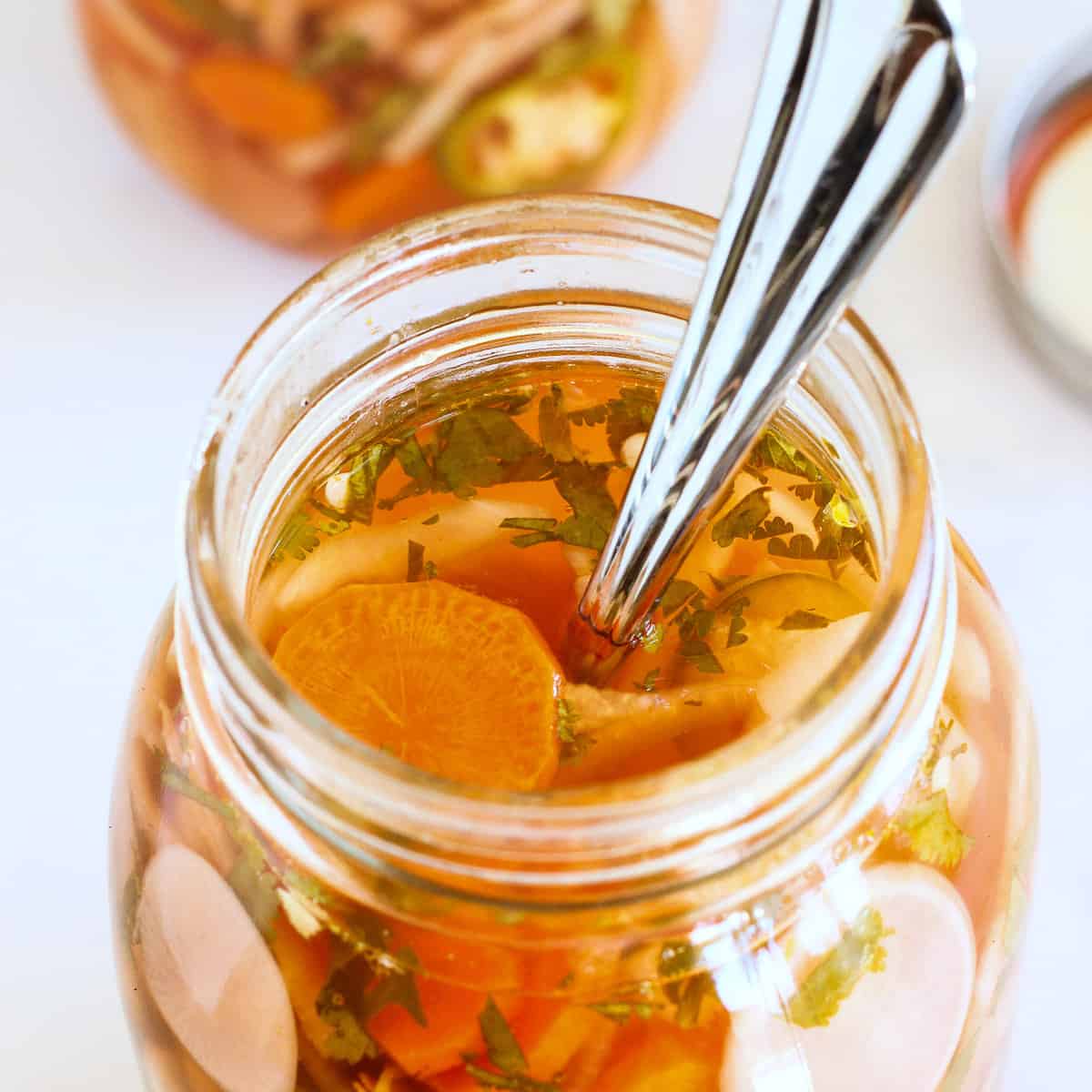 Expert Tips
The vegetables will absorb the pickling brine evenly if they are all cut to about the same thickness (that's why a mandoline is helpful).
I recommend removing the garlic before adding the brine to the vegetables, BUT it's not essential. Enzymes and compounds in garlic react with the acid in vinegar, causing the garlic cloves to turn blue. It's not dangerous or unhealthy, but it looks kind of odd. Also, I personally wouldn't want to accidentally bite into a whole garlic clove.
You can eat these in about three hours, but for the best flavor, let these vegetables sit for at least 24 hours in the refrigerator.
What to Eat with Mexican Pickled Vegetables
I adore these on grilled chicken tacos with toasted corn tortillas, sliced avocado, and a dollop of sour cream or plain Greek yogurt.
They're also delicious on top of:
Nachos
Mexican rice and black beans
Huevos rancheros
Plain scrambled eggs
Recipe FAQs
Why is the pickling liquid pink?
If you add red radishes, the outside color will leach into the vinegar, turning it pink. It's not harmful in any way.
How long will these Mexican pickled vegetables last in the refrigerator?
These should last at least two months in the refrigerator.
Does escabeche mean Mexican pickled vegetables?
Escabeche is a general name for any number of pickled dishes commonly served in Spanish, Latin American, or Portuguese cuisine. It can refer to pickled vegetables, meats, or seafood.
Related Pickled Vegetable Recipes
If you love quick pickled vegetables, try these recipes!
Recipe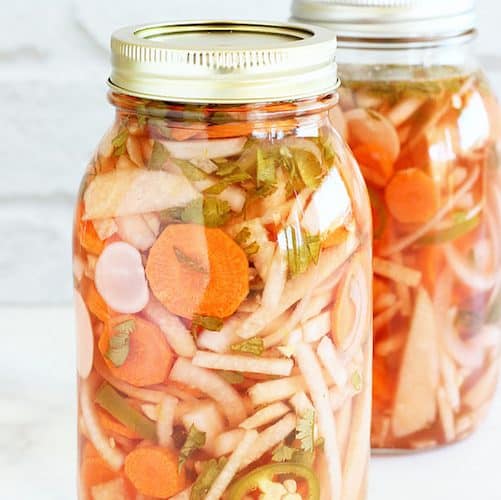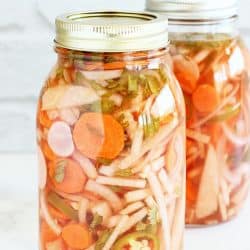 Mexican Pickled Vegetables (Escabeche)
These crispy, crunchy, quick-pickled vegetables will take your tacos to a whole new level!
Print
Pin
Ingredients
5

large

radishes

3

medium

carrots

peeled

4

ounces

peeled jicama

1

jalapeno pepper

or two if you like it hot

½

cup

loosely packed cilantro leaves

chopped

3

large

garlic cloves

smashed

1

cup

white vinegar

1 ½

cups

apple cider vinegar

1

cup

water

¾

cup

white sugar

1 ½

teaspoon

salt

or more to taste
Instructions
Mix vinegars, water, garlic, sugar, and salt in a 4-cup glass measuring cup. Microwave on high for 4-5 minutes or until the mixture comes to a boil. Alternatively, add the ingredients to a medium saucepan and bring to a boil.

Remove the brine from the heat and set it aside to cool while you prepare the vegetables.

Slice all vegetables and jalapeno (remove the seeds and membrane from the jalapenos if you prefer less heat) into rounds or thin slices.

You should have 4-4 ½ cups of sliced vegetables.

Divide the vegetable mixture into 2-32 oz jars (or equivalent). The vegetables should fill each jar about ⅔ full. Add half of the chopped cilantro to each jar.

Using a funnel, pour half of the brine into each jar. Cover the jars tightly and give them a shake to combine everything. If the vegetables are only partially submerged, push them down into the brine with a spoon or small spatula.

Tighten the lids and refrigerate for at least 3 hours or overnight.

Pickled vegetables are ready to eat in one day, and will continue to absorb the flavor of the pickling mixture as they sit.
Notes
The radishes will give the pickling liquid a reddish tint. If that bothers you, you can peel the radishes or substitute another vegetable like cauliflower or more jicama.
Makes about 1 ½ quarts
The nutrition information includes all of the sugar and salt in the brine. Not all will be absorbed into the vegetables, so the carbs and sodium are actually a bit less than listed.
These should keep in the refrigerator for about 2 months.
Nutrition
Calories:
68
kcal
|
Carbohydrates:
15
g
|
Protein:
0.3
g
|
Fat:
0.1
g
|
Saturated Fat:
0.01
g
|
Polyunsaturated Fat:
0.03
g
|
Monounsaturated Fat:
0.01
g
|
Sodium:
306
mg
|
Potassium:
96
mg
|
Fiber:
1
g
|
Sugar:
14
g
|
Vitamin A:
2608
IU
|
Vitamin C:
5
mg
|
Calcium:
13
mg
|
Iron:
0.2
mg
SaveSave
SaveSave
SaveSave
SaveSave
SaveSave
SaveSave