So if you're anything at all like me, you're staring into your pantry thinking "What on earth am I going to do with all of those extra cans of pumpkin puree?" I know. It seemed like a great idea at the time. Stock up on canned pumpkin because it's on sale, and there will be pies to make, and you've always wanted to try to make pumpkin ravioli, or that great pumpkin pasta recipe you found on Pinterest.
But here is it, December, and the pantry is overstocked with pumpkin and way understocked with peppermint and cookie sprinkles. What to do...
Make Pumpkin Pie Ice Cream, that's what! And just to get a jump on your home made Christmas gifts, make a batch of Spiced Praline Pecans and toss them in the churned ice cream for a hot-cold treat.
Make these spiced nuts first. They're super-easy and really delicious for gift giving. Or just to put out for guests during the holidays. They'll keep very well in a jar or airtight container for a good month - if you don't eat them all first.
Save about ¾ cup of the nuts to use in this delicious ice cream, which as always, was adapted from Jeni's Splendid Ice Creams at Home
. If you don't have that cookbook yet, please give yourself an early Christmas gift that you'll love forever!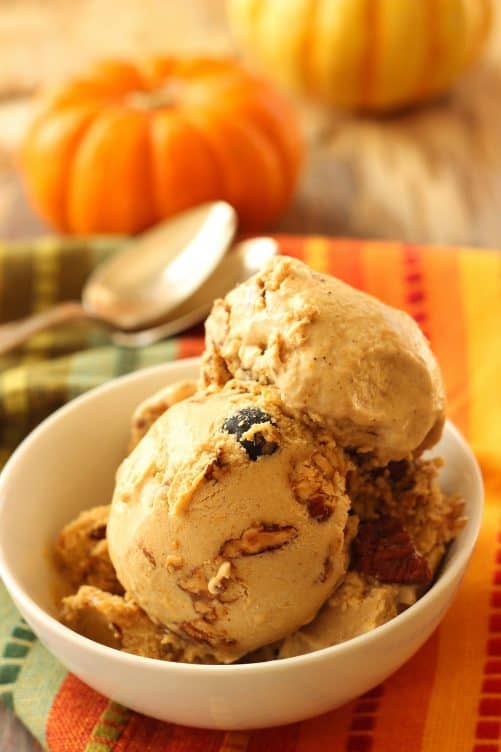 If you're crafty (or need another home made food gift) do also make the Bourbon Vanilla extract for this recipe. If you don't have any, you can use plain bourbon plus a bit of vanilla OR just good vanilla extract. But that Bourbon Vanilla... heaven 🙂
Recipe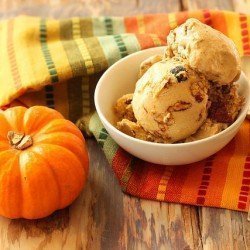 Pumpkin Pie Ice Cream
All of your favorite pumpkin spice flavors in homemade ice cream
Print
Pin
Servings:
12
about 1 ½ quarts
Ingredients
Spiced Pecans
½

cup

sugar

3

tablespoons

water

pinch

of kosher salt

½

teaspoon

cayenne pepper

2

cups

pecan halves
Ice Cream
1 15.5

ounce

can pumpkin puree

¼

teaspoon

ground cloves

1

teaspoon

ground cinnamon

¼

teaspoon

ground nutmeg

¼

teaspoon

ground allspice

2

cups

whole milk

1

tablespoon

plus 1 teaspoon cornstarch

1 ¼

cups

heavy cream

⅔

cup

packed brown sugar

¼

cup

organic corn syrup

3

tablespoons

cream cheese

softened

¼

teaspoon

sea salt

3

tablespoons

Bourbon Vanilla

or 3 tablespoons plain bourbon mixed with 1 teaspoon vanilla extract
Instructions
Nuts
Preheat oven to 300 degrees.

In a large saute pan, melt sugar, water, salt and cayenne pepper on medium-high heat until sugar is dissolved.

Add nuts to pan, and stir until they are well coated.

Reduce the heat to medium-low, and cook until all liquid is evaporated.

Spread nuts onto a baking sheet, and bake for 30 minutes, tossing once or twice so they roast evenly.

Remove from oven and let cool completely before storing in an airtight container.
Ice Cream
Combine pumpkin, cloves, cinnamon, nutmeg and allspice in a large mixing bowl and set aside.

Combine 1 tablespoon of the milk with the cornstarch in a small bowl, and stir well to make a slurry. Set aside.

Combine cream cheese and salt in a small bowl and mix well. Set aside.

In a large saucepan, combine remaining milk, cream, brown sugar and syrup. Bring to a boil over medium-high heat, and boil for 4 minutes.

Remove from heat, and stir in cornstarch slurry.

Return mixture to a boil to thicken, about 1 minute.

Remove from heat, and mix a few tablespoons of the hot mixture into the cream cheese and salt. Stir well until smooth with no lumps. Add this back to the pot of hot milk and cream.

Add Bourbon Vanilla to the hot cream mixture.

Gradually whisk the hot cream mixture into the pumpkin puree with spices. Whisk well to combine.

Cover the bowl with plastic wrap or a lid, and refrigerate until cool, at least 3 hours or overnight.

When ice cream mix is completely cool, pour it into the frozen canister of an ice cream maker, and churn until thick and creamy, about 30 minutes.

While ice cream is churning, chop about ¾ cup of the reserved spiced pecans. Stir these into the ice cream after it is completely churned.

Transfer the ice cream to a 2 quart container, press a sheet or parchment paper on the surface, seal with an airtight lid, and freeze for at least 4 hours.
Notes
Recipe is adapted from Jeni's Splendid Ice Creams At Home
Nutrition
Calories:
360
kcal
|
Carbohydrates:
35
g
|
Protein:
4
g
|
Fat:
24
g
|
Saturated Fat:
8
g
|
Polyunsaturated Fat:
4
g
|
Monounsaturated Fat:
10
g
|
Cholesterol:
37
mg
|
Sodium:
93
mg
|
Potassium:
262
mg
|
Fiber:
3
g
|
Sugar:
31
g
|
Vitamin A:
6590
IU
|
Vitamin C:
2
mg
|
Calcium:
106
mg
|
Iron:
1
mg
Do you prefer pie or ice cream? Do you ever make your own ice cream? Do you think real ice cream can be part of a healthy diet? Let me know your thoughts!
Eat well