Skinny Low Carb Shepherd's Pie
This Skinny, Low Carb Shepherd's Pie is perfect for when the weather calls for comfort food, but the calendar's heading toward spring!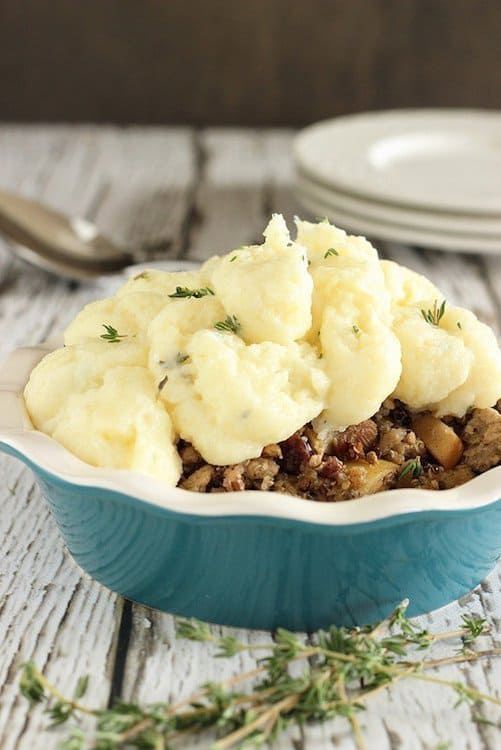 It seems like no matter where in the country you live, the winter of 2017 has been full of crazy, wonky weather.  We've gone from torrential rain in drought-stricken California, to blizzard conditions followed by 70 degrees in New England.  Is it el niño, or la niña or a definite case of global warming? One thing is certain – it makes for some meal planning confusion!  One minute I'm craving soups, stews and comfort food, and the next minute I'm firing up the grill and craving corn on the cob.
Since it is almost March, I'm feeling like we should start to lighten things up a bit, because shorts season will be her before we know it!  For me, that means more veggies, leaner proteins, and fewer carbs.  This Skinny version of Shepherd's pie is a perfect blend of warm comfort food, but I've lightened it up with turkey instead of hamburger, and I've skipped the corn and subbed in some chopped apple and pecan.  It tastes like Thanksgiving food, but it's light enough for springtime.
Traditional shepherd's pie is full of carbs from the mashed potato topping, so I said g'bye to that and used mashed parsnips instead.  Parsnips are one of those root vegetables I love, but I always forget about.  I love them roasted along with carrots, but I also adore them mashed up with some butter and just a drop of cream or milk.  Creamy, dreamy low carb comfort food.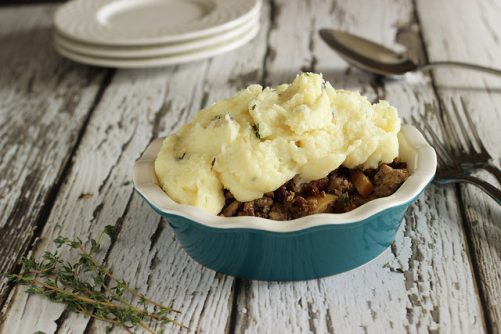 Here's a fun fact about me: I never knew Shepherd's Pie was a real thing.  I always thought it was a crazy concoction my husband dreamed up.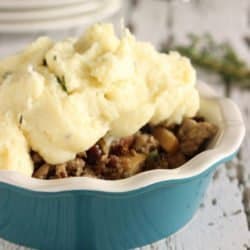 Ingredients
1

pound

parsnips

peeled and cut into 1- inch pieces

1

cup

chicken stock plus 1 cup water

1

tablespoon

unsalted butter

2

tablespoons

low fat milk

1

tablespoon

olive oil

1

small onion

diced

1

pound

ground turkey breast

1/2

teaspoon

salt

1

tablespoon

poultry seasoning

1/2

cup

chopped pecans

1/2

cup

dried cranberries

1

small apple

chopped (unpeeled)

1

cup

cooked quinoa

2

tablespoons

maple syrup

2

tablespoons

balsamic vinegar
Instructions
Place the parsnips, chicken stock and water in a medium sauce pan, and bring to a boil. Reduce the heat to low, cover and let simmer for about 10 minutes, or until the parsnips are tender.

Drain the liquid off, add the butter and milk, and mash the parsnips. Taste and add extra salt if needed. Set aside.

Preheat the oven broiler.

Heat a saute pan over medium-high heat, and add the onion. Sauce for about 5 minutes until lightly golden.

Add the ground turkey, and break up the pieces. Cook until turkey is lightly browned.

Reduce the heat to low, and add the salt, poultry seasoning, pecans, cranberries, apple, and quinoa and stir well to combine.

Add the maple syrup and balsamic vinegar, stir, and cover the turkey mixture. Let simmer for about 5 minutes or until the apple pieces are tender.

Transfer the turkey mixture to a casserole dish, or 8 x 10 baking dish.

Spoon the mashed parsnips over the turkey and smooth them out, so they cover the entire pan.

Place the baking dish under the broiler for about 4-5 minutes, or until the parsnips start to get slightly browned.

Serve immediately
Are you having winter or spring weather?  Does wonky weather affect your meal planning?
Eat well!