Smoked Turkey Reuben Sandwiches with Golden Sauerkraut
This post is sponsored by Kraut Source, who kindly sent me a home fermentation kit to test out and review. As always, all opinions are my own.
Let me introduce you to my newest obsession — fermented vegetables. I am totally fascinated by the process of fermentation. The fact that bacteria can be used to preserve a food, and those bacteria are actually good for you is totally the craziest concept, and the coolest ever kitchen-science experiment.
When most of us think of fermented foods, we think beer, wine or yogurt – OK, well, at least I do. But there's so much more out there – kimchi, kombucha, and even sauerkraut are all fermented foods, and it turns out that pretty much any vegetable can be fermented. The process of fermentation produces those gut-healthy bacteria known as probiotics. Yes, they really can help your GI system run a little smoother, but did you know probiotics can also boost your immune system, help your insulin to work better, and they may even be helpful for weight loss? I kid you not!
Let's start at the beginning with Fermentation 101… Fermentation is an age-old method of preserving food. The brine, which is really just salt, water and any spices or seasonings you like, creates an anaerobic (oxygen-free), acidic environment, which prevents any "bad stuff" from spoiling the food, and allows the "good stuff – ie probiotics to thrive. Those good bacteria are actually already on the vegetables – No secret ingredients to add. Fermentation just allows them to multiply and do their magic.  The Kraut Source is designed to work with any wide-mouth mason jar. Just pop it in place, screw it onto the jar, and the device keeps your vegetables submerged in the brine (that's key), while keeping the air out.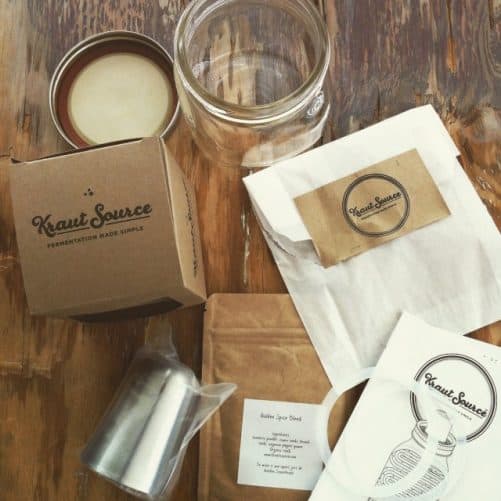 If you've read any of my posts on pickling, then you're aware of my fear of canning and botulism, but fermentation is unbelievably easy and according to the experts, one of the safest methods of food preservation because the acid environment it creates prevents botulism and other harmful bacteria from growing. The thing I really love about it is that you don't have to follow any exact recipes, or have a pantry full of canning supplies. Just slice up your vegetables, massage them with some salt, and stir in your spices.   The company provides really easy to follow instructions and videos, as well as some pretty creative recipes for fermenting various vegetables and even fruits.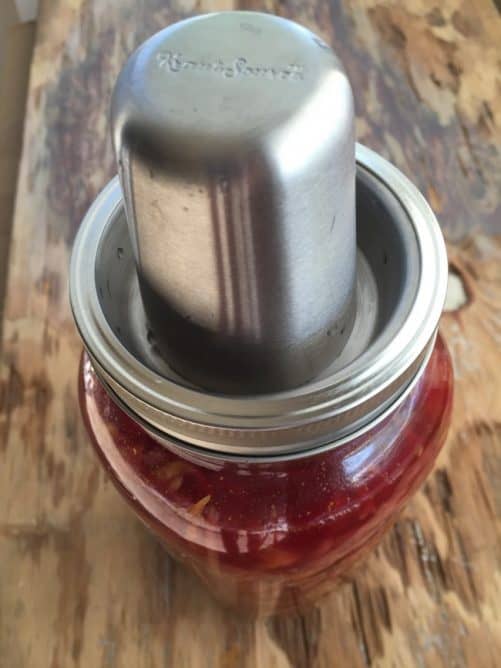 I made the golden sauerkraut recipe with some red onion for gorgeous color. The process was was incredibly easy, and my sauerkraut was tangy, crisp, and really tasty addition to this healthier version of a Reuben sandwich.
If you want to try your hand at fermenting (and why wouldn't you?)  Kraut source is offering 10% off with the code Crave2015  just enter it at checkout.  It's good until the end of August, 2015, so hurry!  They make great gifts for any foodie friends 🙂
Ingredients
2

slices

of dark rye or pumpernickel bread

both sides prayed lightly with cooking oil

1

tablespoon

Thousand Island dressing

2

ounces

of smoked turkey breast

1

slice

Swiss cheese

1/4

cup

golden sauerkraut
Instructions
Heat a frying pan to medium high heat, and place the bread on the pan to toast. When one side is toasted, flip both pieces over, and turn the heat down to low.

Spread Thousand Island dressing on one slice of bread. Add turkey, cheese, and then sauerkraut.

Top with the other slice of bread, and heat through just until cheese is melted.

Slice in half and serve immediately.
[bctt tweet="Try this #KitchenExperiment: Use @KrautSource to make #probiotic rich #fermented vegetables #spon"]
Have you ever experimented with fermentation?  What did you make?
Eat well!