Have you tried those new vegan Sofritas Bowls at Chipotle yet? I have not, only because I've been too lazy to hunt down a Chipotle at dinnertime. Sadly, the nearest one is about 12 miles from me, and that's just a little too far for me to go for fast food – even though their fast food is pretty darn good. So instead of driving to the next town for Sofritas, I did the next best thing. Yep – I made it myself.
I'm pretty much in love with this stuff. Cooks up incredibly fast, and it can be served in multiple ways – stuff it into a burrito, spoon it into a grilled corn tortilla, serve it in a bowl over regular or cauliflower rice, or just eat it with a spoon. I was craving some stuffed peppers, when I came up with this twist on them.
Normally I would steam my peppers lightly, stuff them and bake them, but these poblanos were screaming to be grilled and just lightly charred. They were absolutely right – smoky, spicy, really yum.   It turns when you grill the peppers and then stuff them, you can totally skip the baking step. Love that!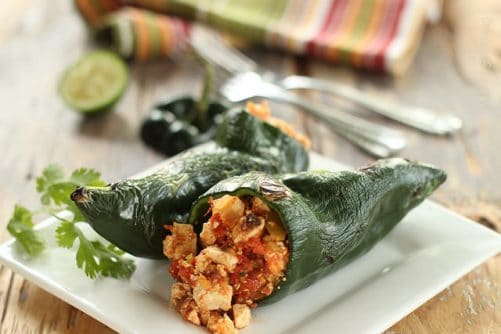 If you don't care whether these are vegan or not, I think a little bit of Cheddar Jack or Queso Fresco would be absolutely divine mixed into the filling.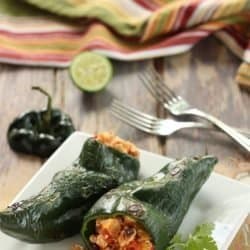 Sofritas Stuffed Pobano Peppers
Ingredients
1

pound

extra firm tofu

drained and pressed (see below)

2

tablespoons

canola oil

1

small onion

diced

2

cloves

garlic

minced

1

small jalapeño pepper

seeded and minced

1

chipotle pepper in adobo sauce

minced, plus 1 tablespoon of sauce

1/2

teaspoon

dried cumin

1 28

ounce

can Fire Roasted Tomatoes

1

teaspoon

kosher salt

6

large poblano peppers

cores removed

1/4

cup

fresh cilantro

chopped

2

tablespoons

fresh lime juice

1/2

cup

queso fresco

crumbled (optional)
Instructions
Heat the grill to medium high heat.

To press any extra moisture out of the tofu, place the drained tofu in a strainer over a bowl, and cover with several sheets of paper towels folded in half. Place a heavy pot on top of the covered tofu, and let the pot press on the tofu for about 30 minutes.

Cut tofu into 1/2 inch slices, stack the slices and then dice. Set tofu aside.

In a large saute pan, heat the oil on high heat, and saute onion until wilted and translucent.

Add garlic, jalapeño, and chipotle peppers with sauce. Saute for about 3 minutes until vegetables are softened.

Add cumin and stir for about 30 seconds.

Add tofu to the pan, and gently break it apart with a spatula.

Add canned tomatoes and season with salt.

Reduce the heat to low and let simmer for about 15 minutes.

Add cilantro, lime juice and if desired, the cheese immediately before stuffing the mixture into the peppers.

While the sofritas mixture cooks, grill the peppers, for about 3-5 minutes on each side, or until softened and lightly charred. If the peppers start to blacken too quickly, reduce the heat on the grill.

Let peppers sit for a few minutes until they are cool enough to handle.

Fill each pepper with the sofritas filling, and serve immediately.
Notes
If you can't find large poblanos, use the smaller ones, but plan on 2 per person.
What are you having for Meatless Monday? How do you do stuffed peppers?
Eat well!