Jicama Salad with Southwest Salad Dressing
If you're looking for an easy way to eat the rainbow, this colorful, crunchy Jicama Salad with Easy Southwest Salad Dressing is for you! It's a delicious salad to serve with grilled salmon or chicken. Or try it as a tasty side dish with tacos or any type of Mexican food. This bright, flavorful salad is also a tasty way to become familiar with jicama — one of the healthiest vegetables around.
Have you ever tried jicama? Or have you ever walked past it in the produce department and wondered what the heck it even is? Well, let me introduce you to one of my favorite, versatile, low carb root vegetables.
Jicama (pronounced hee-ka-ma) is a root vegetable that's native to Mexico and South America. It looks like a cross between a turnip and a potato. And if you've ever picked one up, you've probably noticed it's rather heavy and hard as a rock.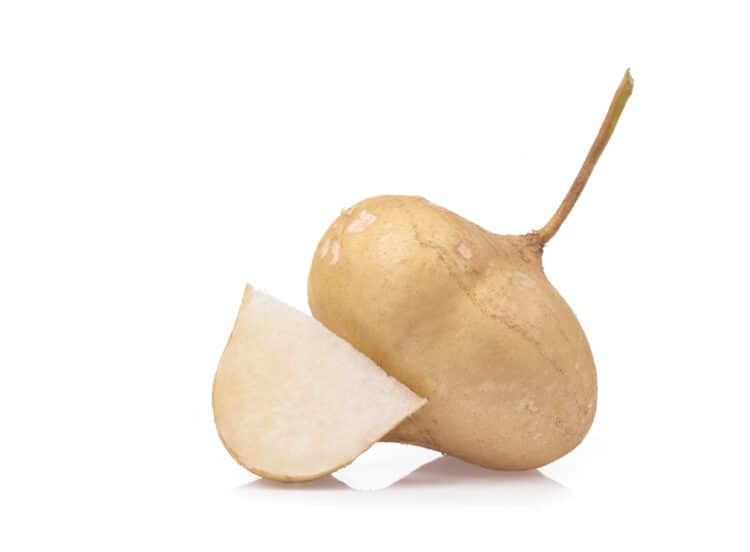 You can find jicama at Latin and often Asian markets, but many regular grocery stores carry it too. I see jicama at my Sprouts market all the time.
How to Eat Jicama
To eat it, you first peel the outer tan-coloured skin (which sounds easier than it really is because it's very tough), and then slice the flesh into matchsticks or dice it for a salad. It's hard to peel with a vegetable peeler, but a sharp paring knife works well. You can also cut off the top and bottom to make flat edges, and then slice down the jicama with a chef's knife.
Make sure you peel the tan skin from your jicama flesh before eating it. The skin is toxic so you shouldn't eat it!
If you're lazy like me, look for peeled and sliced jicama in the cut veggie section. Both Sprouts and Whole Foods sell it precut into spears.
Jicama has a texture somewhat like raw potato, but much lighter and crispier. It's very high in water, so it's quite refreshing to eat. Jicama tastes a bit like a combination of a crispy, crunchy raw potato and a slightly savory apple or pear. It's not really sweet, and not really starchy.
And that's actually one of the best parts about jicama. It's fairly flavorless, but it absorbs any seasoning, spices, or dressing that you toss it with. It adds a really nice, refreshing crunch to this salad and pairs beautifully with my easy southwest salad dressing.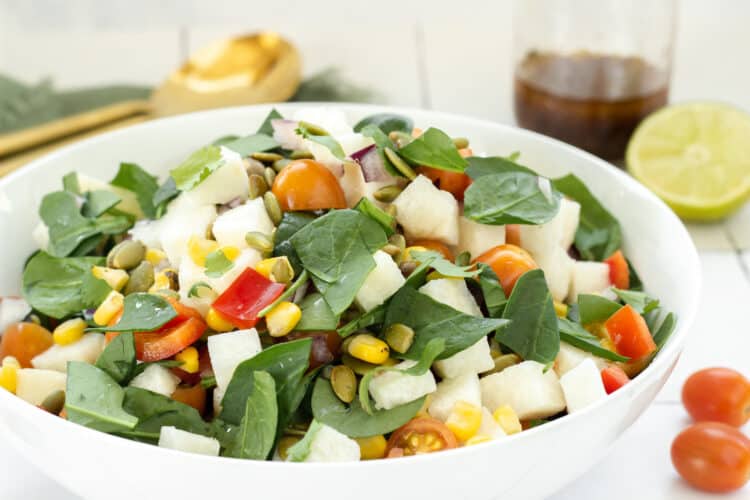 I also love to add strips of jicama to my Mexican-style pickled vegetables. They add such a nice crunch to tacos.
What is Jicama Good For?
Jicama has LOTS of health benefits. It's great for:
Improving your gut health.
Stablizing your blood sugar.
Reducing your cholesterol
Helping with weight management.
Here's why.
Although it's often called a Mexican potato, jicama is no potato! It's very low in calories and carbs. It's also jam-packed with fiber. A very generous one-cup serving of sliced or cubed jicama has:
calories: 50
carbs: 12g
protein: 1g
fat: trace
fiber: 6g
By comparison, a cup of sliced potatoes has about 22 grams of carbs and about twice as many calories. Even though jicama has carbs, they're very low glycemic (only 17 on the GI scale), which means jicama won't spike your blood sugar.
And then there's the fiber. Not only does jicama's fiber fill you and satisfy you so you eat less, but also, it's the soluble kind of fiber that lowers cholesterol and helps stabilize blood sugar.
Jicama is a natural source of inulin, a special type of prebiotic fiber. Prebiotics are food for your probiotics — the friendly bacteria in your gut. Eating more prebiotic fiber helps keep your gut microbiome healthy and happy, and that helps with digestion, your immune system and so many other aspects of your health.
Is Jicama Keto-Friendly?
Yes! If you're on a keto or low carb diet, all that fiber means jicama is very low in net carbs. Sprinkle a half-cup of jicama cubes over a salad, or snack on jicama spears seasoned with chile powder or Tajin seasoning and a squeeze of fresh lime juice, and you'll only get about 6 net carbs.
How to Store Jicama
Uncut jicama will last several weeks if you keep it cool. It loves temps around 55°F which is cooler than your house, but warmer than your refrigerator. Still, it should keep for at least a week in the refrigerator.
Once you cut it, just wrap it or place it in an airtight container in the refrigerator. Jicama won't brown like an apple, so you don't have to sprinkle it with lemon juice. Try to use cut jicama within about 4 days for the best quality.
Why I Love This Jicama Salad
If you've never experimented with jicama before, this salad is a perfect introduction. It's so bright and beautiful and full of lots of fresh flavors.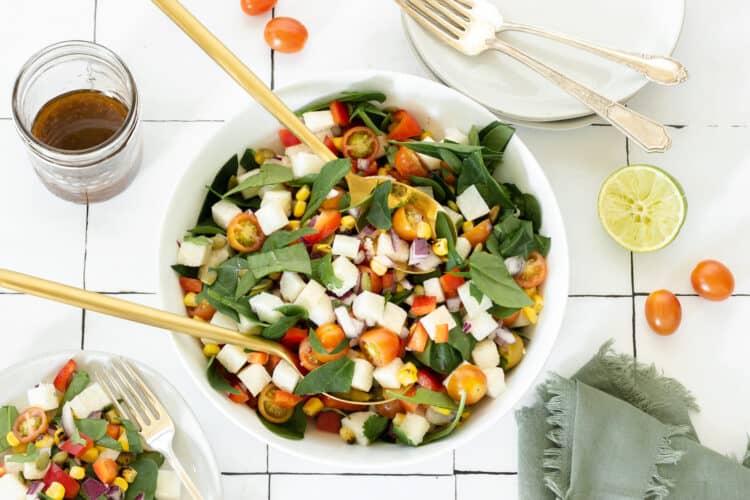 If it's summertime, use grilled corn in this salad. But if it's winter, frozen corn works perfectly well. I often make this salad to go with tamales and charro beans for Christmas eve, and it's always a hit.
If you want to make enough for a few days, keep the Southwest salad dressing in a separate container and dress it just before serving. I also like to add the sliced spinach just before serving because it tends to wilt. It still tastes good though!
Recipe
Jicama Salad with Southwest Salad Dressing
A colorful, crunchy salad that's packed with health benefits
Print
Pin
Ingredients
8

ounces

jicama sticks

cut into ½-inch cubes

¾

cup

grilled corn

about 2 small ears, or use frozen corn, thawed

1

medium

sweet red pepper

diced

1

cup

grape tomatoes

cut in half

¼

cup

fresh cilantro

chopped

2

cups

baby spinach

cut into slices

¼

cup

pepitos (roasted pumpkin seeds)
Southwest Salad Dressing
¼

cup

olive oil

3

tablespoons

lime juice

from 1 large lime

1

teaspoon

lime zest

2

tablespoons

honey

1

teaspoon

dijon mustard

½

teaspoon

cumin

½

teaspoon

chipotle powder

or more to taste

⅛

teaspoon

sea salt

or to taste
Instructions
In a large mixing bowl, combine the jicama cubes, corn, red pepper tomatoes, and cilantro.

In a jar with a lid, combine the oilve oil, lime juice and zest, honey, mustard, cumin, chipotle chile powder and a pinch of sea salt. Cover and shake well to combine. Taste the dressing and add extra salt and chipotle chile powder if desired.

Pour the dressing over the salad and toss well to combine. You can dress this part of the salad up to 30 minutes in advance.

Add the sliced spinach and the pepitos to the salad just before serving.
Notes
Recipe adapted from Cook's Country
Nutrition
Calories:
178
kcal
|
Carbohydrates:
17
g
|
Protein:
3
g
|
Fat:
12
g
|
Saturated Fat:
2
g
|
Polyunsaturated Fat:
2
g
|
Monounsaturated Fat:
7
g
|
Trans Fat:
1
g
|
Sodium:
86
mg
|
Potassium:
318
mg
|
Fiber:
4
g
|
Sugar:
9
g
|
Vitamin A:
1926
IU
|
Vitamin C:
43
mg
|
Calcium:
26
mg
|
Iron:
1
mg
Do you eat jicama? What's your favorite way to eat it?
Eat well!