Spicy Broccoli with Peanut Sauce
I'm wondering…. If you knew a food was really good for you, even had superpowers, would you eat more of it?  I have a few favorite foods that I try to eat regularly because they are really good for me, but I wonder if I'm just weird like that because I'm a nutritionist, or do others do that?
One of the things I love best about my job is that I get to share what I learn about healthy food, and how to make it taste good so that you'll eat it more often. Broccoli is one of those foods. I think we all know broccoli is a healthy vegetable, and many of us will eat it because it's good for us. But here's the story on broccoli, and let me know if I can inspire you to eat it more often.
Broccoli belongs to a class of vegetables known as Cruciferous vegetables. The word cruciferous refers to their flower, which forms a cross with their petals.
Other cruciferous family members include cauliflower, cabbage, Brussels sprouts, and greens like arugula, kale, and bok choy.  They're all excellent sources of vitamins A and C, as well as fiber.  The darker green ones also have lots of vitamin K, which unless you take a blood thinner, you probably don't know much about – it helps our blood to clot better.
But it's the chemical compounds in cruciferous vegetables that really get my attention, and hopefully yours too. The reason many people don't like to eat them is because they have a sulfur smell, and to some, a bitter taste. But that's due to a super compound, found broccoli and all cruciferous vegetables, called Sulforaphane.
Sulforaphane, along with some other phytochemicals has been shown to have potent cancer fighting properties.  In lab research, it seems to slow down the growth or even kill many cancer cells.  The compounds in cruciferous also reduce oxidative stress and inflammation (that means they're strong antioxidants), both of which can damage cells and cause them to become cancerous.
I think we should try to eat at least three cruciferous vegetables each week. More certainly won't hurt, and it just might do a lot to help prevent cancer.
Here's one of my favorite ways to eat broccoli. If you don't love broccoli, and you're boiling or just steaming it, try some new ways to eat it, and you might be pleasantly surprised.
To best preserve the cancer fighting compounds, broccoli should be lightly cooked or steamed. Just a few minutes. Any longer, and you lose lots of the good stuff.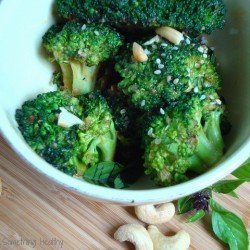 Ingredients
1 1/2

tablespoons

creamy peanut butter

juice of 1/2 fresh lime

1

tablespoon

hoisin sauce

1/4

teaspoon

garlic powder

1

teaspoon

brown sugar

1

teaspoon

Asian chili paste

Sambal Oelek

1/4

teaspoon

salt

1/8

teaspoon

pepper

3

tablespoons

water

1

tablespoon

canola oil

1

large bunch of broccoli

crown cut into 1 1/2-inch florets, and stems peeled and trimmed on the diagonal into 1/4-inch slices

1/4

cup

fresh Thai basil or regular Italian basil

chopped

2

tablespoons

cashews or peanuts

chopped

2

teaspoons

toasted sesame seeds

optional
Instructions
In a small bowl or ramekin, mix together peanut butter, lime juice, hoisin sauce, garlic powder, brown sugar and chili paste until smooth, and set aside.

In another small bowl or ramekin, mix together salt, pepper, and water. Stir to dissolve salt, and set aside.

Heat oil in a large sauté pan on high heat, and add broccoli. Cook the broccoli in oil without stirring, for about 2 minutes, or until it just starts to develop brown spots on parts. Stir to toss and cook for another 1 minute. Add salt and pepper water to the pan, and cover quickly. Remove the pan from heat, and let broccoli steam for about 2 minutes, or until just tender, but still crisp.

Add the peanut mixture, basil, and nuts, and toss well to coat. If desired, sprinkle with toasted sesame seeds.

Serve immediately.
Notes
Slightly adapted from America's Test Kitchen

So what do you think? If you knew of a food that could help kill cancer cells before they turned into cancer and spread, would you eat more of it? Just wondering…
Eat well!