Summer Harvest Vegetable Ceviche
I've always been intrigued by the idea of ceviche. If you're not familiar, it's a South American dish made with raw fish, that's been "cooked" in a mixture of citrus juices like lemon, lime, or orange and seasoned with onion, chili peppers and herbs. The acids in the juice break down the proteins in the fish, and give it the appearance of being cooked.
The only tiny issue I have with ceviche is that while the acid breaks down the proteins, it really doesn't do much to kill any bacteria or toxins in the fish. So unless you are completely certain that your fish is super fresh and here's the important part – toxin free (almost impossible to know), you may run the risk of serving up a dish of Scombroid or Ciguatera poisoning V. cholera, Vibrio Infection, or if you're really lucky- Diphyllobothrium latum (aka tapeworm).
Sorry to be a raw-seafood Debbie Downer, but that was my take away from all of those microbiology and food science classes I took back in the day, while I was studying to become a registered dietitian. My advice is to cook your fish – ALWAYS and especially if you are pregnant or have a compromised immune system. I know it's hard to not be the cool and adventurous kid when you're out at a trendy Peruvian restaurant or for sushi, but believe me, I've had seafood poisoning (from cooked, not even raw fish) and it's quite unpleasant.
OK, now that I'm off the raw fish soapbox, let me tell you about my version of ceviche. Actually, I found this recipe a while ago in Food & Wine magazine, and adapted it slightly. It's made with super fresh, seasonal fruits and vegetables – please wash them, because even they can harbor bacteria – and it's light and refreshing just like the original ceviche, but completely vegan.
This summer harvest ceviche is a perfect side dish with grilled fish, or you can keep it vegetarian by adding some quinoa and black beans for protein.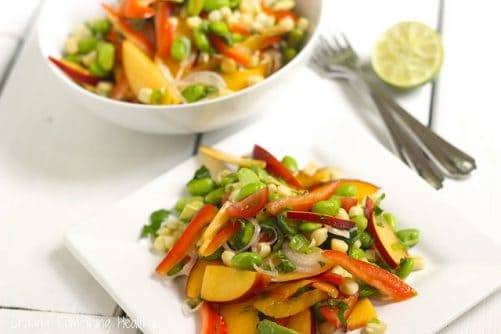 Ingredients
1 1/2

cups

frozen corn - thawed

1

cup

frozen edemame - thawed

2

nectarines

cut into thin wedges

1

large red pepper

seeded and cut into thin strips

1

ripe avocado

pitted and cut into 1/2 inch cubes

1

cup

cherry or grape tomatoes

sliced in half

1

small shallot

thinly sliced

1

scallion

thinly sliced

1

jalapeño pepper

seeded and thinly sliced

1/4

cup

loosely packed cilantro

chopped (save for garnish)
Dressing
juice of 1 lime

juice of 1/2 orange

2

tablespoons

olive oil

salt and pepper
Instructions
Whisk together ingredients for dressing in a small bowl or measuring cup and set aside.

In a large bowl, combine nectarines and all vegetables. Toss well to combine. Pour dressing over salad and refrigerate for at least an hour to allow flavors to blend.

Add cilantro before serving, adjust seasonings as necessary.
Notes
Recipe adapted from Food & Wine
Have you ever gotten sick from raw seafood?  Hopefully not!
Eat well!