Super-Simple Homemade Peanut Ramen Noodles
No, it's NOT your dorm room ramen! These delicious, nutritious homemade Peanut Ramen Noodles hit the spot when you're starving but time and money are short.   
Hey there friends!  It's time for another Recipe ReDux post, and this month's theme is "How low can you go?"  We were challenged to create a healthy, delicious, and budget-friendly meal.  It's a perfect theme for January, as I sort through the never-ending stream of tax forms that come in the mail each day, and realize just how little I earn in a year!  Truth be told, I certainly appreciate a big, fancy and expensive meal - but only if someone else is paying 🙂  I'm just as happy with budget food, as long as it's fresh.
Did you use to eat Ramen Noodles when you were in college?  Or when you graduated and were totally flat broke?  I did.  And honestly, I never thought of them as unhealthy - it's just very noodle-y soup, right?  Then along came the nutrition facts label, and word got out to check it when buying ramen, and my, oh, my.  That was the end of my Ramen Noodle days!  Besides the fact that there are technically 2 servings in the package - ?really? - here's what else I learned:  One package has about 400 calories, and 14 grams of fat - half of which is saturated (the bad kind).  There's also quite a long list of ingredients that I can't pronounce.  Who. Knew?
When I think of budget-friendly food, I usually go with beans, which means Mexican for me, or pasta. This noodle dish is kind of a fun change from those two staples.  It's a great one to have in your back pocket, because there really is no recipe.  As long as you have the noodles, and some stock or broth (or even a few bouillon cubes if you're in a pinch), anything else you can scrape up in your kitchen goes.
Here's what I used:  1 shredded carrot, about 3 mushrooms, one scallion, 1 stalk of celery, 1 semi-hard-boiled egg, a few heads of baby bok-choy, ginger, peanut butter, chicken stock, and of course  - noodles!  If you don't have fresh ginger, use dry.  It's great as is, but if you have soy sauce and sriracha sauce in your fridge (if not, why not?) that definitely kicks up the flavor even more.
Here's another money-saving tip:  Get yourself to an Asian market!  I absolutely love visiting the one near my house.  It's HUGE, as in full grocery store huge, and it has the very best prices on produce.   I got a huge package of baby bok choy for $1.39, a bunch of celery for 0.79, a pound of mushrooms for 1.99, and eight portions of Chinese noodles for 1.19.  Cha Ching!!  I didn't tally up the total cost of this meal, because I used such a small portion of each ingredient, but I have to believe it comes in at under $3.00 for 2 servings.
[bctt tweet="It's #BudgetFriendly, but this is not your dorm room #ramen! Homemade Peanut Ramen #TheRecipeReDux " username="@CraveSomeHealth"]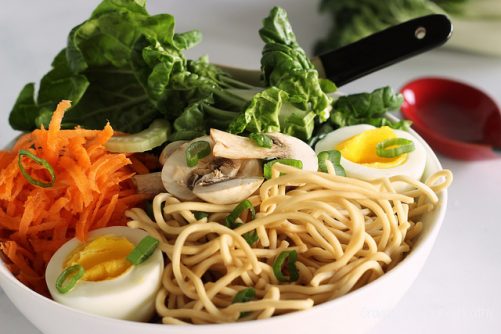 Personally, the only rule I would encourage you to follow when making this dish, is to make it colorful!  It's so much more fun to eat that way!  If you do go to the Asian market, make sure you look for the low fat dry noodles - most of the "instant" ramen noodles are fried and really high in fat and calories.
Recipe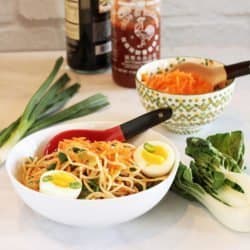 Super-Simple Homemade Peanut Ramen Noodles
These are SO much better than what you ate in college. Fresh, tasty, and so satisfying.
Print
Pin
Ingredients
1 ½

cups

chicken stock

or beef, or vegetable

2

tablespoons

creamy peanut butter

1

teaspoon

low sodium soy sauce

1

teaspoon

of fresh minced ginger

or ½ teaspoon of dried ginger

1

medium carrot

shredded

1

stalk celery

sliced thin

3-4

white or baby bella mushrooms

sliced

1

small

head bok choy

green leaves and light green stem parts sliced

2

ounces

dry soba noodles

optional 1 hard or soft-boiled egg

sliced in half

1-2

scallions

sliced,
Seasoning
1

teaspoon

Sriracha sauce (optional)

or more to taste

1

teaspoon

low sodium soy sauce (optional)

or more to taste
Instructions
Place the broth or stockin a medium sauce pan, and add the peanut butter, ginger, and 1 teaspoon of the soy sauce. Bring to a boil, stirring constantly to blend the ingredients, and then reduce the heat to a simmer.

Add all of the vegetables, except the scallions to the broth.

Add the noodles, breaking them up as needed, so that they are covered with the broth.

Let the noodles sit in the broth for about 5 minutes, or until they are softened.

Remove from the heat, and adjust seasonings with Sriracha, and additional soy sauce, if desired.

Sprinkle the scallions over, and serve with the egg halves on the side.
Notes
If you can't find the low fat Chinese noodles, you can use whole grain spaghetti, buckwheat, or brown rice noodles.
Nutrition
Serving:
0
g
|
Calories:
279
kcal
|
Carbohydrates:
36
g
|
Protein:
14
g
|
Fat:
11
g
|
Saturated Fat:
2
g
|
Cholesterol:
5
mg
|
Sodium:
668
mg
|
Potassium:
605
mg
|
Fiber:
2
g
|
Sugar:
7
g
|
Vitamin A:
5482
IU
|
Vitamin C:
7
mg
|
Calcium:
46
mg
|
Iron:
2
mg
Eat well!