World Series-Worthy Apple Caramel Corn
Forget regular popcorn! Make this healthier, vegan version of apple caramel corn in minutes in the microwave!
There's a buzz in the air in Boston, because our team is in the World Series! Anyone who knows me well will laugh when reading this because they know that baseball really isn't my thing and usually I don't know who, what, when or where the World Series is. In all honesty, I can't bear to sit still for more than 20 minutes, let alone 3 + hours to watch a baseball game where players don't seem to do anything but spit, and they each make more money in a year than I will ever see. But this year seems a little different, because the Red Sox went from worst to first in one year, and the team seems like a bunch of really good guys. I still can't really say I know more than one or two of their names, but I've seen their faces promoting various charitable causes, and I'm really enjoying their strange beards, and I especially love their un-cocky, one day at a time attitude. It's something we can all use more of.
So in honor of the World Series, and for anyone who wants to watch and eat, and feel like they're really at the ballpark, I created a health(ier) version of Cracker Jack - the kind of caramel corn. I added some dried apples instead of a prize, because who doesn't love caramel apples?
This recipe is super quick, because it's made in the microwave. You could whip it up between innings. Also, I don't care much for peanuts, so I added cashews instead, but feel free to use peanuts if you prefer them.
Go Sox! Who are we playing? Just kidding!!
Recipe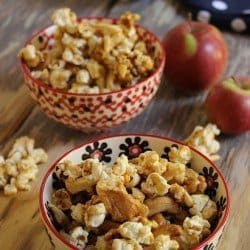 Quick Apple Caramel Corn
a healthier, vegan version of caramel corn
Print
Pin
Ingredients
¼

cup

popcorn kernels

1

cup

salted cashews

optional

1

cup

dried apple

chopped

¾

cup

brown sugar

packed

4

Tbs

coconut oil

3

Tbs

organic corn syrup

1

teaspoon

kosher salt

¾

teaspoon

vanilla

1

teaspoon

baking soda
Instructions
Place popcorn kernels in a medium to large sized brown paper bag, and turn under to close. Pop corn in a microwave for 3-4 minutes, or until popping slows or stops.

Add chopped apple pieces and nuts to popped corn in the bag.

In a mixing bowl, or large measuring cup, mix together brown sugar, butter (or coconut oil), corn syrup, salt, and vanilla. Stir well to combine.

Microwave butter sugar mixture for 1-2 minutes until boiling. Stir, and microwave again for 2 more minutes.

Immediately add baking soda to caramel and stir well. Caramel will foam.

Pour caramel over popcorn, nuts anda apple pieces in the bag, and turn bag over a few times to close. Shake well to distribute. Return the bag to the microwave for 1 more minute. Shake bag vigorously again and return to microwave for another 45-60 seconds.

Pour caramel apple corn out onto a baking sheet, break apart any large clumps, and let cool completely to harden.
Notes
Microwaves will vary, so keep a close eye on this as you are cooking. If corn does not crisp up, put it back in the bag and microwave for another 30-45 seconds.
Best eaten the same day.
Nutrition
Calories:
406
kcal
|
Carbohydrates:
58
g
|
Protein:
4
g
|
Fat:
20
g
|
Saturated Fat:
10
g
|
Polyunsaturated Fat:
2
g
|
Monounsaturated Fat:
7
g
|
Sodium:
744
mg
|
Potassium:
250
mg
|
Fiber:
3
g
|
Sugar:
45
g
|
Vitamin C:
1
mg
|
Calcium:
37
mg
|
Iron:
2
mg
What's your favorite sport? Eat well!