Are you in a dinner rut and making the same meals week after week? Are you always wondering what to make for dinner when it's 5:00 pm?
Or worse, do you resort to ordering take-out because you don't have a dinner plan in place?
Here's help! I'm delighted to partner with Cook Smarts, a healthy meal-planning service. This women-founded and run company has been making cooking a breeze since 2013. And they are obsessed with providing an easy, delicious, and quality meal planning experience that helps home cooks:
Save time and money - there's no need to search for recipes and make complicated grocery lists
Reduce food waste - they've put together a holistic plan so that you'll use up just about everything you buy
Feel more confident in the kitchen - every meal you cook with Cook Smarts is like a mini cooking lesson
Eat healthier every single day by building a collection of your NEW favorite recipes
Learn More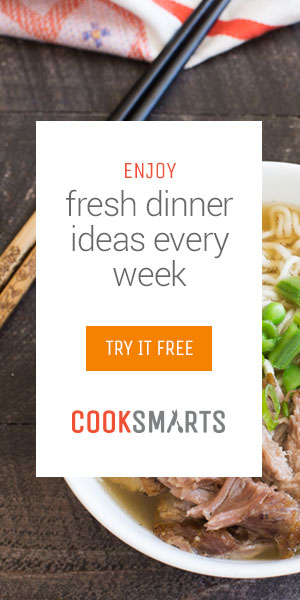 Cook Smarts makes meal planning super simple by providing weekly meal plans complete with grocery lists, meal prep, and cooking tips. What's more, you can choose from 4 different types of meals — and you can mix and match these every week, so you're not locked into any one diet pattern. Choose from:
Their Original Plan: balanced and healthy with various proteins, grains, and vegetables.
Gluten-Free: Ingredients are free from wheat, rye, and barley. A must for anyone with celiac disease or a wheat allergy and a great option for those with autoimmune diseases or other health conditions that benefit from less gluten.
Paleo: Meals do not include grains, legumes, or dairy ingredients. This is a great option for anyone who wants to eat lower carb or those with dairy and/or gluten sensitivities.
Vegetarian: Meals are meat, poultry, and seafood-free. Most proteins are legumes (beans), soy, or eggs.
Browse Cook Smart's menu archive here to get a taste of their meals.
Here's how Cook Smart meal planning works:
Start with a free trial and test it out! All plans come with a complimentary 14-day trial. Cancel anytime if you don't love it.
Each week, you'll receive a customized meal plan delivered directly to your email inbox. Your plan will include meals for four days. Toggle between the different meal types (original, gluten-free, paleo, or vegetarian) and choose and save the meals you want to try. You can mix and match the different plans, so if you want two vegetarian meals, one paleo meal, and one original, you've got it!
If you don't love the meal selections for the week, you can also browse their extensive menu archive for others. Once you make your meal plan for the week, you'll have access to the instructions, grocery list, and all the tips you need to be a superstar in the kitchen.
Cook Smarts meals include complete nutrition information to help you meet your health goals, and plans integrate with My Fitness Pal, so you can track your meals there with a click. And if you track Weight Watchers points, they are listed on each recipe.
Finally, you can adjust the number of servings each meal makes. That's ideal if you're cooking for one or two, for a family, or if you want to ensure you have leftovers for later in the week.
Note that Cook Smarts is not a meal delivery service. You'll do have to purchase the groceries, but you'll save money by doing your own shopping. The service does integrate with InstaCart, so you can send your grocery list to InstaCart and have your groceries delivered.
Subscription plans start at less than $8/month.
I promise, if you stick to your meal plan for just three months, you'll look and feel better than ever!
Here's What People Are Saying About Cook Smarts
Questions,? CONTACT ME, and I'll be happy to help.