Spring in New England is a good three months of "I don't know what I want to be" and "I can't make up my mind".  While other parts of the country are already warm and starting to bloom, we vacillate between the occasional warm, sunny day, lots of cold windy ones, and even a few miserable snowy days here and there.  Indecision.  What do I wear – winter coat?  Doesn't seem right in late March.  My yellow rain jacket?  Still way to cold and dreary.  Flats?  What about the socks?  Boots?  Ugh!
Eating is the same way this time of the year.  I'm so over squash and sweet potatoes.  I'm craving light and lovely salads with lots of color, but they leave me feeling cold inside and wanting something warmer. 
That's where lentils come in.  They're a hearty replacement for meat, and they taste great warm or cold.  Paired with some roasted vegetables for warmth, but a light springy lemon vinaigrette for spring, they're quite a versatile food to add to this salad, to turn it into a meal.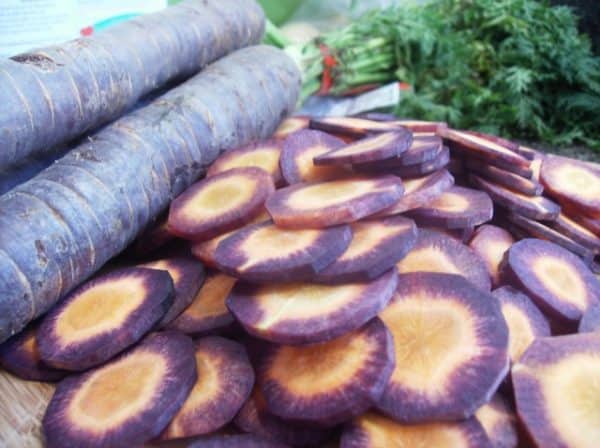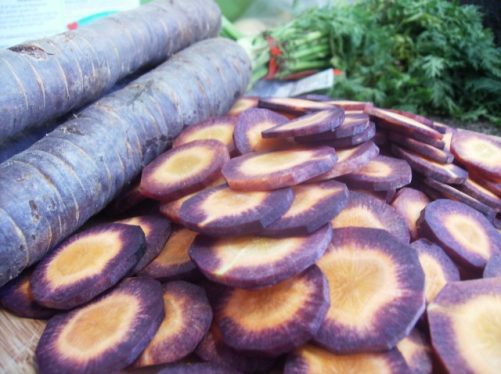 I also found maroon carrots at the grocery store the other day and had to see what was inside of them.  I pictured purple all the way through just like regular carrots are orange and parsnips are white inside.  Surprise!  They were purple on the outside with an orange core.   Lovely!  The purple is from anthocyanin, a plant compound that may keep your heart and brain healthier.  It's the same one that's in berries.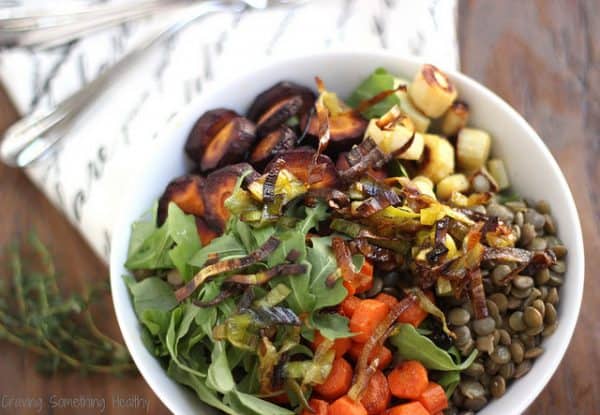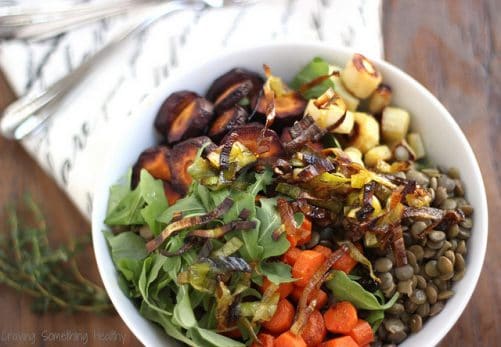 Warm(er) weather arugula and leeks + Cool(er) weather root vegetables + Lentils = Spring in New England!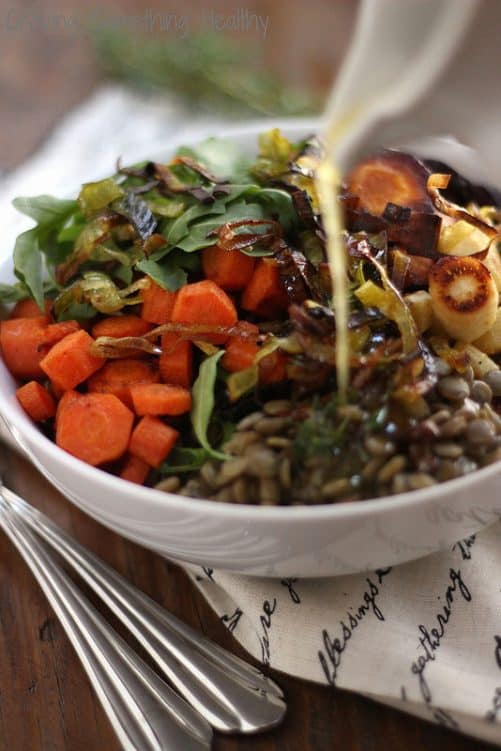 I like the brown lentils best for this recipe, because they hold together nicely after they're cooked.  This is a great article about how to cook lentils.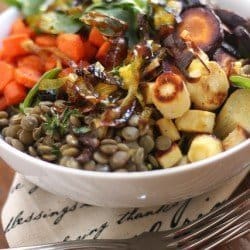 Warm Lentil Salad
Ingredients
1

cup

brown lentils

1

large orange carrot

1

large parsnip

2

large purple carrots

1

large leek

3

cups

arugula

lightly packed

2

tablespoons

lemon juice from one fresh lemon

2

tablespoons

honey

2

tablespoons

olive oil plus extra to toss with vegetables

2

sprigs fresh thyme

salt and pepper
Instructions
Preheat oven to 375 degrees and spray a baking pan with nonstick cooking spray.

Simmer lentils in 2 cups of water and 1/2 teaspoon of salt if desired, for 20-30 minutes or until tender. Drain any remaining water and let lentils cool a bit.

Peel carrots and parsnip and cut into 1/2 inch wide coins. Toss with up to 1 tablespoon of olive oil and sprinkle with salt and pepper. Spread vegetables in one layer on the baking sheet. Reserve any remaining oil in the bowl for the leeks. Roast vegetables for about 15-20 minutes or until tender, flipping them halfway through so they caramelize evenly.

Trim leak, cutting off bulb and dark green stems, and any tough outer layer of the light green stems. If desired, reserve bulb and dark stems for stock.

Slice light green part into thin round strips, and rinse well to remove any dirt or sand. Place leeks in the bowl and toss with the oil, salt and pepper that remains from the vegetables.

When the vegetables are tender, remove from the oven and toss with the lentils in a large mixing bowl.

Spread the leeks on the baking pan, and roast for 10-12 minutes until they caramelize and start to turn dark and crispy.

Meanwhile, prepare the vinaigrette: Mix lemon juice, honey and 2 tablespoons olive oil together. Remove thyme leaves from their stem and add to vinaigrette. Season with salt and pepper.

Pour dressing over vegetables and lentils, toss to combine.

Serve lentil-vegetables over a bed of arugula, and sprinkle with crisped leeks.
Eat well!