Chicken With Spinach and Mushrooms
This recipe was originally created in partnership with Safeway. I've updated it to make it even easier, faster, and more delicious.
Rich, creamy chicken with spinach and mushrooms is the ultimate comfort food that takes only about 30 minutes to prepare. It features boneless, skinless chicken, baby Bella mushrooms, and spinach smothered in a flavorful cream sauce. And that rich, creamy sauce is surprisingly healthy, thanks to Greek yogurt.
Chicken with spinach and mushrooms is always a winner when you want a one-skillet dinner that's hearty comfort food with a healthier twist.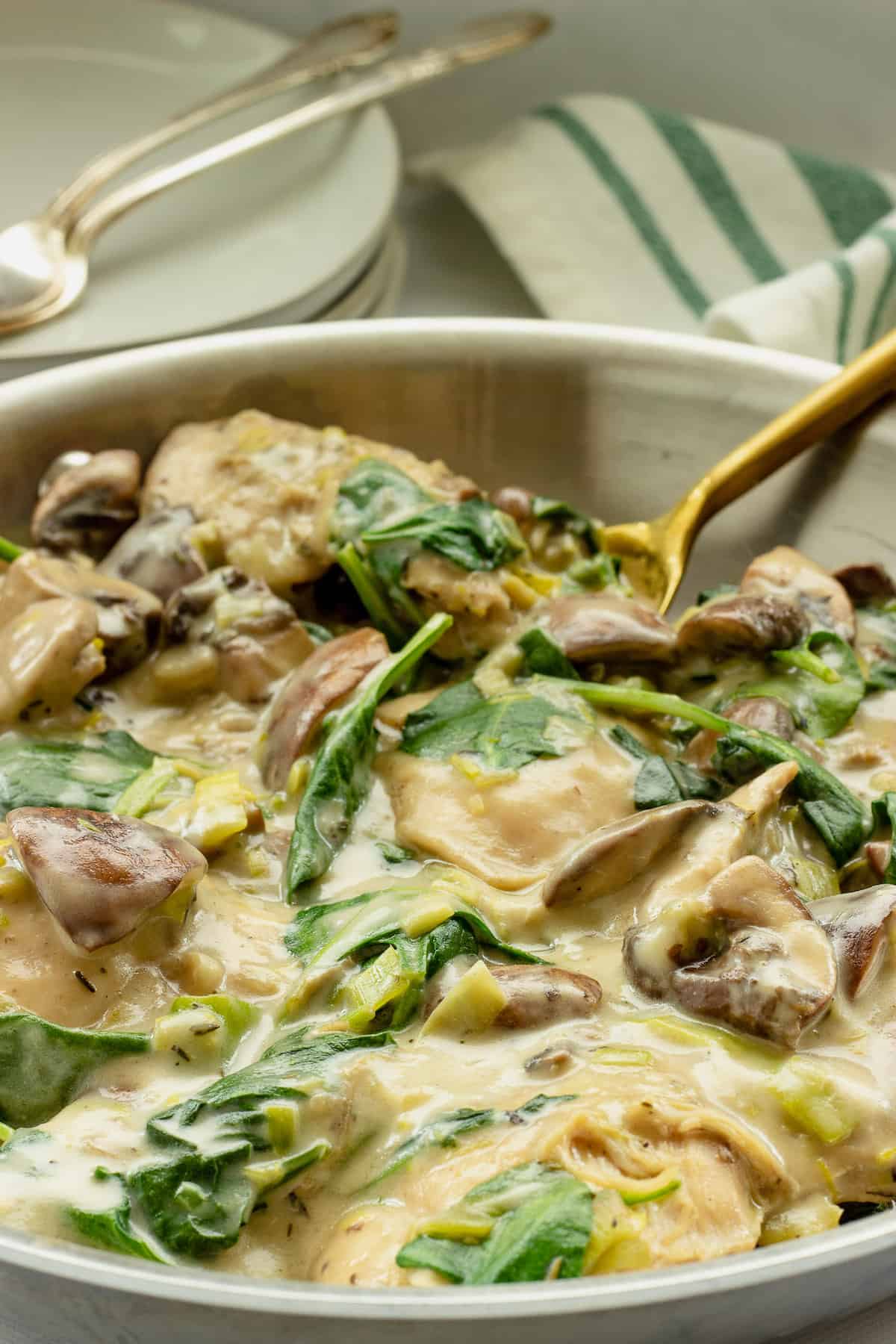 I cook with boneless, skinless chicken breasts or thighs a LOT. They're always a good go-to for a quick meal, whether you add them to soups like Creamy Chicken and Corn Chowder, cook them with rice and aromatic seasonings in Easy Chicken Biryani, or shred them up for Chicken, Berry, and Brown Rice Bowls.
This creamy chicken mushroom recipe is one of my favorite ways to dress up plain old chicken, and it never disappoints. You'll love it. I promise!
Jump to:
Ingredients, Substitutions, and Tips
I love this recipe because it's easy and fuss-free. You only need a handful of ingredients, and most are pantry staples. Here's what I use, as well as some substitutions and helpful tips for how to make the most of your ingredients.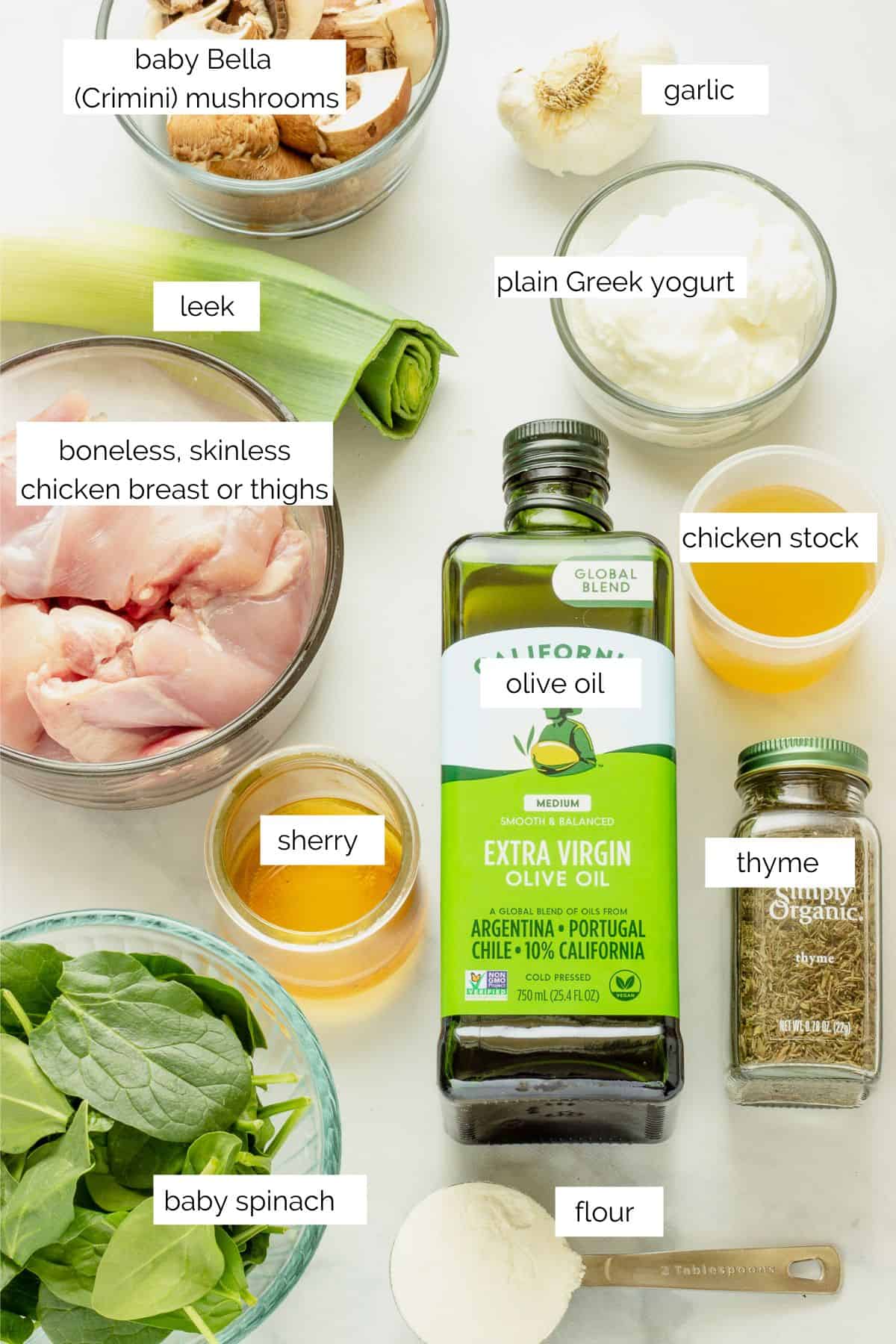 Chicken. I recommend boneless, skinless chicken for this recipe. Chicken with the skin on will leave the sauce too greasy. And chicken with bones will take longer to cook. I've made this with both chicken breasts and thighs, and both work well. Read below for my thoughts on chicken breasts vs thighs.
Whether you use breasts or thighs, make sure all of your chicken pieces are similar in size. Cut any thicker breast portions in half into cutlets using this technique. Pound any thicker pieces to about ½-inch thick.
Mushrooms. I prefer Crimini (also known as mini or baby Bella) mushrooms here, but you can substitute white button mushrooms. Baby Bella mushrooms have a deeper umami flavor compared to white mushrooms. They are the young, baby version of Portabella mushrooms.
If you really want to amp up the "meaty" umami flavor, you can also use Portabella mushrooms — the very large mushroom caps. Just make sure you cut them into bite-sized pieces.
If you're in a pinch and don't have any fresh mushrooms on hand, you can always use canned mushrooms.
Spinach. I recommend baby spinach, and you don't have to remove the stems because they're very tender. If you have regular large spinach leaves on hand, you can use them but chop them down to about one-inch pieces and remove the tougher stems.
If you don't care for spinach, you can swap another leafy green vegetable (this recipe is a great way to eat more of them!). Baby kale would work well. Or use curly or Lacinato (dinosaur) kale or Swiss chard and chop it into one-inch bite-size pieces. Make sure you remove the stems on these because they're quite tough.
Leeks. I love the sweet, earthy, mellow flavor of leeks, especially when they're sauteed. Milder than onions, leeks taste like a cross between onions, garlic, and chives. Make sure you use only the white and light green parts of the leek. The darker green tops are tough.
Before slicing your leeks into thin rounds, take your chef's knife and slice down the length of the leek. That allows you to open it up so you can rinse it. Leeks are notoriously dirty inside because they grow underground. Give them a good rinse before slicing.
If you don't have leeks, you can use onions or shallots instead.
Dry Sherry. This provides a subtle sweetness and rich, nutty flavor — but please buy a bottle of sherry from the wine department, NOT cooking sherry in the little bottles near the vinegar and salad dressings. It's full of preservatives. Regular sherry will keep in your pantry for a LONG time, and it's good to have on hand for recipes like this.
You can swap the sherry for dry vermouth, dry white wine, or Marsala wine. Or leave it out and use a squeeze of lemon juice to brighten the flavor of the sauce.
Plain Greek yogurt. I always have Greek yogurt on hand, so it's my go-to for creamy sauces. It adds a tangy flavor along with lots of protein. Make sure it's plain, not vanilla!
I prefer full-fat Greek yogurt in this recipe because it's rich and creamy and won't curdle when you add it to the sauce. If you use low or non-fat Greek yogurt, temper it first before adding it to the sauce. To do that, just mix about 3-4 tablespoons of the hot sauce into your yogurt first and then add that mixture into your sauce.
You can substitute sour cream for Greek yogurt (although it doesn't have the protein). Or use ¼ cup of heavy cream.
Which is Best: Chicken Breasts or Thighs?
Ah, the age-old question! The answer is, it depends. Both are readily available and cook quickly.
Chicken thighs tend to stay moister when sauteed and braised because they have more fat. Chicken breasts are more likely to dry out if you overcook them because they're super lean. Still, they're both lean, nutritious options.
Ultimately, it comes down to personal preference. Some people prefer the softer texture of thighs, while others prefer the firm texture of chicken breasts.
Here's a side-by-side comparison of their nutrition information for a 4-ounce serving (about 100 g) with their key nutrients:
| | | |
| --- | --- | --- |
| | Chicken Breasts | Chicken Thighs |
| Calories | 158 | 209 |
| Protein | 32 g | 26 g |
| Fat | 3 g | 11 g |
| Carbohydrates | 0 g | 0 g |
| Niacin | 13.7 mg, 69% Daily Value (DV) | 6.5 mg, 33% DV |
| vitamin B6 | 0.6 mg, 30% DV | 0.4 mg, 18% DV |
| Selenium | 27.6 mcg, 39% DV | 29 mcg, 41% DV |
| Phosphorus | 228 mg, 23% DV | 183 mg, 18% DV |
| Iron | 1 mg, 6% DV | 1.3 mg, 7% DV |
How To Make This Recipe
This is such an easy, no-fail recipe, and the best part is that everything cooks in one pan. What's better than that?
If you have a good non-stick pan, use it for this recipe. Start by browning your chicken. Put the olive oil in a large saute pan with a lid (you'll need the lid later). Once your oil is hot, lay the seasoned chicken down in a single layer, and do not touch it for at least 3 minutes.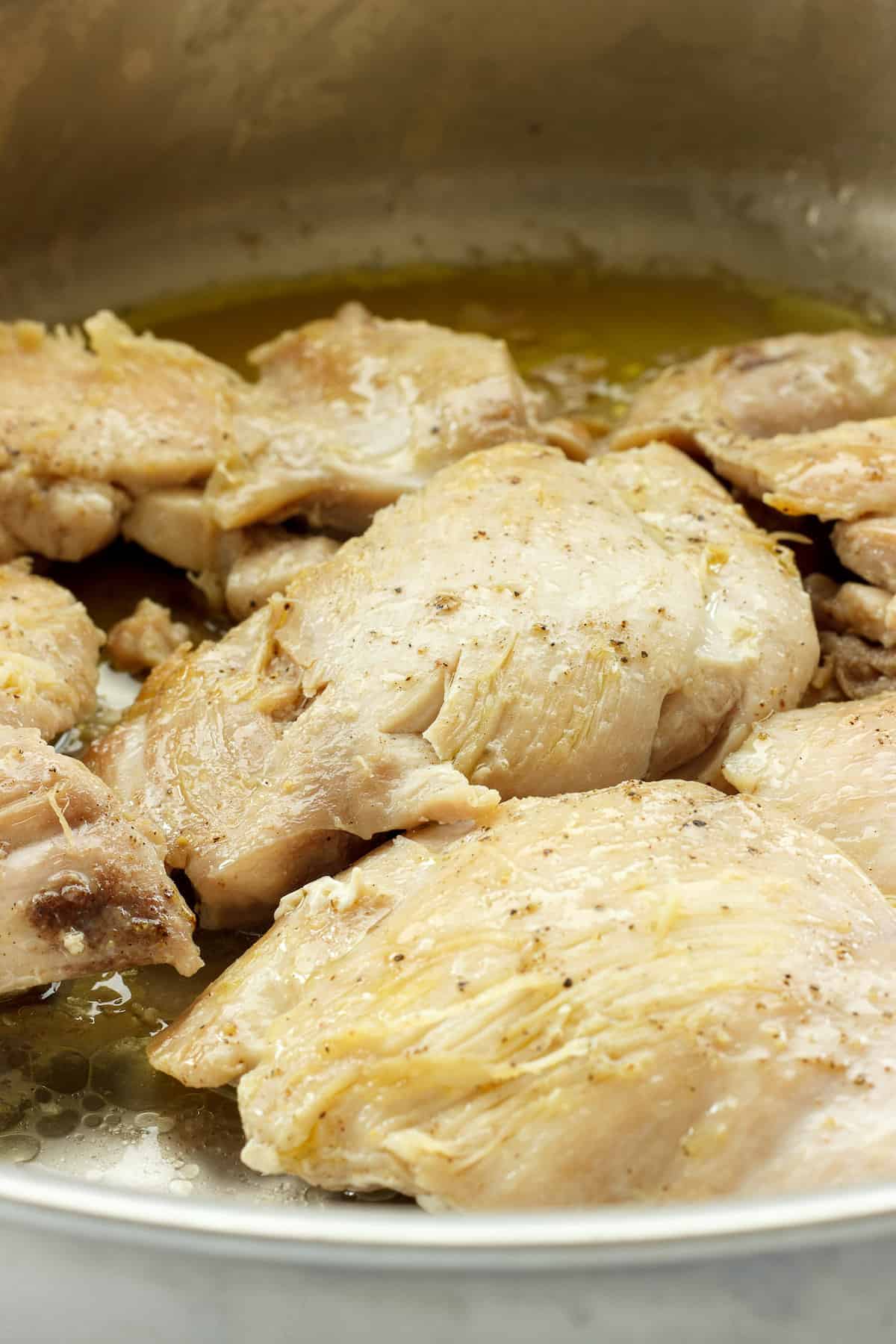 If you try to flip your chicken too early, it will stick if your pan doesn't have a non-stick surface. You don't have to get your chicken super brown, but a little bit of gold in spots gives it a nicer flavor.
Once it's brownish on one side, flip it over using a pair of tongs. The second side should only need 2-3 minutes. Then, remove your chicken from the pan and set it aside.
Next, add the sliced leeks and mushrooms to the pan and let them cook for another 5 minutes. Stir them occasionally and let them start to turn gold and give off some of their liquid. This will make your sauce more flavorful.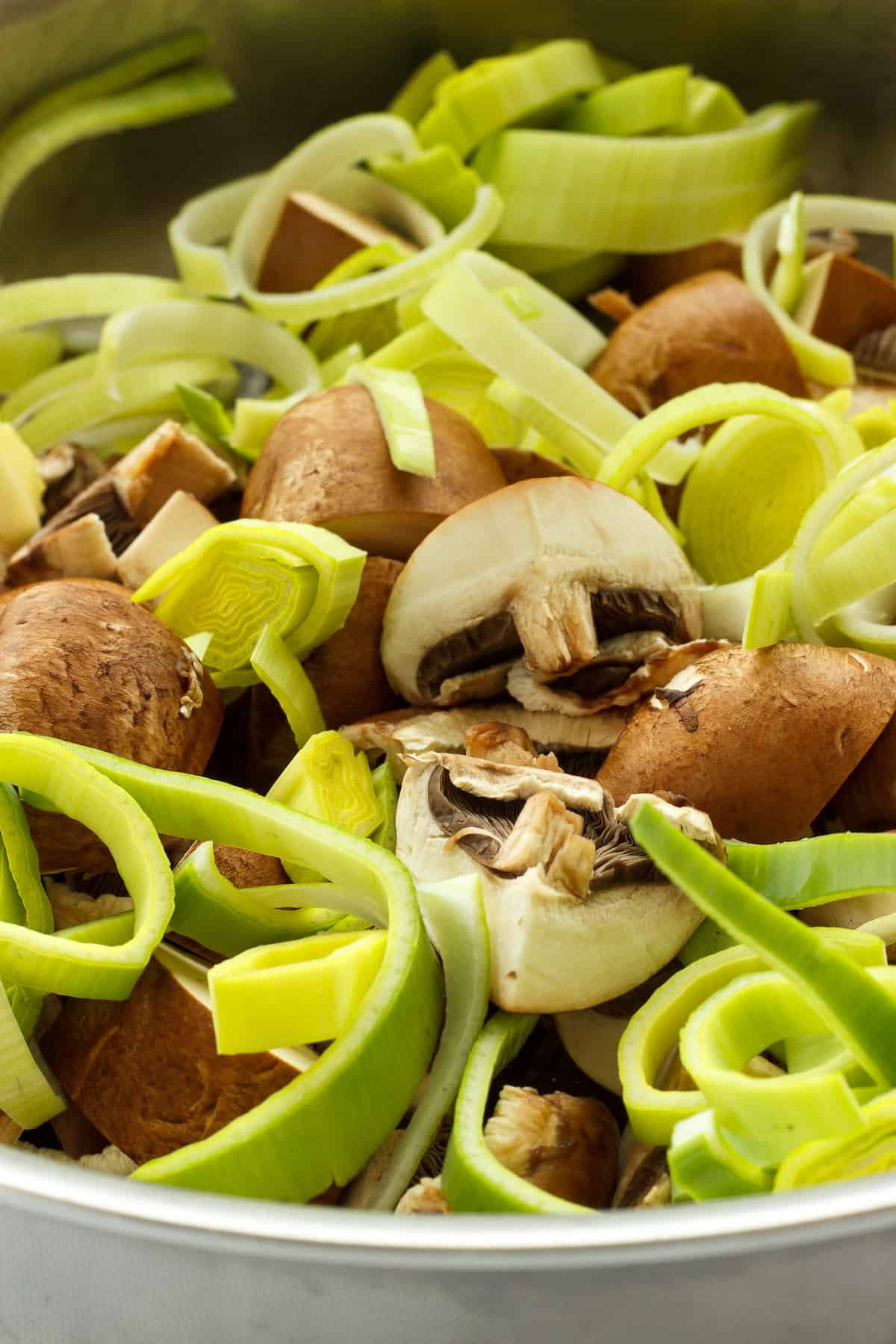 These vegetables have lots of water, so they'll cook down quite a bit.
Once your leeks and mushrooms are cooked down and start to caramelize, sprinkle them with 2 tablespoons of flour. This will help your sauce to thicken.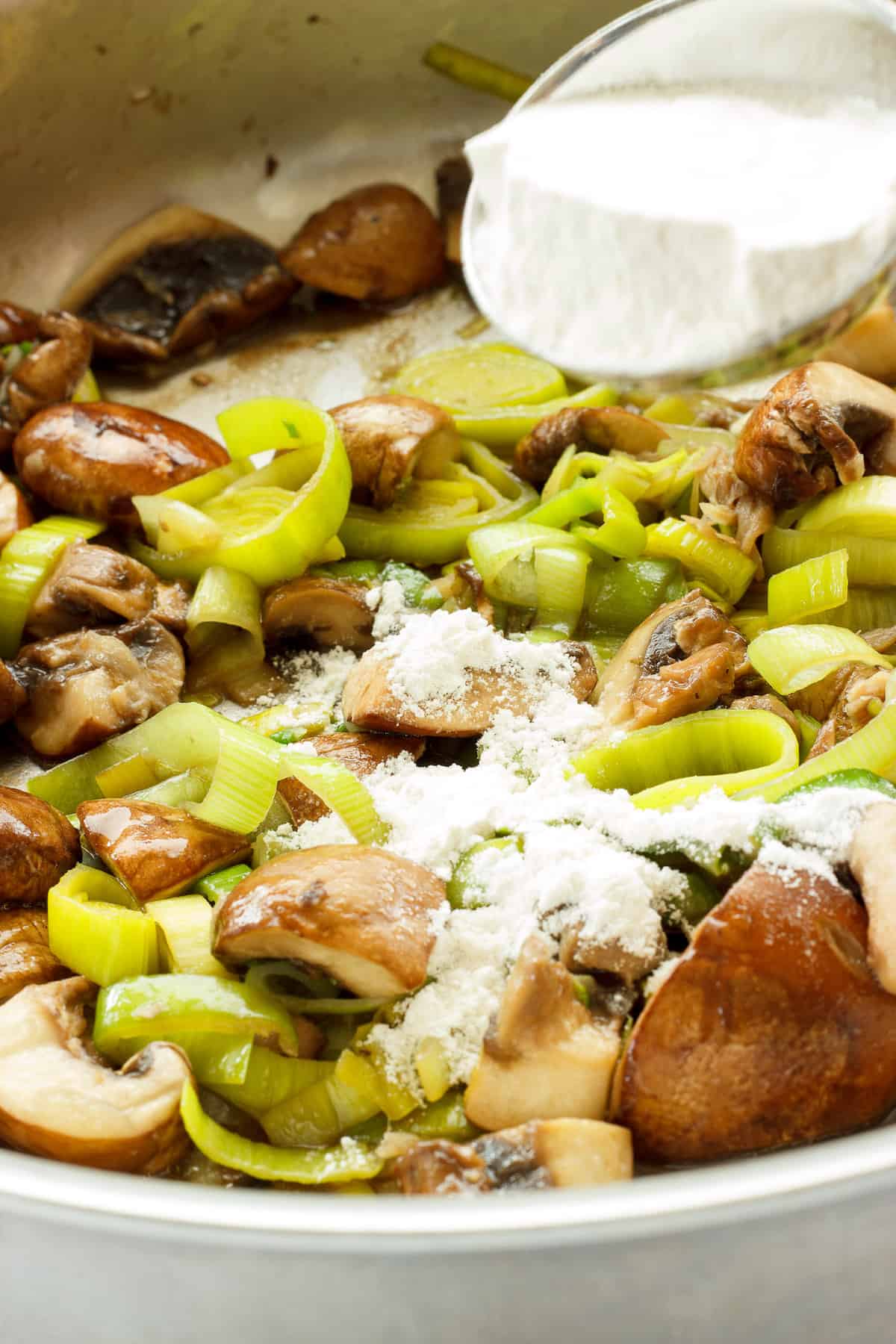 Stir the flour into the vegetables so there are no big lumps. Let it cook for about 1 minute just to remove the raw flour taste. Then, add your sherry, most of the chicken stock (you might need more or less depending on how thick you like your sauce), and thyme to the pan. Bring it to a boil and let the sauce thicken.
If your sauce seems too thick, add more chicken stock. If it's too watery, let it cook longer and some of the liquid will evaporate.
Once your sauce is right, taste it and add salt. Then add your chicken back to the pan and cover it with the spinach. Cover the pan and let the chicken finish cooking and the spinach wilt. About 5 more minutes.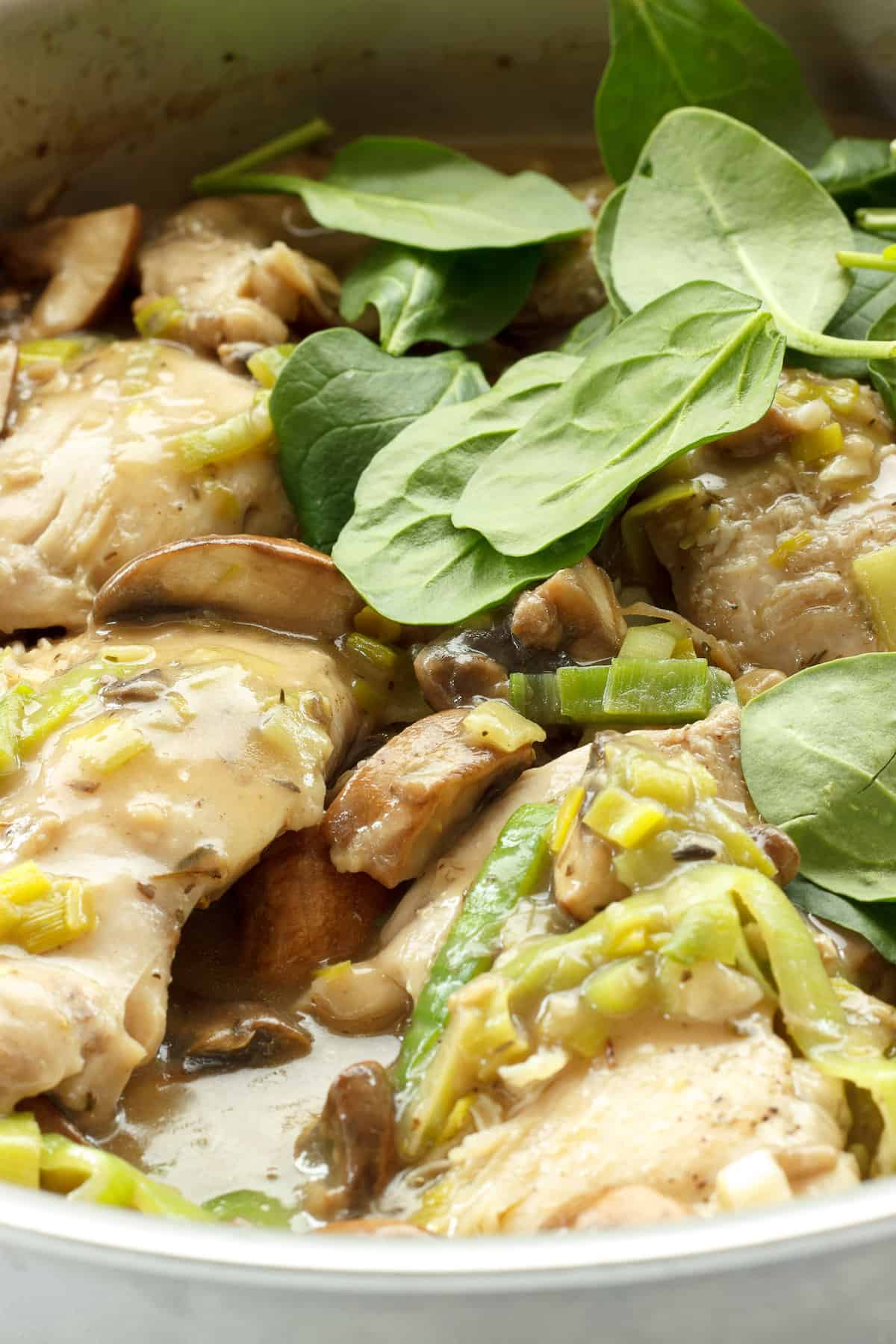 When you're ready to serve, stir the Greek yogurt into the sauce. See my note in the ingredients section above if you're using non-fat Greek yogurt.
If you don't temper it by adding some of the hot liquid into the cool yogurt first, it might curdle. It will still taste amazing but it won't look pretty!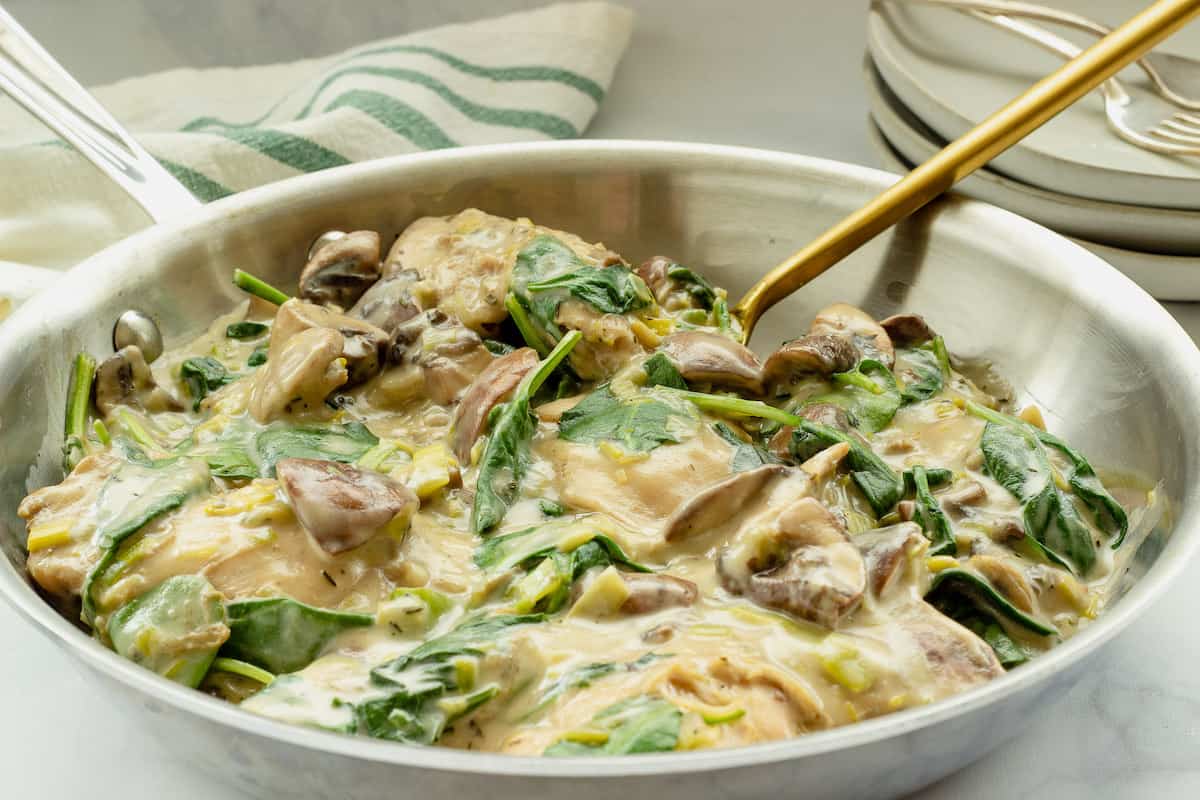 Serving Suggestions
This dish really is a complete meal, but if you want to serve it with sides, I recommend:
Mashed potatoes (they always get my vote!)
Polenta
Cooked brown rice or other grains like barley or farro
A hunk of sourdough bread to sop up the sauce
Roasted vegetables like cauliflower and carrots for even more color
A simple side salad
Can You Make This Dish Ahead of Time?
Yes! This is a great dish to make a day ahead of time if you're meal prepping or having company and want to get a jump on your food.
For the best results:
Don't overcook the chicken (especially if you're using chicken breasts) because it will dry out or become rubbery.
Also, don't add the Greek yogurt until you're ready to serve. Prepare everything up to the last step where you add the yogurt. Then refrigerate your chicken dish.
Reheat the chicken with spinach and mushrooms without the yogurt, and once it's hot and ready, stir in the yogurt.
The reason for this is that Greek yogurt may break or curdle when reheating. The rest of the ingredients will be fine if chilled and reheated.
If you want to freeze this recipe, do it without the yogurt. I don't recommend freezing once the Greek yogurt has been added.
Store any leftovers in the refrigerator for up to 48 hours.
Recipe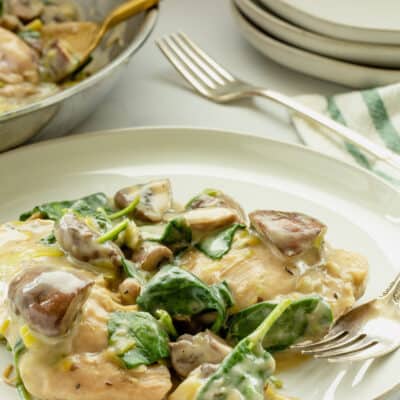 Chicken With Spinach and Mushrooms
A rich and creamy one-pan dinner that's surprisingly healthy
Print
Pin
Ingredients
1.25

pounds

boneless, skinless chicken

thighs or breasts

salt and pepper

2

tablespoons

olive oil

1

large

leek

white and light green parts only, sliced thin

1

pound

Crimini (Baby Bella) mushrooms

quartered

8

medium

garlic cloves

minced

1

tablespoon

flour

¾

cup

chicken stock

more if the sauce seems to thick

3

tablespoons

Dry Sherry

½

teaspoon

dried thyme

2

cups

baby spinach

packed

½

cup

plain Greek yogurt

full fat (see note below for nonfat)
Instructions
Season both sides of your chicken with salt and pepper

Heat the olive oil in a large saute pan (use a non-stick pan if you have one) over medium-high heat. When the oil is hot, lay the chicken in a single layer in the pan.

Let the chicken cook for 3-4 minutes on the first side. When it starts to turn light gold in spots, flip the chicken pieces over and let them cook for another 3 minutes on the second side. Remove the chicken from the pan and set it aside.

Add the leeks and mushrooms to the pan and saute them for about 5 minutes or until they are wilted and start to caramelize. Add the garlic and cook for another 2 minutes.

When the vegetables are cooked, sprinkle the flour over them and stir it in breaking up any clumps. Cook for 1 minute, then add the chicken stock, sherry, and thyme. Stir the mixture and let it come to a boil. If the sauce seems too thick once it boils, add a little extra chicken stock. The sauce should coat the spoon but not be gummy.

Add the chicken back to the pan and top with the spinach. Cover the pan and let the chicken finish cooking through and the spinach wilt. This should take about 4-5 minutes.

Remove the pan from the heat, and stir everything well to incorporate the spinach. Gently stir the yogurt into the sauce and mix well, so everything is combined.
Notes
If using low or nonfat yogurt, temper it before adding it to the sauce but stirring about 3 tablespoons of the hot sauce into the yogurt first. Then add this mixture back to your pan. This will reduce the chance that the yogurt will curdle.
If you're making this recipe the day ahead of time, don't add the yogurt until you're ready to serve it. Make the dish without the last step, refrigerate it, and then reheat it. When the dish is reheated, stir in the yogurt.
Nutrition
Calories:
313
kcal
|
Carbohydrates:
14
g
|
Protein:
38
g
|
Fat:
11
g
|
Saturated Fat:
2
g
|
Polyunsaturated Fat:
1
g
|
Monounsaturated Fat:
6
g
|
Trans Fat:
0.02
g
|
Cholesterol:
92
mg
|
Sodium:
212
mg
|
Potassium:
1265
mg
|
Fiber:
2
g
|
Sugar:
4
g
|
Vitamin A:
1826
IU
|
Vitamin C:
11
mg
|
Calcium:
100
mg
|
Iron:
2
mg
How much do you love one-pot meals? Eat well!