Chicken Berry and Brown Rice Bowls
A big thank you to USA Rice for sponsoring this post. As always, opinions are my own. Thanks for supporting the foods and products I use and love.
Here are two things I'm pretty sure we can all agree on: Summer is best enjoyed with minimal time spent in the kitchen, and Everything tastes better in a bowl.
These Chicken, Berry, and Brown Rice Bowls are my new favorite minimal cook and prep dinner. Just like my Buffalo Chicken and Rice Bowls, they start with leftover chicken and rice.
They're light and refreshing and let you stay out of the kitchen when it's too hot to cook. And while you can certainly put them on plates, somehow they're even tastier and more satisfying in a bowl.
Plus, it's awfully pretty, isn't it? This bowl is so much more than a salad. Yes, it's full of crispy greens and fresh, seasonal berries - but it also has chicken for protein (rotisserie or leftover grilled chicken keeps it easy) and chewy, tasty, brown rice for a healthy dose of complex carbs.
And guess what? Everything in here is low glycemic and blood sugar-friendly.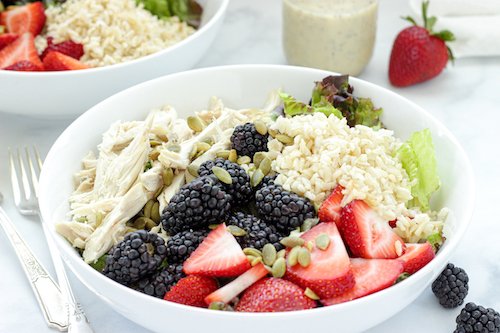 Add a sprinkle of sunflower seeds and a drizzle of sweet poppy seed dressing for healthy fats, and you've got - a complete dinner (or lunch) in a bowl.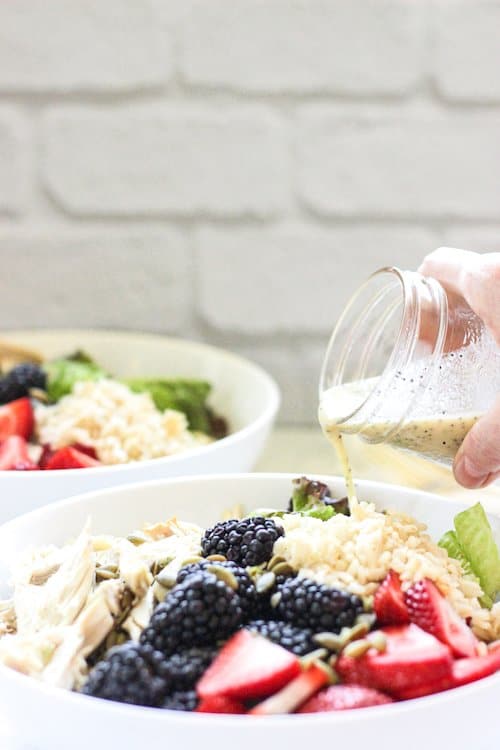 Honestly, it's the rice that transforms this salad bowl into a dinner bowl. I used USA-grown long-grain brown rice because hooray for grown in the USA! Plus, long-grain brown rice has a nice, light, fluffy texture. Compared to short and medium-grain rice, cooked long-grain rice grains are also less sticky and more separated - so they work well in salads, bowls, and stir-fry dishes.
Brown rice is also good for you! A half-cup serving of U.S. long-grain brown rice has about 125 calories and 25 grams of slowly digested complex carbs. It also has important vitamins and minerals like folic acid, B-vitamins, magnesium, selenium, potassium, phosphorus, iron, and zinc.
Like all U.S. grown rice, it's GMO-free and naturally sodium and cholesterol-free.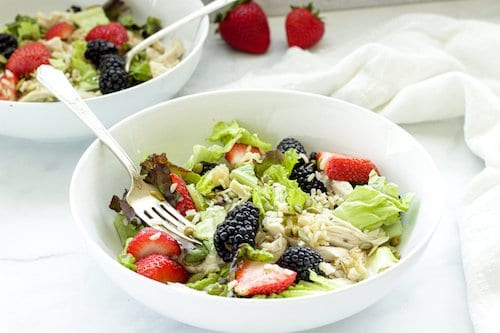 Long-Grain Brown Rice Has Resistant Starch
Probably the biggest reason I love to use rice in cold dishes like this is that it's a great source of resistant starch. That's a type of starch that "resists digestion" so it has a favorable effect on your blood sugar. When you eat foods high in resistant starch, they won't raise your blood sugar as quickly, or as high as other carbs.
Resistant starch also keeps you feeling fuller for longer.
Since resistant starch isn't easily digested, it ends up in your large intestine. There, it becomes "food" for the cells and bacteria in your colon. That helps keep your gut microbiome happy and thriving. Resistant starch is also known as prebiotic fiber. Prebiotic fiber feeds probiotic bacteria, so this rice also promotes better gut health.
The starch in all starchy foods comes from amylose and amylopectin. Amylose is the type of starch that resists digestion. And U.S. long-grain brown rice is naturally high in amylose. In fact, it's the amylose that gives long-grain rice it's light, fluffy texture, and grains that don't stick together.
And here's a big tip: When you cook and cool your rice, even more of its starch turns to amylose or resistant starch.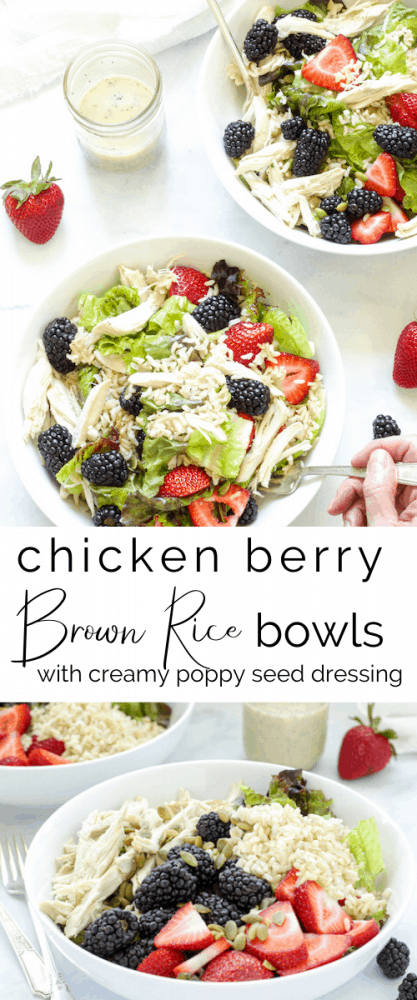 So, make a batch of US-grown rice, keep it in the fridge, and eat up because cold rice is quite good for you. Especially when you combine it with the other healthy ingredients in this Chicken Berry and Brown Rice Bowl.
Recipe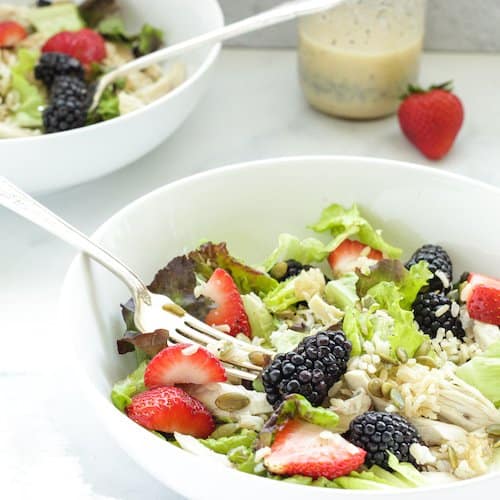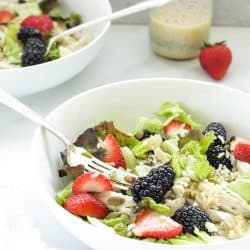 Chicken Berry and Brown Rice Bowl
A light and easy low glycemic dinner in a bowl
Print
Pin
Ingredients
For the Dressing
¼

cup

olive oil

2

tablespoons

honey

3

tablespoons

white wine vinegar

(or apple cider vinegar)

2

tablespoons

nonfat plain Greek yogurt

¼

teaspoon

dry mustard

½

teaspoon

onion powder

1

teaspoon

poppy seeds

¼

teaspoon

salt

or to taste
For the Bowl
⅓

cup

US grown long-grain brown rice

¾

cup

water or unsalted chicken stock

4

cups

mixed greens

6

ounces

shredded rotisserie chicken breast

(or any cooked chicken breast)

¾

cup

blackberries

½

cup

sliced strawberries

¼

cup

thin sliced sweet onion

2

tablespoons

roasted sunflower seeds
Instructions
To Make the Dressing
Combine the olive oil, honey, vinegar, Greek yogurt, dry mustard, onion powder, poppy seeds, and salt in a jar. Cover and shake well until everything is smooth and combined. Set the dressing aside.
To Cook the Rice
Combine the rice and water (or stock) in a medium saucepan. Bring the mixture to a boil. Reduce to heat to low, cover, and let the rice simmer for about 40 minutes, or until cooked.

If using a rice cooker, combine the rice and liquid and turn it on. It will turn off when the rice is cooked.

If desired, chill the rice for several hours or overnight.
To Assemble the Bowls
Combine the cooked brown rice, greens, chicken breast, blackberries, strawberries, and onion in a large mixing bowl. Toss gently to combine.

Pour all (or the desired amount) of dressing over the ingredients and toss again.

Divide the mixture into two bowls. Sprinkle each portion with 1 tablespoon of sunflower seeds.
Notes
If desired, double or triple the rice and liquid. You can keep extra in the refrigerator for 3-5 days or in the freezer for up to 6 months.
Nutrition
Calories:
619
kcal
|
Carbohydrates:
41
g
|
Protein:
28
g
|
Fat:
39
g
|
Saturated Fat:
6
g
|
Cholesterol:
65
mg
|
Sodium:
461
mg
|
Potassium:
573
mg
|
Fiber:
6
g
|
Sugar:
23
g
|
Vitamin A:
1059
IU
|
Vitamin C:
53
mg
|
Calcium:
89
mg
|
Iron:
3
mg
By the way, do you have a rice cooker? I have this small one and it's such a life-saver because it's fool-proof. My rice comes out perfect and fluffy every time. And - I don't have to turn on my stove in the summer.
I always need a resource to remind me what the ideal ratio of rice to liquid is, so I turn to ThinkRice.com. It's full of helpful cooking tips and recipes.
Eat well!