How to Reduce Your Blood Pressure without Medication
This past November, the American Heart Association and the American College of Cardiology issued new guidelines for when high blood pressure should be treated. For the first time in 14 years, there's no more "prehypertension". If your blood pressure is running over 130/80, you officially have high blood pressure.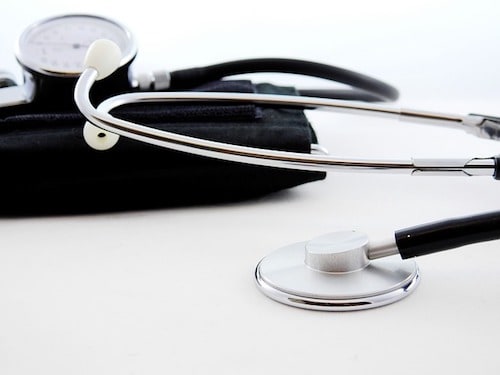 I never gave much thought to my blood pressure. It's always been spot on at 120/80 or a little bit lower (normal). But like the rest of the world, I'm getting a bit older, and I've been dealing with some stressful stuff in my life recently, and apparently, it's starting to affect my blood pressure. Not quite enough to require medication, but I do need to keep an eye on it.
Needless to say, I'm pretty upset, because I'm one of those people who eats well, exercises most days, I'm not overweight, and I do all the right things to stay healthy. Unfortunately, I'm also very much of a "type A" personality, so I get stressed easily, and I let too many things bother me.
High blood pressure, or hypertension, is the leading risk factor for heart disease and stroke. Damage to your blood vessels occurs every time your pressure is elevated. The new guidelines are meant to make people more aware of that earlier. It's their hope that more awareness earlier can help prevent the damage that would occur if you waited for a later diagnosis.
Learn the risk factors for hypertension, which include:
Age – blood pressure starts to increase in your mid to late 40s, and tends to increase as you get older
Race – African Americans tend to develop high blood pressure more frequently than people of other racial backgrounds
Family history
Individuals who are under chronic stress – long-term release of stress hormones can increase blood pressure
An unhealthy diet – too many fast foods and processed foods contain lots of salt and unhealthy fats which contribute to high blood pressure
Other health conditions like kidney disease, diabetes and heart disease – they're all associated with increased risk of hypertension
As a dietitian, I'm all about lifestyle changes first, and medication only if necessary. Like all meds, blood pressure medications come with their side effects, so it's always worth it to work on diet, exercise and stress management first. Even if you only get a partial benefit from these things, it may mean less medication or one with fewer side effects is necessary.
Lifestyle changes can reduce your blood pressure naturally
These are a few of my favorite recommendations:
Eat a plant-based diet. Research on the Dietary Approaches to Stop Hypertension (DASH) diet shows that eating at least 9 servings of fruits and vegetables each day can reduce blood pressure about as much as medication. Fruits and vegetables are high in potassium which helps to balance sodium in your cells, and reduces the pressure in your blood vessel. Try to incorporate at least one piece or serving of a fruit or vegetable (or both) into each snack, and include about ½ plate of fruits and vegetables into all your meals
Take 3,000 mg of an omega-3 fish oil supplement each day, especially if you don't eat fatty fish like salmon or sardines twice each week. That's probably more fish than most of us consistently eat, so the supplement can cover you. The Omega-3 fats EPA and DHA found in fish can reduce inflammation along with your blood pressure, which reduces your risk of heart disease, stroke, and lots of other inflammation-related diseases.
Limit salt or sodium. If you're eating more fruits and vegetables, you're already taking a positive step toward reducing salt, because they're naturally low in sodium. Sodium is found mainly in processed foods – anything that comes in a package, can, or especially from a fast food restaurant. If you're over 50, or at higher risk, aim for no more than 1,500 mg/day. Check your food labels for sodium content, and use an app like CalorieKing, or MyFitnessPal when you're eating out. If you see that afood has more than 400-500 mg in a serving, see if there's a better option.
Take an adrenal support supplement. I love this stress response herbal supplement by Gaia Herbs. It's a blend of Holy Basil, Rhodiola, Ashwagandha, and Schisandra which helps to support a healthy response to stress.
Exercise at least a little bit every day. Aim for a good 45 -60-minute cardio workout most days of the week, along with 2-3 days of strength training. On days when you can't fit that in (because life happens), try to build more activity into your day by parking further away, taking the stairs instead of the elevator, or even just doing a quick sprint or two up and down the block. Every little bit helps.
Get plenty of sleep. It goes without saying that when you don't sleep well, you don't feel well, and your body just doesn't work well. Check out this post for my tips on getting a good night's sleep.
Eat lots of nitrate-rich vegetables. Not to be confused with the very unhealthy nitrates and nitrites that are found in processed meats (it's SO confusing, but this article helps to explain the difference). Nitrates and nitrates from vegetables help to relax and dilate blood vessels throughout your body and increase blood flow. Although it's a short-term effect, eating more nitrate-rich vegetables like beets, cabbage, leafy greens, and vegetable juices, can reduce blood pressure for a few hours. Eat these foods every day, and you'll get regular benefits. One of my favorite ways to get a big nitrate boost is with beetroot powder. Add a scoop to vegetable juice or mix it with water and drink up!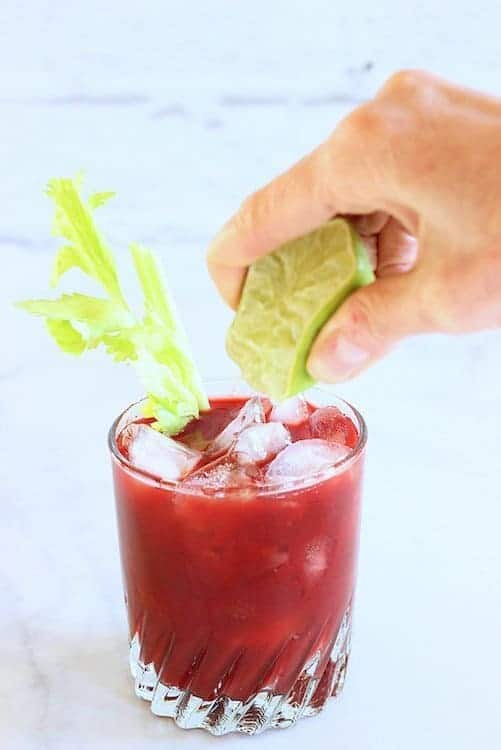 I created this vegetable juice recipe, which is full of nitrate-rich veggies and anti-inflammatory ingredients. It actually tastes quite a bit like a bloody Mary (without the vodka, 🙁 unfortunately 🙁 ) and I've been drinking it as my afternoon snack each day.
Last time I had my blood pressure checked, it was normal! Give it a try and see if it helps you.
Ingredients
1

tablespoon

beetroot powder

1/4

cup

water

1/4

cup

carrot juice

low sodium

1/2

cup

tomato juice

low sodium

1

teaspoon

Worcestershire sauce

1/8

teaspoon

celery seed

1/8

teaspoon

ginger

fresh minced or dried

1

ounce

lime juice

about 1/2 lime

ice
Instructions
Combine the beetroot powder and water in a measuring cup and mix well

Add the carrot juice, tomato juice, Worcestershire sauce, celery seed and ginger and mix well

Add the lime juice, pour the mixture over a glass of ice and serve
Do you like beets? Personally, I think they taste like dirt, but when they're mixed into this drink they're totally delish! Here's an Amazon link to the beetroot powder I like. If you try this recipe, leave a comment below and let me know if you liked it – or tag me on Instagram @CravingSomethingHealthy or #CraveSomethingHealthy!
Eat well!
SaveSave
SaveSave
SaveSave
SaveSave
SaveSave