This post is sponsored by the USA Rice Federation. Thanks for supporting the foods and brands I love and use!
When you need a light and healthy dinner or game-day snack that everyone loves, make tofu lettuce wraps. These vegan lettuce wraps feature crumbled tofu, minced mushrooms, and U.S.-grown jasmine rice, combined with a flavorful umami-packed sauce.
Top them with fresh herbs, carrots, radishes, and a sprinkle of cashews for a colorful, veggie-packed, dinner or healthy snack. They're easy to make, full of sweet and salty flavors, and lots of fresh crunch.
Lettuce wraps are ideal when you're craving a delicious, healthy homemade Chinese stir-fry recipe but you're short on time. These take just a few minutes to make.
Legend has it that lettuce wraps originated in Southeast Asia. But I'm pretty sure it was P.F. Chang's, the American Asian & Chinese restaurant that made them famous. Their lettuce wraps are probably one of the most-ordered items on their menu.
These vegetarian lettuce wraps are lighter on the sugary-sticky sauce and much higher in protein with the addition of tofu. But they're every bit as tasty.
I love making lettuce wraps with tofu, not just for the plant-based source of protein, but also because when you scramble the tofu, it looks and tastes much like ground chicken. So even non-vegetarians love this recipe.
Ingredients and Substitutions
This recipe is surprisingly easy to make. I've divided the recipe below into three parts
The lettuce wrap filling
The sauce
The toppings and garnishes (completely customizable)
Here's what I use to make these tofu lettuce wraps, along with a few ingredient substitutions.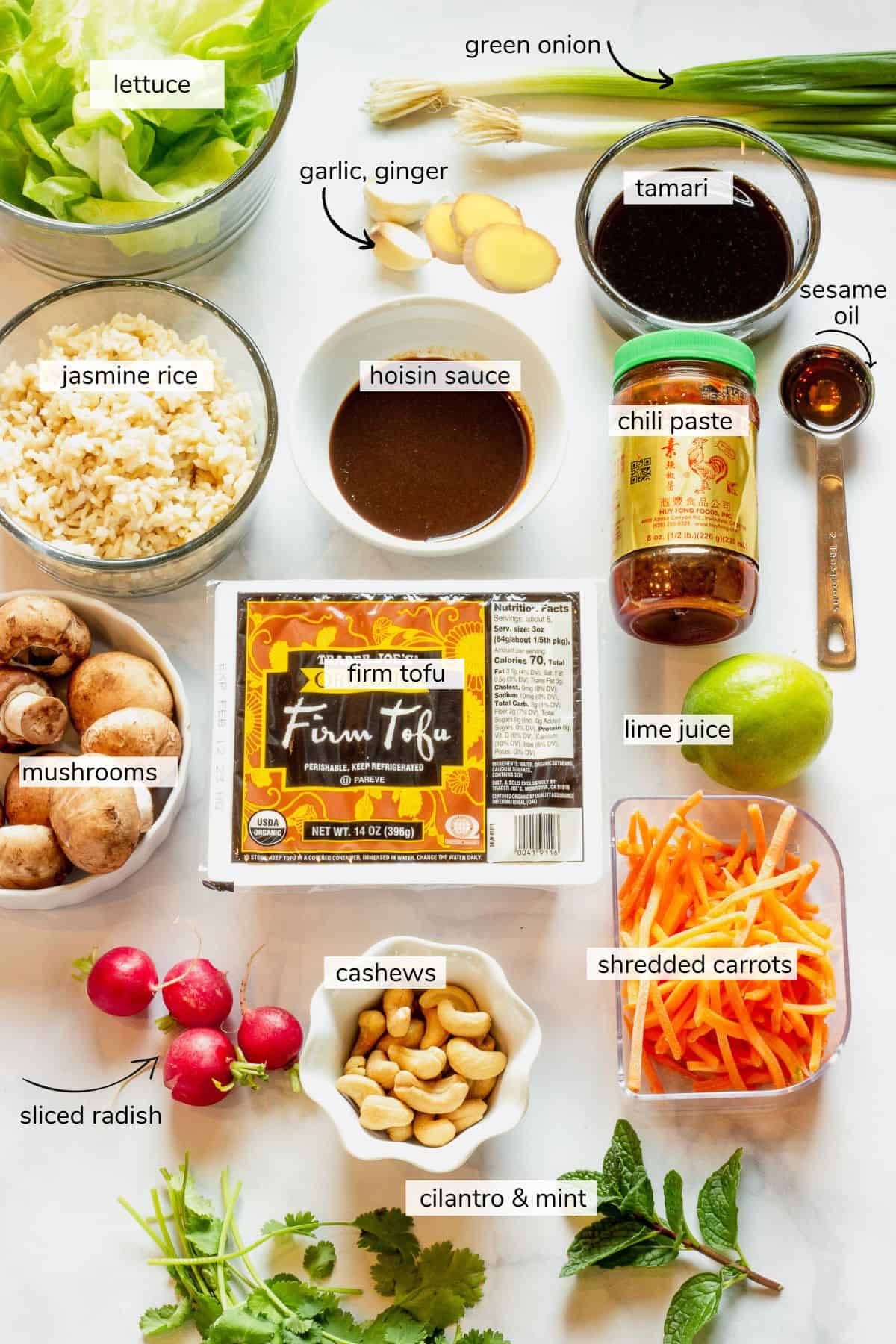 Tofu: Make sure you use firm or extra firm tofu for this recipe and drain out as much water as you can. Once you crumble and cook it, it will resemble ground meat. Don't use silken tofu because it's too creamy and won't crumble.
U.S.-grown jasmine rice: I like to add jasmine rice to this recipe for a few reasons. First, I love the floral aroma it provides. It complements the other flavors in this fresh dish so well. I also like to use rice in vegetarian lettuce wraps because it's rich in complex carbs, making lettuce wraps more hearty and filling. And U.S.-grown rice is naturally gluten-free and contributes more than 15 vitamins and minerals to this dish. Finally, the soft, moist grains of jasmine rice help the filling stick together — making these lettuce wraps easier to eat!
Fresh garlic and ginger: You'll just need a little bit of each, and they help boost the flavor of the tofu. It will take on all of the flavors of the herbs, spices, and sauce. If you don't have fresh garlic cloves and a knob of ginger, you can use minced garlic and ginger in the jar. Or swap ½ teaspoon of garlic powder and ¼ teaspoon of dry ginger in a pinch.
Tamari: You can use either soy sauce or tamari to make this dish. They have very similar flavors. If you want to keep this recipe gluten-free, choose tamari which is (usually) wheat-free. Also, look for gluten-free hoisin sauce. FYI — these are all high in sodium. Reduced sodium soy sauce or tamari will help keep the sodium a little lower.
Hoisin sauce: Hoisin is one of those condiments to keep in your refrigerator. It keeps for well over a year and it adds a nice pop of salty-sweetness and umami to Asian dishes.
Fresh herbs: A must! I love cilantro and fresh mint in this recipe. You can use one or the other or both. Add them after your tofu mixture is cooked and slightly cooled, so you retain the bright color and fresh flavor of the herbs.
Radish slices, shredded carrots, sliced green onions, and cashews: These are optional toppings — but I highly recommend them for their color and crunch! It's nice to set out little bowls of each and let people assemble their own lettuce wraps with their desired toppings. Try these other crunchy toppings too:
Shredded cabbage or bok choy
Chopped broccoli
Sliced sweet peppers
Chopped peanuts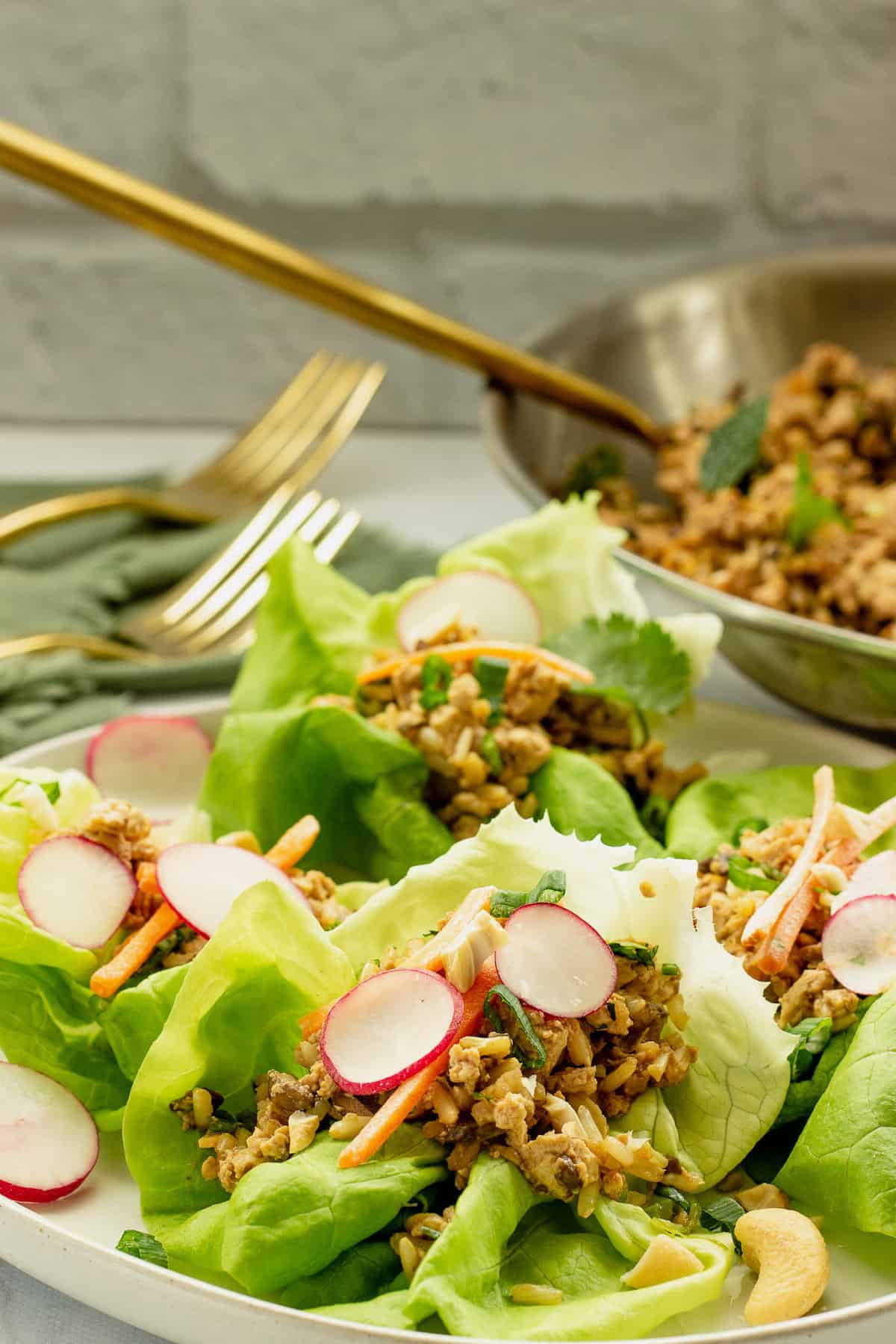 How to Make Tofu Lettuce Wraps
When making these lettuce wraps, there are a few tips and tricks I recommend. These tips will make the recipe fast and easy and ensure your filling isn't watery and your lettuce doesn't break (the curse of the lettuce wrap!).
Cook your rice ahead of time
You can prepare your rice ahead of time — even a day or two before. This recipe is also a great way to use up leftover rice. I like to have a bowl of cooked, cooled rice on hand because it saves cooking time. Plus, it's handy in so many recipes like:
Cooked and cooled jasmine rice is a bit sticky, which helps the filling stick together in the lettuce.
Drain your tofu well
About 30 minutes before starting this recipe, open and drain as much water as possible from your tofu. The easiest way to do this is with a tofu press. Just put the entire block of tofu into the press, twist the lid, and it presses out all of the water for you.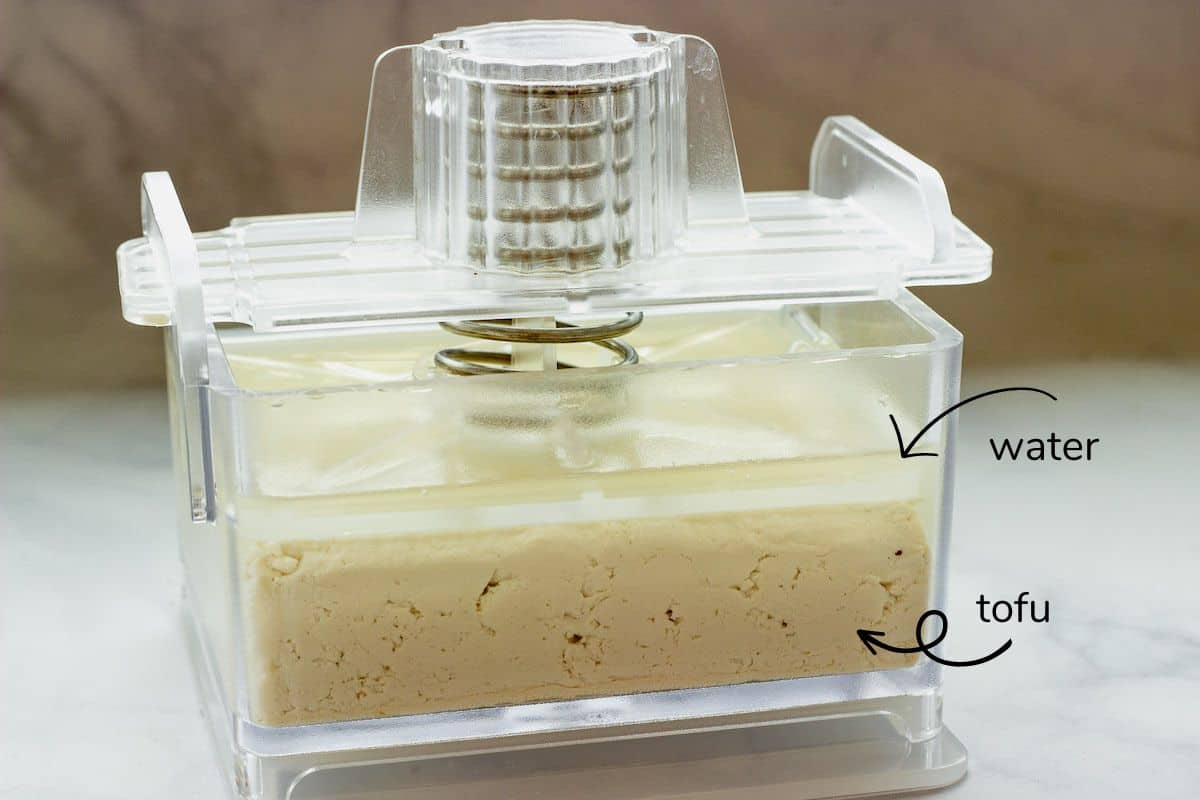 Tofu comes packed in water and absorbs a surprising amount of liquid. A tofu press will press out most of the water within about 30 minutes. It's a worthwhile investment if you eat tofu often.
If you don't have a tofu press, you can also press much of the water by placing the tofu block in a colander with a folded paper towel on top. Place a heavy saucepan on top of the paper towel and let it sit in the sink for at least 30 minutes.
Draining the tofu makes it easier to crumble and makes your filling less watery. It also helps the tofu absorb the flavorful sauce.
Cook the tofu mixture well
When preparing the filling:
First, cook the mushrooms until all of their liquid is gone.
Then add the crumbled tofu and cook it on medium-low heat to remove any water.
Add the sauce next and let it cook down a bit.
Add the rice last (it will scorch if you add it too early) mixing everything well to combine it with the sauce.
If your mixture has too much liquid after adding the sauce, let it simmer on low so any excess sauce evaporates.
Remove the tofu mixture from the heat and let it cool for about 10 minutes. Add your fresh herbs and sliced green onion at the end to retain their color and fresh flavor.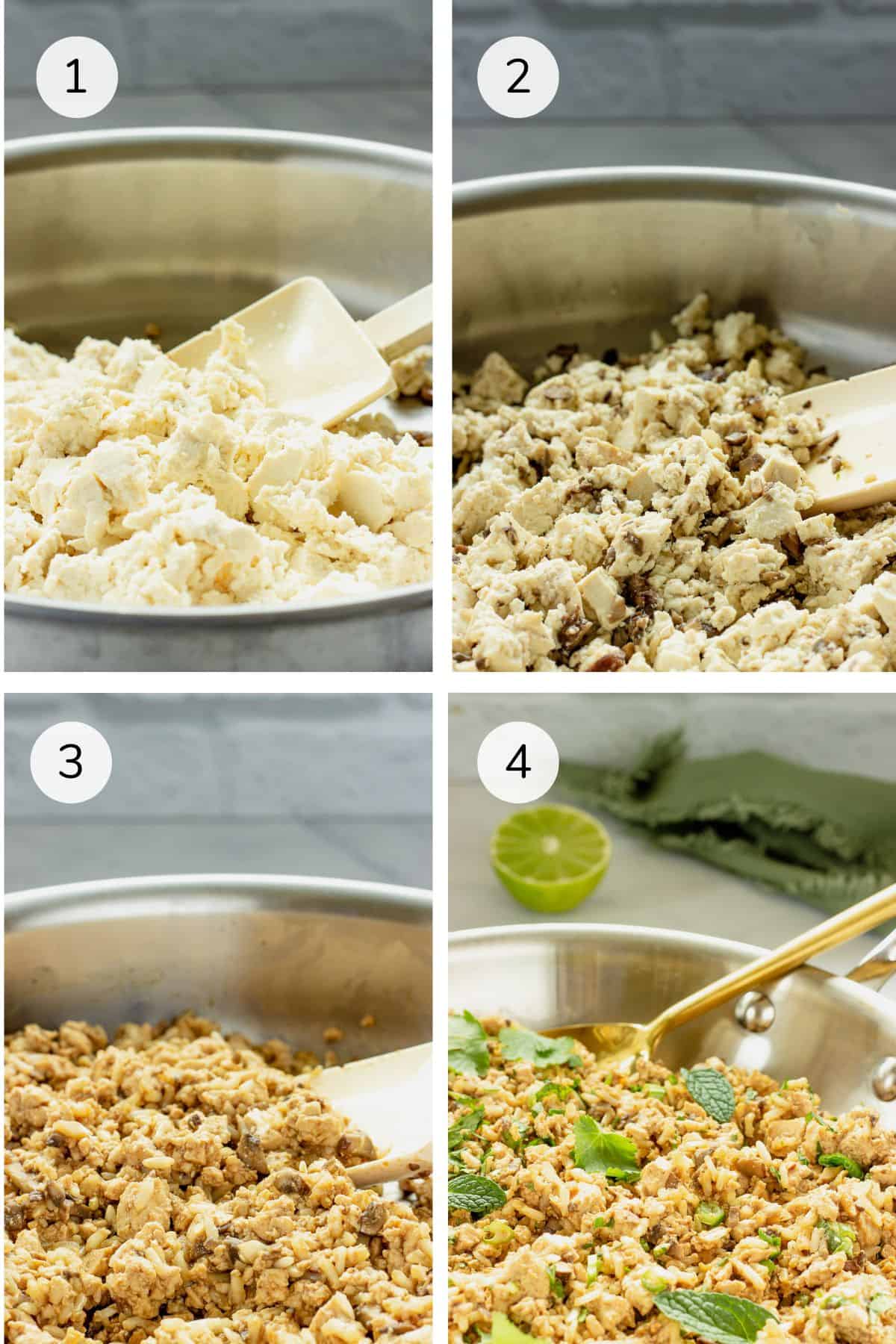 Your filling should be moist but not watery. It should also be warm or room temperature, not hot when it goes into the lettuce. If it's too hot, the lettuce will tear.
Use crispy lettuce
The best lettuce for lettuce wraps is a crisp variety like romaine or the inner leaves of butter lettuce. Butter lettuce is nice because the leaves are naturally cup-shaped and hold the filling well.
You can also use cabbage leaves to make lettuce wraps. Although technically they would be cabbage wraps... Savoy or Napa cabbage is nice and tender and works well.
When you fill your lettuce (or cabbage) leaves, use only 1-2 tablespoons of filling. It doesn't look like it's enough but when you add your toppings and roll it up, it will be plenty. And it will hold together with less filling.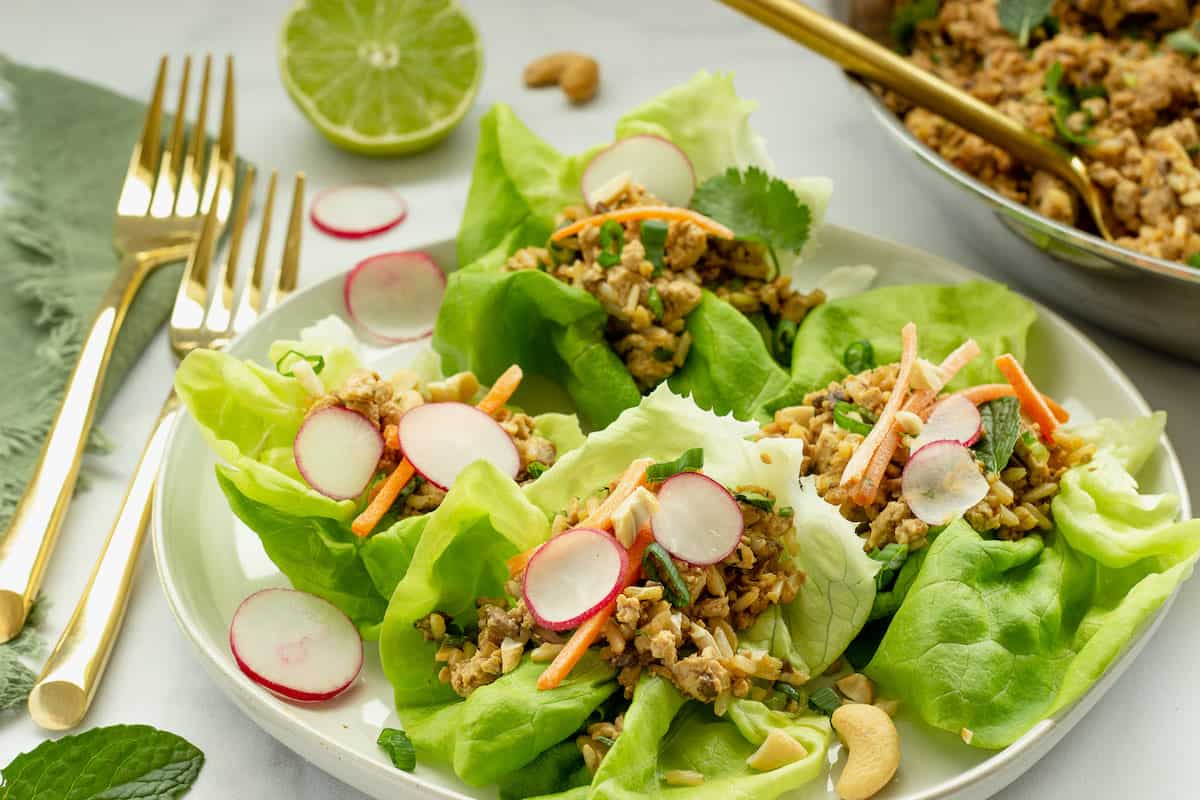 Storage and Leftovers
If you're serving this for company, you can cook the rice and prepare the tofu mixture the day before. Keep it covered in the refrigerator and reheat it in the microwave for about 2 minutes or until it's warm. If you heat it on the stove, set your heat to low or medium-low so it doesn't burn.
Wash and prep your vegetables the day before too. Wrap them in a damp paper towel and place them in a storage bag in your refrigerator.
If you have leftover filling, store it in a covered container in the refrigerator for up to 4 days or in the freezer for up to 3 months.
Keep any leftover lettuce or fresh vegetables separate from the filling. They'll stay fresh for 4 days if you wrap them in a damp paper towel and keep them in your refrigerator crisper drawer.
You don't have to make wraps to use up the leftover filling. You can put everything in a bowl and top your bowl with the tofu mixture.
Eat it as is, or make an extra batch of the sauce and drizzle some over your bowl ingredients.
Frequently Asked Questions
Is tofu a GMO (genetically modified) food?
Tofu is made from soybeans, which are often a genetically modified crop. However, most tofu sold in the U.S. is organically produced and non-GMO. If you want to avoid GMO soybeans, look for the certified organic or non-GMO label on your tofu. Also, you might find this article on the pros and cons of GMOs helpful.
What are good substitutes for tofu?
Good plant-based protein options that would work in these vegetarian lettuce wraps include crumbled tempeh (it's also soy-based and even higher in protein than tofu), seitan (this is made from wheat gluten), or lentils. You can also just make them with extra minced mushrooms and rice but they will be lower in protein.
Can I make these lettuce wraps with meat instead of tofu?
Yes! If you want a non-vegetarian option, substitute about ½ pound of ground chicken, turkey, pork, or beef for the tofu and increase the mushrooms to 2 cups minced.
What can I use if I want a dipping sauce?
You can double the sauce recipe and reserve half to drizzle over or dip the assembled lettuce wraps into. These wraps are also delicious with bottled Thai peanut sauce.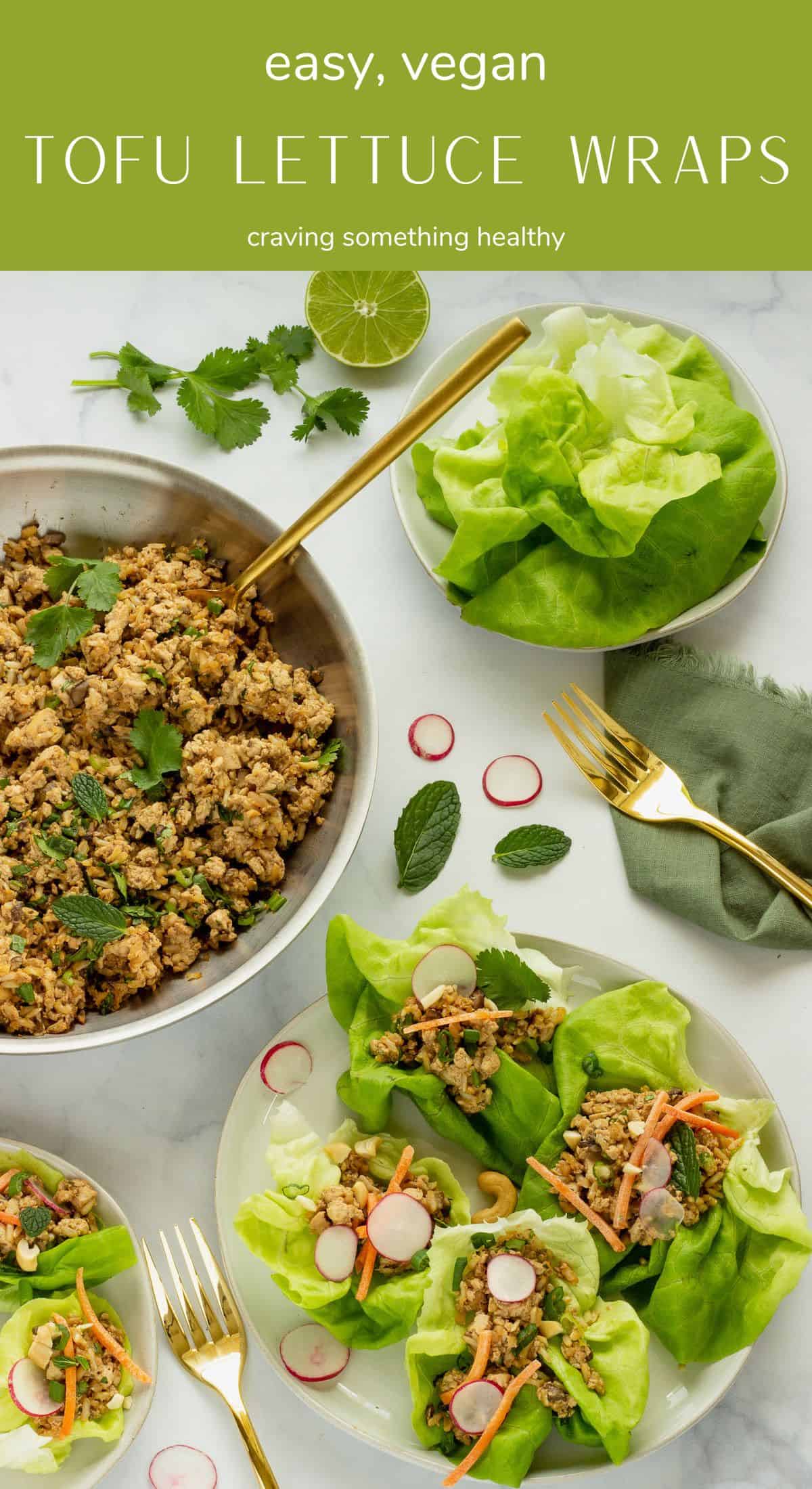 Recipe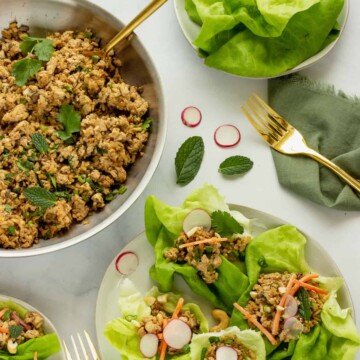 Easy Tofu Lettuce Wraps
An Asian-inspired light dinner, appetizer or game-day snack.
Print
Pin
Ingredients
Sauce
3

tablespoons

tamari or soy sauce

reduced sodium

3

tablespoons

hoisin sauce

2

teaspoons

chili paste

like sambal Oelek

1

tablespoon

fresh lime juice

2

teaspoons

sesame oil
Tofu Filling
1

tablespoon

olive oil

2

medium

garlic cloves

2

teaspoons

minced ginger

1

cup

minced mushrooms

about 4 ounces

14

ounces

firm tofu

drained and pressed *See note below

1 ½

cups

cooked U.S.-grown jasmine rice

2

tablespoons

sliced green onion

2

tablespoons

minced fresh cilantro

1

tablespoon

minced fresh mint

10

leaves

crisp butter or Romaine lettuce
Toppings
5

medium

radishes

thinly sliced

1

cup

shredded carrots

½

cup

chopped cashews

minced scallions, cilantro, mint
Instructions
For the Sauce
In a small bowl, combine the tamari or soy sauce, hoisin sauce, chili paste, lime juice, and sesame oil. Mix well and set aside.
For the Tofu Filling
Heat the olive oil in a saute pan over medium-high heat. Add the garlic and ginger, and saute for 30 seconds or until fragrant. Do not let the garlic burn!

Add the minced mushrooms to the pan. Saute for about 2 minutes until the mushrooms are soft and any liquid has cooked off.

Crumble the tofu into the mushrooms, using a spatula to break it up further. Cook for another 2-3 minutes or until any liquid has cooked off.

Add the sauce to the tofu-mushroom mixture and stir well to combine.

Add the rice and reduce the heat to low. The mixture should be moist. If it seems too wet, let it cook for another 2 minutes or until the excess sauce cooks off.

Remove the pan from the heat and let it cool for 10 minutes. Stir in the green onion, cilantro, and fresh mint.
To Assemble
Place 1-2 tablespoons of the tofu filling in the center of each lettuce leaf.

Add fresh vegetable toppings, a sprinkle of herbs, and a sprinkle of cashews to each lettuce wrap.
Notes
Nutrition info is for one tofu lettuce wrap.
To ensure your tofu lettuce wraps aren't watery, drain the tofu and press it for at least 30 minutes before starting the recipe.
½ cup of dry rice + 1 cup water yields approximately 1 ½ cups cooked rice. 
Nutrition
Calories:
152
kcal
|
Carbohydrates:
15
g
|
Protein:
7
g
|
Fat:
8
g
|
Saturated Fat:
1
g
|
Polyunsaturated Fat:
2
g
|
Monounsaturated Fat:
4
g
|
Cholesterol:
0.1
mg
|
Sodium:
397
mg
|
Potassium:
215
mg
|
Fiber:
2
g
|
Sugar:
3
g
|
Vitamin A:
4246
IU
|
Vitamin C:
3
mg
|
Calcium:
76
mg
|
Iron:
2
mg
Have you ever had lettuce wraps at P.F. Chang's?
Eat well!