Mixed Vegetable Casserole
This mixed vegetable casserole recipe has been a family favorite FOREVER. It's simple to make with frozen vegetables. And it features a rich, creamy, homemade Mornay cheese sauce that's full of flavor from a touch of white wine, Parmesan, and Gruyere cheese.
Even the non-vegetable eaters in the crowd love it.
This vegetable medley casserole is fancy comfort food that's surprisingly healthy. No canned soup, mayonnaise, or other processed ingredients here!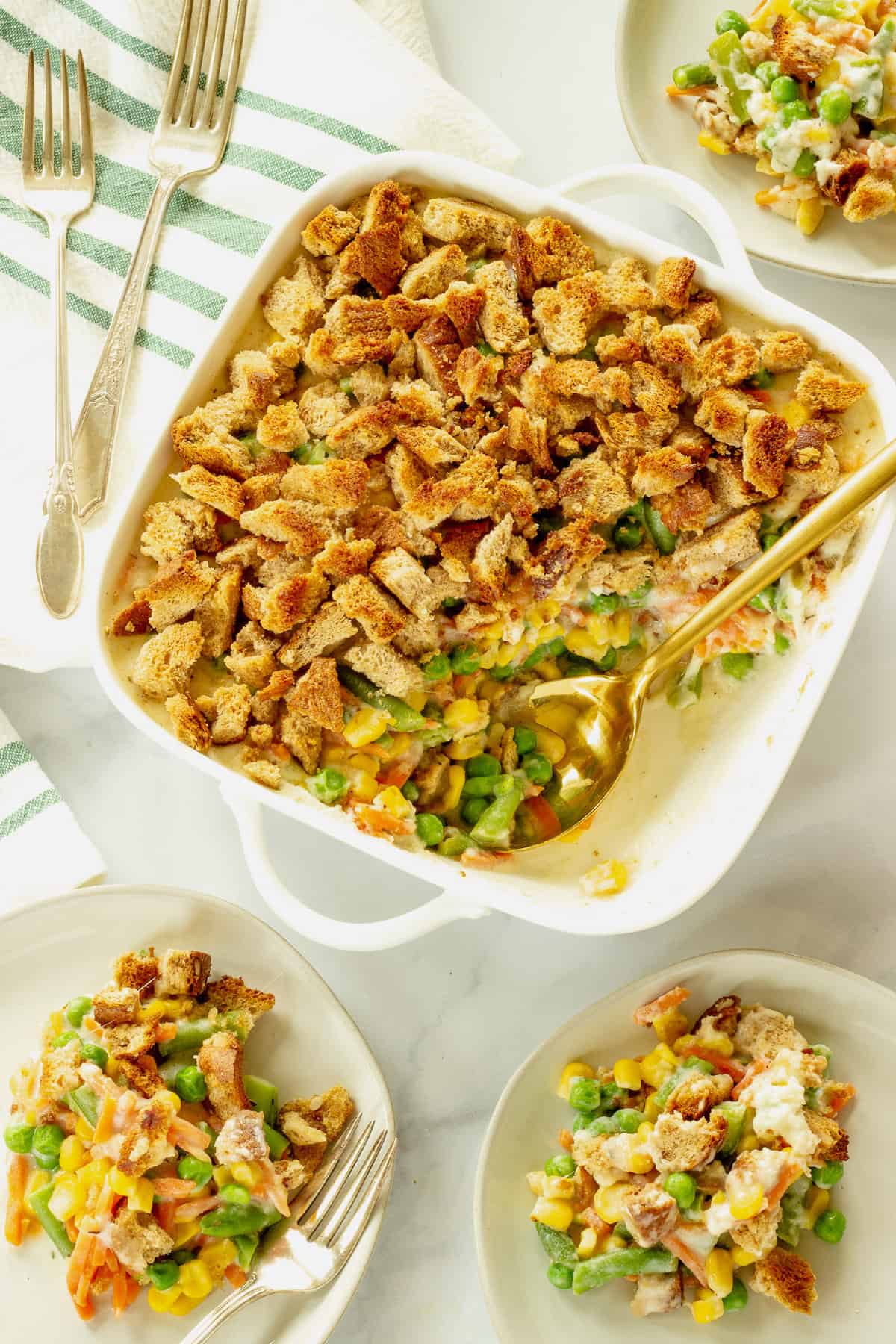 I saw a quote on Twitter recently that made me laugh. "Clever food is not appreciated at Christmas. It makes the little ones cry and the old ones nervous." I could relate. So many times I've tried to serve a new recipe or a twist on an old one at the holidays, only to have my family ask, "but where's the…?".
I'm sure I did the same thing when I was young. Certain foods or recipes — like this one, bring back happy memories of things you're especially thankful for, and sometimes, there's just no reason to change that.
My mom made this mixed vegetable casserole for pretty much every holiday when I was growing up. It was on the dining room table every time we had company. Whenever I make it now, it takes me right back.
What is Mornay Sauce?
Mornay is a classic French sauce. It sets this recipe apart from other vegetable casserole recipes made with canned cream soup, mayonnaise, or sour cream.
Mornay sauce is similar to velvety, smooth Bechamel sauce (made with butter, flour, and milk), but it has cheese. Parmesan, Gruyere, or Swiss cheese are classics that I use in this recipe. And I add some wine because I'm fancy like that.
To make Mornay sauce, you melt butter and whisk in an equal part of flour until it's smooth. Then you slowly add milk (and wine if you like) and a pinch of thyme, nutmeg, and salt.
It's important to whisk the sauce as it comes to a boil. Otherwise, you'll get clumps. Once it starts to boil, the sauce will thicken That's when you add the cheese and whisk everything again until it's velvety smooth.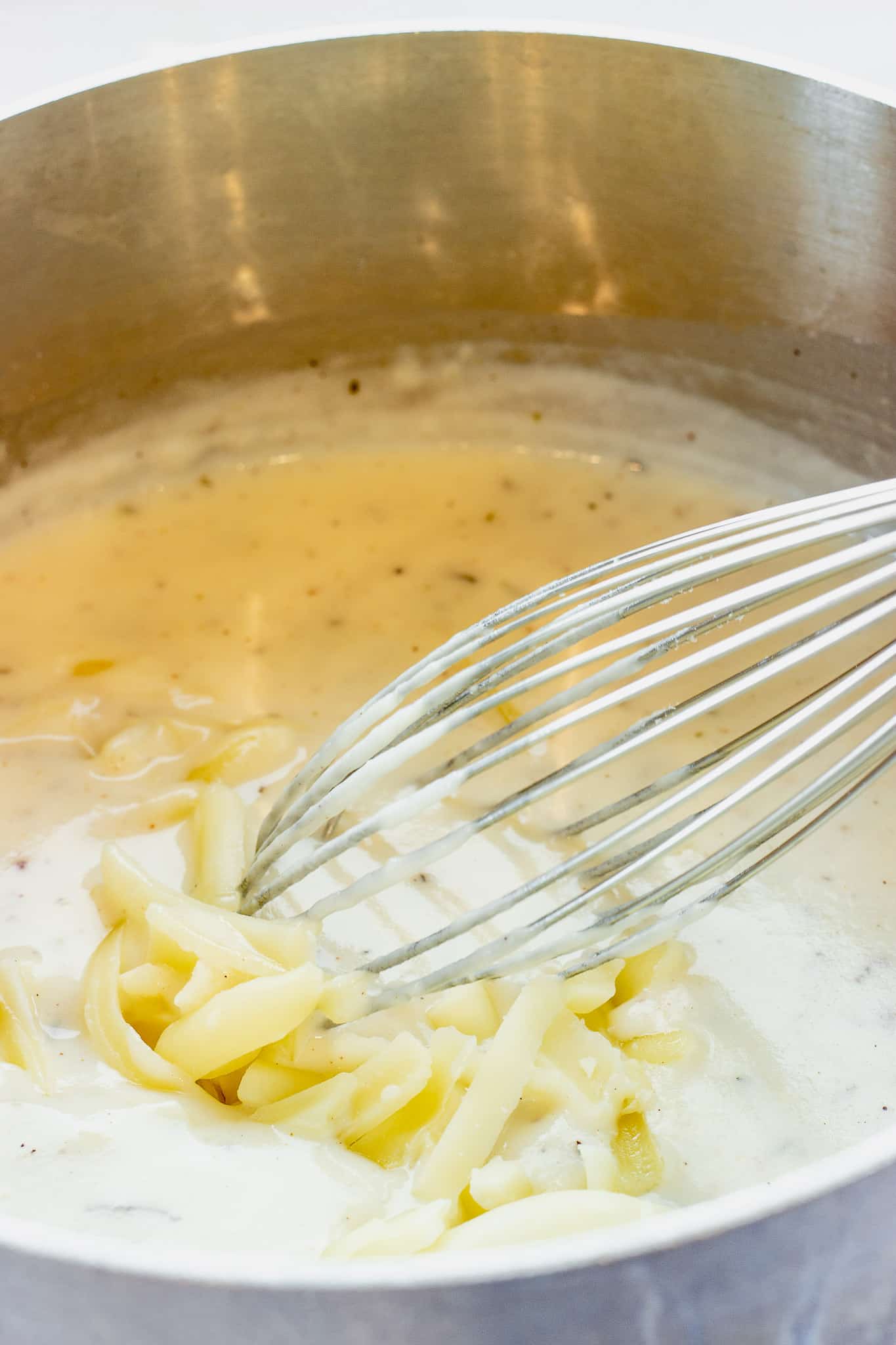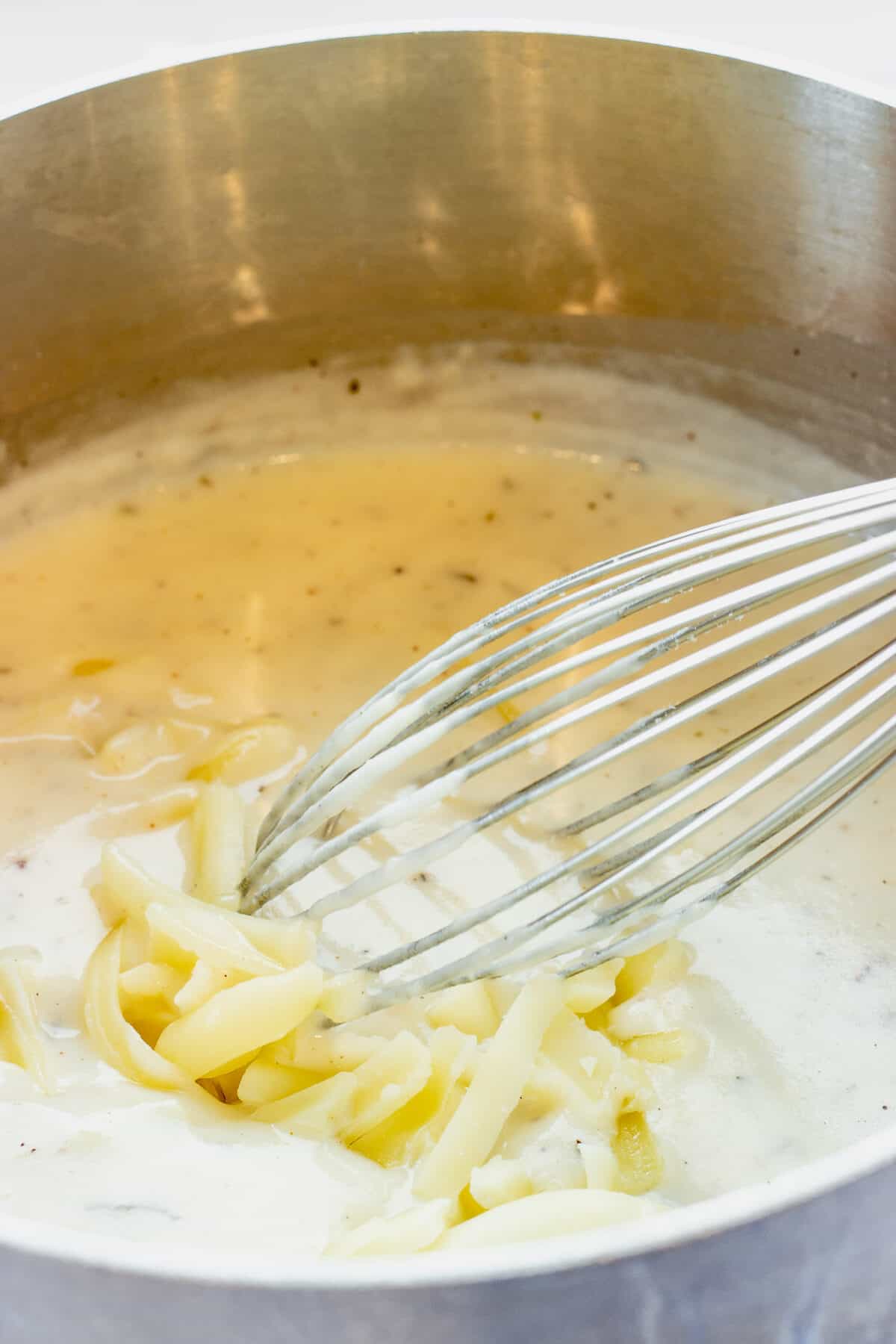 Don't let the thought of a French sauce scare you. It's basically a version of the cheddar cheese sauce you make for mac and cheese. And it literally takes 5 minutes to make.
Ingredients for This Mixed Vegetable Casserole
Mixed vegetables. I usually make this recipe with frozen mixed vegetables — the kind that has carrots, peas, green beans, and corn. Pretty much every grocery store carries them, and they work well here.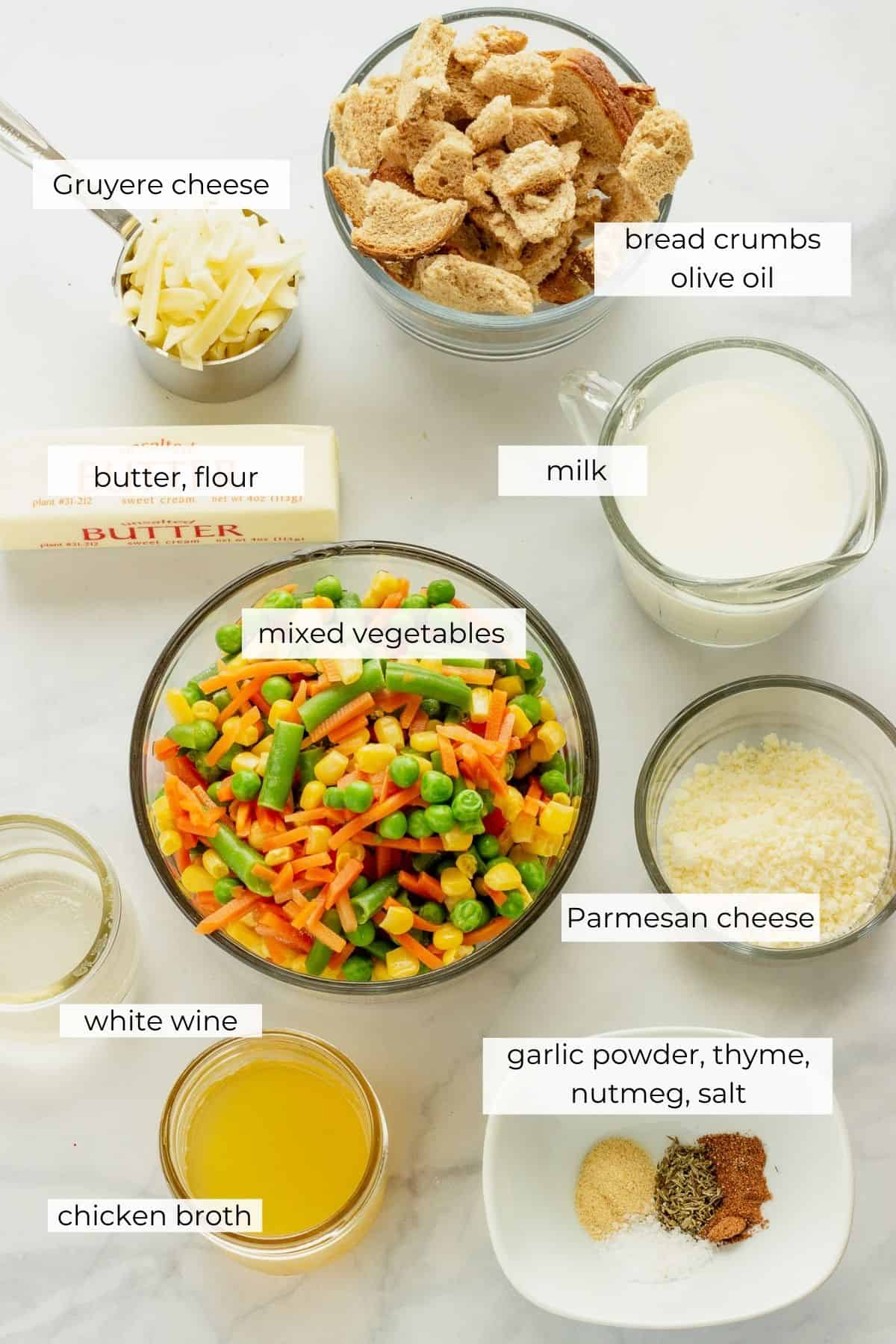 But if you prefer, you can use fresh vegetables. Make sure you chop them all to a similar small size. You'll also have to cook hard vegetables like fresh carrots or cauliflower for longer, until they're fork-tender. Great vegetable options include:
Rainbow or regular orange carrots
Parsnips
Sweet potatoes
Butternut squash
Broccoli
Cauliflower
Green beans
Red peppers
You can also make your own personalized vegetable mix using a variety of fresh and frozen vegetables. I've used chunks of precooked sweet potatoes and mixed them with frozen peas, corn, green beans, and Romanesco cauliflower from Trader Joe's. Feel free to be creative.
Just remember that hard vegetables take longer to cook, so you'll need to steam them in advance and then add the softer vegetables to your pot.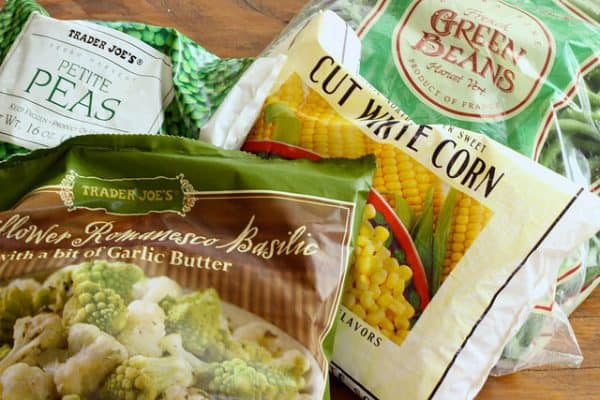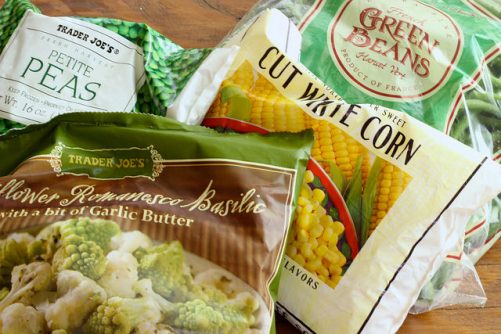 Other essential ingredients for this recipe include:
Liquid to steam the vegetables. I like using chicken broth because it adds some extra flavor. You can also use vegetable broth or plain water with some salt.
Butter (or olive oil) and flour. These are the base of the Mornay sauce. I typically use butter when I make this for the holidays because it adds so much rich flavor. But olive oil is a healthier option, and it works well too.
Milk for the sauce. I usually have low-fat milk in my fridge, so that's what I use. Whole milk will make it creamier, but the sauce is plenty rich with low-fat milk.
Garlic powder, thyme, and nutmeg. These tie the sauce flavors together nicely.
Grated Parmesan and shredded Gruyere or Swiss cheese. If you prefer, you can substitute a good quality, sharp cheddar cheese.
Homemade breadcrumbs. It's so easy to tear up a few pieces of good-quality bread, and it tastes much better than crushed crackers or packaged breadcrumbs. If you have part of a loaf of bread at the end of its life, tear up what's left and store it in the freezer. Then you'll always have homemade breadcrumbs. I like to keep the bread pieces on the larger side (about ½ inch), but you can make them smaller and more crumb-like if you prefer.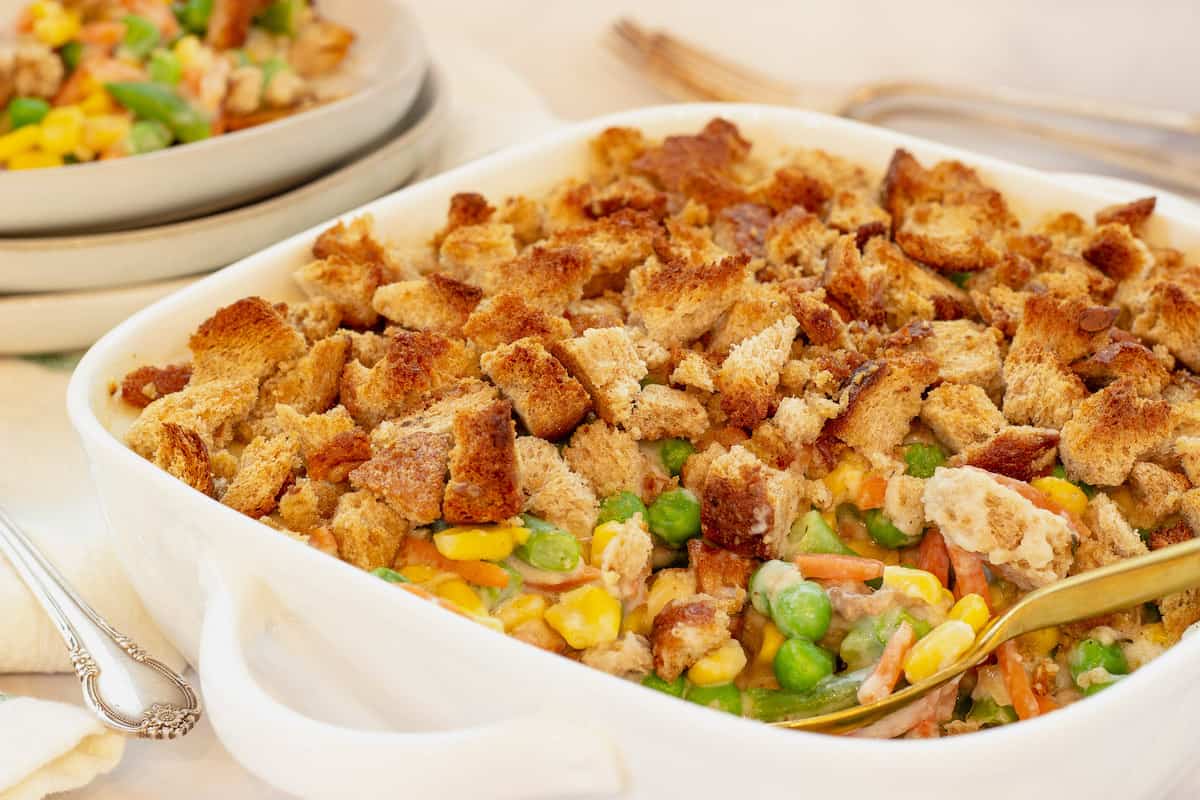 Tips for Making This Recipe
You should pre-cook your vegetables so they're tender, but don't overcook them. It's nice to retain their bright color and some crunch. If you're using mixed frozen vegetables, they really only need a quick steam (3-4 minutes is plenty). But if you're using fresh vegetables, they'll need a longer time. Keep an eye on them and steam them until they're just tender enough to insert a fork or knife tip partly into most pieces. The vegetables will finish cooking in the oven.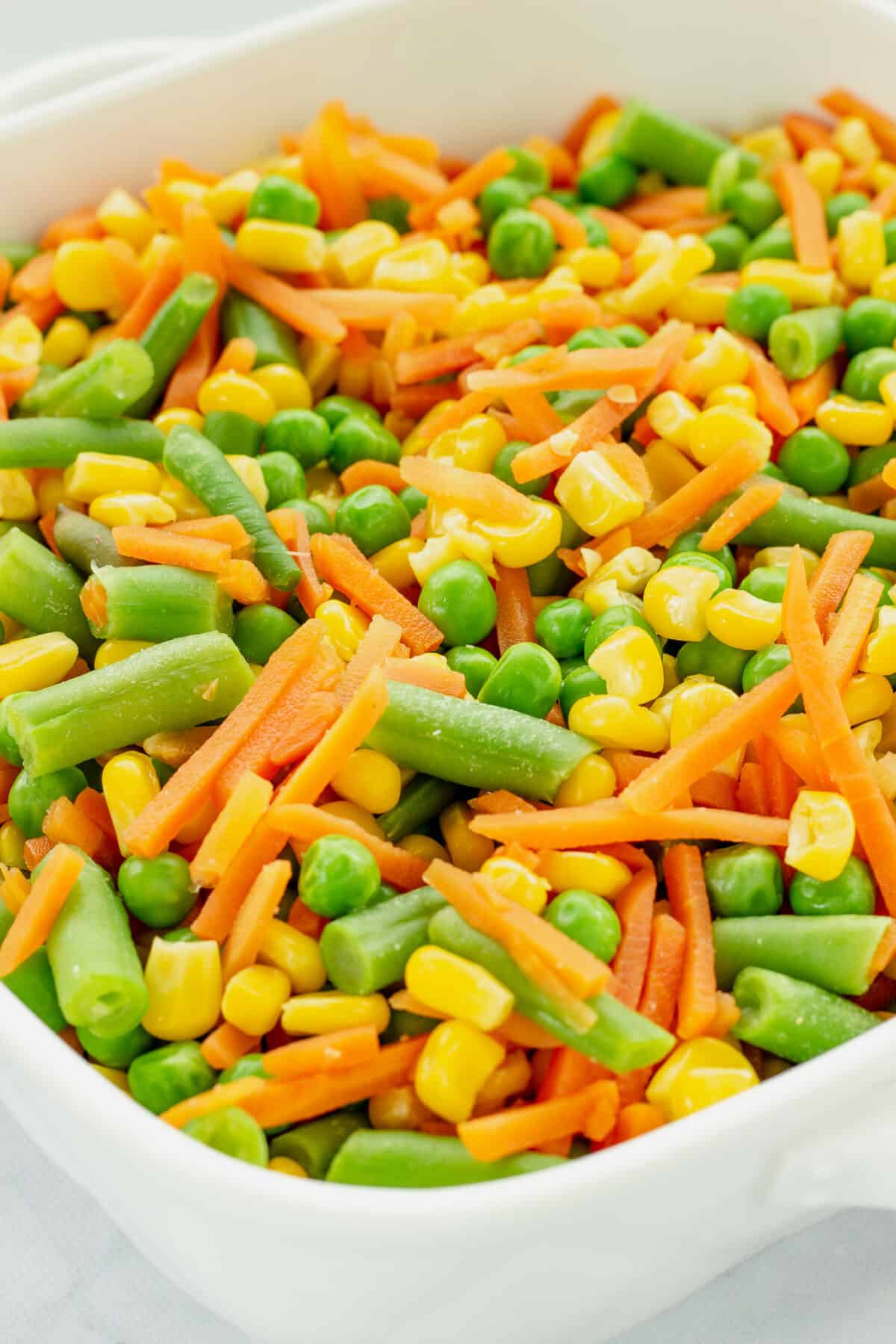 Season your vegetables while they steam. The chicken or vegetable broth will add some flavor, but you can also add salt and garlic powder to enhance their flavor.
Carefully pour the Mornay sauce over the vegetables and then give the pan a gentle shake, or use a spoon to push some of the sauce into the vegetables. It looks like there's A LOT of sauce, but it will settle into the casserole as it bakes. The sauce will also tighten and thicken as the vegetable casserole cools, so don't worry if it seems too saucy when you take it out of the oven.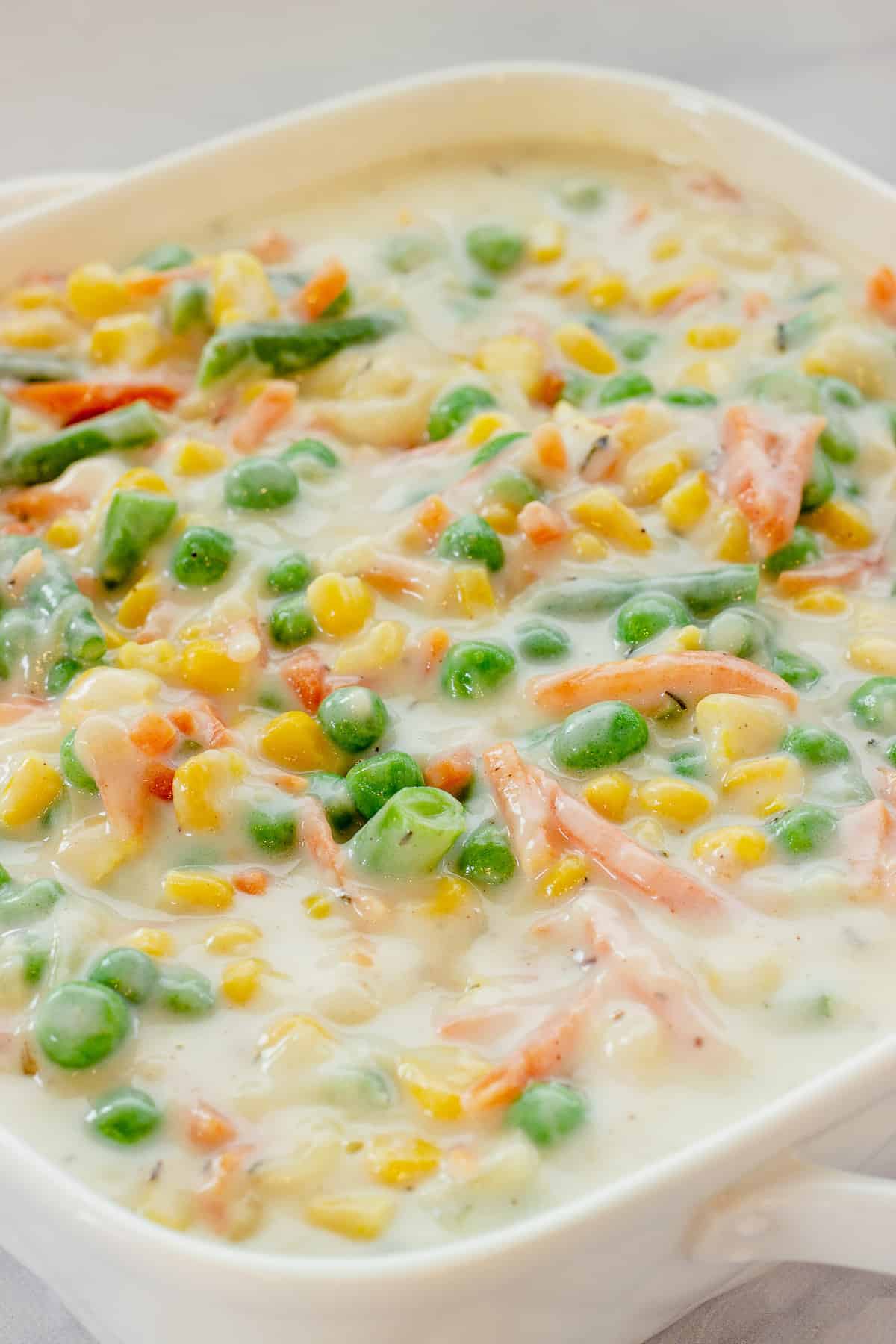 Lightly cover the casserole with foil for the first few minutes in the oven. The foil keeps the breadcrumbs from browning too fast. I remove it for the last 15 minutes. If the breadcrumbs aren't golden enough, place the casserole under a hot broiler for 30 seconds or so.
To make this ahead of time, steam the vegetables, make the sauce, and pour the sauce over the vegetables. Cover and refrigerate it for up to 24 hours. About 45 minutes before dinner, remove it from the refrigerator and let it sit while the oven preheats. Top it with the breadcrumbs tossed in olive oil and bake according to directions.
What to Eat With This Mixed Vegetable Casserole
I LOVE this recipe with beef tenderloin. Something about the cheesy, wine-flavored sauce and the beef just works. I don't eat beef often, but I occasionally make a tenderloin for Christmas or a holiday dinner. And this recipe is always a hit with it.
But you can also serve it with a roasted chicken or turkey (it's a great Thanksgiving side dish).
This vegetable casserole also works as a stand-alone vegetarian meal. Because it has milk, cheese, vegetables, and bread, it pretty much covers all of the food groups.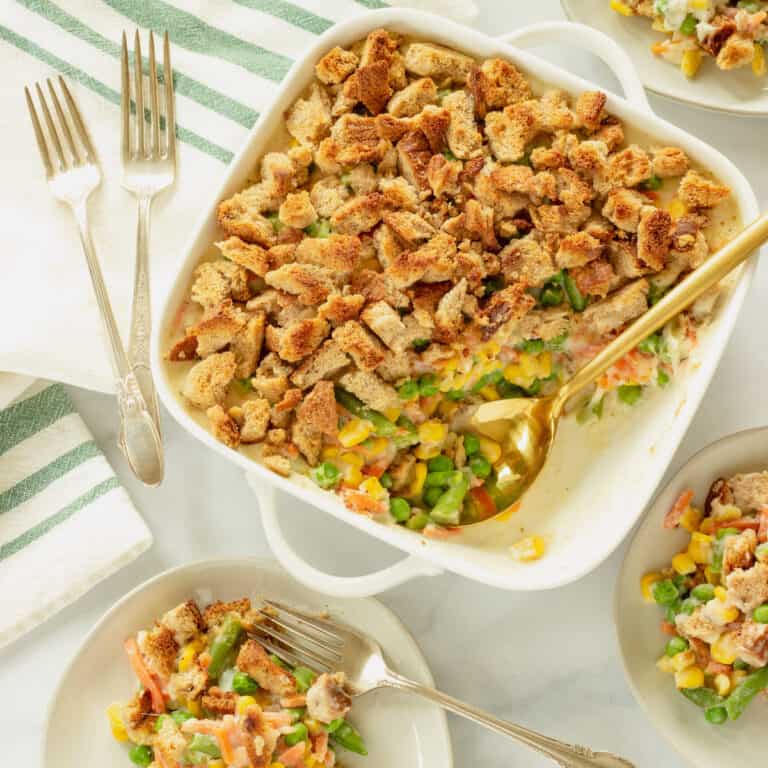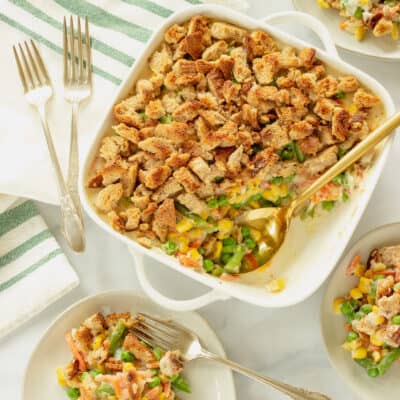 Mixed Vegetable Casserole with Mornay Sauce
A flavorful mixed vegetable side dish in a rich-creamy Mornay sauce
Print
Pin
Ingredients
Vegetables
8

cups

mixed vegetables

from 2-16 oz bags frozen mixed vegetables

¼

teaspoon

kosher salt

¼

teaspoon

garlic powder

½

cup

chicken broth

or vegetable broth, or water
Mornay Sauce
¼

cup

butter

or olive oil

¼

cup

flour

1 ¾

cups

milk

or more to make 2 cups with vegetable liquid

3

tablespoons

white wine

¼

teaspoon

dried thyme leaves

¼

teaspoon

garlic powder

¼

teaspoon

kosher salt

or to taste

⅛

teaspoon

of nutmeg

¼

cup

grated Parmesan cheese

2

ounces

grated Gruyere or Swiss cheese

about ½ cup
Breadcrumb Topping
1

cup

fresh breadcrumbs

torn from 2-3 slices whole wheat bread

1

tablespoon

olive oil
Instructions
Preheat oven to 325 degrees and set the oven rack to the middle position.

Place the vegetables in a large saucepan and season them with salt and garlic powder. Pour the chicken stock over the vegetables.

Heat the vegetables over medium-high heat and bring them to a boil. Let them steam for 3-4 minutes or until tender. Stir them a few times so they cook evenly. If using fresh vegetables, see note below.

When the vegetables are tender, drain them, reserving ¼ cup of the liquid.

Place the drained vegetables in a 9 x 13 casserole dish, or similar.

Rinse the saucepan and place it back on the stove on medium-high heat. Add the butter, and as it melts, stir in flour. Whisk well over medium-high heat, and let the butter-flour mixture cook for 1 minute.

Add 1 ¾ milk (or more) to the reserved vegetable liquid, to make 2 cups.

Slowly whisk the milk mixture into the butter and flour until the sauce is smooth. Add the wine. Continue to whisk until the sauce comes to a boil and thickens. Reduce the heat to low, and add the additional salt and garlic powder, plus the thyme and nutmeg.

Add cheeses and stir well to combine and melt.

Remove sauce from heat. Taste it and adjust any seasonings as needed.

Pour the sauce over the vegetables. Gently shake the casserole dish, or use a spoon to tap down the sauce.

Toss the fresh breadcrumbs with the 1 tablespoon of olive oil, in a medium bowl.

Sprinkle bread crumbs over the sauce. Lightly cover the casserole with foil.

Bake for about 30 minutes, until the sauce is bubbly and the breadcrumbs are light golden brown. Uncover it after about 15 minutes so the breadcrumbs can toast.

If necessary, brown the breadcrumbs under the broiler for the last minute or two.

Let the vegetable casserole cool for about 10 minutes before serving.
Notes
If you prefer to use fresh vegetables, cut them into small pieces (½ inch). They'll take longer to steam, so plan for 8- 10 minutes, depending on which vegetables you use. Cook fresh vegetables until they're just fork-tender.
Nutrition
Calories:
235
kcal
|
Carbohydrates:
35
g
|
Protein:
12
g
|
Fat:
6
g
|
Saturated Fat:
2
g
|
Polyunsaturated Fat:
1
g
|
Monounsaturated Fat:
2
g
|
Cholesterol:
11
mg
|
Sodium:
400
mg
|
Potassium:
467
mg
|
Fiber:
7
g
|
Sugar:
3
g
|
Vitamin A:
7559
IU
|
Vitamin C:
15
mg
|
Calcium:
213
mg
|
Iron:
2
mg
If you make this recipe, show me! Tag me on Instagram or Facebook @CravingSomethingHealthy.
Eat well!