This recipe for Mixed Vegetables Mornay has been around my family FOREVER. It's rich, creamy, and so full of flavor. Even the non-vegetable eaters in the crowd love it.
Bonus — this vegetable Mornay recipe is also super-easy to make!
I saw a quote on Twitter recently that made me laugh. "Clever food is not appreciated at Christmas. It makes the little ones cry and the old ones nervous." I could totally relate, because so many times I've tried to serve a new recipe, or a twist on an old one at the holidays, only to have my family ask "but where's the…?".
I'm sure I did the same thing when I was young. Certain foods or recipes just bring back happy memories of things that you're especially thankful for, and sometimes, there's just no reason to change that.
My mom used to make this Mixed Vegetables Mornay for pretty much every holiday when I was growing up.  Of course, it featured a Mornay sauce – which is a white Béchamel sauce jazzed up with some cheese.
She used Parmesan and added a bit of white wine, and it always got rave reviews. I was never a huge vegetable eater when I was young, but man, did I love that recipe!  It was always on the table for holidays and special family gatherings, and it especially reminds me of Thanksgiving and family.
Once I moved to Boston, and got married and had kids, and my parents moved to San Diego, it was just too much to fly everyone out for such a short weekend, so we all started to do our own Thanksgivings, and honestly, I kind of forgot about some of those recipes that my mom always made.  
This year though –  we're finally within driving distance, so we're packing up the car and driving over the river and through the woods to spend Thanksgiving with my family for the first time in about 25 years.  I'm wondering if this dish will still be on the menu, but either way, I'll still be thankful to spend the day with them and other family members.
I remembered this recipe when I was shopping at Trader Joe's the other day, and stocking up on frozen vegetables.   I HAD to make it for dinner.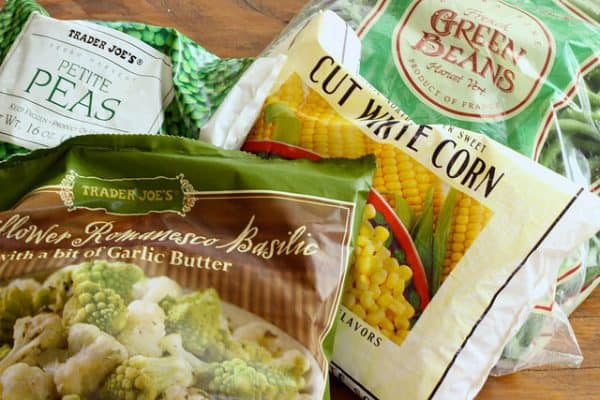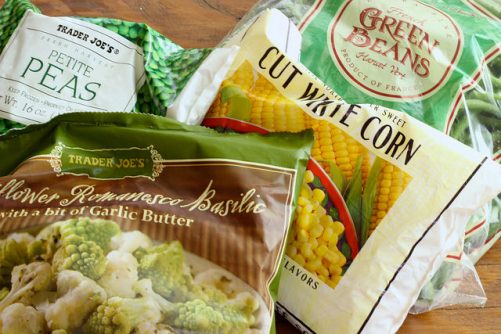 I did, however, go for fresh carrots instead of frozen — I think they just taste so much better. But if you're in a pinch, frozen carrots work. Or get the frozen mixed vegetable blend that has peas, carrots, corn, and green beans all in one bag. That's what my mom always did back in the day.
Mom's original recipe called for frozen mixed vegetables, cream in the sauce, and lots of buttery bread crumbs on top.  I also seem to recall that it was more sauce than vegetables – probably the reason it was such a hit!  My somewhat lightened-up version calls for lots more vegetables, and a lighter sauce – I kept the cheese because WHY NOT?  but used milk instead of cream, and less butter. I also used whole wheat bread for the crumbs, and just tossed them in a bit of olive oil.
It was just as delicious as I remember it to be!  Maybe even more so, because I actually like vegetables now, and there are so many in here 🙂
Mixed Vegetables Mornay
A flavorful mixed vegetable side dish in a rich-creamy Mornay sauce
Print
Pin
Ingredients
Vegetables
2

cups

sliced carrots

about 5 medium

2

cups

cauliflower florets

fresh or frozen

2

cups

thin green beans

frozen is fine

1

cup

peas

frozen

1

cup

corn

frozen

1/4

teaspoon

kosher salt

1/8

teaspoon

garlic powder
Mornay Sauce
3

tablespoons

butter

3

tablespoons

flour

1 3/4

cups

milk

2

tablespoons

white wine

3/4

teaspoons

kosher salt

1/4

teaspoon

dried thyme leaves

1/4

teaspoon

garlic powder

pinch

of nutmeg

1/4

cup

grated Parmesan cheese

2

ounces

grated Gruyere cheese
Breadcrumb Topping
1

cup

fresh breadcrumbs

torn from 2-3 slices whole wheat bread

1

tablespoon

olive oil
Instructions
Preheat oven to 350 degrees.

Lightly steam carrots and cauliflower if using fresh, not frozen cauliflower, until vegetables are just tender. Be careful not to overcook. Drain water.

Add remaining frozen vegetables to the pot with the carrots and cauliflower, and add 1/4 cup of fresh water, plus 1/4 teaspoon salt and 1/8 teaspoon garlic powder to the pot.

Bring vegetables to a boil, and cook for about 3 minutes, just until they are thawed.

Drain vegetables, reserving cooking liquid.

Place vegetables in a casserole dish, or 9 x 13 inch glass baking pan.

In a medium saucepan, melt butter, and stir in flour. Mix well over medium-high heat, and let the butter-flour mixture cook for 1 minute.

Put the milk in a measuring cup and add some of the cooking water to make 2 cups.

Slowly whisk in milk and vegetable cooking water until sauce is smooth. Continue to whisk until sauce comes to a boil, and thickens. Reduce the heat to low, and add wine, salt, thyme, garlic powder and nutmeg.

Add cheeses and stir well to combine and melt.

Remove sauce from heat, and adjust any seasonings as needed.

Pour sauce over the vegetables.

Toss the fresh breadcrumbs with the 1 tablespoon of olive oil, in a medium bowl.

Sprinkle bread crumbs over the sauce.

Bake for about 30 minutes, until the sauce is bubbly, and breadcrumbs are light golden brown.

If necessary, brown the breadcrumbs under the broiler for the last minute or two.
Nutrition
Calories:
231
kcal
|
Carbohydrates:
30
g
|
Protein:
12
g
|
Fat:
7
g
|
Saturated Fat:
3
g
|
Polyunsaturated Fat:
1
g
|
Monounsaturated Fat:
3
g
|
Cholesterol:
14
mg
|
Sodium:
542
mg
|
Potassium:
497
mg
|
Fiber:
6
g
|
Sugar:
10
g
|
Vitamin A:
5932
IU
|
Vitamin C:
26
mg
|
Calcium:
242
mg
|
Iron:
2
mg
Eat well!