Mixed Vegetable Casserole
This delectable mixed vegetable casserole is simple to make with frozen vegetables. 
Instead of canned soup, mayonnaise, or other processed ingredients, it features a rich, creamy, homemade Mornay cheese sauce full of flavor from a touch of white wine, Parmesan, and Gruyere cheese.
My vegetable casserole is comfort food, perfect for a weeknight dinner or holiday side dish. Even the non-vegetable eaters in the crowd will love it.
Jump to:
Why You'll Love This Recipe
This recipe has been a family favorite for years. My mom made it for every holiday when I lived at home. I think you'll love it too because:
It's easy to make, and you can prepare it ahead and bake it before dinner.
This recipe is a tasty way to eat more vegetables. 
The creamy, decadent sauce is made with whole, unprocessed ingredients.
As much as I love roasted vegetables, a creamy vegetable casserole always feels like a special treat.
Mornay sauce is a classic French sauce and a variation of Bechamel sauce. You'll love the flavor so much.
But don't let the thought of a French sauce scare you. It's basically a version of the cheddar cheese sauce you make for mac and cheese. And it literally takes 5 minutes to make.
Recipe Ingredients
Here's what I use to make my mixed vegetable casserole. Substitutions and a few variations are listed in the section below. 
See my recipe card below for a complete list of the ingredients with measurements.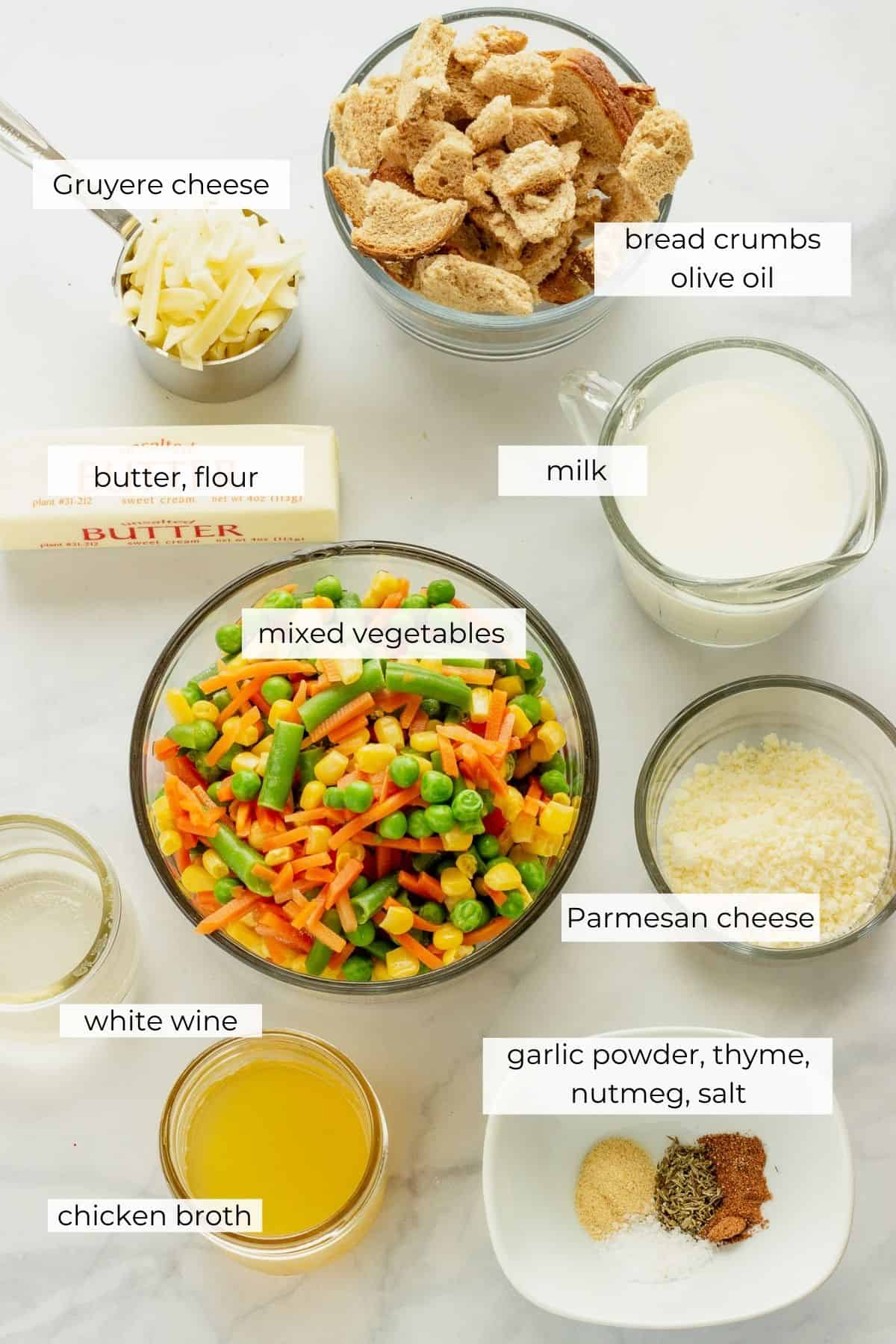 Mixed vegetables. I use frozen mixed vegetables with carrots, peas, green beans, and corn. Nearly every grocery store carries them, and they work well here.
Milk for the sauce. I usually have low-fat milk in my fridge, so that's what I use. Whole milk will make it creamier, but the sauce is plenty rich with low-fat milk. You don't need cream.
Dried garlic powder, thyme, and nutmeg. No need to use fresh garlic or herbs. These pantry staples tie the sauce flavors together nicely.
Grated Parmesan and shredded Gruyere or Swiss cheese. These two cheeses are classic components of a Mornay sauce.
Homemade breadcrumbs. Homemade tastes much better than crushed crackers or packaged breadcrumbs. If you have part of a loaf of bread at the end of its life, tear up what's left and store it in the freezer. Then you'll always have homemade breadcrumbs. I like to keep the bread pieces on the larger side (about ½ inch), but you can make also them smaller and more crumb-like.
Substitutions and Variations
For the vegetables: You can use any frozen vegetable mixture or stick to one or two vegetables. You can also use fresh vegetables. If using fresh, chop them all to a similar small size. You'll also have to cook hard vegetables like fresh carrots or cauliflower for longer until they're fork-tender. 
Great vegetable options include:
Rainbow or regular orange carrots
Parsnips
Sweet potatoes
Butternut squash
Broccoli
Cauliflower
Zucchini
Green beans
Red peppers
Another alternative is to use a variety of fresh and/or frozen vegetables. I've used chunks of precooked sweet potatoes and mixed them with frozen peas, corn, green beans, and Romanesco cauliflower from Trader Joe's. Feel free to be creative.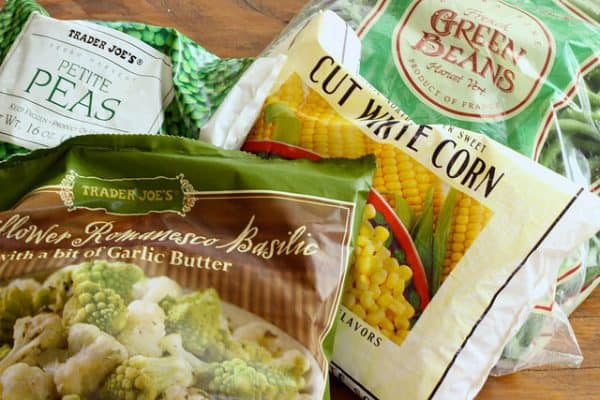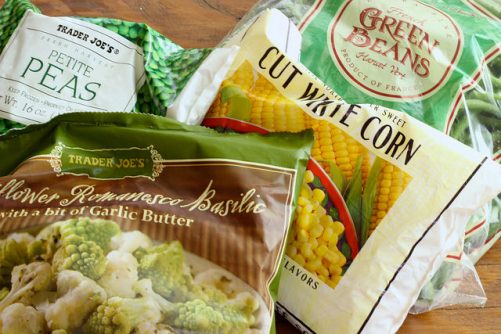 For the cheese: If you don't want a classic mornay sauce, substitute a good quality, sharp cheddar for the Gruyere cheese and make a cheddar cheese sauce instead. 
Step By Step Instructions
First, steam your vegetables just until they're fork-tender but still crisp (about three minutes). They'll finish cooking in the oven. Do not overcook them; they'll turn mushy and lose their bright color. Season them while they cook. Drain them and place them in a casserole dish.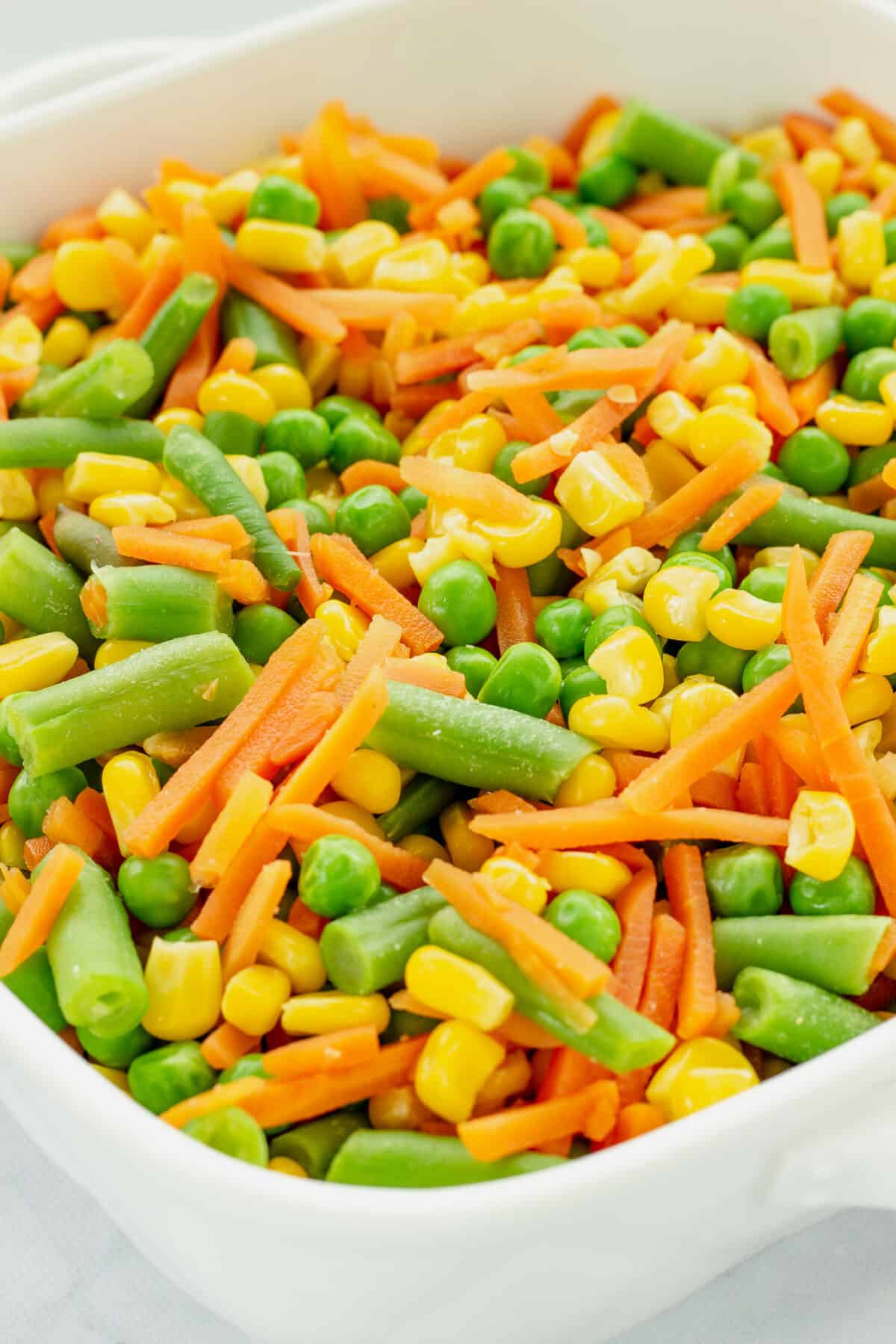 Second, prepare your Mornay sauce. Melt the butter and sprinkle the flour over it. Whisk well to combine and let it bubble for a minute, but don't let it turn brown. Gradually whisk in the milk and spices.
Let the sauce come to a simmer while whisking. It will get thick and creamy once it starts to bubble. Add the cheese in a little bit at a time and keep whisking it until the cheese melts and everything is smooth.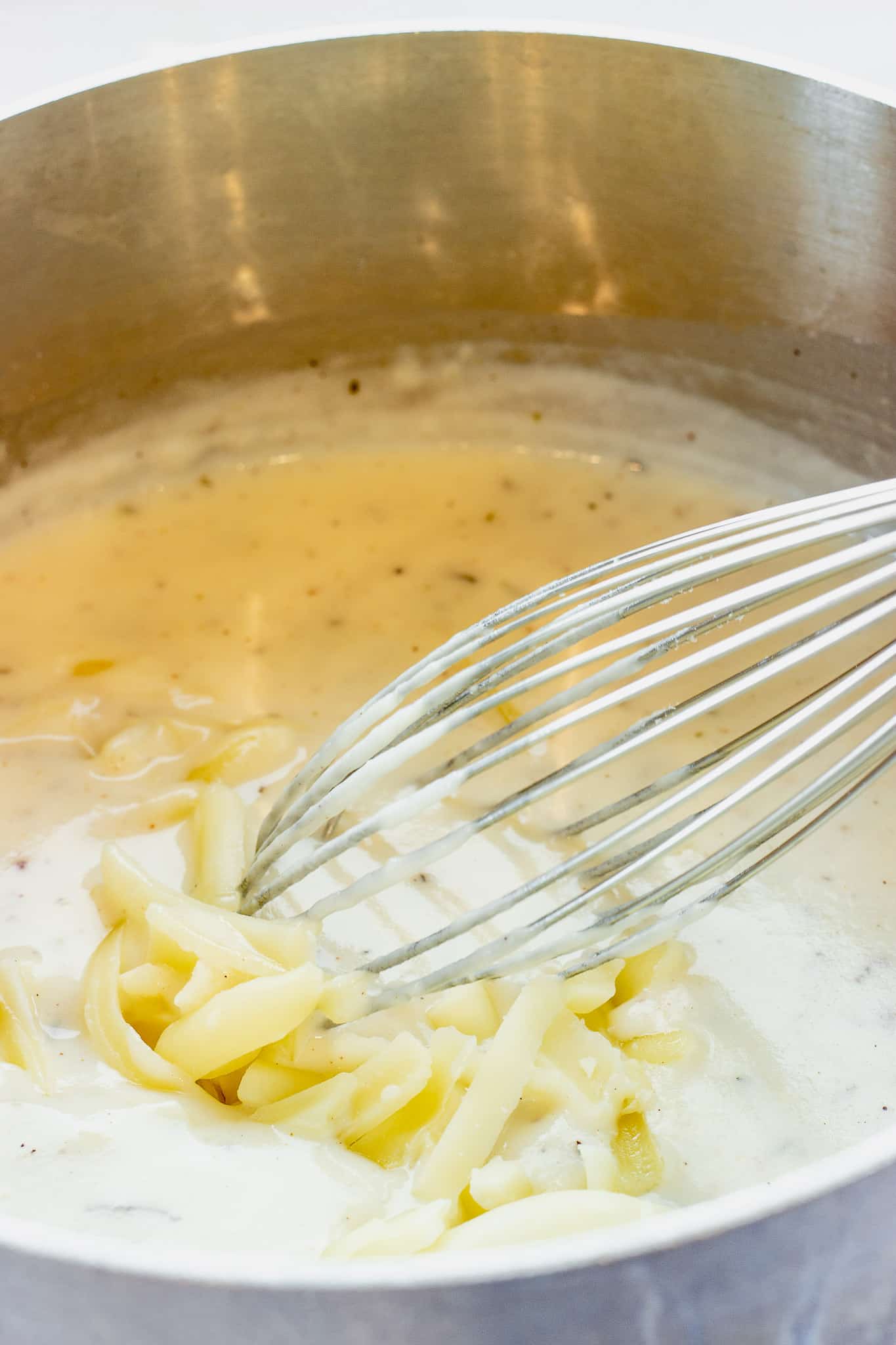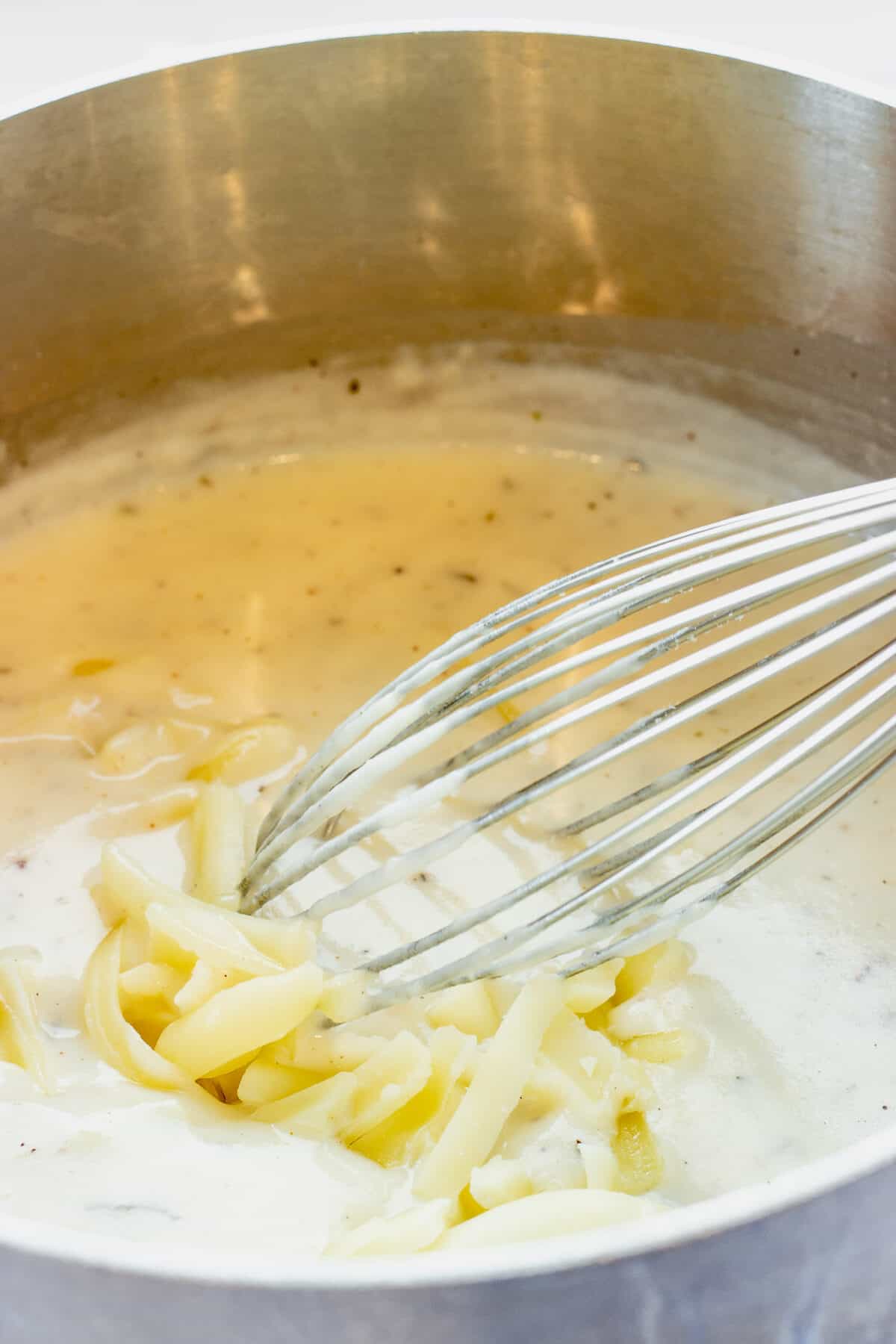 Third, pour the sauce over the vegetables. No need to stir it. Pick up the casserole dish and give it one or two taps on the counter to let the sauce sink through the vegetables. It will look like there's a LOT of sauce, but it thickens up as it bakes.
Sprinkle the bread crumbs over the top and put it into the oven to bake.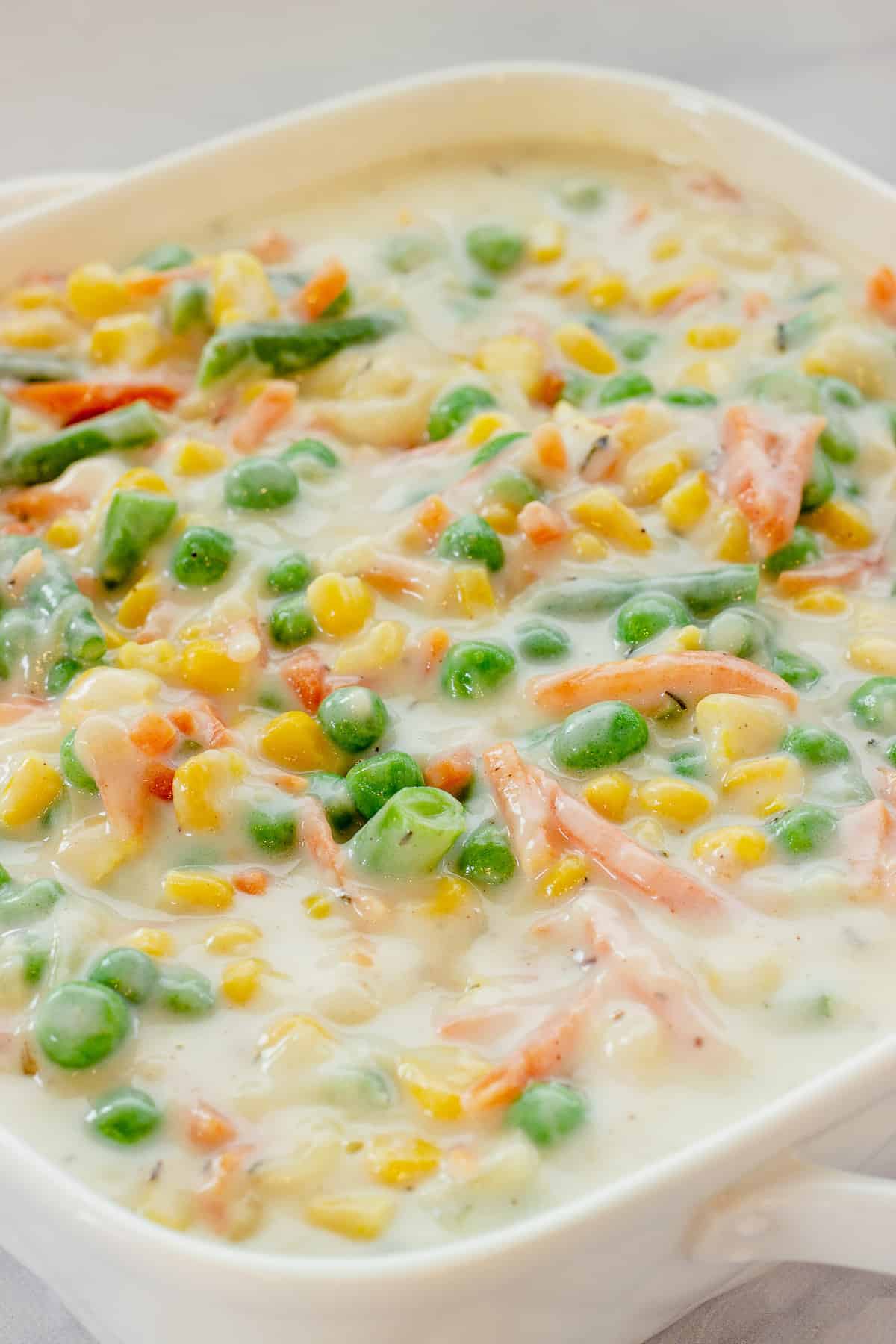 Fourth, bake the mixed vegetable casserole until the sauce is bubbly and the bread crumbs are golden brown.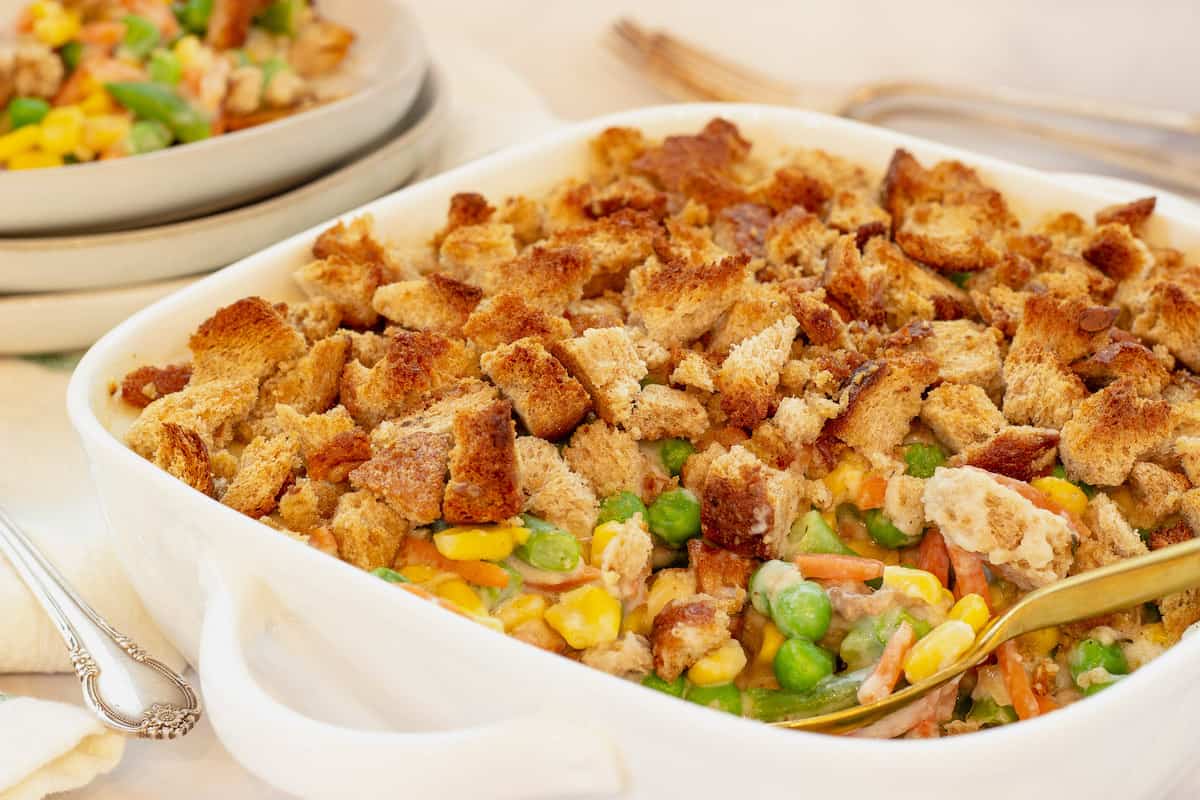 Expert Tips
Larger pieces of fresh vegetables need more time to steam. Keep an eye on them and steam them until they're just tender enough to insert a fork or knife tip partly into most pieces. The vegetables will finish cooking in the oven.
Take care not to let the butter or flour brown when making the mornay sauce. Whisk the flour and butter well to smooth out any lumps before adding the milk. And add the milk slowly while whisking so your cause doesn't clump.
Lightly cover the casserole with foil for the first few minutes in the oven so the breadcrumbs don't brown too fast. I remove it for the last 15 minutes. If the breadcrumbs aren't golden enough, place the casserole under a hot broiler for 30 seconds or so.
The sauce will tighten and thicken as the vegetable casserole cools, so don't worry if it seems too saucy when you take it out of the oven.
What Goes With Mixed Vegetable Casserole?
I LOVE this recipe with beef tenderloin for a special holiday treat. Something about the cheesy, wine-flavored sauce and the beef just works.
But you can also serve it with a roasted chicken or turkey. If you're looking for easy, homemade Thanksgiving or holiday recipes, this one is a perfect side dish.
This vegetable casserole also works as a stand-alone vegetarian meal. It's got all of the food groups!
Recipe FAQs
Can you make this recipe ahead of time?
To make this ahead of time, steam the vegetables, make the sauce, and pour the sauce over the vegetables. Cover and refrigerate it for up to 24 hours. About 45 minutes before dinner, remove it from the refrigerator and let it sit while the oven preheats. Top it with the breadcrumbs tossed in olive oil and bake according to directions.
Can you prepare the mornay sauce ahead of time?
Yes, you can make the mornay sauce in advance. Store it in a covered container in the refrigerator and reheat it gently on the stove or microwave so it doesn't break. Keep the heat low and stir it constantly until it's warm.
How long can you store this mixed vegetable casserole?
Once baked, this recipe tastes best right out of the oven. However, leftovers will keep covered in the refrigerator for up to 48 hours. I do not recommend freezing this dish because of the cream sauce.

Related Vegetable Recipes
Looking for more creative ways to prepare vegetables? Try these readers' favorites.
Love this recipe? Please leave a 5-star 🌟🌟🌟🌟🌟rating in the recipe card below & a review in the comments section further down the page.
Recipe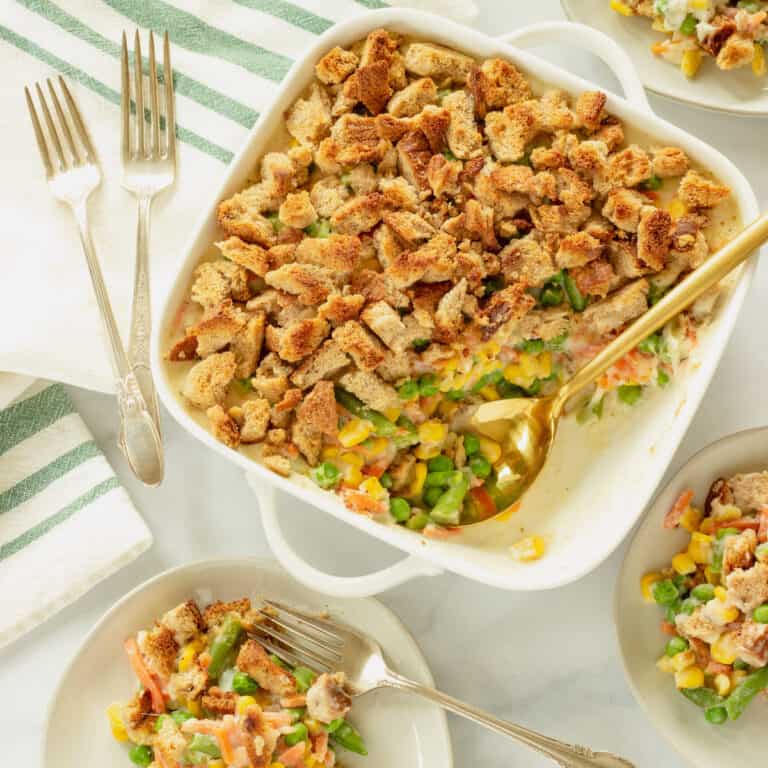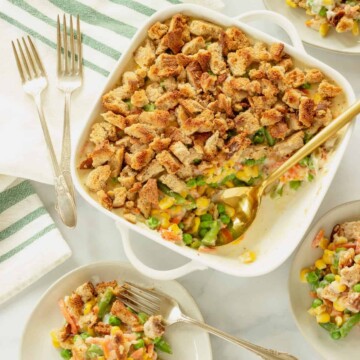 Mixed Vegetable Casserole
A flavorful mixed vegetable side dish in a rich-creamy homemade Mornay sauce
Print
Pin
Ingredients
Vegetables
8

cups

mixed vegetables

from 2-16 oz bags frozen mixed vegetables

¼

teaspoon

kosher salt

¼

teaspoon

garlic powder

½

cup

chicken broth

or vegetable broth, or water
Mornay Sauce
¼

cup

butter

or olive oil

¼

cup

flour

1 ¾

cups

milk

or more to make 2 cups with vegetable liquid

3

tablespoons

white wine

¼

teaspoon

dried thyme leaves

¼

teaspoon

garlic powder

¼

teaspoon

kosher salt

or to taste

⅛

teaspoon

of nutmeg

¼

cup

grated Parmesan cheese

2

ounces

grated Gruyere or Swiss cheese

about ½ cup
Breadcrumb Topping
1

cup

fresh breadcrumbs

torn from 2-3 slices whole wheat bread

1

tablespoon

olive oil
Instructions
Preheat oven to 325 degrees and set the oven rack to the middle position.

Place the vegetables in a large saucepan and season them with salt and garlic powder. Pour the chicken stock over the vegetables.

Heat the vegetables over medium-high heat and bring them to a boil. Let them steam for 3-4 minutes or until tender. Stir them a few times so they cook evenly. If using fresh vegetables, see note below.

When the vegetables are tender, drain them, reserving ¼ cup of the liquid.

Place the drained vegetables in a 9 x 13 casserole dish, or similar.

Rinse the saucepan and place it back on the stove on medium-high heat. Add the butter, and as it melts, stir in flour. Whisk well over medium-high heat, and let the butter-flour mixture cook for 1 minute.

Add 1 ¾ milk (or more) to the reserved vegetable liquid, to make 2 cups.

Slowly whisk the milk mixture into the butter and flour until the sauce is smooth. Add the wine. Continue to whisk until the sauce comes to a boil and thickens. Reduce the heat to low, and add the additional salt and garlic powder, plus the thyme and nutmeg.

Add cheeses and stir well to combine and melt.

Remove sauce from heat. Taste it and adjust any seasonings as needed.

Pour the sauce over the vegetables. Gently shake the casserole dish, or use a spoon to tap down the sauce.

Toss the fresh breadcrumbs with the 1 tablespoon of olive oil, in a medium bowl.

Sprinkle bread crumbs over the sauce. Lightly cover the casserole with foil.

Bake for about 30 minutes, until the sauce is bubbly and the breadcrumbs are light golden brown. Uncover it after about 15 minutes so the breadcrumbs can toast.

If necessary, brown the breadcrumbs under the broiler for the last minute or two.

Let the vegetable casserole cool for about 10 minutes before serving.
Notes
If you prefer to use fresh vegetables, cut them into small pieces (½ inch). They'll take longer to steam, so plan for 8- 10 minutes, depending on which vegetables you use. Cook fresh vegetables until they're just fork-tender.
Nutrition
Calories:
235
kcal
|
Carbohydrates:
35
g
|
Protein:
12
g
|
Fat:
6
g
|
Saturated Fat:
2
g
|
Polyunsaturated Fat:
1
g
|
Monounsaturated Fat:
2
g
|
Cholesterol:
11
mg
|
Sodium:
400
mg
|
Potassium:
467
mg
|
Fiber:
7
g
|
Sugar:
3
g
|
Vitamin A:
7559
IU
|
Vitamin C:
15
mg
|
Calcium:
213
mg
|
Iron:
2
mg
If you make this recipe, show me! Tag me on Instagram or Facebook @CravingSomethingHealthy.
Eat well!