Whipped Lemon Feta-Labneh Dip
This Whipped Lemon Feta Dip features my favorite Greek yogurt cheese - Labneh. It's what makes this dip so light and fluffy. And it makes this dip the easiest appetizer ever!
Not having guests? No worries — just make a batch and spread it on vegetables, crackers, or homemade bread and enjoy it all by yourself!
Learn why this whipped lemon feta labneh dip is a delicious Mediterranean diet-inspired treat that's good for you too.
I've never been much of a formal lunch eater because I always eat a late breakfast. That means I'm usually not hungry for "lunch" until around 3:00 pm. And by then, I worry if I eat a full meal I won't be hungry for dinner until late at night. So lunch for me is usually a snack plate that includes a variety of veggies, hummus or dip, some crackers or a slice of homemade bread, and either a few slices of turkey or a hard-boiled egg.
In my perfect world, I would change that because I've always wanted to try Intermittent Fasting. If I could just eat breakfast a little bit earlier, a light lunch-snack and dinner by 4-5:00 pm...
I'll let you know how that goes if I ever get around to breaking my eating habits.
So for now, it's a snacky-lunch for me and I have no complaints about it. Except, when I'm out of hummus or bean dip. Or I get really sick and tired of hummus and bean dip.
That was the case recently, so I decided to try something different. I love having something to dip my raw vegetables into. Or spread on my crackers (or a slice of sourdough bread when I'm motivated to make some).
This Whipped Lemon Feta Labneh Dip is perfect for all of the above. AND it's a really yummy appetizer that literally takes 10 minutes to make.
The thing that makes this dip so light and delicious is labneh. If you're not familiar with this Mediterranean spreadable yogurt-cheese, it's time to try it!
What is Labneh?
Labneh is the MOST delicious Middle Eastern treat. It's a cross between Greek yogurt and cream cheese. Tangy, rich, thick, and so good. I often add a drizzle of honey and a few drops of vanilla and use it as a fruit dip. It tastes quite close to cream cheese icing, but it's actually good for you.
And when I have it in my fridge, you can bet I add a scoop to my overnight oats. Between that and the berries, It makes them taste like cheesecake for breakfast.
But you can add savory ingredients to labneh too and it becomes a perfect base for a veggie dip. Just think of it as a healthier version of cream cheese.
I usually find labneh at Sprouts or Whole Foods. If you have a natural foods store nearby, check the dairy section, near the yogurt or cream cheese. If you don't see it there, check the cheese department.
But if you don't find it, don't worry! It's ridiculously easy to make. You just need some plain Greek yogurt, a pinch of salt, and some cheesecloth. And about 12-24 hours in the fridge.
Is Labneh Healthy?
I would certainly say labneh is healthy. It's a type of soft cheese made from Greek yogurt, which means it's full of probiotics (healthy, gut-friendly bacteria). As a food, labneh is also a part of the Mediterranean diet. Because it's made from strained yogurt, it's also a good source of protein, healthy carbs, potassium, and calcium.
If you make homemade labneh, you can use either full-fat, 2% fat, or nonfat Greek yogurt. Of course, full-fat yogurt is luscious, but honestly, they're all good and the end product is really yummy whether it has fat in it or not.
It's nice to have options though, and when you make your own labneh, you can control the fat and calories. You can also control the sodium. I notice that many brands are a bit salty for my taste. Note that I do not recommend adding extra salt to this dip. Feta cheese is already quite salty, and if you get a salty store-bought labneh, your dip might end up too salty.
What is the Liquid That Drains from Greek Yogurt?
It's whey! As in really, good quality protein. Labneh is actually lower in protein than regular Greek yogurt because you strain off the whey. But feel free to save it and add it to your smoothie, or anything else when you need some extra protein.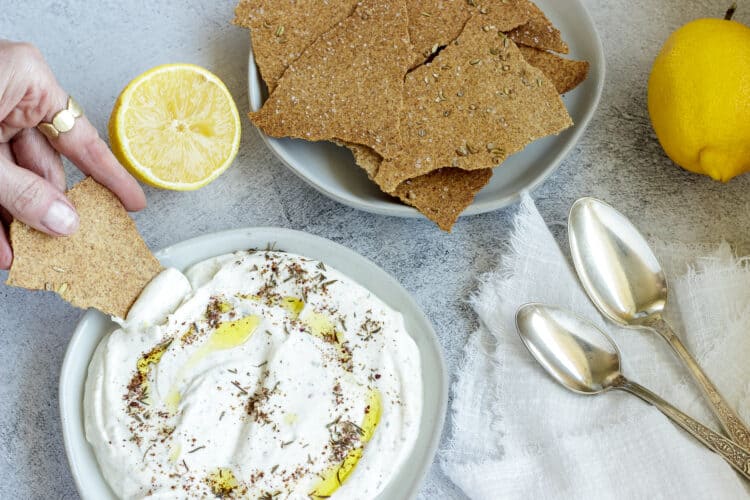 I really love to serve this dip with a platter of fresh vegetables and some fancy crackers. My favorite crackers, when I feel like baking, are these sourdough rye crackers in the photo. I use the basic recipe here, but of course, I tweak it just a bit.
Recipe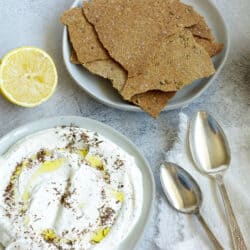 Whipped Lemon Feta Labneh Dip
An easy Mediterranean appetizer that's full of bright lemon and feta flavors
Print
Pin
Ingredients
Homemade Labneh
1

cup

plain Greek yogurt

pinch

kosher salt
Whipped Lemon Feta Dip
¾

cup

Labneh

homemade or store bought

7

ounces

Feta cheese

1

teaspoon

lemon zest

1

tablespoon

lemon juice

1

teaspoon

za'atar

divided
Instructions
Homemade Labneh
Line a colander with cheesecloth. Pour the Greek yogurt in the cheesecloth and tie up the sides of the cheesecloth to make a little bundle.

Set the colander with the bundle of Greek yogurt over a bowl to catch the liquid from the yogurt. Leave it in the refrigerator overnight and up to 24 hours to drain.

When ready to use the labneh, discard the liquid (or reserve it and add it to a smoothie) remove the yogurt from the cheesecloth and place it in a bowl. Add a pinch of salt or to taste.
Whipped Lemon Feta Dip
In the bowl of a food processor fitted with the blade, combine the labneh, feta cheese, lemon zest, and lemon juice.

Process for about 60 seconds, scraping down the sides of the bowl periodically. Check to make sure the mixture is smooth. If it's still lumpy, process until smooth.

Add ½ teaspoon of za'atar and pulse about 5 times to combine.

To serve, spoon the dip into a bowl or on a plate. Garnish with the remaining ½ teaspoon of za'atar and a drizzle of olive oil if desired.

Store leftover dip in an airtight container for up to 4 days.
Notes
Nutrition facts data is with nonfat Greek yogurt
Nutrition
Calories:
75
kcal
|
Carbohydrates:
2
g
|
Protein:
6
g
|
Fat:
4
g
|
Saturated Fat:
3
g
|
Polyunsaturated Fat:
1
g
|
Monounsaturated Fat:
1
g
|
Trans Fat:
1
g
|
Cholesterol:
19
mg
|
Sodium:
239
mg
|
Potassium:
64
mg
|
Fiber:
1
g
|
Sugar:
1
g
|
Vitamin A:
89
IU
|
Vitamin C:
1
mg
|
Calcium:
139
mg
|
Iron:
1
mg
Have you ever made Labneh? Let me know if you try it in this dip!
Eat well!