Pumpkin Spice Protein Balls
No-bake pumpkin protein balls provide a healthy burst of energy after a workout or as a mid-day snack.
Made with wholesome ingredients like real pumpkin, naturally sweet dates, oats, protein powder, nuts, seeds, and fall spices, these easy energy bites satisfy your sweet tooth and pumpkin spice craving with no added sugar.
Jump to:
Why You'll Love This Recipe
These pumpkin protein balls are fast and easy to make.
It takes about 15 minutes to make a batch and roll them into bite-sized balls. No baking or chilling is required. I keep them in the refrigerator or freezer and grab a few when I need a healthier sweet treat or after-workout snack.
Homemade fruit and nut energy bars, balls, or bites are significantly cheaper than store-bought protein bars. I'm pretty sure you could make a whole batch of these pumpkin protein balls for the price of two brand-name protein or energy bars.
These pumpkin energy bites are good for you.
They have no added sugar, only the natural sugar from dates and dried cranberries. They're rich in healthy fats from nuts, seeds, and a dollop of almond butter. And pumpkin's flesh and seeds are full of beta-carotene and other nutrients that support your immune system, promote healthy eyesight, reduce your cancer risk, and help maintain healthy blood pressure.
Plus, who doesn't love pumpkin spice everything in the fall? If you can't get enough, wash these energy bites down with my pumpkin pie smoothie!
Recipe Ingredients
Here are the key ingredients needed to make these pumpkin spice protein balls. Substitutions and variations are listed in the section below.
See my recipe card for the complete list of ingredients with measurements.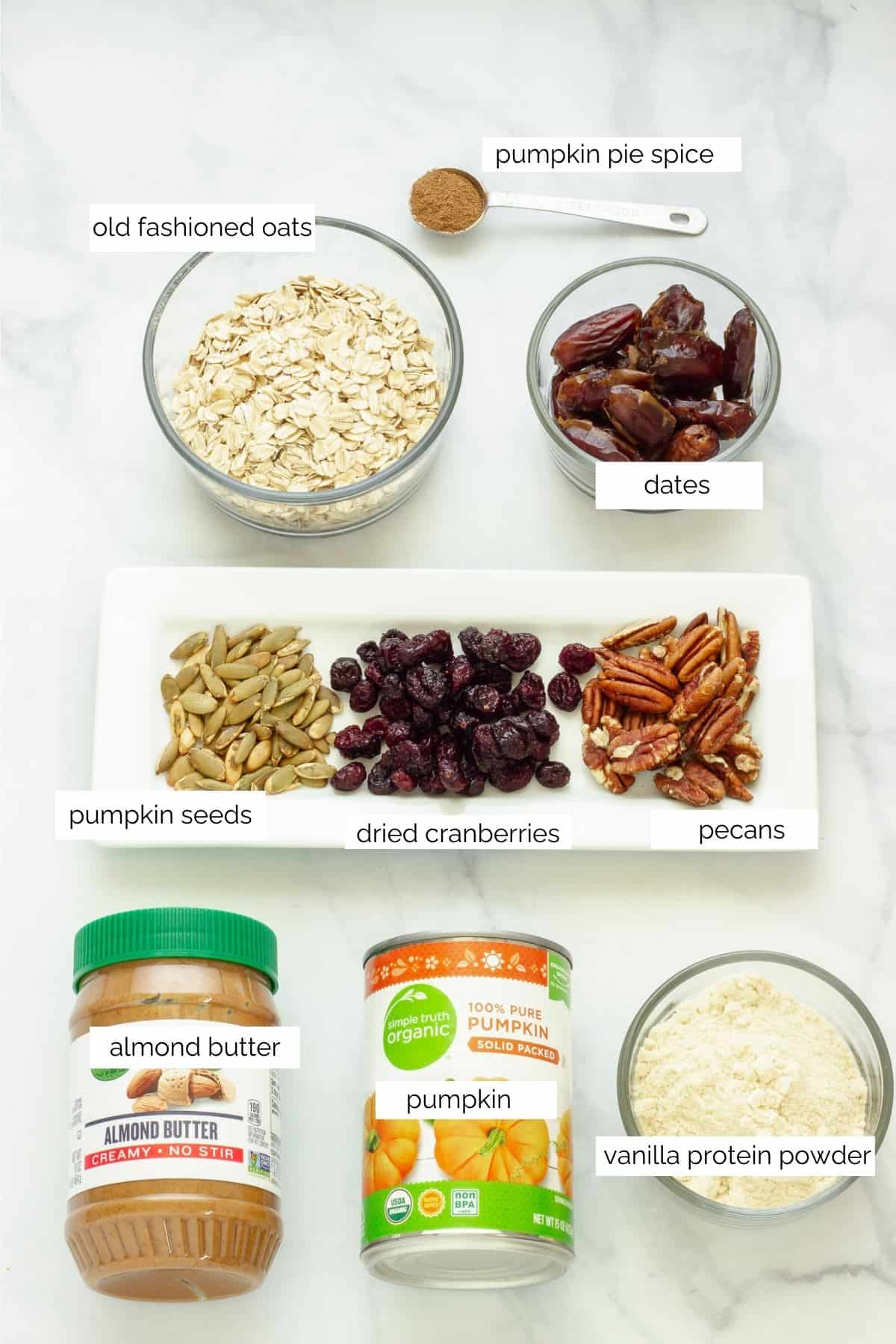 Canned pureed pumpkin. Double-check to ensure you're grabbing a can of PLAIN pureed pumpkin, not pumpkin pie filling, which has lots of added sugar.
Dried dates. These add natural sweetness, and they act like "glue" to hold the ingredients together. Make sure you buy pitted dates so you don't have to remove the pit from each date.
Almond butter, pumpkin seeds, and pecans. These are all great sources of heart-healthy fats that can reduce your risk of heart disease, and they provide some extra protein to these energy bites.
Old-fashioned oats. These are a great source of complex carbohydrates and soluble fiber that helps lower cholesterol, balance blood sugar, and keep you full for longer. I recommend old-fashioned oats because they hold up better than quick-cooking oats. Don't use steel-cut oats because they'll be too hard.
Protein powder. You can use whey, plant protein powder, or even collagen. Make sure any brand you choose has only minimal ingredients, like protein, natural vanilla flavor, and stevia or xylitol for sweeteners. If you use plain, unflavored protein powder, add a teaspoon of vanilla to the recipe. You may also need a little extra sweetener, like maple syrup.
Substitutions and Variations
For a nut-free variation, substitute sunflower butter for the almond butter and add extra pumpkin seeds instead of the pecans.
These pumpkin protein balls aren't overly sweet. If you want them sweeter, add a tablespoon of maple syrup.
If you don't have pecans, substitute chopped walnuts or sliced almonds.
Mini dark chocolate chips are also delicious in these energy bites. Add them in with the cranberries, nuts, and seeds in the final step. Or use them in place of the cranberries.
Step By Step Instructions
First, combine the dates, canned pumpkin, almond butter, and pumpkin spice mix in a food processor fitted with a chopping blade. Pulse about 60 times or until the dates are broken down and everything is relatively smooth, scraping down the sides a few times as needed.
Second, add the oats and protein powder. Pulse again 30-40 times until everything is incorporated. Your dough should be fairly stiff (like photo #2) so you can roll it into balls. If it's too dry and you're having trouble combining your ingredients, add water, one tablespoon at a time. If it's too wet, add a tablespoon or two of oats.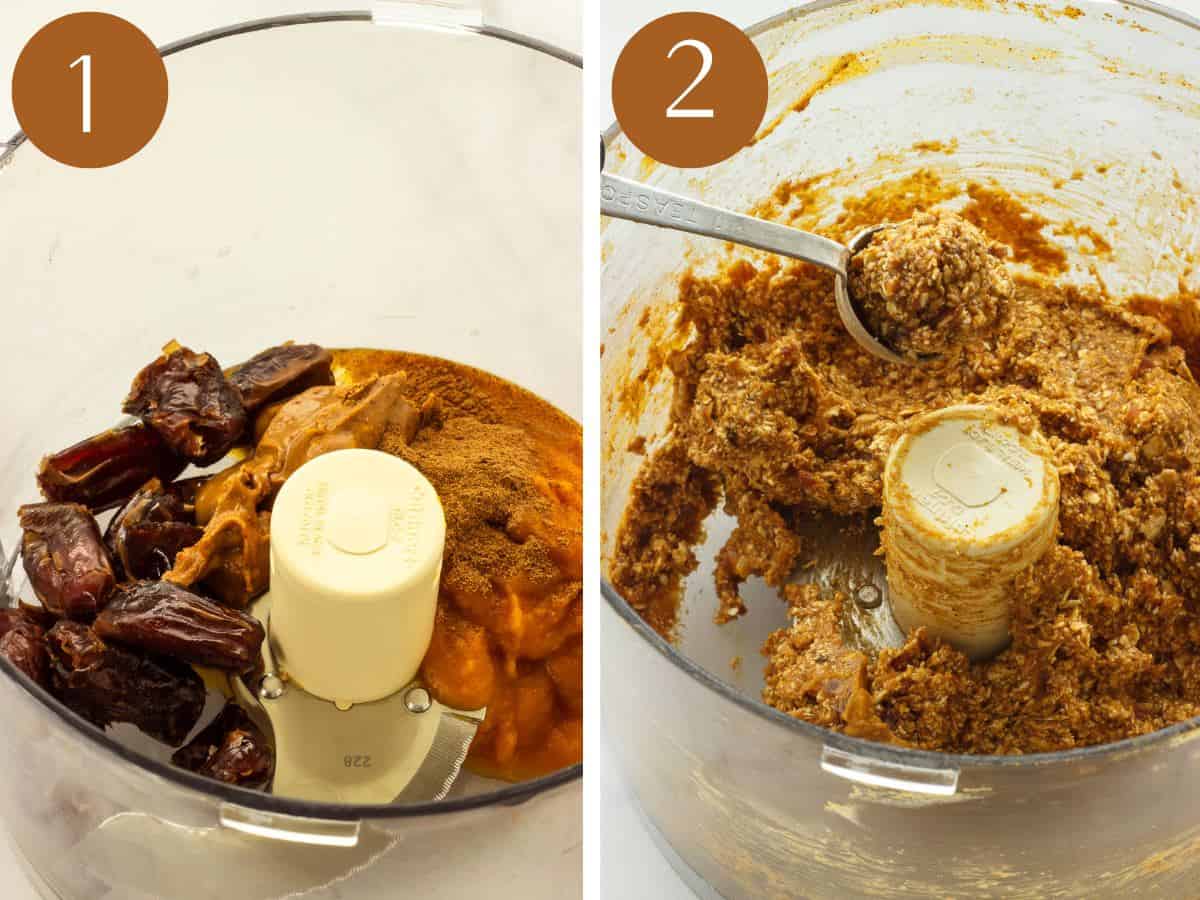 Third, add the dried cranberries, pecans, and pumpkin seeds to the mixture. Pulse it a few more times until everything is evenly combined, and the pieces are as large or small as you like.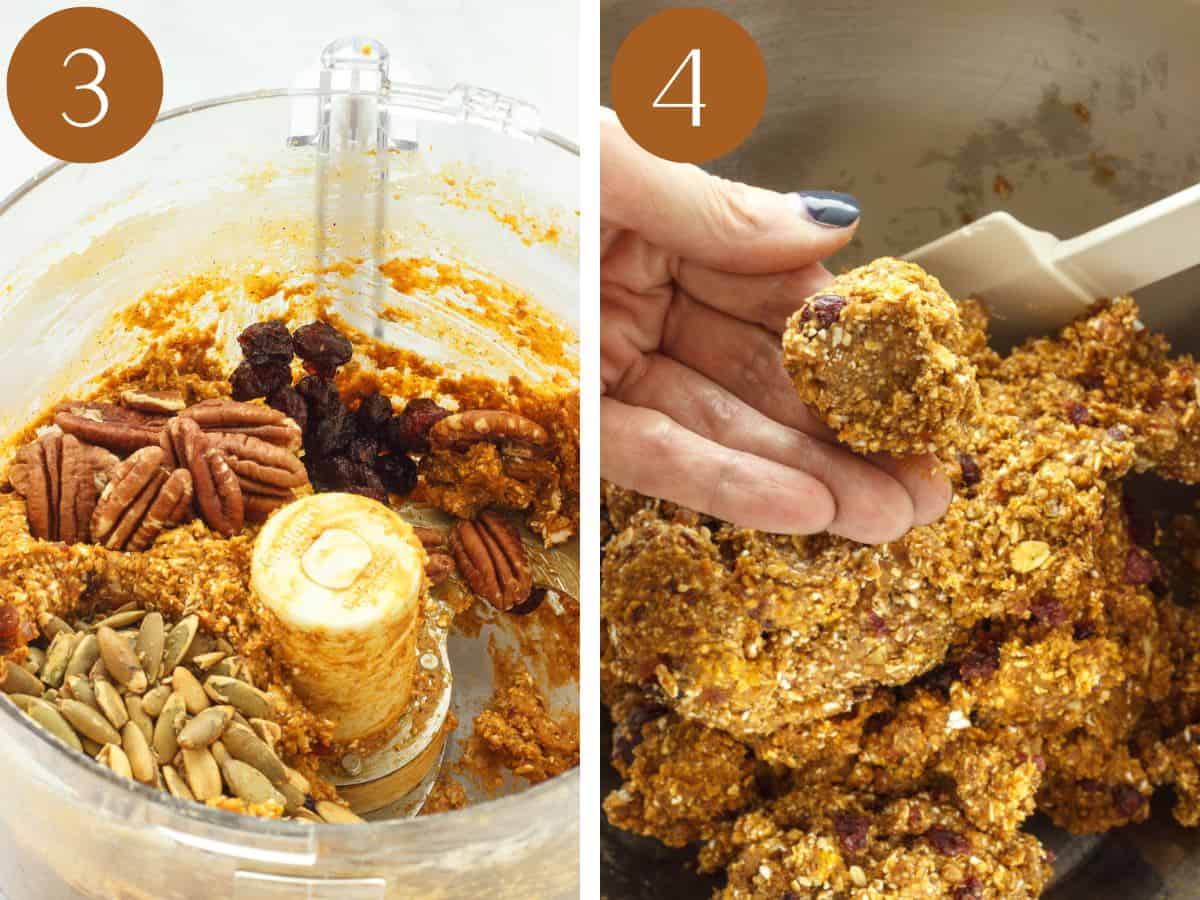 Fourth, check the dough again to make sure it's the right consistency to roll into balls. It should be slightly sticky but easy to roll. If it's too wet or dry, add water or oats, as in Step 2 above. Once your dough is ready, scoop out about 1 tablespoon at a time and roll it into 1-inch balls. You can also make larger-sized protein balls if you prefer.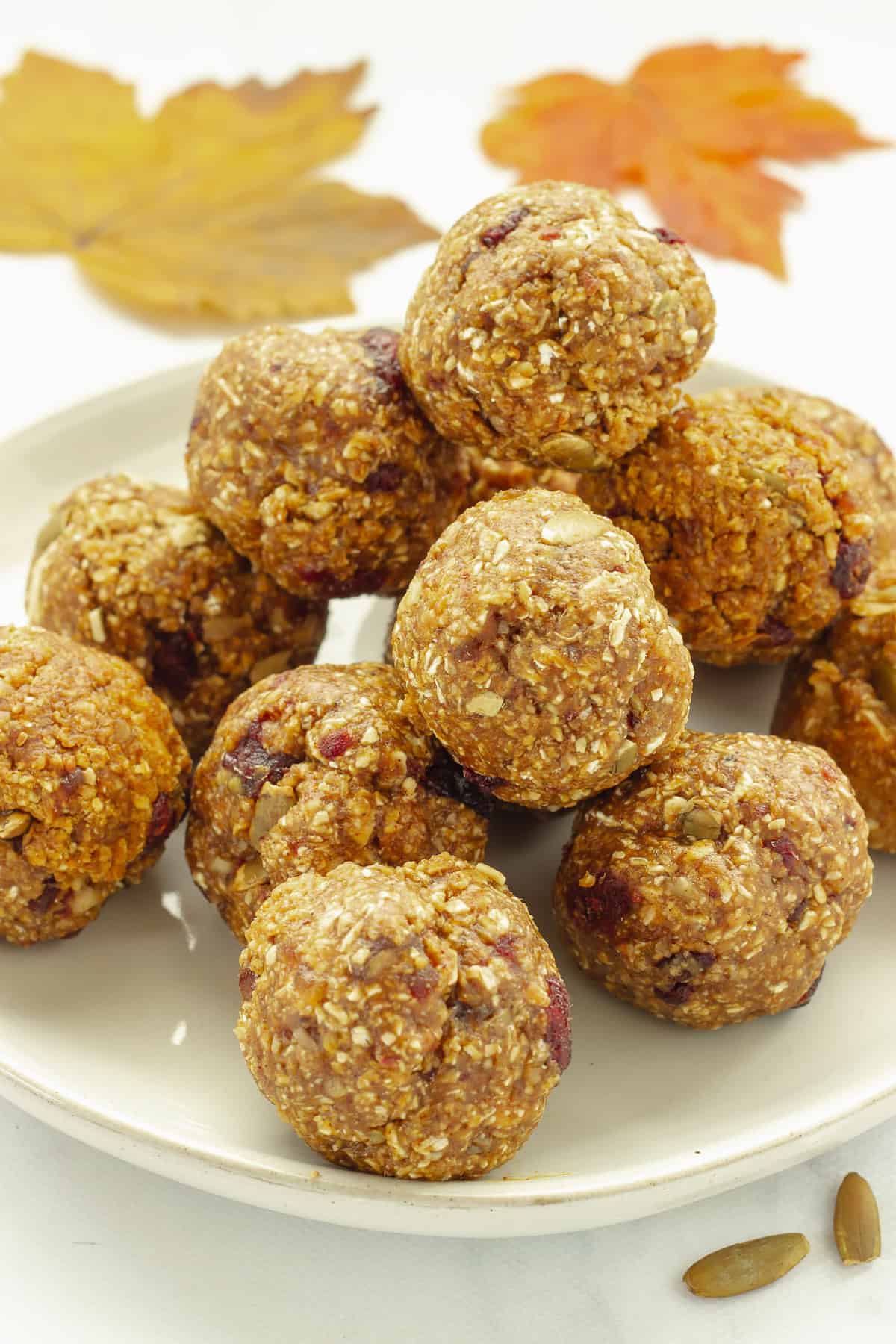 Expert Tips to Make Pumpkin Protein Balls
Use a food processor to make these (or any) energy balls or bars. A blender won't work.
Fresh-dried dates are the easiest to work with. They tend to dry out over time, making them harder to puree. If your dates are older, cover them with warm water and soak them for 30 minutes to rehydrate them.
I find it helpful to blend the dates and wet ingredients first and then add the oats and protein powder. It's not essential to do it in this order, but your dough will be smoother, and you'll spend less time scraping down the bowl of the food processor.
If your dough is too stiff or dry, add water, one tablespoon at a time. If the dough is too wet, add more oats (or protein powder if you want higher protein), one tablespoon at a time.
If you have difficulty mixing in the cranberries, nuts, and seeds at the end, transfer the dough to a large mixing bowl and use your hands to incorporate everything.
Recipe FAQs
How long can you store pumpkin protein balls?
Refrigerate them in a covered container for up to one week or keep them in a freezer bag or container for at least two months. If frozen, let them thaw at room temperature for about 10 minutes or microwave three pieces for 15 seconds to soften.
How much protein is in a serving?
One serving (three one-inch bites) provides about 11 grams of protein. See the recipe card for the full nutrition analysis.
What is pumpkin pie spice mix?
It's a warm, aromatic spice blend often used when making a pumpkin pie. You can find pumpkin pie spice (sometimes called pumpkin spice) mix at most grocery stores. It usually contains cinnamon, nutmeg, cloves, ginger, allspice, and mace.  

Related Protein and Energy Snacks
These easy energy snacks are full of healthy, whole ingredients. They're great to have on hand when you need a healthy snack.
Love this recipe? Please leave a 5-star 🌟🌟🌟🌟🌟rating in the recipe card below & a review in the comments section further down the page.
Recipe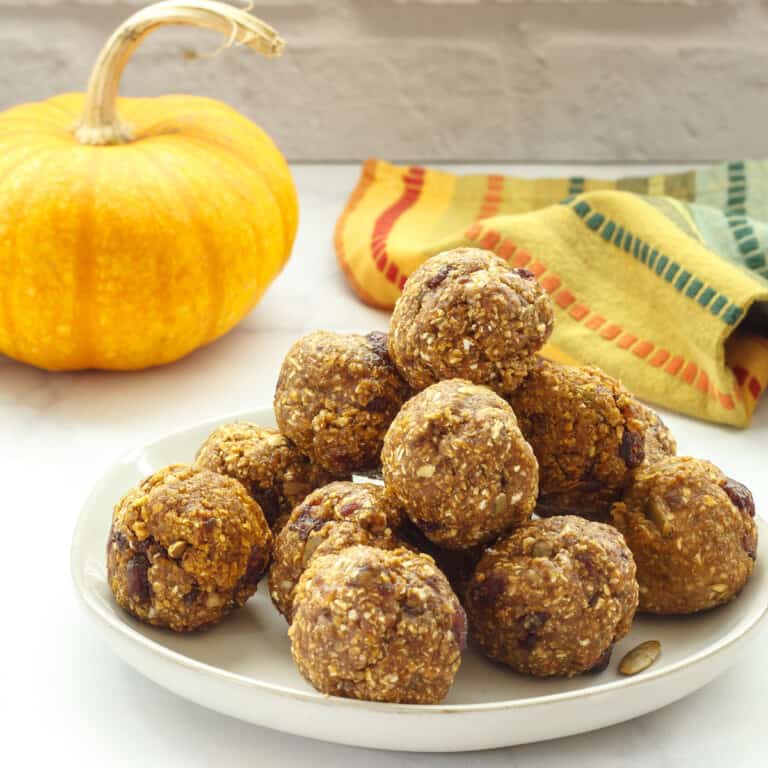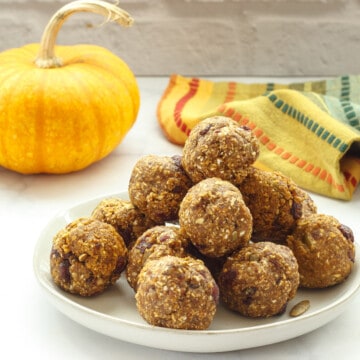 Pumpkin Spice Protein Balls
Easy, no-bake energy bites made with real pumpkin and delicious fall flavors.
Print
Pin
Servings:
7
about 21 1-inch bites/balls
Ingredients
½

cup

pitted dates

¾

cup

canned pumpkin puree

2

tablespoons

almond butter

1

teaspoon

pumpkin pie spice mix

2

cups

old fashioned oats

½

cup

vanilla protein powder

¼

cup

pecan halves

½

cup

dried cranberries

¼

cup

roasted pumpkin seeds (pepitas)
Instructions
Add the dates, pumpkin, almond butter, and pumpkin pie spice mix to the bowl of a food processor fitted with the chopping blade, and pulse about 60 times or until the mixture is well combined, scraping down the sides as needed.

Add the oats and protein powder and pulse again, about 30 times or until everything is combined, scraping down the sides as needed.

Add the pecans, cranberries, and pumpkin seeds and pulse about 10 times until everything is incorporated.

Roll into 1-inch balls and place in an airtight container.
Notes
Store these in an airtight container in the refrigerator for one week or in the refrigerator for up to two months.
One serving is three one-inch bites. If you want to boost the protein content a bit feel free to add a few more tablespoons of protein powder. You may need an extra tablespoon of almond butter or pumpkin to achieve the right consistency.
Nutrition
Calories:
260
kcal
|
Carbohydrates:
37
g
|
Protein:
11
g
|
Fat:
9
g
|
Saturated Fat:
1
g
|
Polyunsaturated Fat:
3
g
|
Monounsaturated Fat:
4
g
|
Trans Fat:
0.001
g
|
Cholesterol:
16
mg
|
Sodium:
34
mg
|
Potassium:
331
mg
|
Fiber:
5
g
|
Sugar:
15
g
|
Vitamin A:
4104
IU
|
Vitamin C:
1
mg
|
Calcium:
88
mg
|
Iron:
2
mg