Lemon Coconut Flaxseed Protein Balls
Looking for a delicious, easy flaxseed recipe? These lemon coconut flaxseed protein balls are a delicious way to incorporate heart-healthy flaxseeds into your diet.
Not only are they packed with ingredients that can help reduce cholesterol, but also, they're a perfect energy snack after a workout or a healthy sweet treat!
As a dietitian, I'm all about using food as medicine. That's not to say I'm anti-medicine. But I think before you get in line at the pharmacy counter to treat a chronic lifestyle-related health condition, you should try a food-first approach.
Flaxseeds (also spelled flax seeds) are a perfect example of a food with lots of important health benefits. One of their biggest claims to fame is their ability to lower your LDL (bad) cholesterol. Flaxseeds (or ideally, flaxseed meal) are something I commonly recommend to people who want to reduce cholesterol without medication — or before adding medication.
Plus — eating a serving of flaxseeds, or flaxseed meal every day has been shown to promote weight loss and reduce your blood pressure. They're multi-talented!!
There are lots of cholesterol-lowering foods out there, but flaxseeds are one of my favorites because they're very versatile for using in baked and no-bake recipes.
And believe it or not, these yummy Lemon Coconut Flaxseed Bites are packed with ingredients that promote better health and might just lower your cholesterol.
Why Flaxseeds Can Lower Your Cholesterol
Flaxseeds are high in fiber. About ⅓ of their fiber is soluble fiber. That's the kind of fiber that absorbs water in your GI tract and forms a gel. Soluble fiber also binds to cholesterol in your intestines so less cholesterol is absorbed into your bloodstream. Instead, you poop it out.
Oats, beans, and barley are my other favorite soluble fiber, cholesterol-lowering foods. Don't Miss These
Cholesterol-Lowering Recipes
Research studies, like this one in adults, have shown that eating flaxseeds every day (or at least most days) can reduce your cholesterol by at least 20 points.
Overall, studies show eating about 30g of flaxseeds each day reduces total and bad cholesterol by about 15%. And it happens pretty quickly — within a few weeks. That's pretty impressive!
You should know though, 30g is a lot of flaxseeds — about 4 tablespoons. You'll still get cholesterol-lowering benefits if you eat less, but you'll see less of a reduction.
In addition to soluble fiber, flaxseeds have:
Omega-3 (heart healthy) fats. If you're looking for a plant-based source of omega-3, two tablespoons of flaxseed meal provides about 2,400 mg.
Antioxidants, including compounds called lignans. They have weak estrogenic effects which can further reduce cholesterol and help your heart.
A wide range of vitamins and minerals, including B-vitamins which help with energy metabolism, and magnesium, which helps your insulin to work better.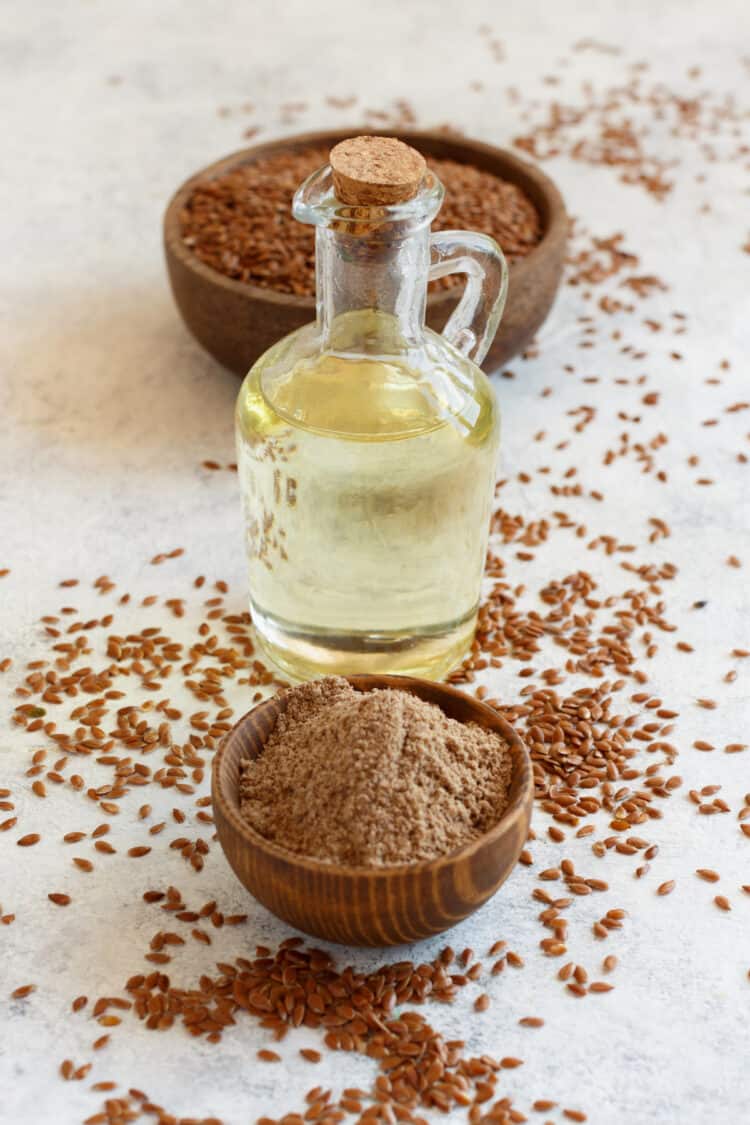 Flaxseeds, Flaxseed Meal, Flaxseed Oil: What's the Difference?
Flaxseeds are whole seeds. They're quite tiny and have a hard, shiny shell-like exterior. That shell is hard to break down, so they're hard to digest in their whole form. As such, you might not get all of the benefits you hope from whole flaxseeds because most of them pass right through your digestive tract without being broken down.
That's why I recommend using ground Flaxseed Meal instead of whole flaxseeds. Flaxseed meal is the same as ground flaxseeds. Flaxseed powder is ground even finer — like powder. Either of these is a good option.
If you prefer to buy whole flaxseeds (they may have a longer shelf-life), make sure you grind them in a spice grinder before using them in a flaxseed recipe.
Then there's flaxseed oil, which is just the oil extracted from the flaxseeds. The good thing about this oil is that it's jam-packed with healthy fats. But the downside is that you won't get any of that soluble fiber that lowers your cholesterol.
Flaxseed oil isn't the best choice for cooking because it's very sensitive to light and heat. But as long as you use it up quickly, you can add it to salad dressing. Or take a tablespoon as a supplement.
Looking For Flaxseed Recipe Ideas?
Flaxseed meal is commonly used as a replacement for eggs. You can't scramble it, but you can add flax eggs to baked goods. Just add 1 tablespoon flaxseed meal to 3 tablespoons of water and let it sit for about 5 minutes or until it's thick and egg-like just like this photo.
You can also add flaxseed meal to:
Smoothies
Overnight oats
Pancake, muffin, or quickbread batter
Meatloaf or meatballs
Just remember, it absorbs water so you might need to add a little extra liquid to your recipe.
Why I Love These Lemony Flaxseed Protein Bites
It's citrus season AND hiking season here in Arizona! I picked about 50lbs of lemons from my lemon tree recently, and as much as I love making my Low Carb Lemon Bars, I wanted a healthier and portable treat for hiking. Plus, I'm always on the lookout for ways to reduce my cholesterol without medication.
These bright, fresh, tasty little lemon coconut balls hit the mark! This might just be my new favorite flaxseed recipe.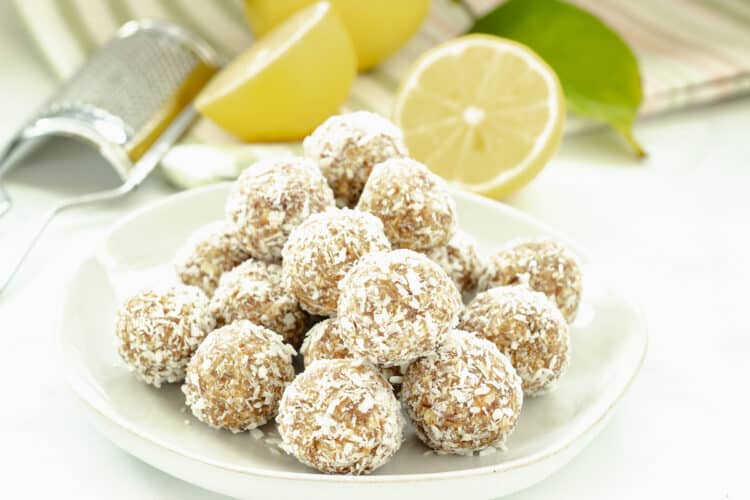 They're ridiculously easy to make. They also store for a week in the refrigerator or longer in the freezer. And they're super- convenient to take with you when you're hiking, or just out doing errands and need a healthy energy snack.
Because I have to play the dietitian card, I especially love these lemon coconut bites because they're packed with healthy stuff that can reduce your cholesterol, like:
Lemon rind (it has limonene and naringin — two powerful antioxidants
Flaxseed meal
Oats (more soluble fiber)
Almond butter (full of healthy fats). You don't taste it in this recipe, it's just the "glue" that holds the ingredients together.
Protein powder (to help keep you full and satisfied so you're not craving a candy bar)
Unsweetened coconut (healthy fats when used in moderation)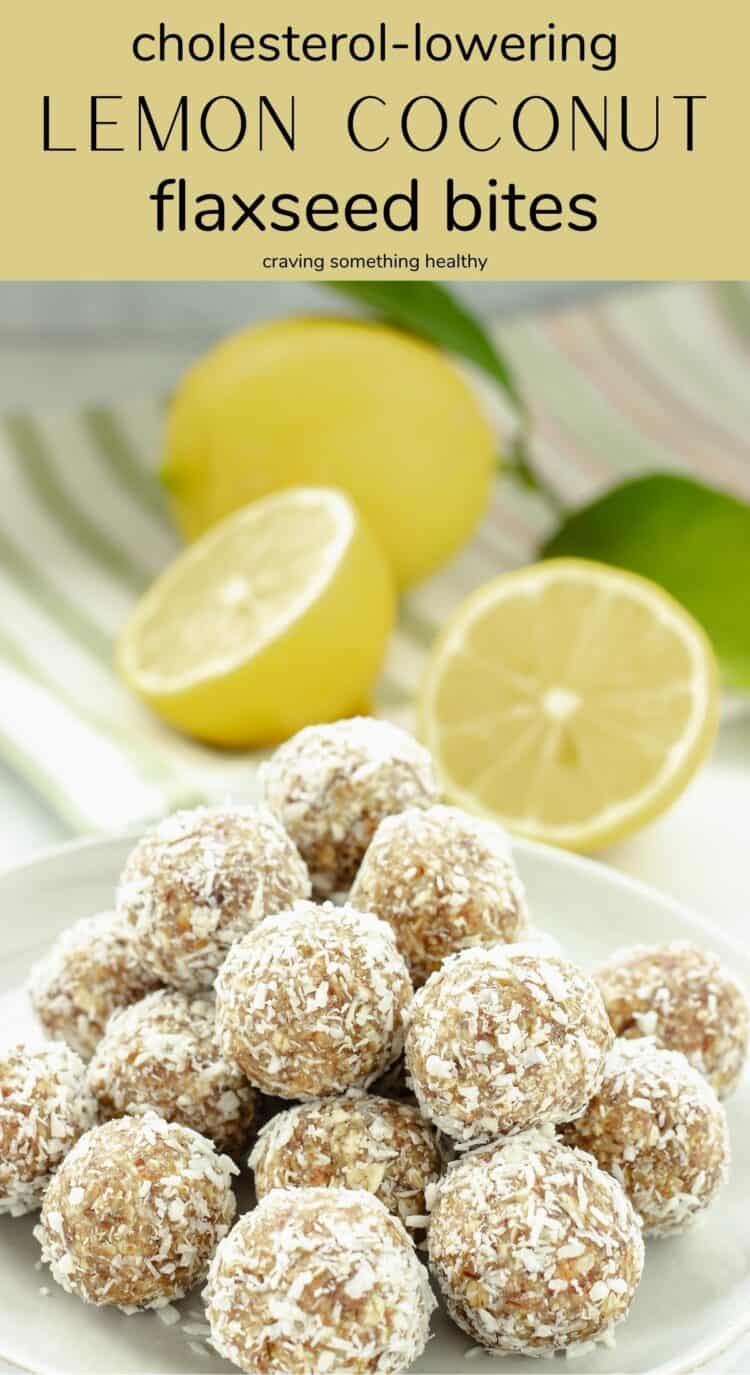 Recipe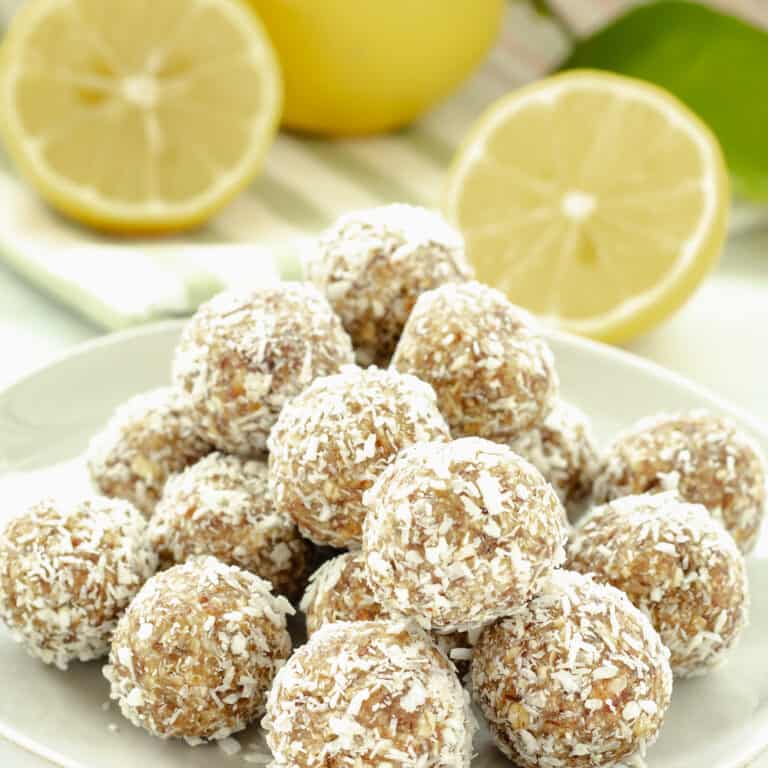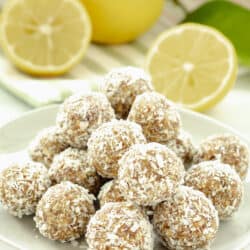 Lemon Coconut Flaxseed Protein Balls
A bright, lemony no-bake protein snack full of healthy ingredients
Print
Pin
Ingredients
1

cup

Old Fashioned oats

¼

cup

ground flaxseed meal

¼

cup

vanilla protein powder

5

tablespoons

unsweetened shredded coconut

divided

2

tablespoons

lemon zest

from 1 large lemon

4

tablespoons

lemon juice

from 1 large lemon

2

tablespoons

almond butter

2

tablespoons

honey

or maple syrup for vegan option

1

tablespoon

water (or more to achieve the right consistency)
Instructions
Place the oats, flaxseed meal, protein powder, 2 tablespoons of shredded coconut and lemon zest in the bowl of a food processor. Pulse about 15 times or until the oats are ground and everything is combined.

Add the lemon juice, almond butter, honey, and 1 tablespoon of water (or if desired, use extra lemon juice instead of water). Pulse to combine and let everything form a ball of dough.

Check the dough and see if it sticks together into a ball. If it's too dry, add an extra tablespoon of water or lemon juice. If it's too wet, add extra flaxseed meal.

Roll the dough into 20 1-inch balls and roll each ball in the remaining shredded coconut.

Store in the refrigerator or freezer.
Nutrition
Calories:
121
kcal
|
Carbohydrates:
13
g
|
Protein:
5
g
|
Fat:
7
g
|
Saturated Fat:
3
g
|
Polyunsaturated Fat:
2
g
|
Monounsaturated Fat:
2
g
|
Cholesterol:
6
mg
|
Sodium:
11
mg
|
Potassium:
128
mg
|
Fiber:
3
g
|
Sugar:
4
g
|
Vitamin A:
1
IU
|
Vitamin C:
4
mg
|
Calcium:
43
mg
|
Iron:
1
mg
Do you have any favorite flaxseed recipes?
Eat well!
References:
Parikh M, Kura B, Garg B, Austria JA, Yu L, Maddaford TG, Proctor SD, Netticadan T, Pierce GN. Dietary flaxseed reduces Myocardial Ischemic Lesions, improves cardiac function and lowers cholesterol levels despite the presence of severe obesity in JCR: LA-cp Rats. The Journal of Nutritional Biochemistry. 2021 Dec 1;98:108829
Prasad K, Khan AS, Shoker M. Flaxseed and Its Components in Treatment of Hyperlipidemia and Cardiovascular Disease. International Journal of Angiology. 2020 Apr 14.