Who could use a little sunshine, fresh lemon, and happiness right now? Yeah, I thought so. That's why I made you some lemon bars. And, to make them even better, they're LOW Carb!
That doesn't exactly mean they're low calorie. But desperate times call for a luscious dessert that won't spike your blood sugar. AmIright...?
These lovelies are so lemony and delicious. I think we'd all feel better ASAP if we all made a big pan today. So get your hands on a few fresh lemons, and start squeezing.
Remember how I told you about my lime tree that suddenly turned into a lemon tree? Well, I'm still using up those lemons, and I've tested this recipe probably more times than I really needed to. Because I can't get enough!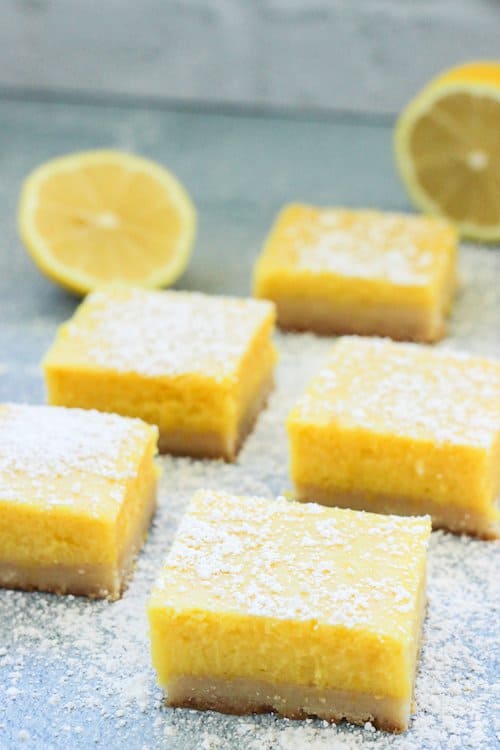 Lemon bars typically have lots of sugar to sweeten the curd topping, and even more sugar and flour in the shortbread crust.
Generally, I'm not a fan of artificial sweeteners, but I recently discovered Swerve. It's erythritol (a sugar alcohol-based sweetener) which, from what I've read and researched, is safe to use. It also doesn't affect blood sugar.
Xylitol is another alcohol-based sweetener. It tastes much like sugar but may cause some "GI distress - AKA diarrhea" if you eat too much of it.
I haven't experimented with Lakanto, which is Monkfruit, but I think it would work here as well.
Instead of regular white wheat flour, I used almond flour to make these Low Carb Lemon Bars. Yes, it's higher in fat, but it's healthy fat!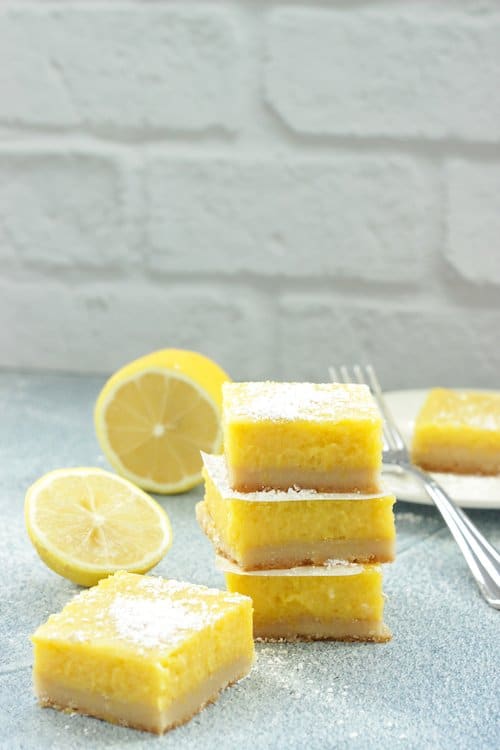 These Low Carb Lemon Bars do take a bit of time to make. And there is a thermometer involved. But they're not hard to make. And since we're all stuck inside as we practice the art of social distancing, I thought this recipe might give us all something to do.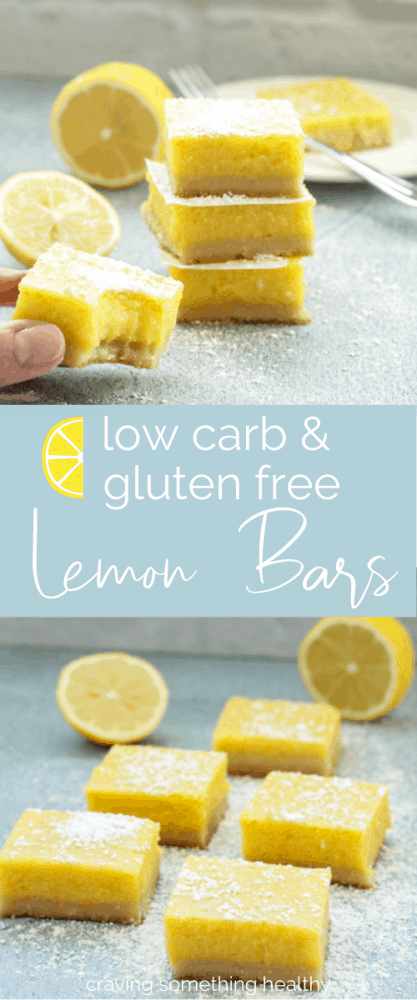 Oh, by the way, I adapted this recipe from the America's Test Kitchen Family Favorites Cookbook. They have the BEST recipes!
Recipe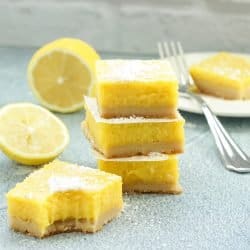 Low Carb Lemon Bars
The best sweet treat ever and low carb for the win!
Print
Pin
Ingredients
For the Crust
1 ¼

cup

almond flour

½

teaspoon

salt

8

tablespoons

unsalted butter

slightly softened and cut into 1-inch pieces
For the Lemon Curd Topping
7

egg yolks

2

whole large eggs

2

tablespoons

lemon zest

½

cup plus 2 tablespoons

Swerve granulated sweetener

½

cup

sugar

⅔

cup

lemon juice

4

tablespoons

unsalted butter

3

tablespoons

heavy cream
Instructions
Preheat the oven to 350°F and set the oven rack to the middle position. Line an 8" x 8" baking pan with foil, so it hangs over all sides. Spray the foil with cooking spray.

To make the crust, in a food processor, combine the Almond flour, Swerve confectioners sweetener, and salt. Pulse about 5 times until it's well combined.

Scatter the 8 tablespoons of butter over the mixture. Pulse about 10 times until the mixture resembles wet sand.

Pour the mixture into the lined baking pan, and press it down well. Bake for about 20 minutes, or until the crust is golden brown.

While the crust is baking, combine the egg yolks, whole eggs, lemon zest, Swerve granulated sweetener, and sugar in a saucepan. Whisk well to combine.

Heat the mixture over medium-high heat, and add the 4 tablespoons of butter. Gently whisk until the mixture reaches 170°F. Be careful to not overcook it or the eggs will start to scramble!

Remove it from the heat, and add the cream. Set the mixture aside.

Remove the crust from the oven, and if there are any bubbles, gently tap them down. Let the crust sit for about 2 minutes, and with a spatula, gently tap it down to make sure it's set.

Very carefully, pour the warm lemon mixture evenly over the crust. Return it to the oven and bake for another 15 minutes, or until the lemon filling is set. When you shake it, it should wiggle only slightly.

Remove the pan from the oven, and let it cool on a baking rack for about 30 minutes.

Refrigerate the pan for at least an hour.

Cut into 16 bars, and if desired, sprinkle with powdered sugar, or Swerve confectioners sugar.

Refrigerate any leftover lemon bars in a covered container for 3-4 days
Nutrition
Calories:
194
kcal
|
Carbohydrates:
9
g
|
Protein:
4
g
|
Fat:
17
g
|
Saturated Fat:
7
g
|
Cholesterol:
132
mg
|
Sodium:
87
mg
|
Potassium:
27
mg
|
Fiber:
1
g
|
Sugar:
7
g
|
Vitamin A:
447
IU
|
Vitamin C:
5
mg
|
Calcium:
37
mg
|
Iron:
1
mg
Have you been eating a little bit more desserts and comfort food lately? It's totally OK! Tell me what you've been making with all of your free time!
Eat well!