Pickled Cauliflower with Turmeric & Ginger
This crisp, sweet-hot pickled cauliflower gets its vibrant color and spicy flavors from a blend of turmeric, ginger, garlic, and chile peppers. It's the easiest pickling recipe ever because there's NO canning required. The magic happens while the cauliflower and spices sit in the brine in the refrigerator.
This pickled cauliflower recipe is a perfect appetizer, accompaniment to your charcuterie board, or a side for your sandwich plate.
And by the way, this cauliflower recipe is packed with even more antioxidants and cancer-fighting compounds than plain old cauliflower (and that's already a lot). It's seriously the tastiest, healthiest way to eat cauliflower!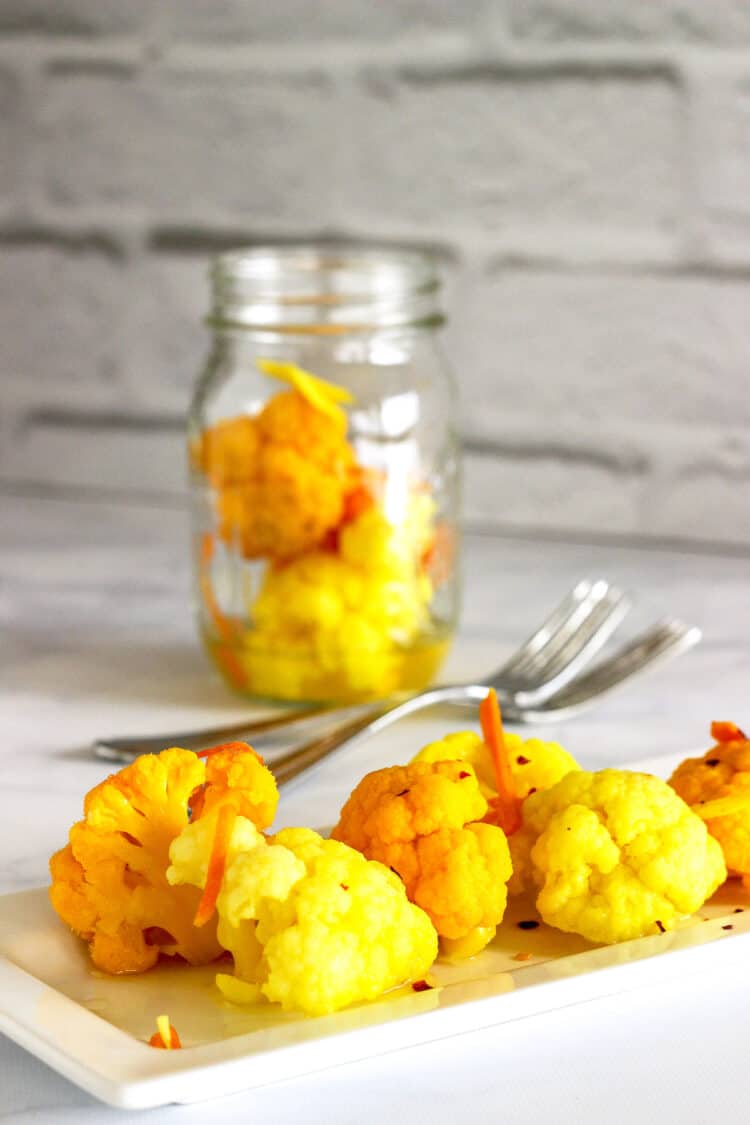 This recipe was inspired by an appetizer I enjoyed a few years ago at a restaurant in Kauai. I loved their version so much that I had to recreate it when I got home. I often make it for the holidays or when I have family visiting, and I can't keep enough of it on hand!
What I Love About This Recipe
I'm a dietitian, which means I've been known to push as much color as possible onto each and every plate. More color means more antioxidants and disease-fighting plant compounds.
However, cauliflower deserves a major pass on that rule. It is, after all, a member of the marvelous cruciferous or brassica family – rich in vitamins C, K, folate, antioxidants, and cancer-fighting compounds. The sulfur-containing phytochemicals, known as "glucosinolates," give cauliflower and its cousins broccoli, cabbage, Brussels sprouts, and radishes their superpowers – and funky smell and bitter taste.
It's worth eating cauliflower frequently because its nutrients benefit our cardiovascular, digestive, and immune systems, and it's been associated with a reduced risk of certain types of cancer.  
And speaking of cancer-fighting foods, let's not overlook turmeric. Most people are familiar with the powdered spice, but turmeric is a root (technically, rhizome) much like ginger root. Turmeric is an essential ingredient in mustard, curry powder, and pickles (including my refrigerator zucchini pickles). It's also a key spice used throughout the Mediterranean region and an important part of the Mediterranean diet.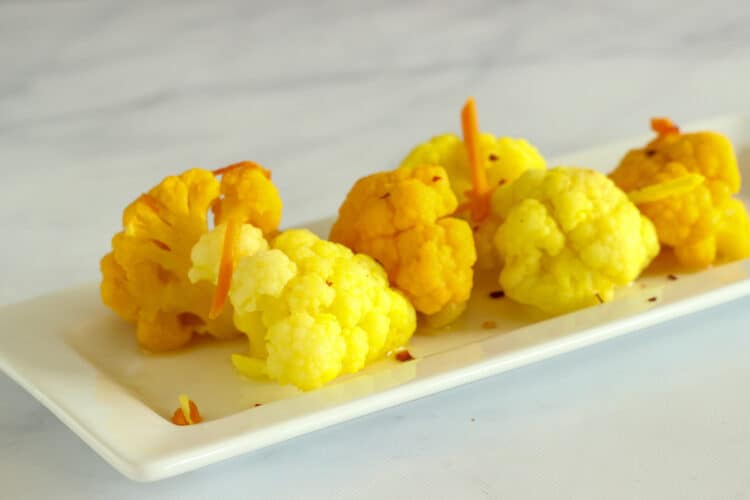 Turmeric owes its yellow-orange color to its active ingredient, curcumin. Curcumin has powerful antioxidant and anti-inflammatory properties, so it too deserves to be on your plate often.
Besides the tremendous health benefits, I love this pickled cauliflower recipe because it's so easy to make in the refrigerator. And it really, really tastes delicious. If you're not a fan of cooked cauliflower, try this recipe!
Ingredients and Variations
I only use a handful of ingredients for this recipe — another reason I love it so much. I recently updated the recipe to scale back the amount it makes. I also reduced the sugar a bit.
It doubles or triples easily, so make a little for yourself or a lot if you're serving guests. It keeps for a good 2 weeks in the refrigerator.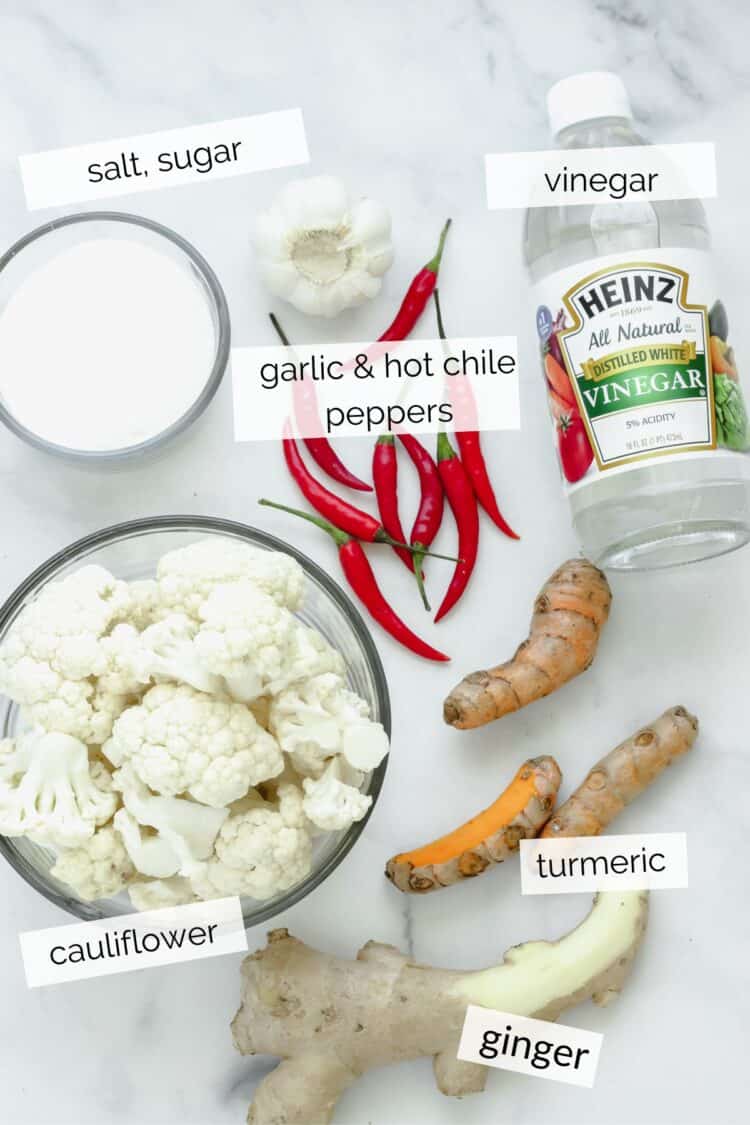 Cauliflower: I usually buy regular, white cauliflower, but sometimes I'll find yellow or purple cauliflower at Sprouts. The yellow cauliflower is fun to add because it turns a slightly more orangy color from the turmeric. I haven't tried purple cauliflower because I worry it would turn greenish. If you try it, let me know!
Ginger and turmeric: While you can use powdered ginger and turmeric, I prefer to use the root (rhizome), so I can eat them. Pickled ginger has a spicy kick. Pickled turmeric tastes like mustard or pickles (to me anyway). If you can't find turmeric at the regular grocery store, try an Asian market. They have so many interesting things!
Thai chiles: I like these for their bright color (they're hard to miss, so you won't accidentally bite into one). They have a nice combination of heat and sweetness. If you can't find Thai chile peppers (try an Asian market!), you can substitute serrano peppers or 1/2 teaspoon (or more to taste) of red pepper flakes.
Vinegar: I use plain white vinegar in this recipe because it has a clean flavor. You can swap in apple cider vinegar if you want a fruitier flavor.
Salt and sugar: For pickling, you should use pickling, Kosher, or sea salt. Iodized salt tends to have an off-flavor. I use plain sugar, but a few people have told me that Swerve or Lakanto (monkfruit/erythritol) works for refrigerator pickling. Just be aware that real sugar helps to maintain the cauliflower's crunch. It might not be as crisp with a non-nutritive sweetener.
Other vegetables: Feel free to add other firm vegetables like carrot sticks, parsnips, green beans, or jicama to your brine, along with the cauliflower.
Tips for Making this Recipe
My biggest tip for this recipe is to be careful when peeling and cutting whole turmeric because it stains! It looks quite innocent, but trust me. It can stain your sink, counters, knife, and cutting board. Fortunately (except for your cutting board), the yellow stains will come off with some Comet and a little scrubbing. Just don't let it sit too long.
I prefer to lay parchment paper on my wood cutting board and cut the turmeric on the paper so I don't risk staining my cutting board. It will also turn your fingernails yellow if you don't wash your hands quickly.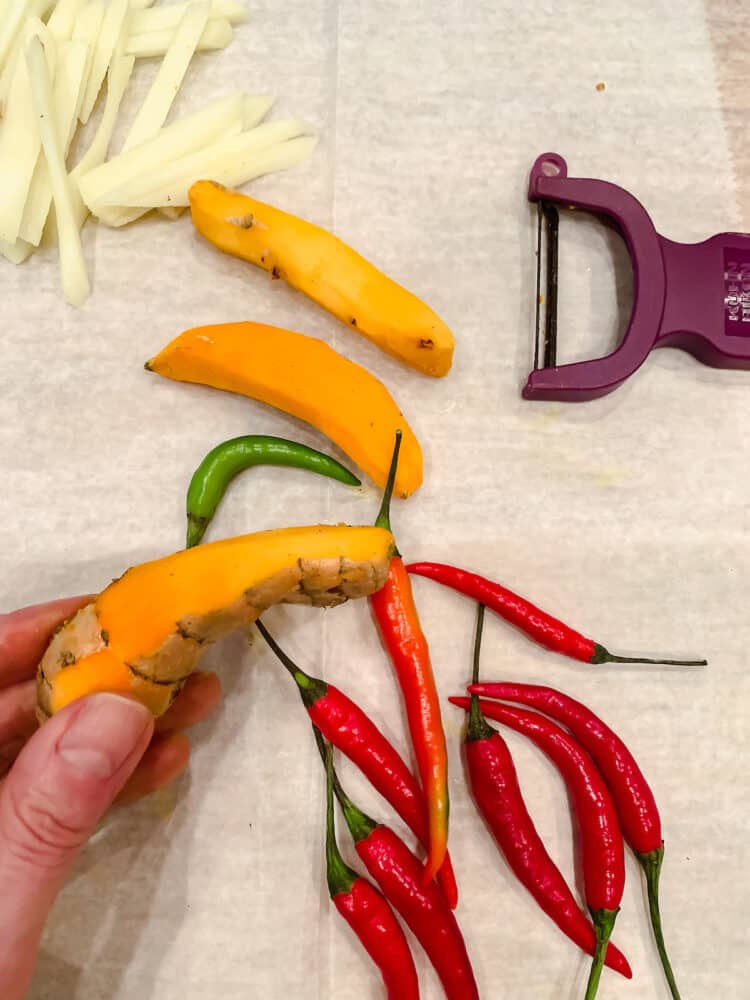 I like to cut my turmeric and ginger into thin, matchstick pieces, making them easier to serve and eat. But you can also mince them if you prefer. The Thai chiles are a bit spicy, so I keep them whole (just cut the stems off). You can easily identify and avoid them if you don't want to bite into one. If you like the heat, though, mince them up.
You don't have to cook your cauliflower. The hot brine will slightly soften the florets, making them easy to eat but still nice and crisp.
What to With Eat Pickled Cauliflower
Include this on a charcuterie platter with an assortment of cheeses, Italian meats, some cherry tomatoes, olives, and my Grain-free six seed flatbread crackers.
This pickled cauliflower is also yummy with sandwiches. Make a bunch of antipasto picnic sandwiches for your tailgate party or a summer picnic, and serve a bowl of this cauliflower as a side dish.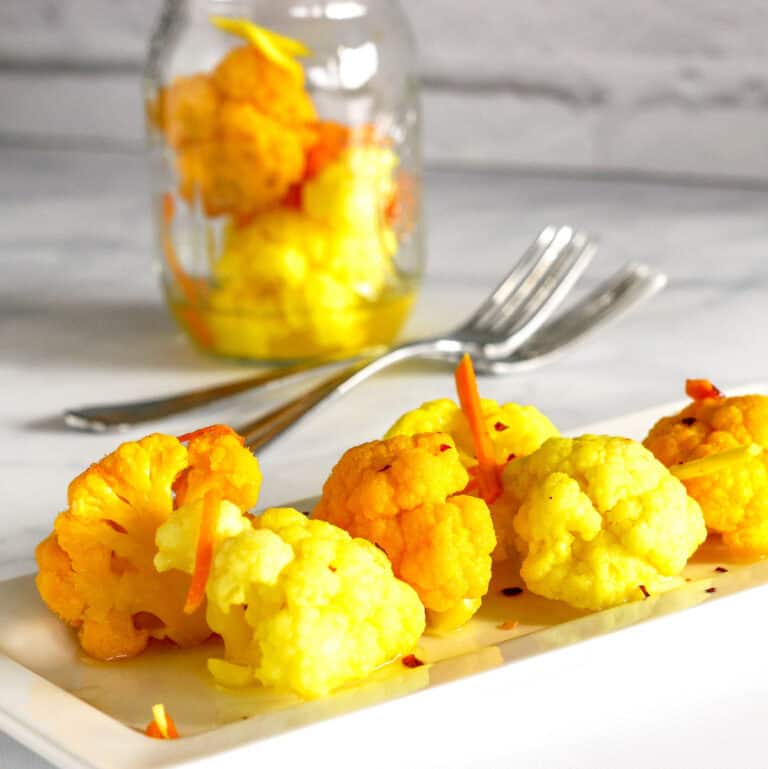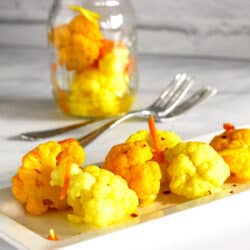 Pickled Cauliflower with Turmeric & Ginger
A sweet-spicy refrigerator pickled appetizer that everyone loves
Print
Pin
Ingredients
2

cups

white vinegar

1

cups

water

3

large garlic cloves

peeled and smashed

1

tablespoon

pickling or Kosher salt

2/3

cup

sugar

3

2-inch

pieces of ginger root

4

2-inch

pieces of turmeric root

4

thai chilis (or more if you like more heat)

or 1/2 teaspoon red pepper flakes

4

cups

of cauliflower florets

from 1 large or 2 small heads cauliflower
Instructions
Trim the cauliflower into bite-sized florets (about 1 1/2 inches), and discard the tough stems.

Bring 6 cups of water to a boil in a large saucepan. Add the cauliflower florets and blanch them for about 30 seconds or until they are tender-crisp (don't overcook it!). Drain the cauliflower in a colander and set it aside.

Peel the ginger and turmeric with a vegetable peeler, and slice them into thin, matchstick pieces.

Trim the stems off the chiles and slice them in half lengthwise. Leave the seeds and membranes in if you like more heat.

Place the ginger, turmeric, chilis, and blanced cauliflower into a large bowl with a lid.

Place the vinegar, water, garlic, salt, and sugar in a large saucepan. Stir well so the salt and sugar are combined, and bring it to a boil. Reduce the heat and simmer for 5 minutes. Alternatively, you can boil the mixture in a microwave-safe container in the microwave for about 4 minutes.

Remove the garlic cloves from the vinegar solution, and pour the hot brine over the vegetables. Stir to combine and make sure the vegetables are submerged.

Let the mixture cool to room temperature, and then place the bowl in the refrigerator for at least 48 hours or until the cauliflower is pickled to your liking.

Store in a covered container in the refrigerator for up to 2 weeks.
Notes
The cauliflower should be ready after 2 days, but the flavors will get even better the longer it sits.
If substituting red pepper flakes for the Thai chilis, add them to the pickling liquid along with the garlic. Do not remove the red pepper flakes – they should remain with the pickling liquid.
If you have trouble finding fresh turmeric or Thai chilis, check an Asian market.
Nutrition
Calories:
50
kcal
|
Carbohydrates:
9
g
|
Protein:
1
g
|
Fat:
0.2
g
|
Saturated Fat:
0.1
g
|
Polyunsaturated Fat:
0.02
g
|
Monounsaturated Fat:
0.02
g
|
Sodium:
454
mg
|
Potassium:
162
mg
|
Fiber:
1
g
|
Sugar:
7
g
|
Vitamin A:
18
IU
|
Vitamin C:
28
mg
|
Calcium:
18
mg
|
Iron:
0.3
mg
How do you like to eat cauliflower?
Eat well!