Turmeric & Ginger Pickled Cauliflower
This crisp, pickled cauliflower is packed with rich, spicy flavors. It's a perfect appetizer or accompaniment to your sandwich plate.
Is there any better sight to a dietitian than seeing your family or dinner guests devour a huge plate of cauliflower? I think not. Even though we're known to push as much color as possible onto each and every plate, cauliflower deserves a major pass on that rule. It is, after all, a member of the marvelous cruciferous or brassica family – rich in vitamins C, K, and folate, antioxidants, and cancer-fighting compounds. It's the sulfur-containing phytochemicals, known as "glucosinolates" that give cauliflower (and it's cousins broccoli, cabbage, and Brussels sprouts) its super powers – and it's funky smell and bitter taste.
It's worth eating cauliflower frequently, because its nutrients have benefits for our cardiovascular, digestive, and immune systems, and it's been associated with a reduced risk of certain types of cancer. To cook it, give it a quick steam, or saute or roast it until it turns crispy and caramelizes. If you want to be trendy, make cauliflower rice: Break it into florets, and toss them (raw) into a food processor. Pulse it until the cauliflower breaks apart and resembles rice. You can use it in the same way you would white rice, without any of the carbs. If you want to get really creative, though, try this sunny, bright, and spicy recipe for pickled cauliflower.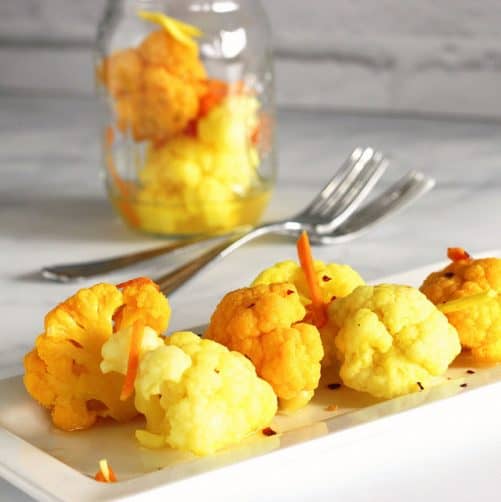 I was inspired to create this recipe by an appetizer I ate last summer at a restaurant in Kauai. I loved their version so much I had to recreate it when I got home, and it's become such a popular dish with friends and family in my house, I can't keep enough of it on hand!  It's equally comfortable on a lunch plate next to a sandwich, tossed into a salad, or sitting along side some cheeses, crackers, and olives on an appetizer platter.  
Not only are you getting the goodness of cauliflower, but also, the extra anti-inflammatory and antioxidant punch from ginger and turmeric.  The best bonus is that you can make a huge batch and it keeps for several weeks in the refrigerator.  No excuses to not eat some cauliflower each day!
Ingredients
4

cups

white vinegar

2

cups

water

4

large garlic cloves

peeled and smashed

1 1/2

tablespoons

pickling or Kosher salt

2

cups

sugar

4- 2

inch

pieces of ginger root

peeled

4- 2

inch

pieces of turmeric root

peeled

8

thai chilis

or 1 teaspoon red pepper flakes

9-10

cups

of cauliflower florets (from about 3 small heads of cauliflower
Instructions
Place the vinegar, water garlic, salt and sugar in a large saucepan, and bring it to a boil.

Stir well, so the salt and sugar is completely dissolved. Turn off the heat, and let the vinegar/water mixture sit until it cools to room temperature. Remove the garlic cloves.

While the pickling liquid is cooling, slice the ginger and turmeric into thin, matchstick pieces.

If using the chilis, trim the stems off, but leave them whole.*

Trim the cauliflower into florets, and discard the tough stems.

Place the ginger, turmeric, chilis, and cauliflower into a large saucepan, and cover with water.

Bring the vegetables to a boil, and immediately remove from the heat, and drain in a colander.

Lay the vegetables on a clean towel and let them cool to room temperature.

Place the cooled vegetables in a large glass bowl or jar, and pour the pickling liquid over, so that everything is submerged.

Let sit in the refrigerator for at least 3 days for flavor to develop. The flavors will get even better the longer it sits.

Store in a covered container in the refrigerator for up to 6 weeks.
Notes
* If substituting red pepper flakes for the Thai chilis, add them to the pickling liquid along with the garlic. Do not remove the red pepper flakes – they should remain with the pickling liquid.
If you have trouble finding fresh turmeric or Thai chilis, check an Asian market.
How do you like to eat cauliflower? Did you love it or hate it as a kid?
Eat well!