Simple Watermelon Radish Salad with Asian Vinaigrette
Never was there ever an easier Watermelon Radish Salad recipe. This simple salad pairs paper-thin sliced Watermelon Radishes with crisp cucumbers and red onion. It's tossed in a light Asian-flavored vinaigrette for a simple, pretty salad that's also delicious and refreshing.
I honestly thought watermelon radishes were an urban legend. Yes, I've seen plenty of them on Pinterest, but never in real life. Or, MY real life, I should say. I thought they might only be available in exotic places or fancy grocery stores that I don't visit.
But there they were, right at my local Fry's Supermarket. And then at Sprouts. Clearly, they're a thing!
What Are Watermelon Radishes — and Are They Good For You?
On the outside, watermelon radishes look nothing like radishes. They're much larger, ranging in size from a golf ball to a softball. They're cream, tan, or greenish on the outside instead of red. But, they're gorgeous on the inside, with a bright pink or magenta color streaked with white.
When you cut them cross-wise, they look very much like mini watermelon slices.
Most people mistake them for rutabagas. I almost did! In fact, watermelon radishes are very related to rutabagas, turnips, daikon radishes, cauliflower, and other brassica or cruciferous vegetables.
That means they're very good for you. Full of those special plant compounds with anti-cancer properties. They have a compound called sulforaphane which gives cruciferous vegetables their bitter, peppery flavor and sulfur-like odor when cooked.
But lab studies show that sulforaphane is one of many compounds that can inhibit the growth of, or kill cancer cells. So it's worth getting past their smell and bitterness. Or just eat them raw as in this salad.
If you'd like to learn more about cruciferous vegetables, the National Cancer Institute has a great article.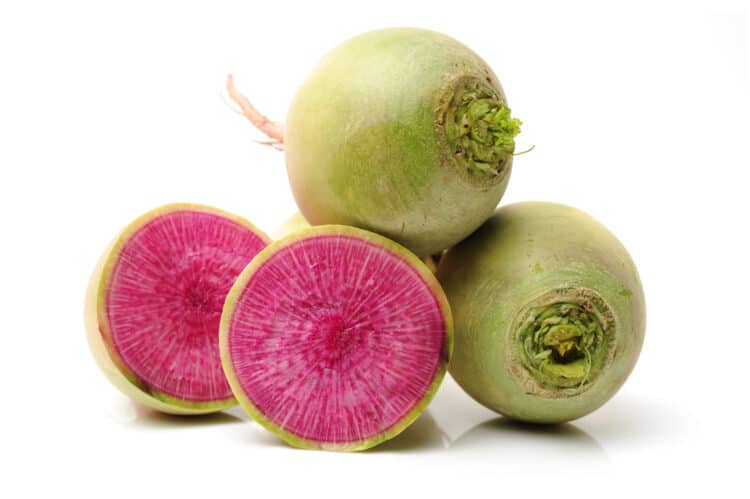 They're also very low in calories and carbs. A cup of sliced watermelon radishes has only about 20 calories, less than 5 g of carbs, and 2 g of fiber. And they're packed with vitamin C.
Substitutions For This Watermelon Radish Salad
Radishes:
Watermelon radishes are an heirloom variety of the daikon radish. They come from China, where they're called shinri-mei, which means "beauty in the heart."
Their taste is similar to daikon or regular red radishes, so either are a fine substitute for this recipe if you can't find watermelon radishes. Daikon radishes are creamy white throughout (they look like parsnips), so you will get a similar flavor from daikon radishes, but not the bright pink color.
I honestly have a hard time identifying different radish flavors but on the radish scale:
Daikon radishes are a bit milder and sweeter than other radishes.
Watermelon radishes are a bit spicier and more peppery than daikon radishes.
Red (table) radishes are even spicier — so if you're ok with the regular red radishes you find at the grocery, you'll probably love watermelon radishes.
French breakfast radishes (the longer, skinny ones) have a very similar flavor to red table radishes.
The thing is, where radishes grow makes a difference. Those grown in cooler weather will be less spicy. They'll be more peppery if grown in a warm or hot climate.
Because this recipe calls for paper-thin sliced radishes, try to find watermelon or daikon radishes just because they're larger and so much easier to work with. They're usually available year-round, but their peak season is late winter through spring. You can use a nice, sharp chef's knife to slice them thin, but it's so much easier with a mandoline. This compact one is a top pick from America's Test Kitchen.
Cucumbers:
For this salad, I like to use English cucumbers because they have very few seeds and their skin is nice and thin. They're also easy to work with on a slicer because they're long (no fingers in the way!). You can also use the little Persian cucumbers, though.
If you use regular cucumbers, you might want to peel them, slice them in half lengthwise, and scoop out most of the seeds.
Thai Basil:
I love the flavor of Thai basil here but if you can't find it, you can substitute regular Italian basil. Just use a little less because the leaves are larger. You can often find Thai basil at Asian markets. I pick up a plant every spring at Home Depot and grow it in my garden. It often lasts over the winter here in Arizona.
Vinaigrette:
If you prefer, you can skip the Asian flavors in this vinaigrette by swapping red or white wine vinegar for the rice vinegar and leaving out the sesame oil. Use olive oil instead. Those changes, plus regular Italian basil, will give your vinaigrette more of a Mediterranean flavor.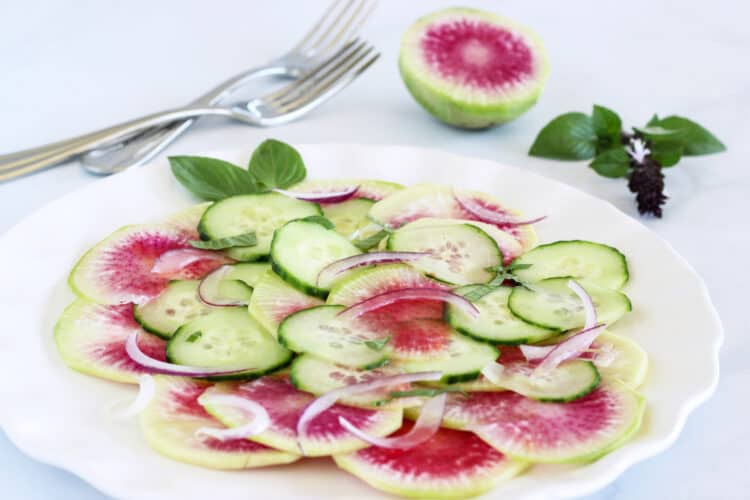 Common Questions About Watermelon Radishes
Do you have to peel these radishes?
No! there's no need to peel this or any radish. Just give them a good rinse (they're often a bit muddy), slice and eat.
What else can you do with watermelon radishes?
You can slice or shred and pickle them and use them as a topping on a salad or serve them with sushi (just use the rice vinegar, honey, salt, and Thai basil in the recipe).

Or use them in my Mexican-Style Pickled Vegetables and add them to tacos.

These radishes are also pretty on a crudite platter with a vegetable dip, blue cheese, or butter. Or add them to a sandwich for a spicy, crispy bite.

You can also roast these or any radishes just like you would other cruciferous or root vegetables like cauliflower, broccoli, or turnips. Just drizzle them with some olive oil and season them with a pinch of salt.
Can you slice watermelon radishes ahead of time?
Yes! You can slice the radishes (and cucumber and onions) for this salad ahead of time. I recommend adding the dressing just before (or up to 15 minutes) before serving. They'll be crispier that way.

If you want to snack on plain watermelon radishes, you can slice them up and keep them in ice water in the refrigerator to keep them crispy.
Is there a way to make radishes less spicy or peppery?
To reduce their peppery notes, peel the outer skin and soak your sliced radishes in ice water for an hour or so.
What other vegetables go with watermelon radishes?
Watermelon radishes pair well with other crispy vegetables like cucumbers (used in this recipe), jicama, sliced cabbage, fennel, parsnips, or carrots.
How long can you store radishes?
Unwashed, they should keep in the refrigerator crisper drawer for about three weeks.
Don't Miss THESE Other Quick and Easy
Salad Recipes
Recipe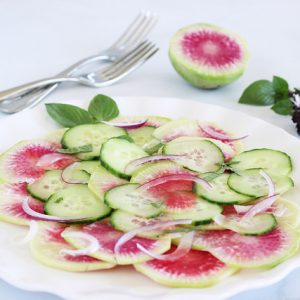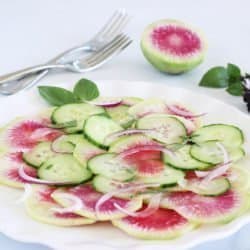 Watermelon Radish Salad with Asian Vinaigrette
A quick, easy, and beautiful side salad
Print
Pin
Ingredients
1

medium

watermelon radish

peeled if desired, very thinly sliced

1

medium

English cucumber

thinly sliced into round slices

¼

cup

thinly sliced red onion

more or less to taste
Dressing
¼

cup

rice vinegar

½

teaspoon

sesame oil

1

tablespoon

honey

⅛

teaspoon

kosher salt

or to taste

about 10 Thai basil leaves

thinly sliced
Instructions
Place the radish, cucumber, and onion slices into a mixing bowl.

Combine the rice vinegar, sesame oil, honey, and salt in a small bowl. Stir well to combine and pour the dressing over the vegetables.

Toss lightly to combine. Sprinkle with sliced basil leaves
Notes
If Thai basil isn't available, substitute about 5 leaves of Italian basil
Nutrition
Calories:
41
kcal
|
Carbohydrates:
9
g
|
Protein:
1
g
|
Fat:
1
g
|
Saturated Fat:
0.1
g
|
Polyunsaturated Fat:
0.3
g
|
Monounsaturated Fat:
0.2
g
|
Sodium:
91
mg
|
Potassium:
212
mg
|
Fiber:
1
g
|
Sugar:
6
g
|
Vitamin A:
82
IU
|
Vitamin C:
8
mg
|
Calcium:
24
mg
|
Iron:
0.4
mg
Have you ever eaten a watermelon radish? What did you do with it?
If you make this recipe, drop me a line and let me know, or snap a pic and tag me on Instagram at @CravingSomethingHealthy!
Eat well!
SaveSave
SaveSave