Asian Watermelon Radish Salad
Watermelon radishes make the prettiest salad, and they taste delicious too, when paired with crisp cucumbers and a light Asian vinaigrette.
Shut the front door. Watermelon radishes a real thing. I honestly thought they were an urban legend. Yes, I've seen plenty of them on Pinterest, but never, ever in real life. Or, my real life I should say. I thought they might only be available in exotic places or very fancy grocery stores that I don't visit. But there they were, right at my local Fry's Supermarket.
I had to do a major double take because, on the outside, they look nothing like radishes – way more like a turnip. In fact, watermelon radishes are very related to turnips, rutabagas, daikon radishes, and other brassica or cruciferous vegetables. That means they're verrrry good for you. Full of those special plant compounds that can kill cancer cells.
So, there I was, watermelon radish in hand, and my head was spinning. I literally stood frozen in the produce department for a good 10 minutes while I contemplated what I would do with these beauties. They also caused quite a commotion at the register, because of course, there was no sticker that told the check out girl what it was, and I was having a senior moment and kept telling her it was a rainbow radish instead of a watermelon radish.
So, here's my very first (and hopefully not my last) watermelon radish recipe! Isn't this salad almost too pretty to eat? I cut the radish, along with an English cucumber and a few slices of red onion, into paper thin slices with my mandoline slicer.  I also made an Asian dressing with some Thai basil from my garden, which is currently growing out of control. If you don't have Thai basil (it's kind of hard to find unless you're near an Asian grocery store, or you grow it yourself) you can substitute regular basil. Super quick and easy, really fresh tasting, and definitely dinner party worthy, don't you think?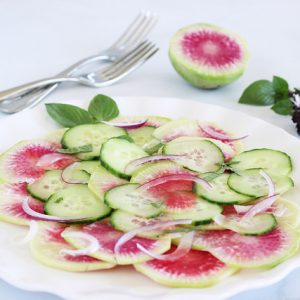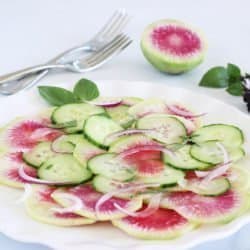 Ingredients
1

medium watermelon radish

about 2 inches in diameter, very thinly sliced

1

English

seedless cucumber, thinly sliced into round slices

about 1/4 cup very thinly sliced red onion

more or less to taste
Dressing
1/4

cup

rice vinegar

1/2

teaspoon

sesame oil

2

tablespoons

honey

about 10 Thai basil leaves

thinly sliced

generous pinch of salt
Instructions
Place all of the vegetables into a mixing bowl.

Combine the ingredients for the dressing, stir well to combine the vinegar and honey, and and pour the dressing over the vegetables.

Toss lightly to combine.

Refrigerate for about 30 minutes and serve.
Notes
If Thai basil isn't available, substitute about 5 leaves of Italian basil
Have you ever eaten a watermelon radish? What did you do with it?
If you make this recipe, drop me a line and let me know, or snap a pic and tag me on Instagram at @CravingSomethingHealthy!
Eat well!
SaveSave
SaveSave