Roasted Radish and White Bean Salad
Roasting radishes brings out a sweetness you never knew existed! Pair them with white beans, fresh parsley, feta and a lemon vinaigrette for a healthy and delicious side dish.
One of the worst things, (for me) about writing a food blog is that I can almost never eat the same meal twice.  Really.  No matter how much I loved it – there's always a new blog post to write, which means a new recipe to create.  On the other hand, one of the best things about writing a food blog is that it pushes me to always try something new.  New cuisines; new cooking methods; new ingredients.  So I had to smile when I read the theme for this month's Recipe ReDux -"Show us how you're cooking with something new (to you!) in 2016″.
Call me crazy, but my "new to you" ingredient is radishes.  Certainly not new when used in a salad.  But I've always wondered what else you can do with them.  Two or three sliced up and added to a salad is plenty for me.  So what the heck do you do with the rest of the bunch or bag?  I turned to my trusty cooking resource, The Vegetarian Flavor Bible
 (if you don't have this non-cookbook, please do yourself a favor and check it out!).  This book is such a God-send when it comes to cooking any plant food on the planet.  It tells you how to cook it, what flavors to pair it with, and a million ways to use it.  #SoHelpful.
Then, I checked with my other go-to source for recipe ideas – Google.  It seems that you can roast radishes!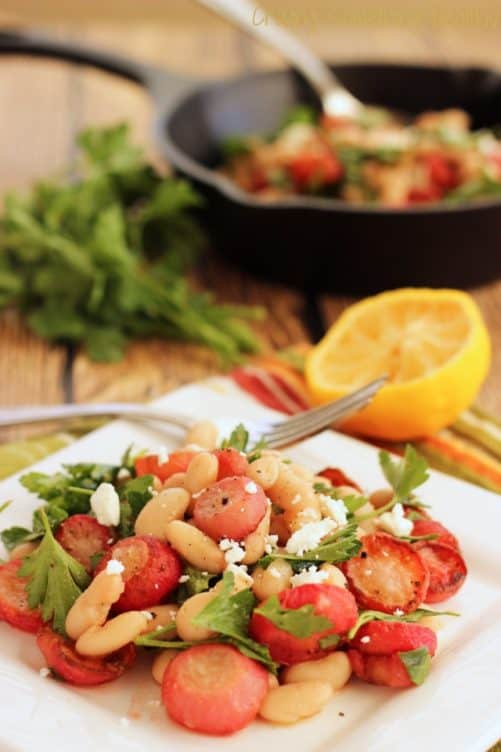 Duh!  Of course.  They're a root vegetable, just like carrots or parsnips, right?  And they're a cruciferous veggie too – just like broccoli or cauliflower.  So they're SO much more than a pretty salad garnish.  They're an earthy, sweet and peppery, cancer-fighting vegetable that really should be on the table significantly more then they are.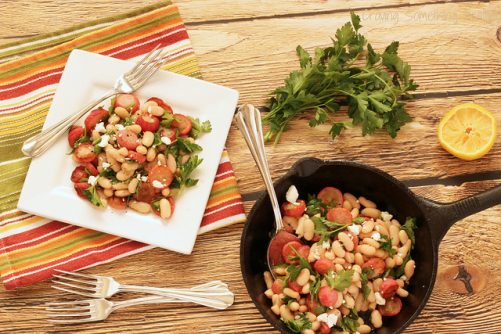 Behold, my new favorite warm, winter salad – Roasted Radish and White Beans.  Radishes really do go well with a drizzle of olive oil,a splash of lemon juice and a sprinkle of salt, pepper, and garlic powder.  Zhoosh them up with a sprinkle of fresh parsley and feta cheese (thanks Vegetarian Flavor Bible for all of those suggestions), and you've got a lovely and out-of the-box side dish, or even dinner.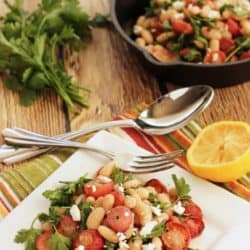 Ingredients
2

bunches very fresh radishes

washed, stemmed and sliced in half

2

tablespoons

olive oil

divided

kosher salt and pepper

1

can cannelloni beans

rinsed

juice of 1/2 lemon

1/8

teaspoon

garlic powder

or to taste

1/4

cup

fresh parsley

stemmed

2

ounces

feta cheese

crumbled
Instructions
Preheat the oven to 450 degrees.

In a large mixing bowl, toss the radish halves with 1 tablespoon olive oil, and season with salt and pepper.

Place the seasoned radishes on a baking pan, or in a cast iron skillet.

Roast the radishes for about 20 minutes, tossing occasionally, until they are tender and caramelized.

While the radishes are roasting, place the cannelloni beans in the same mixing bowl, add the additional tablespoon olive oil, the lemon juice, and garlic powder. Season with salt and pepper to taste.

When the radishes are roasted, add them to the bowl with the beans, and add parsley.

Sprinkle with feta cheese, and adjust seasonings as necessary.

Serve warm.
Have you ever roasted radishes?  Do you have any "new to you" ingredients you would like to try this year?
Eat well, and make sure you visit some of the other creative Recipe ReDux recipes!
Disclosure: this post contains an affiliate link. If you click the link and purchase something through Amazon, I will earn a small commission which helps to maintain this blog.  Thanks for supporting Craving Something Healthy!
[inlinkz_linkup id=592843 mode=1]