Thanks to The USA Rice Federation for sponsoring this post!
These delectable stuffed tomatoes are perfect for a light vegetarian dinner or a unique side dish. Stuffed with a simple but flavorful mixture of rice, breadcrumbs, garlic, onions, and herbs, they're one of my favorite ways to use those beautiful, ripe summer tomatoes.
Why I Love This Recipe
There's nothing better than fresh summer produce. It lends itself to so many creative uses. When I'm overflowing with zucchini, I make a big batch of my sweet and spicy zucchini relish. And crispy sweet peppers are perfect for making a stuffed pepper tuna salad for a cool, light dinner.
But my mouth waters just thinking about fresh, ripe tomatoes. They're always perfect, simply dressed with salt, pepper, olive oil, and some fresh basil.
These stuffed tomatoes take your garden-fresh (or farmer's market fresh) tomatoes to a whole new level.
This savory recipe is so easy and versatile. It's delicious for brunch, a light lunch, or a meatless dinner. Stuffed tomatoes are also a fabulous side dish with grilled chicken or a tender piece of fillet mignon.
Jump to:
Recipe Ingredients
Here's what you'll need to make these stuffed tomatoes. Check the next section for substitution and variation ideas.
See my recipe card below for a complete list of the ingredients with measurements.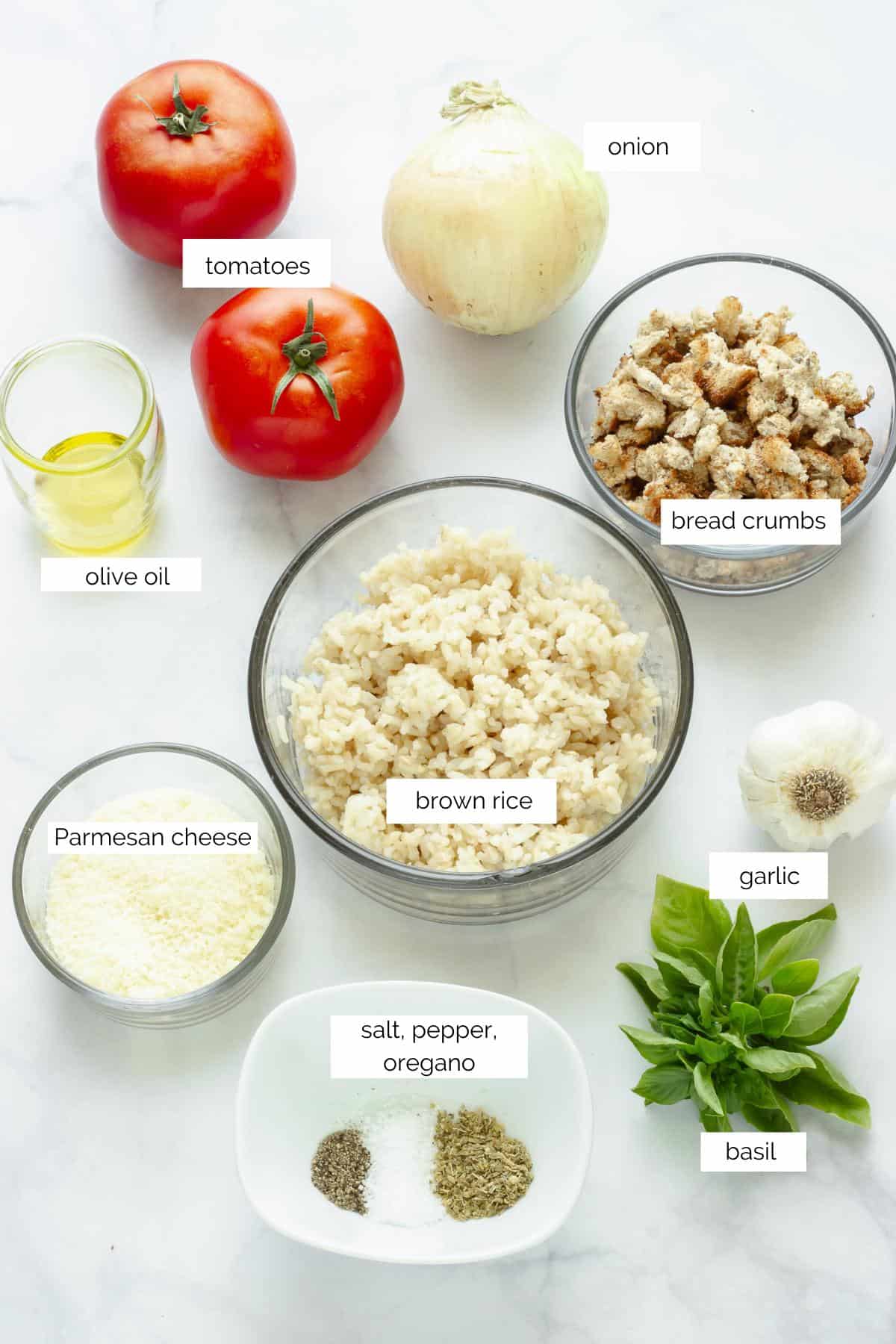 Tomatoes: Choose beautiful, ripe, but firm tomatoes for this recipe. If you're making this for a main course, large Beefsteak tomatoes are perfect. For a side dish, I prefer to use a medium-sized tomato that measures about three to four inches across.
Rice: I recommend U.S.-grown brown rice because it's grown and processed right here in the USA, in California, Louisiana, Mississippi, Missouri, Arkansas, and Texas. Long-grain brown rice is a great choice because the grains are light and fluffy, and it's rich in complex carbs, fiber, and more than 15 vitamins and minerals. This recipe is a terrific way to use leftover cooked rice.
Bread crumbs: If your tomato is very juicy, bread crumbs will help absorb the liquid, keeping your baked tomato firm and dry. You can buy finely ground bread crumbs from the store, but I highly recommend homemade bread crumbs because the large, irregular crumb does a better job at soaking up excess liquid. And they taste better.
To make bread crumbs, tear up 2-3 slices of whole grain bread and toast it under the broiler for 30-45 seconds or until it's lightly golden. You can keep dried breadcrumbs in the freezer so you'll always have them when needed.
Parmesan cheese: Freshly grated Parmesan will melt better than the grated cheese in the can, which has some starch added to prevent caking.
Substitutions and Variations
The ingredients I use for the tomato stuffing have a classically Italian flavor, which I love. That said, you can make these your own with these variations:
Instead of Parmesan, use grated plain Mozzarella, chopped marinated garlic and herb bocconcini (mini mozzarella balls), feta, or crumbled goat cheese.
If you don't have fresh garlic, powdered garlic works fine. Use ¼ teaspoon per garlic clove. You can also add more or less garlic to taste.
If you want to pack in more vegetables, saute some finely chopped zucchini or spinach along with your onions and garlic.
For a non-vegetarian version, add some cooked Italian chicken, turkey, or beef sausage, or plain cooked ground chicken, turkey, or beef. About 4 ounces is plenty.
Step-By-Step-Instructions
First, core your tomatoes and remove most of the pulp, seeds, and liquid. Reserve the pulp so you can add it to the stuffing mix.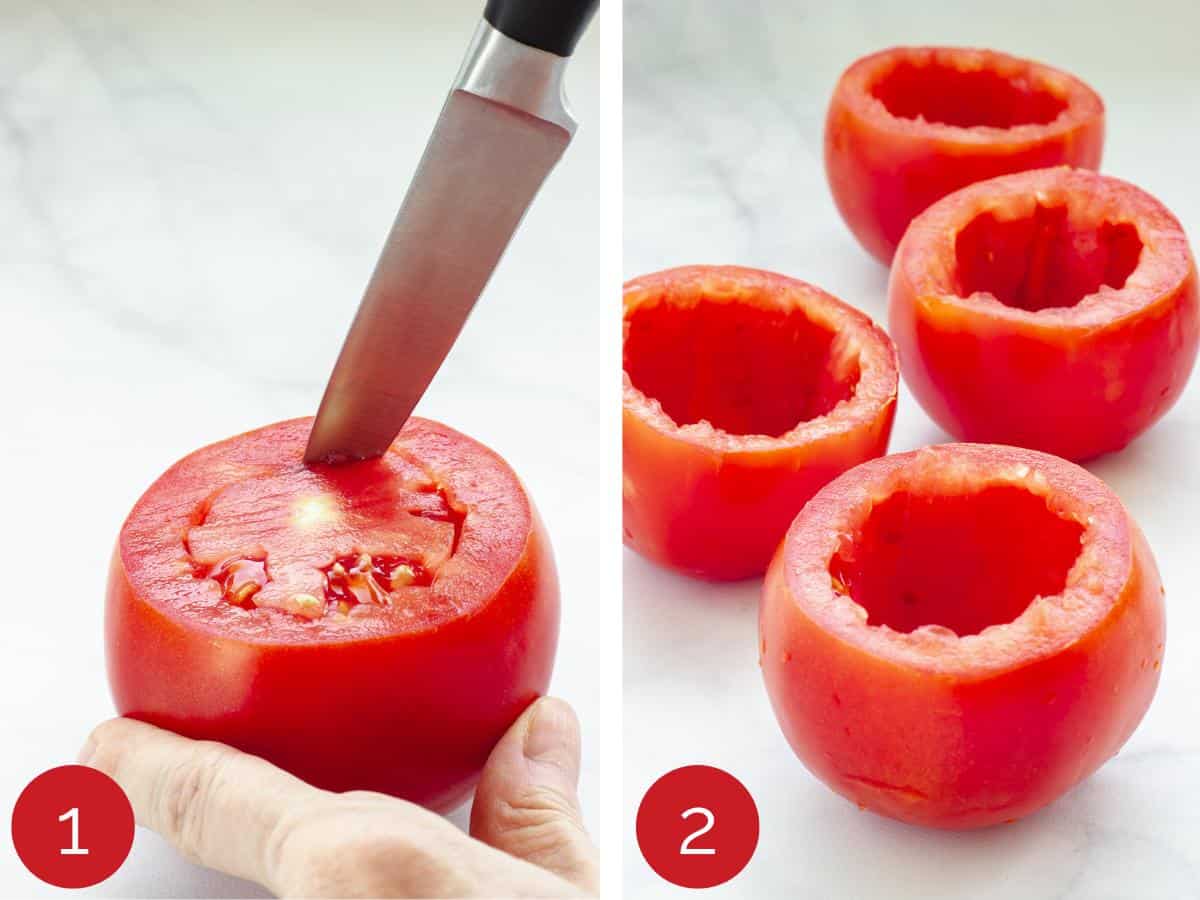 To core a tomato, use a serrated knife and cut about ½ inch off the top (reserve this to use in the stuffing). Run a paring knife around the inside edge, and then using a spoon, scoop out the core and pulp.
Two, salt your cored tomatoes lightly and turn them upside down in a colander so any excess juice can drain out.
Three, prepare your stuffing mix by sauteing your onions and leftover tomato pulp. Once the onions turn golden and any liquid has evaporated, add the garlic, salt, pepper, and oregano.
Turn off the heat, and add the bread crumbs, cooked rice, Parmesan cheese, and about 2 tablespoons of chopped fresh basil.
Fourth, fill each tomato with one-quarter of the stuffing. Pack it in so you get lots of stuffing in every bite. Drizzle a little bit of olive oil over each one and top with additional cheese if desired. Bake the stuffed tomatoes at 400º F for 15-20 minutes. Sprinkle additional fresh basil over the tomatoes before serving.
Expert Tips
If you're having a hard time scooping the pulp out of your tomato (sometimes the bottom of the core is very firmly attached), try sticking a fork into the center and twisting it to loosen the bottom of the core. Or, if you have a serrated grapefruit spoon, that works well too.
When coring your tomatoes, discard the seeds along with the liquid. You only need the pulp for the filling.
Keep your tomatoes lightly covered with a piece of aluminum foil for the first 10-12 minutes of baking so the exposed stuffing doesn't burn.
Don't overbake these. The tomatoes will soften too much. They should be slightly soft, but still intact.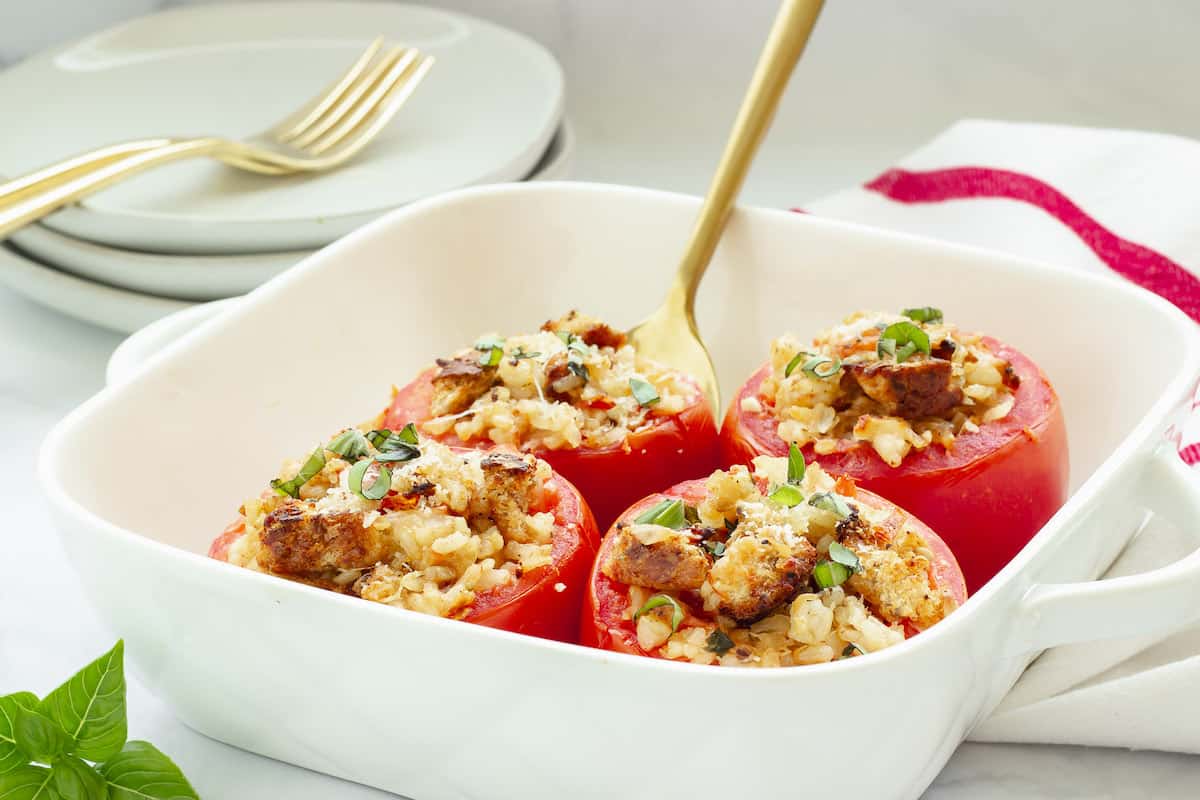 What to Eat with Stuffed Tomatoes
These are great on their own for a light meal. And they make a tasty side dish with grilled beef, chicken, fish, or a creamy pasta or pesto pasta dish.
They're also delicious for breakfast or brunch as a side dish with Pesto Eggs or Spinach and Mushroom Egg Muffin Cups.
Recipe FAQs
Can you freeze stuffed tomatoes?
To prep this dish ahead for your freezer, stuff your tomatoes but don't bake them. Wrap each stuffed tomato individually in plastic wrap and then place them in a freezer-safe container for up to three months. Thaw them in the refrigerator before baking.
What kind of tomatoes work best for this recipe?
Any fresh, ripe tomatoes will work, but a round tomato, like a sandwich tomato, is easier to stuff and bake than an oblong like Roma. Ideally, choose a tomato that's about three inches across or larger so you have enough room to fill the cavity with stuffing. Great choices include Beefsteak, Early Girl, or large heirloom varieties.
How do you reheat these?
Cover them with foil and reheat in a 350ºF oven for about 20 minutes or until heated through. You can also reheat them in a microwave for about one minute 30 seconds, but they will be softer. You can eat these hot, warm, or cold.
Other Tomato Recipes
If your garden is overflowing with tomatoes, try these other delicious tomato recipes!
Love this recipe? Please leave a 5-star 🌟🌟🌟🌟🌟rating in the recipe card below & a review in the comments section further down the page.
Recipe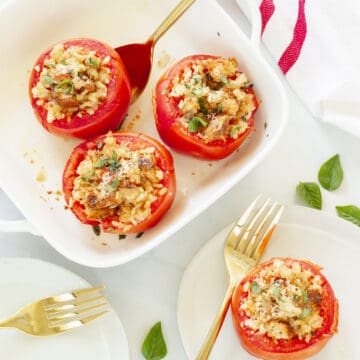 Baked Stuffed Tomatoes
Turn fresh, ripe tomatoes into a delectable side dish.
Print
Pin
Ingredients
4

medium to large

tomatoes

at least 3 inches across

½

teaspoon

salt (or to taste)

(divided)

1

tablespoon

olive oil

plus extra to drizzle

⅔

cup

minced onion

½ of a medium onion

2

medium

garlic cloves

minced

⅛

teaspoon

ground pepper

½

teaspoon

dried oregano

½

cup

bread crumbs

1

cup

cooked long grain U.S.-grown brown rice

(½ cup dry plus 1 cup water)

½

cup

grated Parmesan cheese

3

tablespoons

fresh basil

minced or sliced thin
Instructions
Preheat the oven to 400ºF and set the rack to the middle position.

With a serrated knife, cut about ½ inch off the top of each tomato. Core the tomatoes. Use a paring knife to cut around the outside edge and with a spoon or a serrated grapefruit spoon, scoop out the pulp and seeds. Reserve and chop the pulp to add to the stuffing.

Sprinkle the tomatoes with a generous pinch of salt and set them upside down in a colander to drain. off any juice

Prepare the stuffing. Heat the olive oil in a saute pan over medium high heat. Add the onions and chopped tomato pulp and saute for about 3 minutes or until the onions start to turn golden and any juice from the tomatoes has evaporated.

Add the garlic and saute for another 30 seconds. Add the remainder of the salt (or to taste), pepper, and oregano and stir to combine the seasonings.

Turn off the heat and add the bread crumbs, rice, Parmesan cheese, and about 2 tablespoons of basil. Stir well to combine.

Stuff each tomato with one-quarter of the stuffing mixture. Place the tomatoes in an 8 x 8-inch baking pan or casserole dish and drizzle each one with a little bit of olive oil. Cover lightly with foil. Bake for 15-20 minutes or until the tomatoes are softened and the stuffing is golden. Remove the foil for the last 5 minutes to allow the stuffing to brown and get crispy.

Sprinkle the remaining basil over the tomatoes once you remove them from the oven. Serve hot, warm, or at room temperature.
Notes
If you have trouble coring your tomato, insert a fork into the top of the core and twist it to break the bottom of the core free.
You can use store-bought or homemade bread crumbs, but I prefer homemade ones. Tear 2-3 pieces or whole grain bread into small pieces to make them. Toast them for about 30 seconds under the broiler. Store leftover bread crumbs in a freezer bag in the freezer.
Store leftovers in the refrigerator for up to 2 days. Reheat in a 350ºF oven for about 20 minutes or until warm.
If prepping these ahead for your freezer, stuff, but don't bake them. Wrap each stuffed tomato in plastic wrap and place them in a freezer-safe container for up to 3 months. Thaw in the refrigerator before baking.
Nutrition
Calories:
232
kcal
|
Carbohydrates:
31
g
|
Protein:
9
g
|
Fat:
9
g
|
Saturated Fat:
3
g
|
Polyunsaturated Fat:
1
g
|
Monounsaturated Fat:
4
g
|
Cholesterol:
11
mg
|
Sodium:
620
mg
|
Potassium:
477
mg
|
Fiber:
4
g
|
Sugar:
6
g
|
Vitamin A:
1434
IU
|
Vitamin C:
23
mg
|
Calcium:
171
mg
|
Iron:
2
mg