Pesto Tortellini Pasta Salad
Pesto Tortellini Salad is a tasty light dinner or a crowd-pleasing pasta salad.
Packed with lots of colorful grilled vegetables and seasoned with a simple pesto dressing, this easy and delicious tortellini salad will be one of your go-to recipes all year long.
Jump to:
Why This Recipe Works
I'm all about hearty salads that work as a meal. They're perfect for a light dinner or a satisfying lunch, and they go a long way when feeding a group.
This pesto tortellini salad checks all the boxes, and it's SO much more than your basic pasta salad.
You'll love this recipe for so many reasons, but mostly because:
It's a complete meal in every bite with tortellini, six different vegetables, cheese, and meat.
It makes a large portion, so it's perfect for a potluck or cookout.
With the pesto dressing, it tastes even better the next day, so you'll love it for lunch leftovers or another light meal.
This recipe is flexible, so you can add more or less of your desired ingredients or use what you have on hand.
Recipe Ingredients
I use a generous amount of vegetables plus a little salami and cheese for this recipe. It makes 6 cups, which lasts for a few dinners or lunches. And it tastes even better the next day (or two) as everything marinates.
Here's what I use. Substitutions and variations follow in the next section.
See my recipe card for the complete list of ingredients with measurements.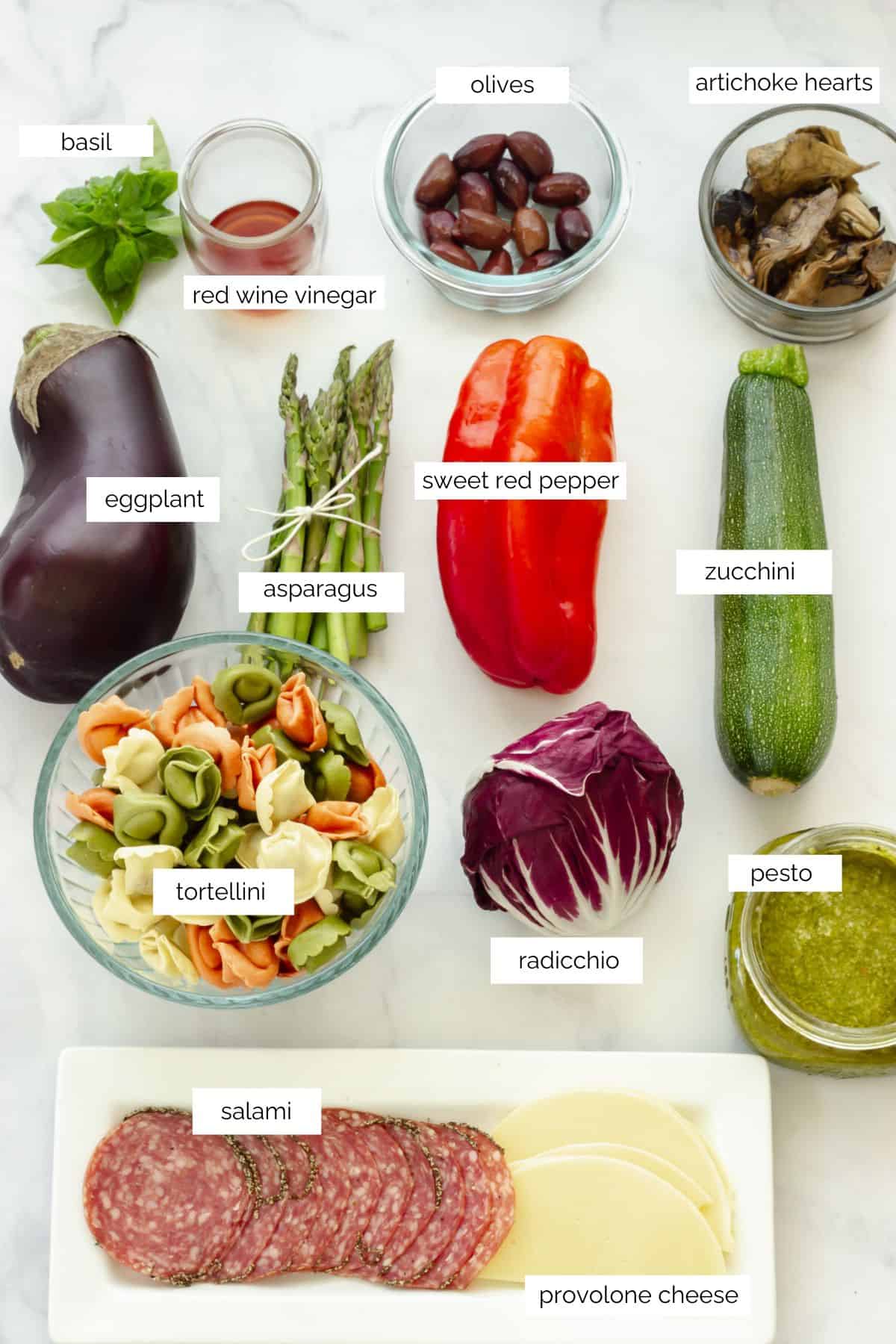 Tortellini: Fresh tortellini cooks faster, but dry or frozen tortellini works just as well. Choose cheese, vegetable, or meat-filled tortellini, depending on your preference. Using tri-color tortellini gives this salad an extra pop of color.
Vegetables: Use a little or a lot. I like every type of grilled vegetable, and I don't think you can go wrong with what you like.
Pesto: I love Costco's Kirkland brand of prepared pesto, but any brand of prepared pesto works. If your garden is overflowing with basil, make homemade pesto with this simple recipe.
Substitutions and Variations
For a vegetarian option, skip the salami.
You can eliminate any of the vegetables you don't love or add more of the ones you do.
Try these other vegetables: yellow summer squash, broccoli, red onions, mushrooms, and corn (cut it off the cob once grilled).
For more protein, add some canned tuna, cooked, shredded chicken, or marinated bocconcini.
Step By Step Instructions
First, cook the tortellini according to package directions and prepare your vegetables for grilling. Cut the eggplant, zucchini, and red pepper into thick planks or strips (about ½-inch thick by 2 inches wide. Season them and the asparagus on both sides with salt, pepper, and a sprinkle of dried oregano. Let the vegetables sit for about 15 minutes to season and release some water.
Drain your tortellini and let it cool for about 20 minutes while you grill the vegetables and prepare the other ingredients.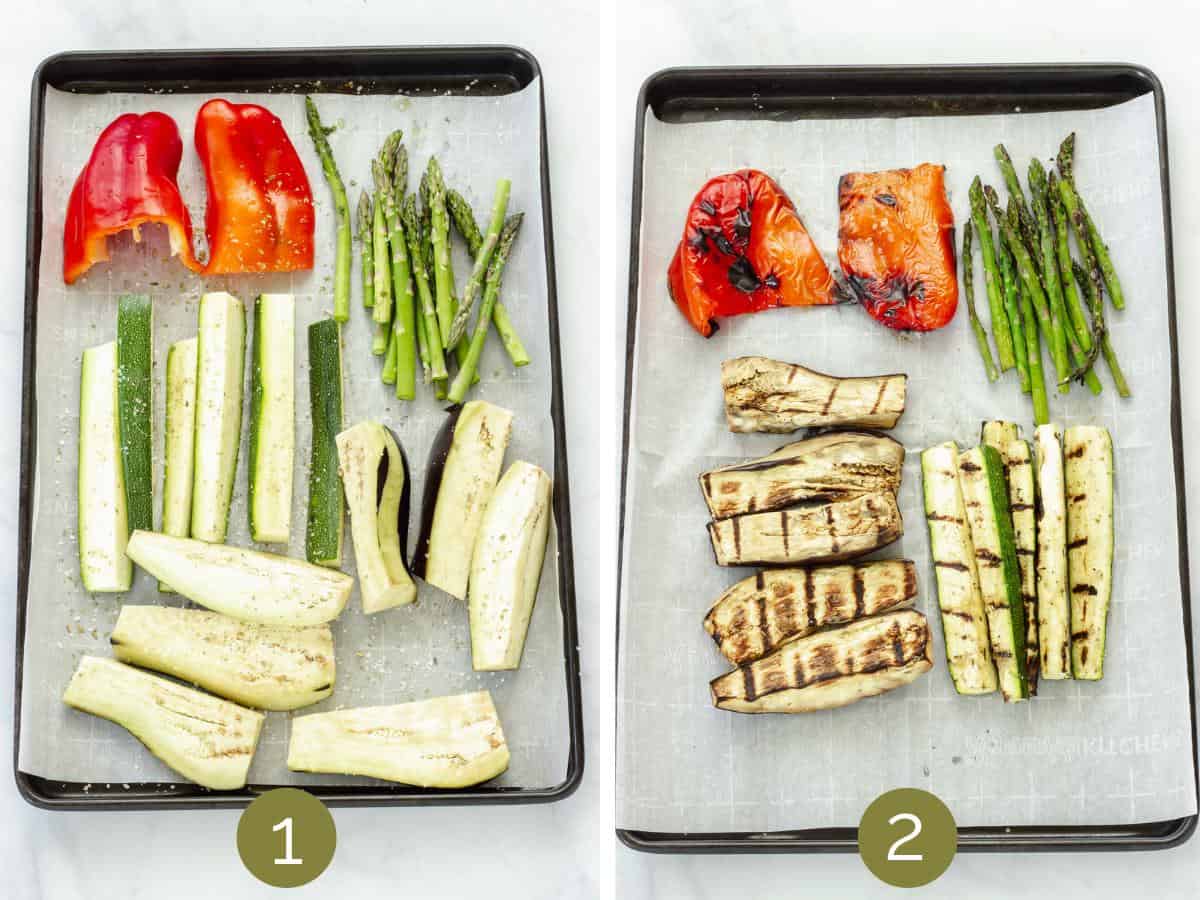 Second, grill the vegetables. Drizzle olive oil over the vegetables and toss them to coat. Lay them on a hot grill for about four minutes or until they have char marks on one side. Then flip them over and let the second side cook for an additional two to three minutes. Remove them from the grill and let them cool for about 10 minutes.
Third, cut your grilled vegetables into bite-sized pieces (about 1 ½ inches). Place them in a bowl with the cooled tortellini.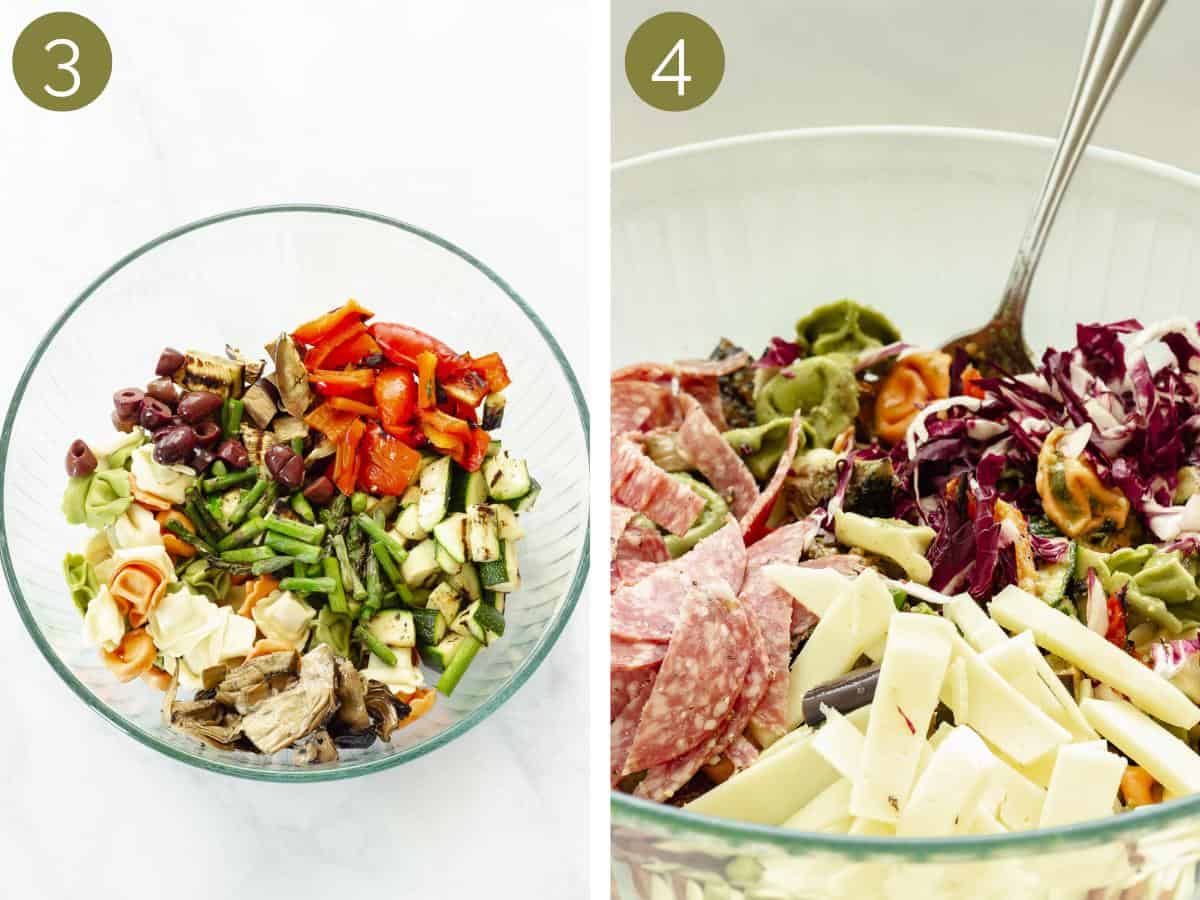 Fourth, prepare the remaining ingredients. Chop the olives and slice the salami and provolone into bite-sized pieces. Cut the radicchio into thin strips. Mix the pesto with some red wine vinegar to make the dressing.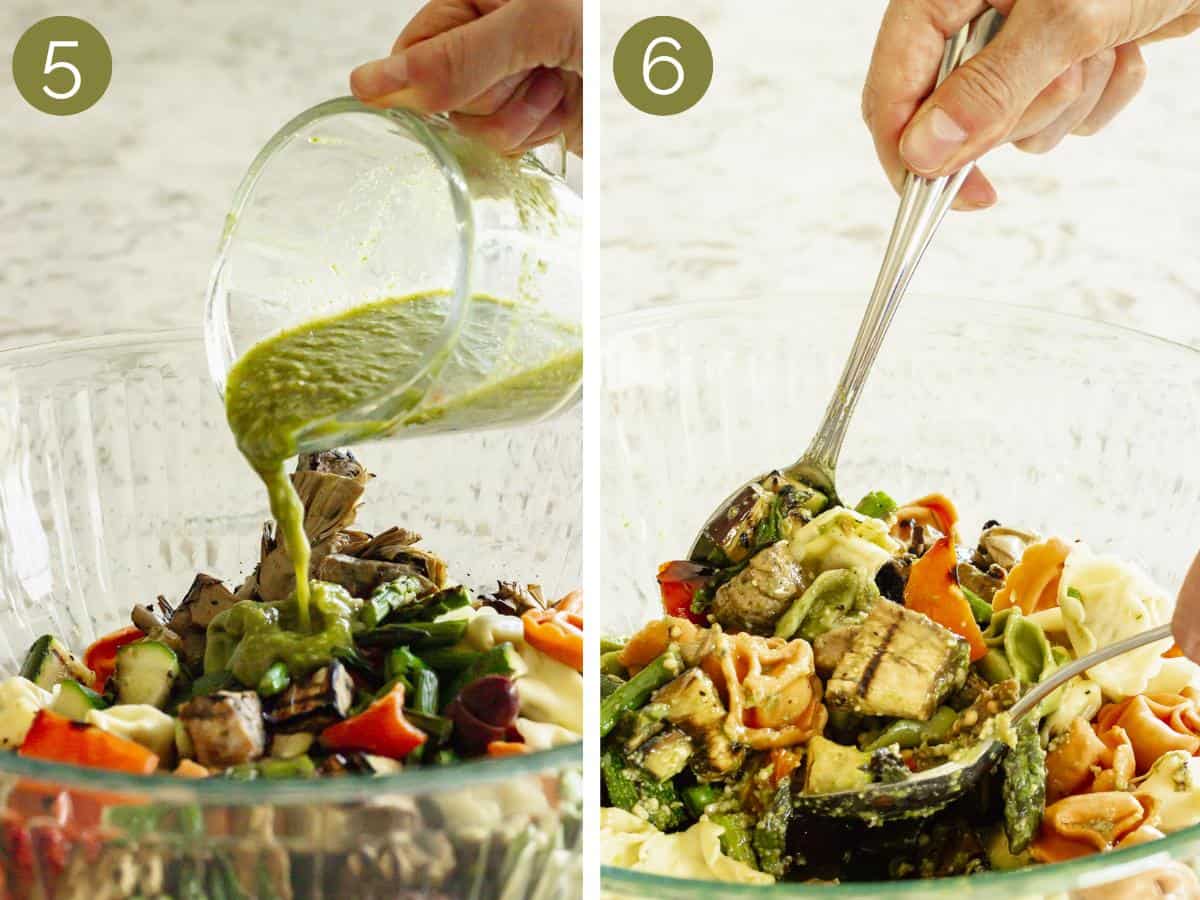 Fifth. Add the remaining ingredients to the bowl with the grilled vegetables and tortellini. Drizzle with the pesto dressing.
Sixth. Toss everything lightly to combine. Serve immediately, or refrigerate until ready to serve.
Expert Tips
These tips will ensure a perfect pesto tortellini salad every time:
Make sure you cook your tortellini just until it's al-dente — don't overcook it. If you do, the tortellini will fall apart when you toss everything together.
You can peel your zucchini and eggplant before grilling it, but you don't have to. I prefer the "half-peel" method where I remove a few strips of the peel (especially on the eggplant because the peel is tough) and leave the rest.
The tortellini will absorb the pesto dressing, so if you plan on leftovers, make extra dressing and use it to moisten the salad the next day.
I think tortellini salad tastes best at room temperature. If you make it ahead of time, remove it from the refrigerator about 30 minutes before serving.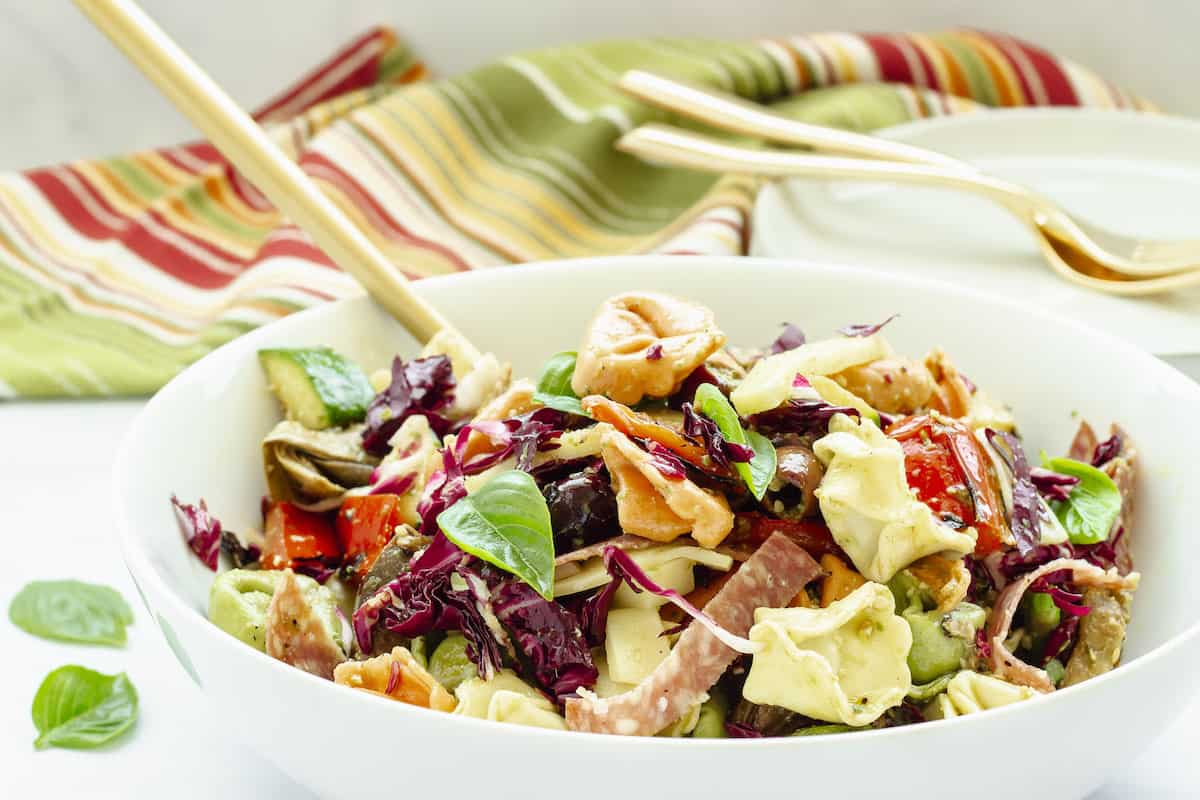 What to Eat With Pesto Tortellini Salad
This tortellini salad is definitely hearty enough to stand alone for a meal, but it's a great side dish too.
Try it with:
Grilled fish, chicken, or burgers
Or serve it for brunch with Egg Muffin Cups
Recipe FAQs
Is tortellini salad high in carbs?
Tortellini is pasta, which is a high-carbohydrate food. But this recipe is nicely balanced with lots of low-carb vegetables and healthy fats from olive oil. A serving (about ¾ cup) has about 22g of carbs.
Why is my leftover tortellini salad dry?
Most pasta dries out when stored in the refrigerator. If you anticipate leftovers, I recommend doubling the pesto dressing recipe so you can add it the next day to rehydrate the tortellini. You can also add plain pesto, plain red wine vinegar, or a few splashes of any Italian vinaigrette salad dressing.
Do you have to cook fresh tortellini?
Yes, even though it's tender compared to dry tortellini, you should always cook fresh tortellini (or any type of pasta) before eating it to prevent food-borne illness that can be present in flour, eggs, or the other ingredients.
Related Grilled Vegetable Recipes
If you're looking for an easy way to eat more vegetables, try these other grilled vegetable recipes.
Recipe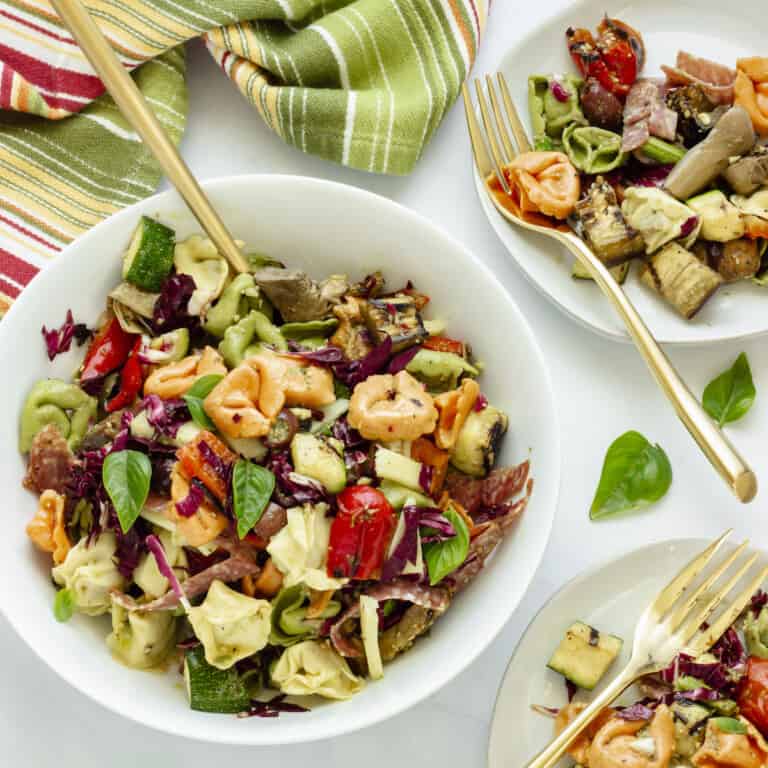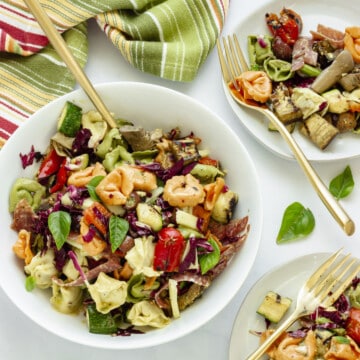 Pesto Tortellini Pasta Salad
A hearty pasta salad that's packed with vegetables and a delicious pesto vinaigrette
Print
Pin
Ingredients
9

oz

cheese tortellini

fresh or dry

1

medium

zucchini

sliced lengthwise

1

medium

eggplant

peeled if desired, and sliced lengthwise

1

medium

red pepper

Cored, seeded and sliced in half

½

pound

thin asparagus

tough ends snapped off

2

tablespoons

olive oil

1

teaspoon

dried oregano

salt and ground black pepper

½

cup

marinated artichoke hearts

drained and cut into quarters

¼

cup

pitted Kalamata olives

chopped

½

small head

radicchio

outer leaves removed, and remainder sliced into thin shreds

2

oz

Italian salami

sliced into thin strips (optional)

2

oz

Provolone cheese

sliced into thin strips

¼

cup

prepared pesto

2

tablespoons

red wine vinegar
Instructions
Cook the tortellini according to package directions. Drain and pour them into a large mixing bowl. Set the tortellini aside to cool.

Place the sliced eggplant, zucchini, red pepper, and asparagus in a colander and sprinkle the vegetables with salt, pepper, and oregano. Toss to coat with the seasoning and let the vegetables sit for 15 minutes.

While the vegetables rest, heat the grill to medium-high heat and oil it or spray it with cooking spray.

Drizzle the seasoned vegetables with olive oil and lay them on the grill. Grill the vegetables for about 4 minutes or until they are tender and have grill marks on the side near the flame. Flip the vegetables and grill for another 3 minutes or until the second side is lightly charred.

When the vegetables are charred and tender, remove them from the grill and let them cool.

Slice the grilled vegetables into bite-sized pieces (about 1 ½ inches) and add them to the bowl with the tortellini.

Add the artichoke hearts, olives, radicchio, salami, and cheese, to the bowl.

Combine the pesto and red wine vinegar in a small mixing bowl or jar. Mix well to combine and pour the dressing over the salad. Toss lightly to combine the ingredients.

Serve immediately or refrigerate until ready to serve.
Notes
This tastes best at room temperature, so if you're not serving it immediately, remove it from the refrigerator about 30 minutes before serving.
If you anticipate leftovers, I recommend doubling the dressing recipe so you can add extra the next day to moisten the tortellini.
Store leftovers in the refrigerator for up to 3 days.
Nutrition
Serving:
0
g
|
Calories:
265
kcal
|
Carbohydrates:
22
g
|
Protein:
11
g
|
Fat:
15
g
|
Saturated Fat:
4
g
|
Polyunsaturated Fat:
1
g
|
Monounsaturated Fat:
5
g
|
Cholesterol:
23
mg
|
Sodium:
543
mg
|
Potassium:
355
mg
|
Fiber:
5
g
|
Sugar:
5
g
|
Vitamin A:
1109
IU
|
Vitamin C:
30
mg
|
Calcium:
140
mg
|
Iron:
2
mg