Crispy Air Fryer Apple Chips
Naturally sweet, crispy Air Fryer Apple Chips are a delicious way to enjoy fall's favorite fruit. This foolproof recipe is perfect for a healthy snack or dessert — or add them to your cheese platter or charcuterie board for a crunchy, sweet treat.
Although optional, I highly recommend trying the Chocolate Tahini Dip (included in the recipe card). It makes these apple chips even more satisfying!
Jump to:
Why This Recipe Works
These air fryer apple chips are a tasty, healthy snack made with only whole ingredients and no sugar or oil. Apples are high in pectin, a soluble fiber that helps lower cholesterol and stabilize blood sugar.
The optional chocolate tahini dip is packed with healthy fats from the tahini and antioxidants from cocoa powder. It turns these apple chips into a sweet treat with serious health benefits.
Using your air fryer to make these chips saves you about 12 hours of time compared to the oven or a food dehydrator. 
The best part is that this simple recipe will save you so much money on overpriced store-bought apple chips that often have sugar and preservatives added.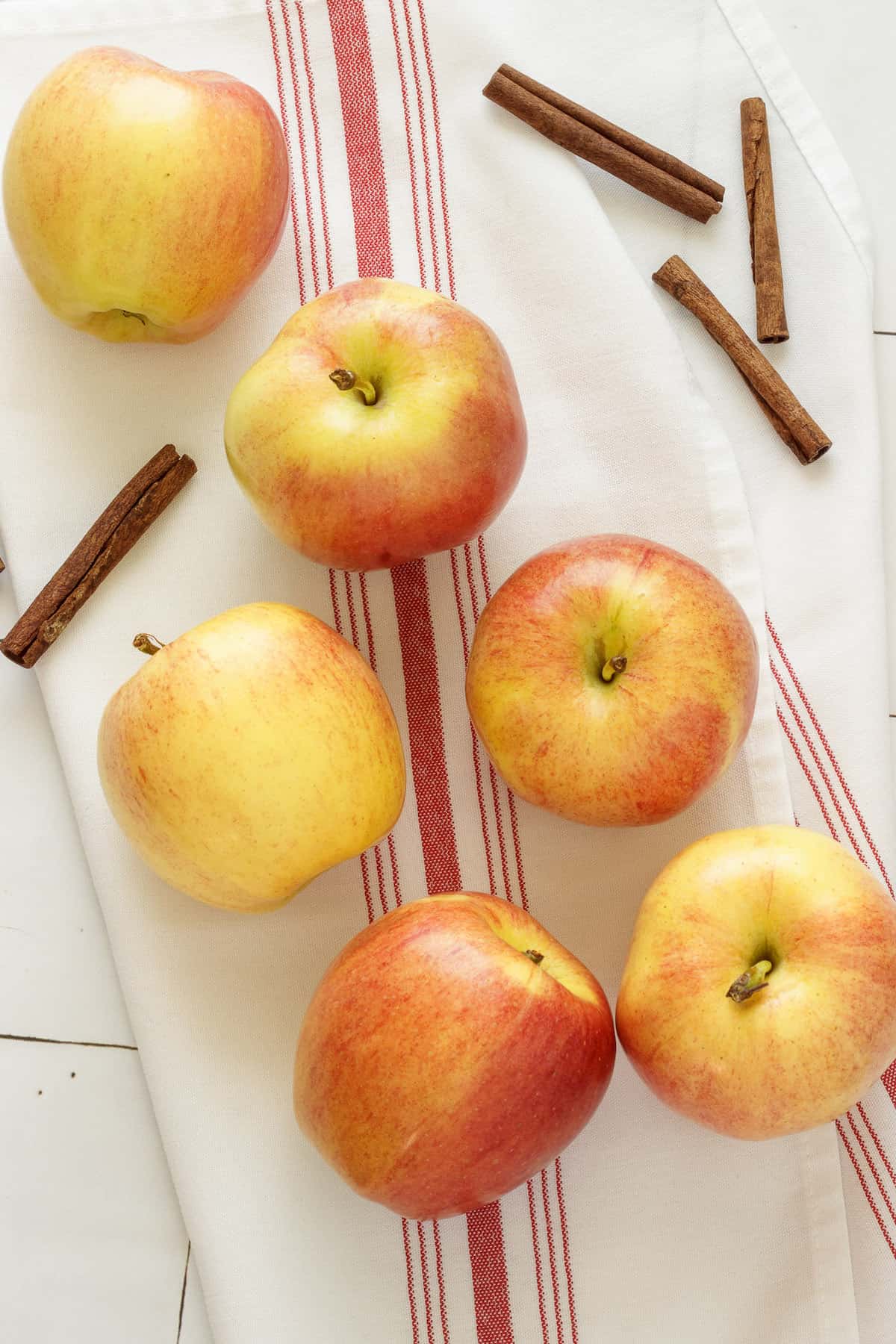 Recipe Ingredients
Here's what I use to make these air fryer apple chips and the optional chocolate tahini dip to eat with them. Substitutions are listed in the next section.
See my recipe card below for a complete list of the ingredients with measurements.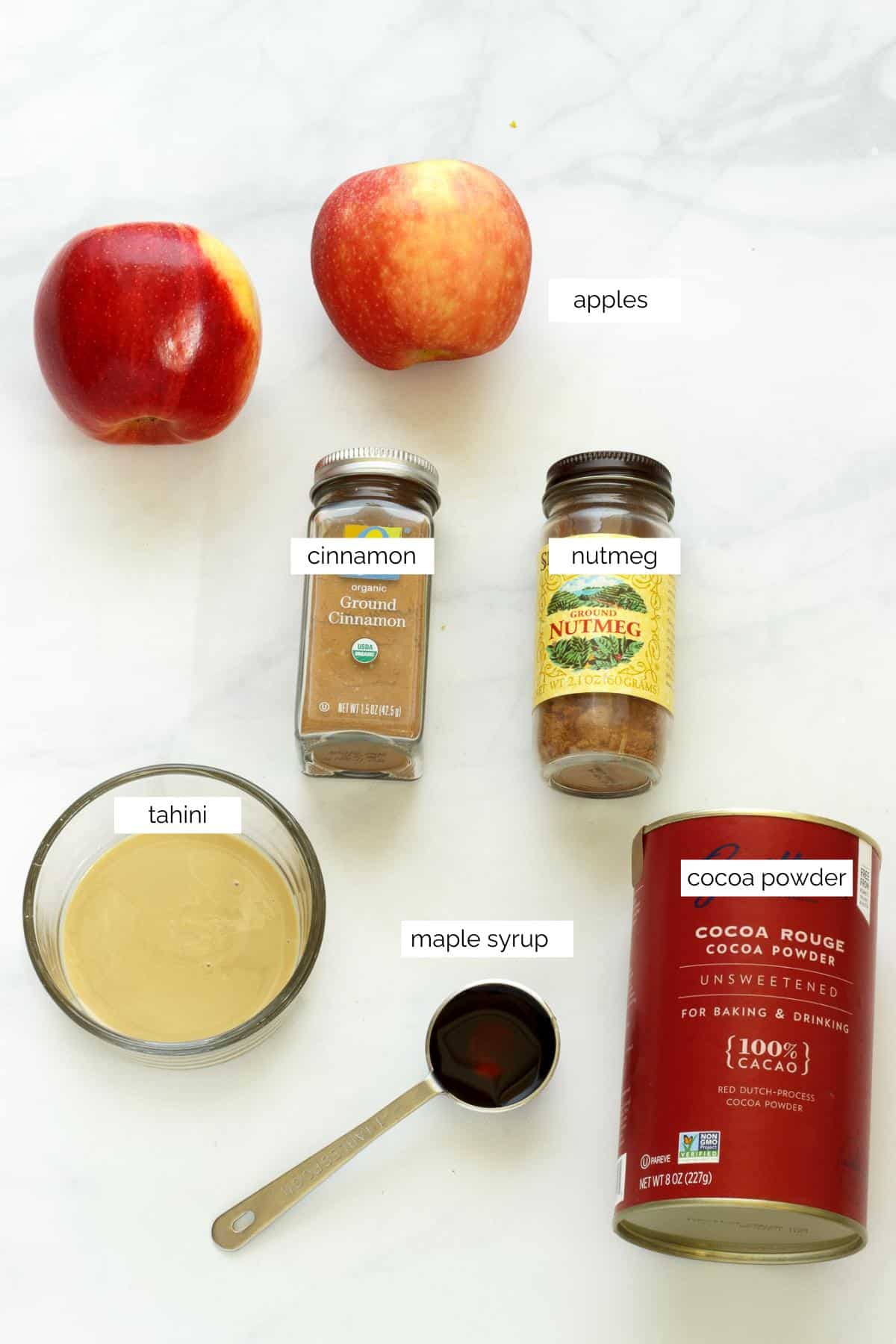 Apples: I like Gala, Fuji, or Macintosh apples for this recipe because they have a nice blend of sweet and tart. With these apples, you shouldn't need to add any sugar.
Spices: Cinnamon and a pinch of nutmeg give these chips a nice "apple pie" flavor.
Tahini: This is roasted sesame paste (or butter) which gives the chocolate dipping sauce a nice, creamy texture. The oil in tahini usually separates from the solids, so give it a good stir before using.
Substitutions and Variations
If you have other favorite apple varieties, feel free to substitute them. I tested this recipe with Gala and Fuji apples. Other varieties might have more water or less sugar, so keep an eye on the air fry time and taste them to see if they need sugar or extra spices.
Green apples (like Granny Smith) are more tart, while Honeycrisp apples are even sweeter.
Variations for spices include:
Ground clove
Allspice
Cardamom
Ginger
Pumpkin pie spice mix
Tajin, chipotle chile powder, or cumin for a savory twist
If you don't have (or like) tahini, try almond or peanut butter for the dipping sauce. Or you can skip the dip and eat these chips just as they are
Step By Step Instructions
First, slice your apples 3 mm or ⅛ inch thick. I highly recommend using a mandoline because you'll get perfectly, even, thin slices. You can use a knife, but it's hard to get even slices, which results in some cooking faster than others.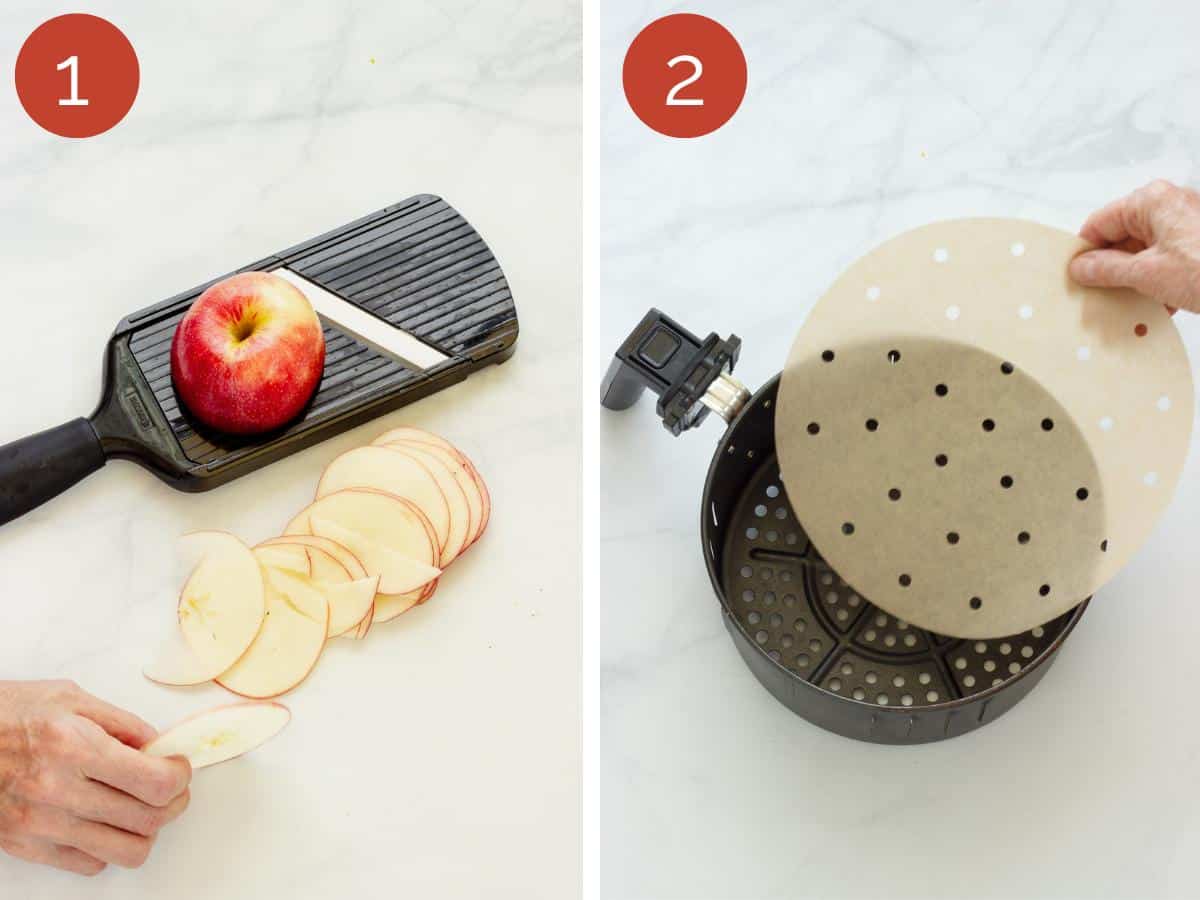 Second, if desired, line your air fryer basket with these parchment sheets for easy cleanup. They come precut in various shapes and sizes to fit most air fryers. Since this recipe is oil-free, the apple slices won't stick to the pan if you line it. The liners are very thin and don't affect cooking time. They also come in hand when cooking chicken or fish in your air fryer.
Third, toss your apple slices with the spices and lay them across the bottom of the air fryer. I recommend cooking one apple at a time. If you pile too many slices in the air fryer, they will cook unevenly.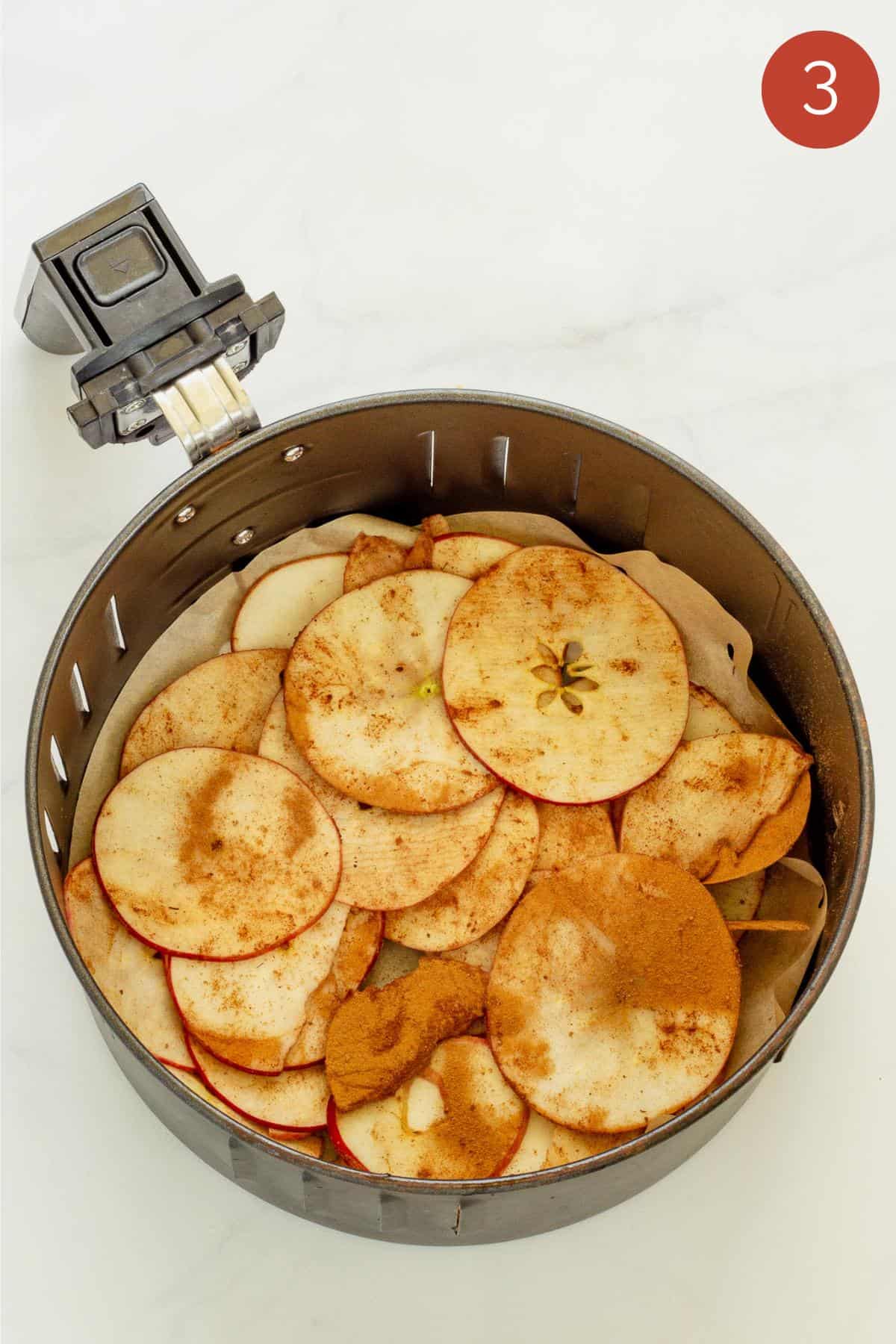 Fourth, prepare the chocolate dip while the apples are cooking. Combine the cocoa powder and water first, and ensure it's smooth and thin. Add more water to thin it out if necessary.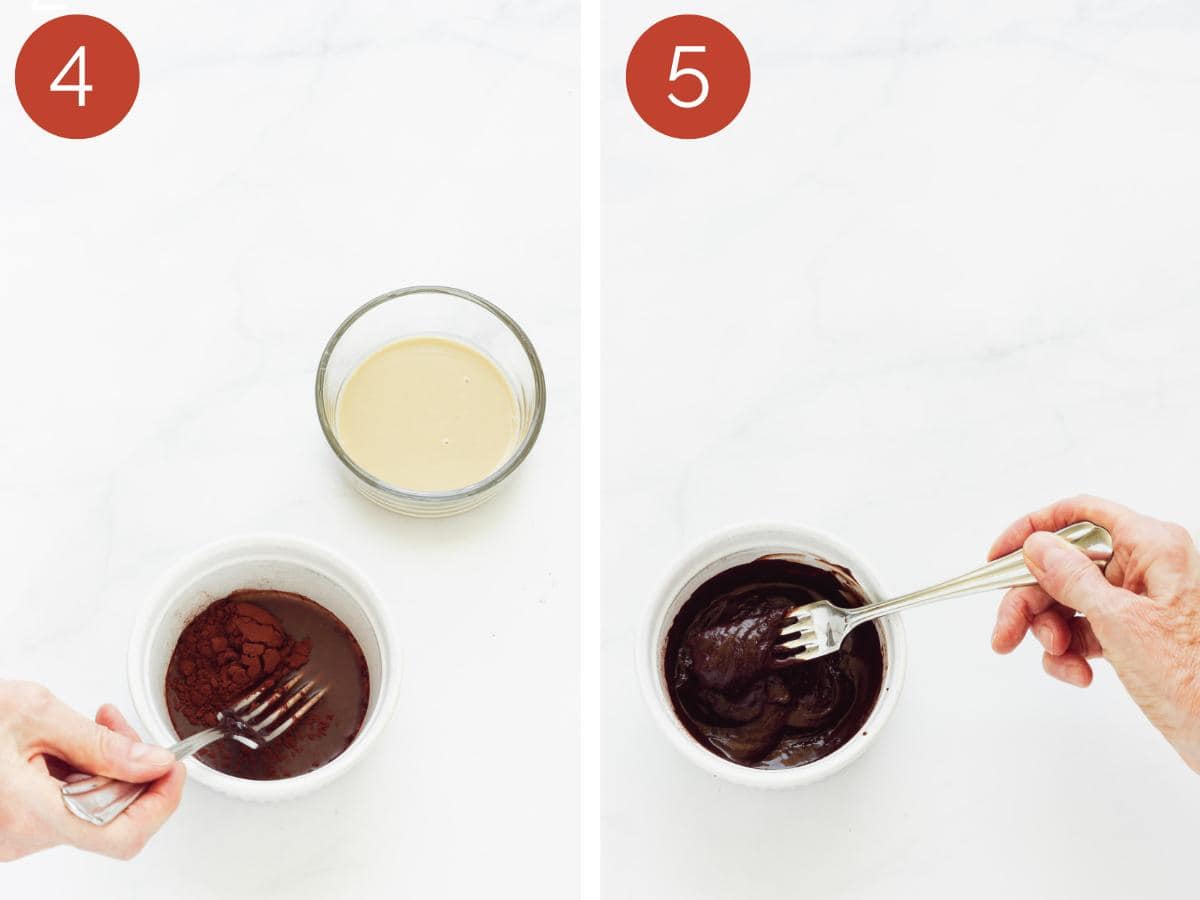 Fifth, add the maple syrup and tahini to the chocolate mixture and mix until smooth and creamy.
Sixth, check the apple chips every 15 minutes and flip or toss them so they cook evenly. Remove them when they start to look crisp. They'll continue to crisp up as they cool. If they're too soft after cooled, return them to the air fryer basket and cook them for another 10 minutes.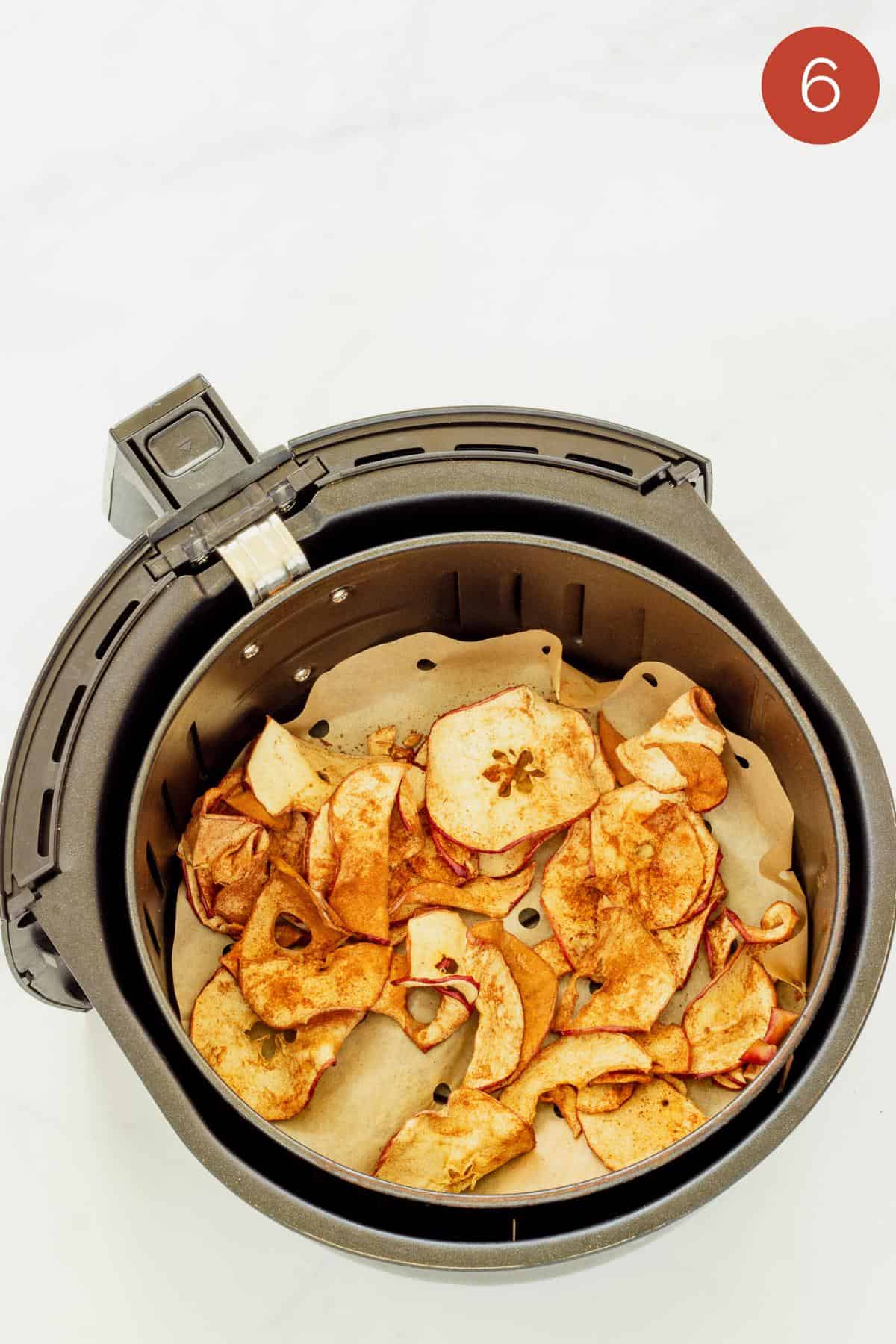 Expert Tips
Many recipes call for a higher temperature for a shorter cooking time. I've tried this several times and always have a good portion of apple chips that burn. Cooking the apple slices at a lower temperature (250ºF) for a bit longer ensures they get crispy but don't burn.
Every air fryer is different, and some apples have more moisture than others, so check your air fryer frequently, as you may need more or less cooking time. 
There is no need to core or seed your apples. A mandoline will cut right through the core; you'll never notice it since the slices are so thin. Also, the seeds will fall out of the slices.
If you prefer chewy apple chips (like apple rings) instead of crispy chips, cut your apple slices about ¼ inch (about 6 mm) wide and check them after 30 minutes for doneness.
How to Eat Air Fryer Apple Chips
These chips are a delicious treat on their own or served with the chocolate tahini dip. You can also:
Arrange them on a platter and drizzle them with almond butter or caramel sauce for a sweet dessert twist on nachos. Top them with raisins or Craisins and a sprinkle of unsweetened coconut.
Serve these with other seasonal fruits on a cheese board or alongside my Apricot Pecan Cheese Ball.
Use them as a crunchy topping for a fall Kale Apple Salad.
Add them to homemade trail mix or Homemade Caramel Corn
Chop them and mix them into Homemade Fruit and Nut Bars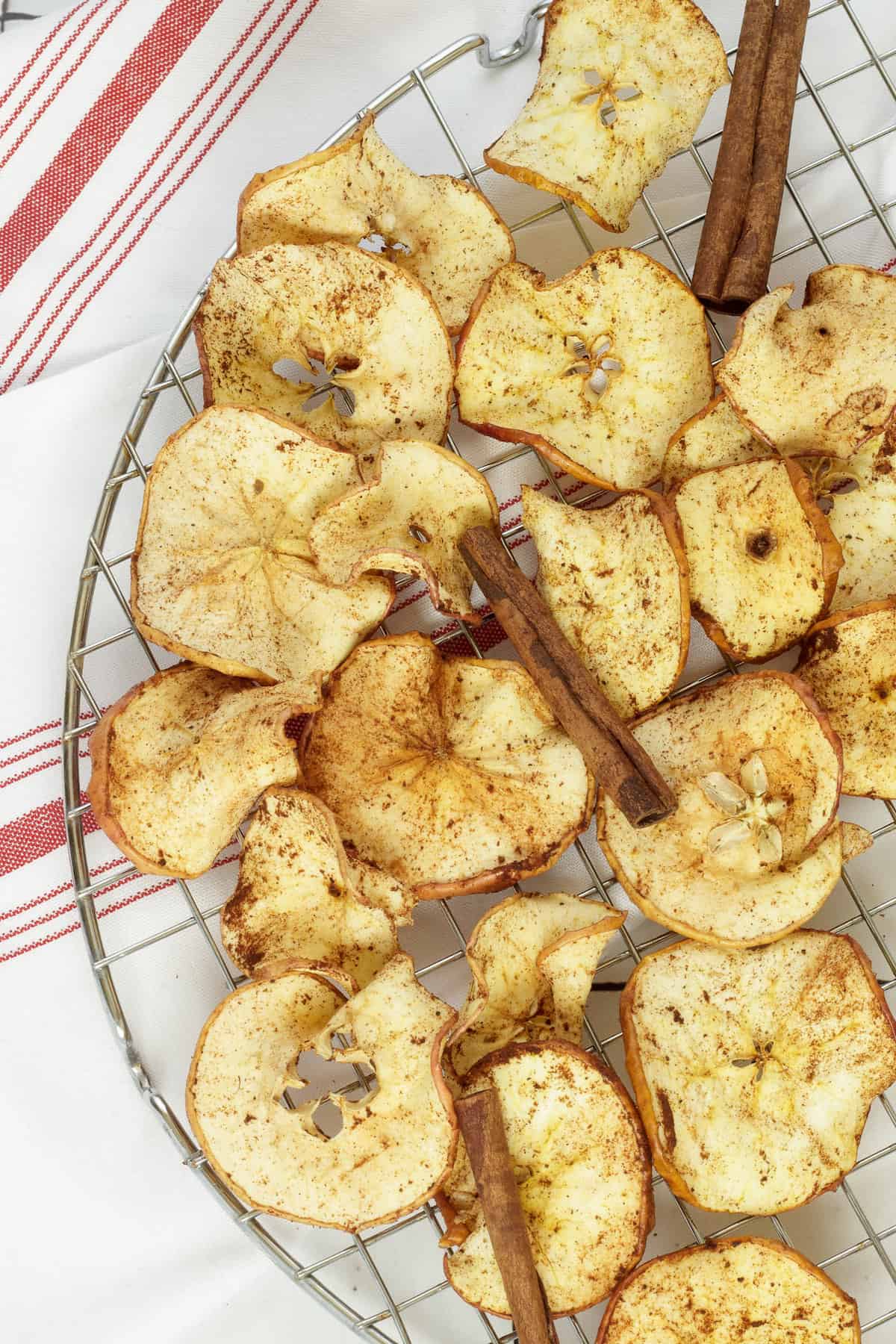 Recipe FAQs
Do you have to remove the skin from your apples before cooking them?
Keep the apple skin on because it provides lots of fiber and a pop of color to the chips. The skin isn't tough at all after being cooked.
How do you prevent air fryer apple chips from burning?
If your chips burn easily, they might be too thin. Aim for about 3mm (most mandolines allow you to adjust the thickness). Cooking at a lower temperature also helps prevent burning. It will take a bit longer, but it's worth it, and you'll have less waste.
How long can you keep these chips?
If you like crispy chips, you should eat them the same day. They tend to soften over time, especially if you live where it's humid. Store leftovers in a covered container in the refrigerator for up to 4 days. To re-crisp them, put them in the air fryer at 250ºF for 5-10 minutes.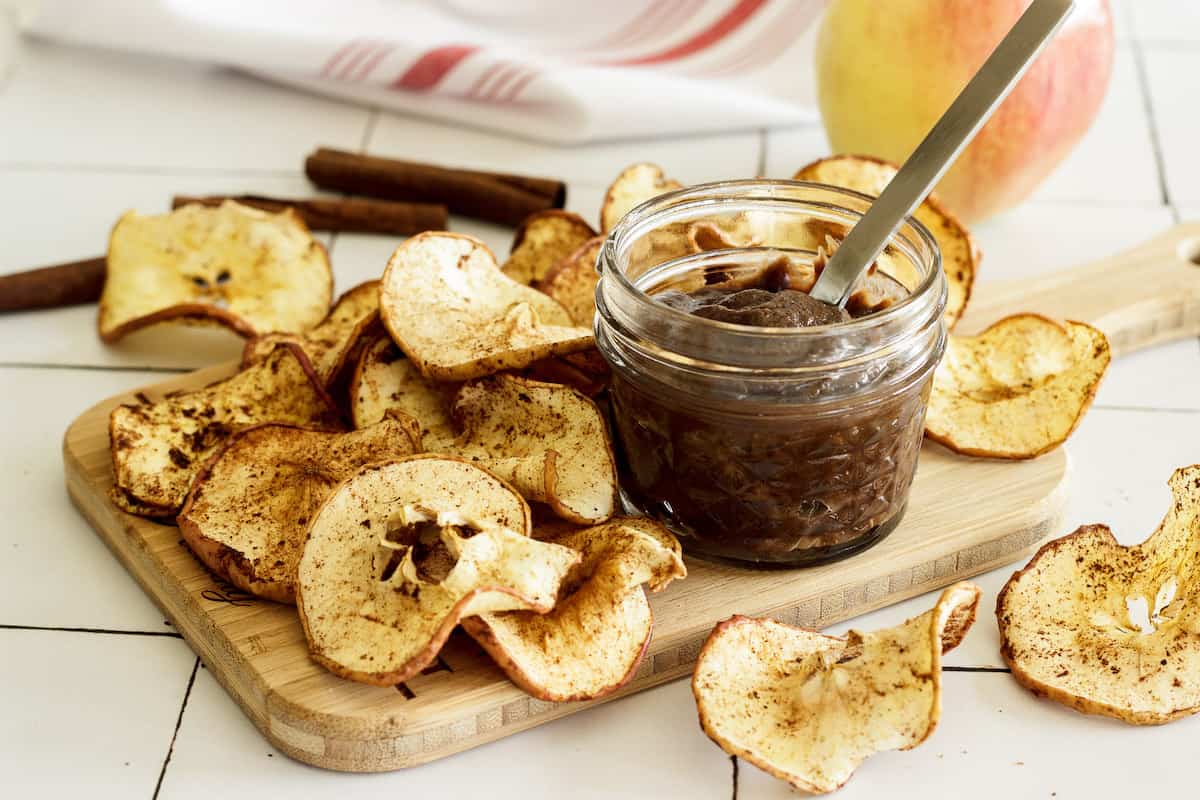 Other Related Apple Recipes
Make the most of apple season with these delicious apple recipes.
Love this recipe? Please leave a 5-star 🌟🌟🌟🌟🌟rating in the recipe card below & a review in the comments section further down the page.
Recipe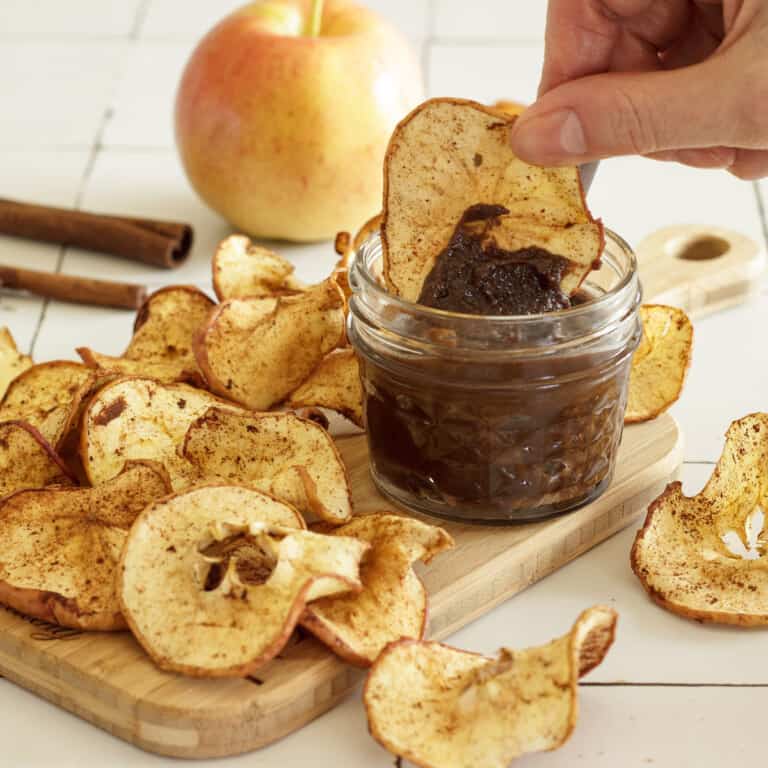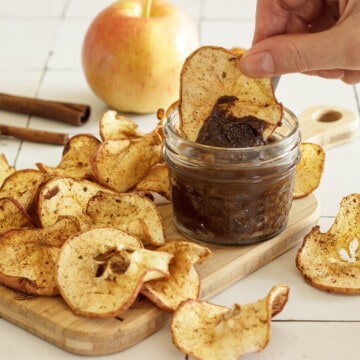 Crispy Air Fryer Apple Chips
A sweet, healthy twist on chips with a chocolate tahini dip
Print
Pin
Ingredients
2

large

apples

¼

teaspoon

cinnamon

⅛

teaspoon

nutmeg
Chocolate Tahini Dip
1

tablespoon

unsweetened cocoa powder

2

tablespoons

warm water

1

tablespoon

maple syrup

2

tablespoons

tahini
Instructions
Cut the apples crosswise using a mandoline into very thin slices (about 3mm or ⅛ inch). Lightly tap out any seeds from the center.

Place the apple slices in a mixing bowl and sprinkle with the cinnamon and nutmeg. Toss to coat the slices well.

Place the apple slices in the basket of an air fryer. Set the machine to 250°F and set the timer for 15 minutes. NOTE: If your air fryer basket is small, you may want to do this in 2 batches so the slices cook evenly.

After 15 minutes, toss the apple slices. Set the timer for another 15 minutes and cook them again for a total of 45 minutes.

While the apples cook, make the dip, combine the cocoa powder and water in a small bowl. Using a fork, whisk well until the mixture is smooth. Stir in the maple syrup and tahini and whisk until smooth.

The apple chips will crisp up as they cool. If you're not sure that they are done, take one or two out of the air fryer basket and let them cool. If they're still chewy, return them to the basket and cook for another 10-15 minutes.
Notes
These are best eaten the same day but you can keep leftovers in an airtight container in the refrigerator. To crisp them up again, cook them in the air fryer at 250ºF for about 10 minutes.
Nutrition
Calories:
239
kcal
|
Carbohydrates:
42
g
|
Protein:
4
g
|
Fat:
9
g
|
Saturated Fat:
1
g
|
Polyunsaturated Fat:
4
g
|
Monounsaturated Fat:
3
g
|
Sodium:
9
mg
|
Potassium:
369
mg
|
Fiber:
7
g
|
Sugar:
29
g
|
Vitamin A:
131
IU
|
Vitamin C:
11
mg
|
Calcium:
51
mg
|
Iron:
1
mg