This easy, healthy apple crisp recipe is the most delicious way to enjoy fall's favorite fruit. It's full of flavorful spices, some extra sweetness from dried cranberries, and of course, lots of fresh apples.
This lower-sugar apple crisp recipe takes just minutes to make, and it's surprisingly healthy and high in fiber.
Is it just me, or does it seem like everyone jumped from peaches and tomatoes right over to the pumpkin patch?  I love pumpkin everything as much as the next person, but what happened to apples?
I'm guessing pumpkins are all over Pinterest because those orange baked goods are prettier to photograph. AND it's a lot easier to open a can of pumpkin than it is to peel, core, and slice all of those apples.
Apples are my go-to fruit all fall and winter long, and not just because they're relatively inexpensive.  I love the subtle differences in flavor and texture between the different varieties, as well as their long shelf life, their portable, pack-ability (no cutting, peeling or containers needed), and of course, their health benefits.
Spread with some nut butter, or sliced and turned into crispy air fryer apple chips, they're ideal for a quick sweet treat.
Although they're often overshadowed by more colorful berries, and yes, beta-carotene rich pumpkins, apples are pretty darn nutritious in their own right, and there actually is truth to the "Apple a Day…" saying.
Apples are an excellent source of soluble fiber, which can reduce cholesterol, help stabilize blood sugar, and even promote weight loss because it helps keep you fuller for longer.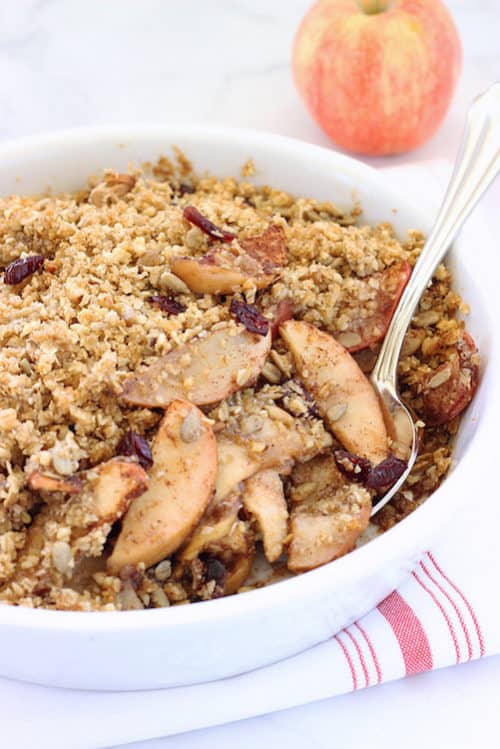 Of course apples are great on their own as a snack, but they can also make a pretty tasty dessert. I've always been in love with apple pie (crumb crust only please!) but here's the thing about apple pie. 1) you have to peel all of those apples! 2) it takes a good 45 minutes to prep and another 45 minutes to bake, and 3) since there are only 2 of us in the house, that means I might accidentally will eat pie for breakfast, lunch and dinner until it's gone.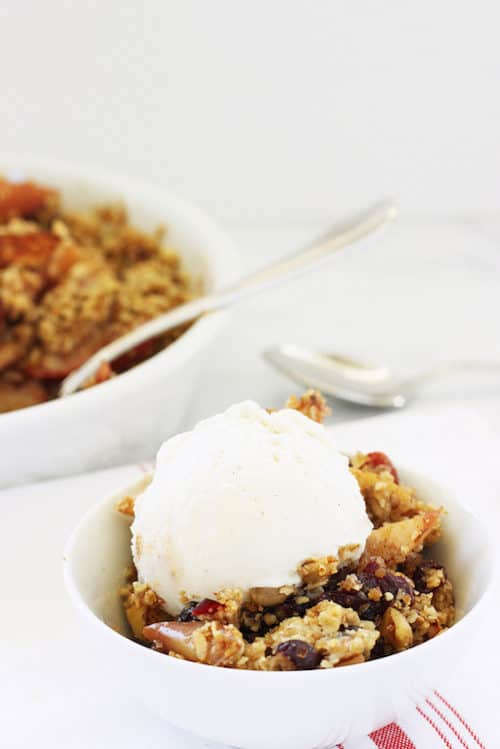 So, that's why I tend to go the baked apple, AKA apple crisp route. It has mostly the same ingredients, and tastes just as good, but it's WAAAY faster to make, and it's healthier without that dough.
This recipe can be pulled together in about 6 minutes flat - much easier than pie. No long bake time, or crust to make. No need to peel or slice those apples into uniform slices (don't throw away the peel! It's where the super powers live). And the oats, nuts and seeds in the crumb crust are delicious, and good for you too!
Recipe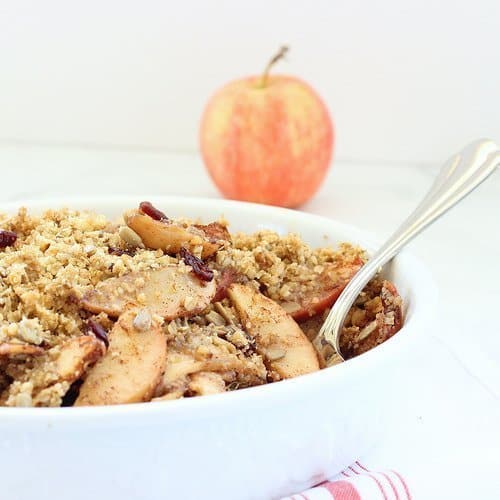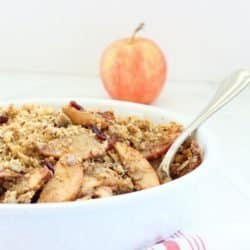 Easy Healthy Apple Crisp
A delicious and healthy apple dessert
Print
Pin
Ingredients
3

large

baking apples* see note below

1

teaspoon

pumpkin pie spice mix

½

teaspoon

corn starch

¼

cup

dried cranberries

optional

½

cup

old fashioned oats

½

cup

walnuts

¼

cup

brown sugar

packed

2

Tbs

butter

¼

cup

pumpkin seeds

pepitos
Instructions
Preheat oven to 375 degrees.

Quarter and cut the apples into slices. You don't have to peel them unless you prefer to avoid the skins. Place apple pieces in a pie plate or shallow baking dish.

Mix pumpkin pie spice and cornstarch together in a small bowl. Sprinkle pumpkin pie spice-cornstarch mixture over apples, and toss lightly.

Microwave apples for approximately 3 minutes on high, or until they are slightly softened. Sprinkle cranberries over cooked apples.

While apples are cooking, place oats, walnuts, brown sugar, and butter in the bowl of a food processor and pulse about 15 times until mixture is well combined and resembles damp sand.

Mix the pumpkin seeds into the oat mixure by hand.

Sprinkle oat, nut, seed mixture over apples and cranberries.

Bake 12-15 minutes or until apples are bubbly and tender, and topping is golden.

Serve warm, with a scoop of vanilla ice cream, whipped cream, or vanilla yogurt if desired.
Notes
Choose crisp, firm apples for baking. My favorites are Gala, Fuji, Macintosh, Granny Smith, or Braeburn.
If desired, you can omit the cranberries or use fresh cranberries. For fresh cranberries, microwave them with the apples to soften a bit before placing the crisp in the oven.
Nutrition
Calories:
207
kcal
|
Carbohydrates:
33
g
|
Protein:
4
g
|
Fat:
9
g
|
Saturated Fat:
1
g
|
Polyunsaturated Fat:
5
g
|
Monounsaturated Fat:
2
g
|
Trans Fat:
0.002
g
|
Cholesterol:
1
mg
|
Sodium:
10
mg
|
Potassium:
210
mg
|
Fiber:
4
g
|
Sugar:
23
g
|
Vitamin A:
61
IU
|
Vitamin C:
4
mg
|
Calcium:
36
mg
|
Iron:
1
mg
Do you buy apples every week in the fall and winter? Which variety is your favorite?
Eat well!