Irresistible Rasberry Oatmeal Bars
I'm not lying. These raspberry oatmeal bars really are irresistible. They feature a blend of sweet, whole raspberries and raspberry jam topped with a crunchy oat and nut crumble topping.
And to keep them on the healthier side, I use almond flour instead of white flour to make the shortbread crust. So you can have more than one and not feel the least bit guilty!
I love dessert recipes that make the most of fresh, seasonal fruits, like my low-carb lemon bars, black grape sorbet, summer melon pudding, and these delicious bars.
Jump to:
Why This Recipe Works
I've been making this recipe forever because it's super easy, and everyone always loves it.
I've tweaked it over the years to make it healthier while retaining all of the deliciousness. As a result, these raspberry oatmeal bars are made with lots of fresh, wholesome ingredients, most of which are good for you.
These are lower in carbs and higher in fiber than many other raspberry bar recipes.
I like to say it's a dessert with health benefits. Read on to learn more.
Recipe Ingredients
Here's what I use to make these bars. Read why they're used and the health benefits of some of the key ingredients below.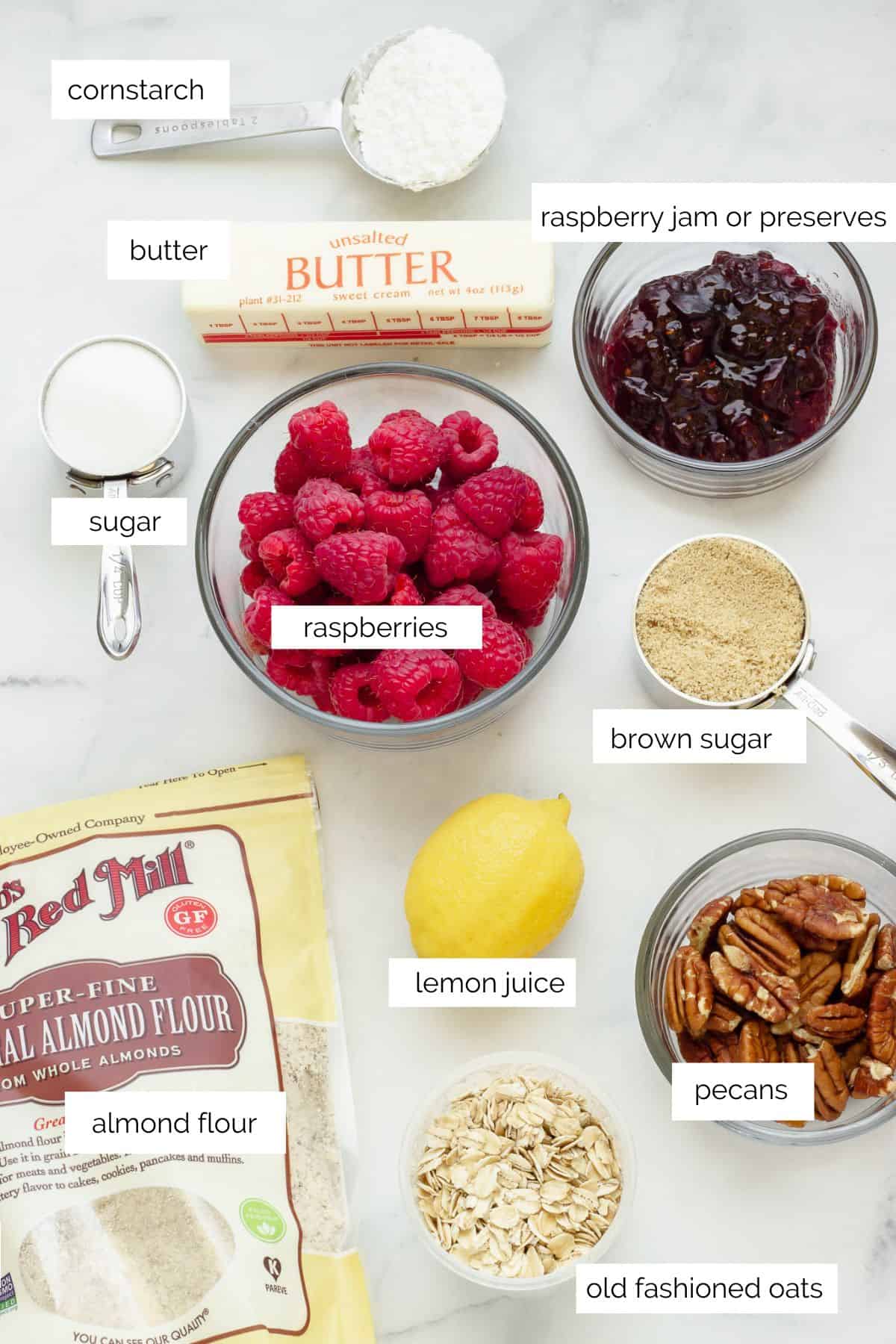 Fresh raspberries. I use a mixture of fresh raspberries and raspberry jam or preserves because I love to bite into chunks of real raspberries. Plus, with 8 grams of fiber per cup, real raspberries help boost the fiber in this recipe. They're also packed with antioxidants.
Almond flour. I swap out the white flour and use almond flour for the shortbread crust instead. It really helps cut the carbs. And although it's high in fat, the fat in almonds (and almond flour) is heart-healthy.
Using almond flour instead of white flour also makes this recipe gluten-free, which is a bonus for any gluten-free friends. Plus, almond shortbread is yum — whether you're gluten-free or not.
Cornstarch. Almond flour crusts can crumble easily, so adding a few tablespoons of corn starch helps the shortbread crust hold together better.
Old-fashioned oats. These have more body than quick-cooking oats, so they hold up nicely in the crumb topping. Don't use steel-cut oats because they're too hard.
Real butter. Unfortunately, olive oil doesn't cut it here, so splurge and use good-quality, unsalted organic butter.
See my recipe card below for a complete list of the ingredients with measurements.
Recipe Substitutions
If fresh raspberries aren't in season, frozen berries work just as well. Just thaw them first.
If you don't like pecans for the crumb topping, substitute any other type of nut or seed, like almonds, walnuts, or pumpkin seeds.
Instead of white and brown sugar, you can use monk fruit as the sweetener. If you use sweeteners like Swerve or Lakanto, check the ingredients and use one with less or no erythritol. It's been linked with blood clots in people at risk for heart disease, so I recommend using it sparingly.
For a slightly different flavor, add some shredded, unsweetened coconut to the crumb topping. Mix up to ¼ cup in the food processor with the other ingredients.
Want to adapt this recipe for other fruits? You can use other seasonal berries in addition to the raspberries or in place of them. Try blueberries with blueberry jam or chopped strawberries with strawberry jam.
How to Make Raspberry Oatmeal Bars
This recipe is SO easy! Here are the step-by-step instructions:
First, prepare the shortbread crust. Combine almond flour, cornstarch, sugar, butter, and a pinch of salt in a food processor fitted with a chopping blade.
Pulse 25 times, just until the dough looks like wet sand. You don't want it to look like a ball of dough. It should look like this: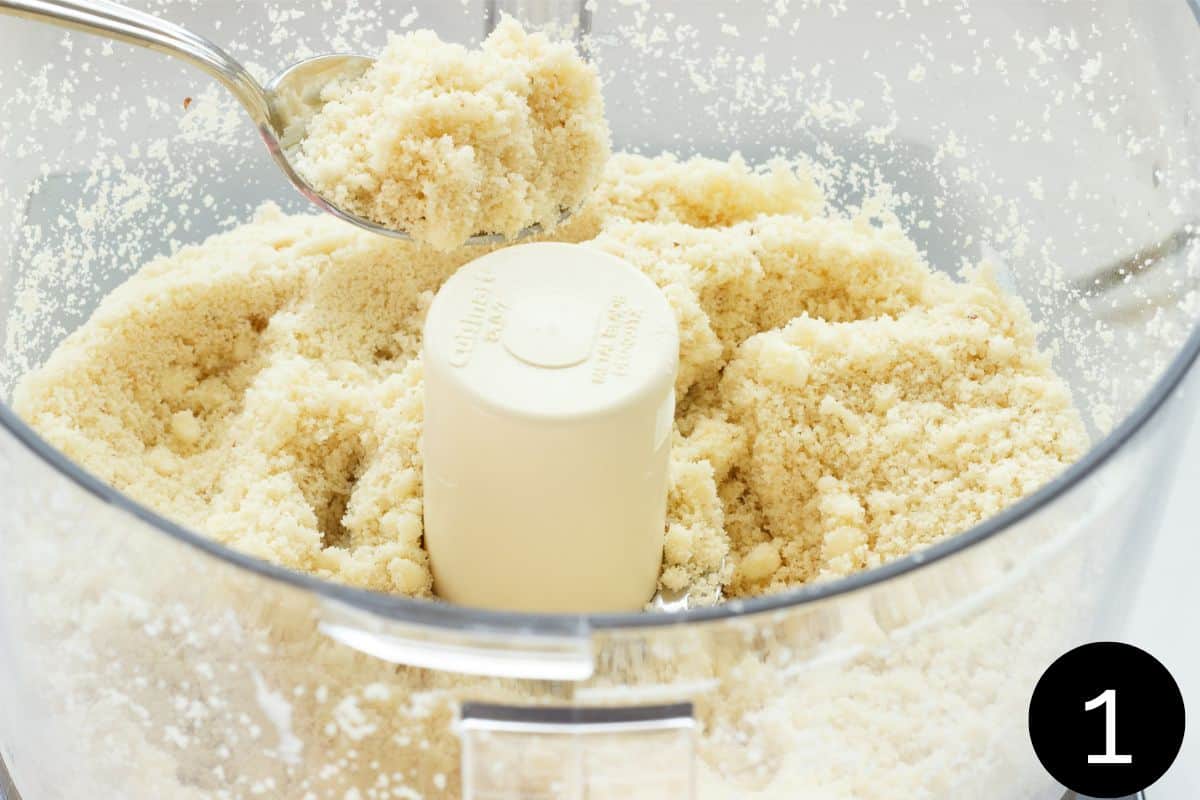 If you pinch some of the dough in your hand, it will form a ball.
Second, pour the shortbread dough into an 8x8-inch baking pan. I like to line the pan with parchment paper to make it easier to remove the bars. Leave some paper hanging over two opposite sides of the pan.
Press the dough into the pan so it's smooth and even. Use a clean hand or a spatula to press it evenly. Prick a few holes in the crust using a fork.
Third, bake the crust for 15-20 minutes or until it's lightly golden around the edges.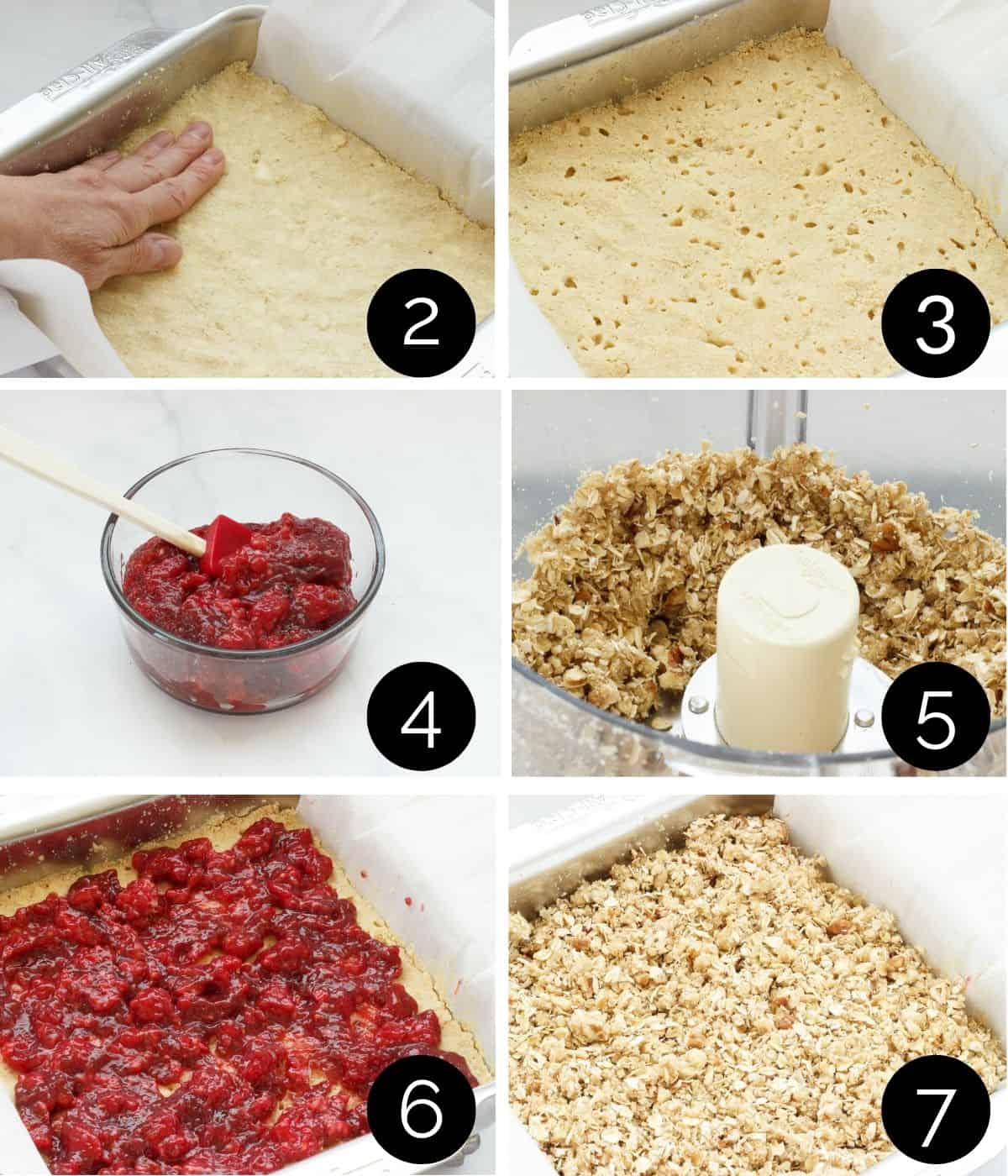 Fourth, while the crust is baking, prepare the raspberry filling by mashing the fresh raspberries with the jam and a squeeze of fresh lemon juice.
Fifth, prepare the oatmeal crumb topping by combining the oats, nuts, brown sugar, and butter in a food processor. No need to wash out the previous ingredients. Pulse about 30 times just until it's crumbly and combined.
Sixth, remove the baked crust from the oven and let it sit at room temperature for about 5 minutes. This helps it set. After 5 minutes, gently spoon the raspberry filling over the crust and, using a spatula, spread it evenly over the crust.
Seventh, sprinkle the crumb topping over the raspberry filling. Gently tap it down, but don't press it in. Return the pan to the oven for another 20-25 minutes or until your bars are golden.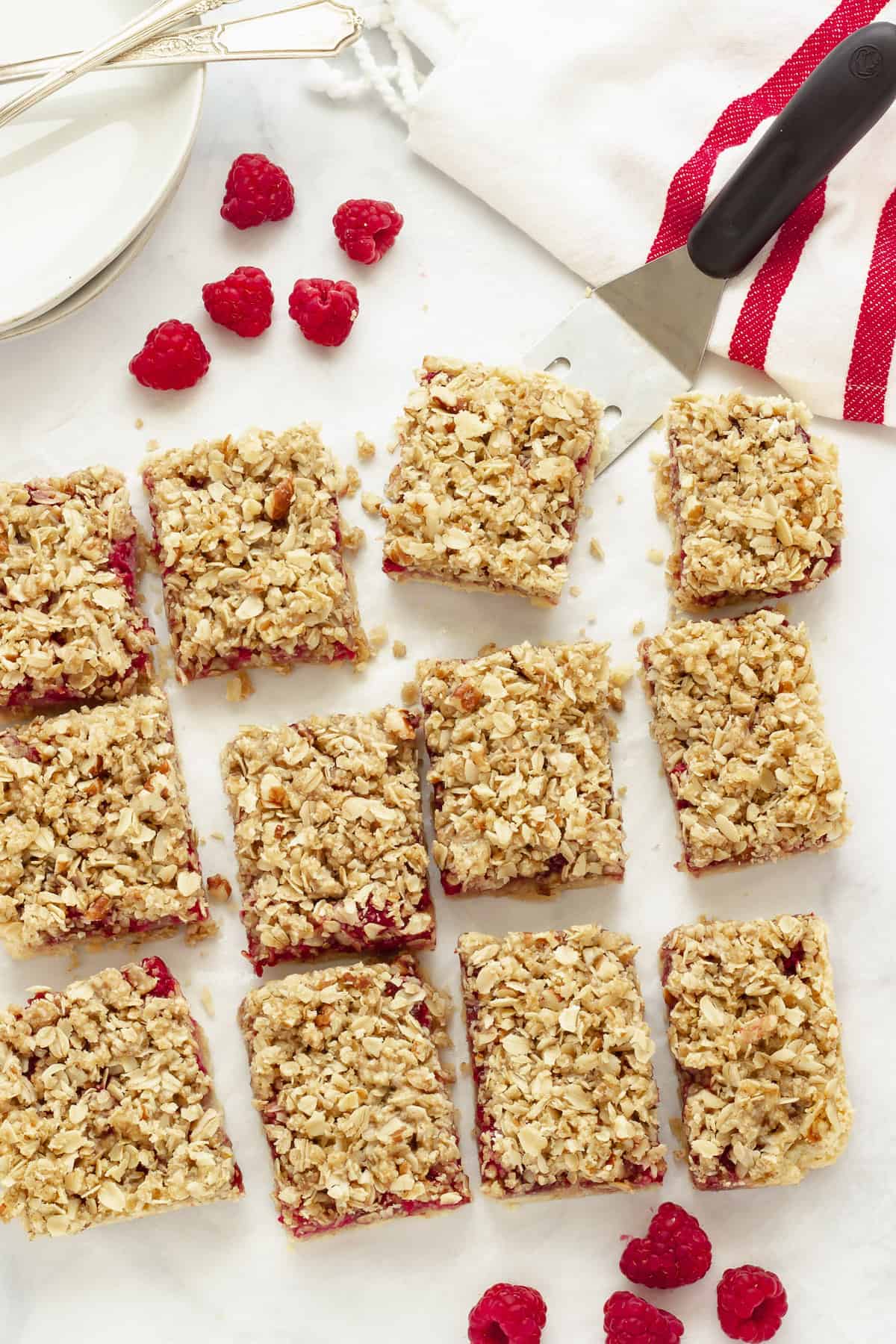 Expert Tips
Lemon juice helps balance the sweetness in ripe raspberries. If your raspberries are tart, use less lemon juice or skip it.
Don't add the raspberry topping to the crust until it's had at least 5 minutes to set. If it's too hot, the crust will bubble up, and your filling will end up on the bottom.
Let these bars sit at room temperature for about 2 hours before cutting into them. You can also refrigerate them for an hour or two before serving. I think they taste best the same day, but you can make them a day ahead.
Recipe FAQs
Where can you buy almond flour?
Almond flour (also called almond meal) is available in the baking section of your grocery store near the flour. You can also find it on Amazon.
What happens if you over-process your shortbread crust ingredient?
It's important to pulse your shortbread crust ingredients just until it resembles wet sand. If you over-process the dough, it will be tough instead of flakey and tender.
How long can you store raspberry oatmeal bars?
You can store these bars for up to 5 days in the refrigerator. The crumb topping will be crunchy at first but will soften if they are stored for more than a day.
What's the difference between raspberry jam, preserves, and jelly?
Jelly is made with strained fruit, so there are no solid fruit pieces. Jam has chunks of mashed fruit. Preserves often have more whole solid fruit pieces than jam. They all work in this recipe, but I prefer jam or preserves.
Other Related Fruit Desserts
Love this recipe? Please leave a 5-star 🌟🌟🌟🌟🌟rating in the recipe card below & a review in the comments section further down the page.
Recipe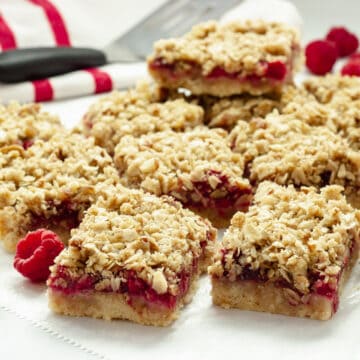 Raspberry Oatmeal Bars
An easy dessert bar made with fresh raspberries and jam
Print
Pin
Ingredients
2

cups

almond flour

¼

cup

sugar

or other granulated sweetener

3

tablespoons

cornstarch

¼

teaspoon

salt

10

tablespoons

cold unsalted butter

divided

16

tablespoons

butter

1

cup

fresh raspberries

¾

cup

raspberry preserves

1

tablespoon

fresh lemon juice

⅓

cup

packed brown sugar

⅓

cup

pecans

¾

cup

old fashioned oats
Instructions
Adjust oven rack to the middle position, and preheat the oven to 350℉.

Line an- 8x8-inch baking pan with parchment paper, folding it so it covers the bottom of the pan and hangs over two opposite edges.

Place the almond flour, white sugar, cornstarch, and salt in the food processor. Cut 6 tablespoons of the cold butter into ½-inch pieces and sprinkle over the dry ingredients. Pulse 25 times or until the dough resembles wet sand.

Pour the almond flour-butter mixture into the prepared pan, and using fingers or a spatula, press it in firmly into an even layer.

Bake for 15-20 minutes, or until edges begin to brown. Remove the crust from the oven and let it rest for at least 5 minutes. Make sure it's firm and set.

While the crust is baking. combine the preserves, lemon juice and fresh raspberries in a small bowl. Mash gently with a fork to break up some of the berries, but leave some whole. Set this aside.

Combine the brown sugar, pecans, oats, and remaining 4 tablespoons of butter in the food processor. Pulse about 30 times or until the mixture forms clumps.

When the crust has cooled and is set, carefully spoon the raspberry filling onto the crust. Use a spatula to gently spread the filling over the warm crust. Sprinkle the oat mixture evenly over the top and gently pat it but don't press it in.

Return pan to the oven and bake for another 22 to 25 minutes, until filling is bubbling and topping is a deep brown color.

Cool to room temperature on a wire rack. Remove from the baking pan by lifting overhanging foil. Using a chef's knife, cut into 12 squares.
Notes
Refrigerate any leftovers in an airtight container for up to 5 days. The bars will soften over time.
Serve warm or cold, as is, or topped with a scoop of vanilla ice cream or whipped cream.
Nutrition
Calories:
351
kcal
|
Carbohydrates:
37
g
|
Protein:
6
g
|
Fat:
22
g
|
Saturated Fat:
7
g
|
Polyunsaturated Fat:
1
g
|
Monounsaturated Fat:
4
g
|
Trans Fat:
0.4
g
|
Cholesterol:
27
mg
|
Sodium:
154
mg
|
Potassium:
100
mg
|
Fiber:
4
g
|
Sugar:
23
g
|
Vitamin A:
329
IU
|
Vitamin C:
5
mg
|
Calcium:
82
mg
|
Iron:
1
mg