Wild Blueberry Lemon Chia Pudding
I'm on a bit of a dessert kick lately.  It's because of all of the fresh and beautiful fruit that's everywhere this time of the year.  I can't get enough when I'm at the store, but sooner or later plain old fresh fruit gets a little bit… yawn.  So I'm on a mission to make as many fresh fruit desserts as possible before this fresh fruit season thing is over, and we're left with… Apples.  Nothing wrong with them, but talk about getting old fast.  In the mean time, let's enjoy the fruits of the season, shall we?!
My friends out east tell me it's blueberry picking season out there.  Maybe we have blueberries somewhere in AZ, but I'm kind of doubting that.  The VERY BEST blueberries are the tiny wild ones that grow mostly out east.  I remember the first time I tried wild blueberries – I thought they were the runts of the litter.  so very tiny – how could they be good?  But WOW, the flavor punch they pack.  The wild ones have less pulp, and more juice and flavor than the domestic blueberries that most grocery stores carry in the produce department (the larger and lighter color blueberries).  Unfortunately, most parts of the country you can't get wild blueberries fresh, only frozen.  But that's OK because it means we can always have a bag of them in the freezer.  Any trust me – I do!  So even though it's the middle of summer, don't fret about buying frozen wild blueberries.  It's SO worth it!
This Wild Blueberry Pudding has just a touch of lemon to brighten up the flavor even more.  It's thickened with chia seeds, so lots of heart healthy omega-3 fats, and even some protein.  And oh the color!  That deep purple-blue = lots of antioxidants.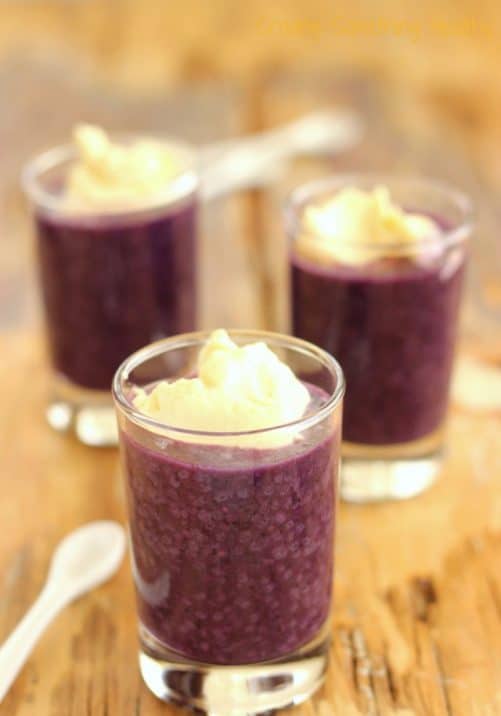 I did add a dollop of whipped cream, but you can also do non-dairy coconut cream if you prefer.  Or nothing at all.  It's all good.
[bctt tweet="Here's why you should always have #WildBlueberries in your freezer. Wild Blueberry Lemon Chia Pudding #HealthySummer"]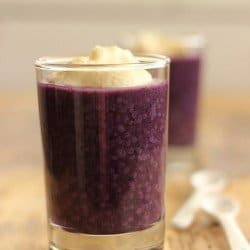 Ingredients
2

cups

frozen wild blueberries

3/4

cup

coconut milk

or other non-dairy milk

1

tablespoon

sweetener

sugar, honey, maple syrup or to taste

2

tablespoons

fresh lemon juice

1

teaspoon

fresh lemon zest

1/2

cup

chia seeds
Instructions
Place blueberries and coconut milk into a medium saucepan, and bring to a boil over medium-high heat. Reduce heat to low and simmer for about 6-8 minutes or until blueberries are softened and broken down a bit. Add sweetener to taste.

Pour blueberry mixture into a food processor or blender and blend until smooth. Return to the pot.

Add lemon juice, zest, and chia seeds, and stir to combine.

Let pudding set for about 15 minutes until the chia seeds swell and the pudding starts to thicken.

Pour into 4 serving bowls or glasses, and refrigerate until firm, about 30 minutes.

If desired, top with whipped cream.
Nutrition
Have you ever tried wild blueberries?  Which do you prefer?
Eat well!