Remember how I'm on a mission to add more colorful salads to my winter dinners?  Again, it's not that I don't like them, but for some reason, in the winter time, I just don't make many salads.  Whenever I do, I rejoice in how colorful and fresh and delicious they are – kind of like a burst of spring or summer in the middle of an all too dreary time of the year.
So the other day I was scouting the aisles at Sprouts (do you have them by you?) and I spied Forbidden Rice.  Sounds ominous, I know, but I've read about it, and was curious.  It's almost black looking uncooked, but while it's cooking, the water turns brilliant purple!  So purple, I totally expected to smell grape or blueberry or something crazy like that when I lifted the lid.
Of course, I know – and so should you – that anything with deep, bright colors is full of antioxidants that protect the body from damaging free radicals.  Let me clarify that – anything with bright colors that actually comes from the ground.  Skittles and Lucky Charms do not count!  So hello antioxidants!  I'm thinking the antioxidants in that pot of forbidden rice I cooked up should turn back the clock at least 20 years for me 🙂
I used the rice as the base for this colorful salad which has luscious avocado and fresh mango (another Sprouts find – love them!).  The recipe and dressing is adapted from a cookbook called A Change of Appetite by Diana Henry.  The curry paste in the dressing adds a lovely spicy thai kick to the salad.
I almost feel like spring is right around the corner with this beautiful salad.  I subbed light coconut milk for the cream in the original dressing recipe, so it's light, completely vegan, and clean eating at its best.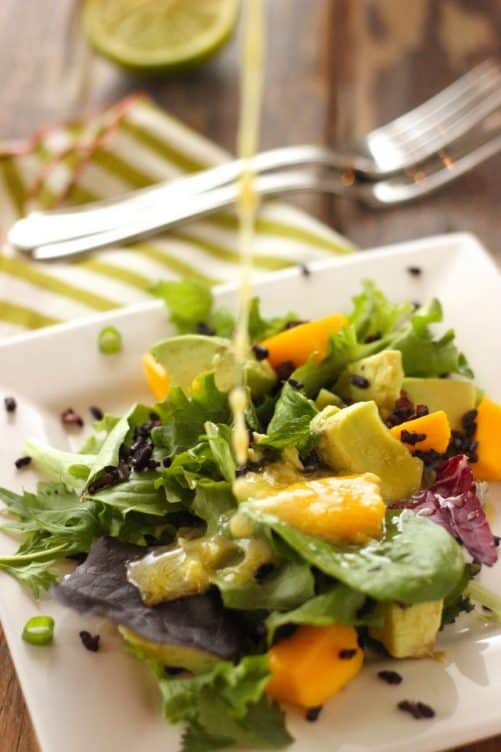 Mango, Avocado and Forbidden Rice Salad
Ingredients
1/2

cup

Forbidden Rice - rinsed and cooked according to package directions

3

cups

mixed baby greens

1

cup

mixed tender herbs

watercress, cilantro, flat leaf parsley, mint

2

scallions

sliced thin, green parts only

1

large ripe mango

peeled and cut into bite-sized pieces

1

avocado

pitted and cubed

juice of 1/2 lime
Dressing
Juice of 1 lime

1/2

teaspoon

agave syrup

or to taste

1

teaspoon

hot curry paste

1/4

cup

peanut oil

1/4

cup

light coconut milk

salt and pepper to taste
Instructions
Cook rice according to package directions, adding 1 teaspoon salt if desired. Let cool to room temperature.

Remove any stems from the herbs and toss with the baby greens in a large bowl.

Add scallions.

Slice or cube mango and avocado. Add both to the greens.

Squeeze lime juice over the avocado to prevent browning.

Add cooled rice to the bowl of salad and toss gently.

For the dressing, add all ingredients to the bowl of a small food processor, or blend ingredients with an immersion blender.

Pour dressing over salad and toss gently to combine.
Notes
Recipe adapted from A Change of Appetite by Diana Henry
Have you eaten any summer food lately?  What do you crave in January?
Eat well!