These Mexican-style Baja Fish tacos are fast and easy to make year-round because they're pan-fried, not grilled. They feature seasoned, lean, white fish, flour or corn tortillas, and a flavorful cabbage slaw drizzled with Greek yogurt crema.
I remember the first time I ever heard of a fish taco.  My parents and youngest brother moved from Chicago to San Diego in the late 80s, and the first time we visited, they raved about the fish tacos at this little place called Rubios.  The owner brought the recipe to Southern California from Mexico.  I had recently moved from Chicago to Boston and couldn't even fathom the thought of fish on a taco. 
What. The. Heck? To me, tacos were still something of a meal that came out of a yellow box.  You added ground beef, shredded cheese, some lettuce, and voila! 
How times (and tastebuds) have changed! I'm pretty sure you can find fish tacos on menus across the country today. They're also very easy to make at home. Here's what you should know.
What Are Fish Tacos?
As the name suggests, they are tacos made with fish. They're a nice twist on traditional beef, chicken, or bean tacos.  Fish tacos are super easy to make and light and healthy tasting.  You can grill, pan-fry, or batter and fry your fish before adding it to a warm tortilla.
These tacos are delicious with mango salsa or pico de Gallo.
Traditionally, fish tacos are topped with a shredded cabbage slaw and a drizzle of Mexican Crema, a cool, creamy yogurt or sour cream-based sauce.  If you don't feel like chopping cabbage, just grab a bag of shredded cabbage in the produce department.
What Kind of Fish is Best?
There are no rules about the kind of fish to use! Any of these work well:
Lean white fish like cod, flounder, haddock, Mahi-mahi, or tilapia
Salmon
Shrimp or lobster
A firm fish works best when grilling your fish because it holds together better. Thin, lean fish like flounder can be hard to grill because it tends to fall through the grates.
I prefer a white fish in my fish tacos, and to get around the grilling problem, I pan-fry mine. A cast iron grill pan works beautifully.
I also discovered that my Panini Press works well too. Both are quick and easy ways to cook the fish and the tortillas. Nothing falls through the grill, cleanup is easy, and you'll get those nice grill marks on your tortillas.
Topping Substitutions
I've included ingredients and quick recipes for the pico de Gallo, cabbage slaw, and crema below. But if you don't want to prepare these from scratch, here are some time-saving hacks for these.
Instead of making pico de Gallo, check the prepared produce department for a container of pico de Gallo (or fruit salsa). You can also use jarred or fresh roasted salsa in a pinch.
If you don't feel like shredding cabbage, grab a bag of shredded cabbage or coleslaw mix from the produce department. Then, add the chopped red onion (or a scallion), cilantro, honey and lime juice.
Mexican crema is so good and refreshing, so I hope you don't skip it! But if you want a shortcut, look for a good-quality chipotle ranch salad dressing. Or just use plain Greek yogurt or sour cream.
Recipe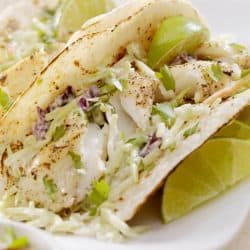 Baja Fish Tacos
A light and easy recipe for pan-fried fish tacos
Print
Pin
Ingredients
1

lbs

tilapia

or firm white fish

2

tablespoons

olive oil

juice of 1 lime

2

teaspoon

chili powder

½

teaspoon

ground cumin

½

teaspoon

ground coriander

¼

teaspoon

garlic powder

⅛

salt

or to taste

4

flour or corn tortillas

8 inches in diameter
Cabbage Slaw
2

cups

shredded Napa Cabbage

2

teaspoon

lime juice

2

teaspoon

honey

2

Tbs

minced red onion

¼

cup

chopped cilantro

salt and pepper

to taste
Pico de Gallo
1

large

tomato

seeded and diced

½

small

red onion

diced

½

jalapeño

minced

2

Tbs

chopped cilantro

salt and pepper

to taste
Mexican Crema
zest and juice of ½ lime

½

cup

plain Greek yogurt

1

teaspoon

honey

⅛

teaspoon

salt

optional - 1 Tbs chopped cilantro
Instructions
Season the Fish

Combine the oil, lime juice, chili powder, cumin, coriander, garlic powder and salt in a bowl.

Coat the fish with the rub/marinade and let sit for 30 minutes.

Meanwhile, make Pico de Gallo (if desired) and Cabbage Slaw.

Pico de Gallo

Combine all ingredients in a bowl, stir to combine, season with salt and pepper.

Let sit at room temperature, for 30 minutes to allow flavors to combine.

Cabbage Slaw

Combine lime juice, honey, onion, jalapeño, cilantro, salt and pepper in a bowl.

Toss with shredded cabbage, and refrigerate for 30 minutes.

Crema

Zest and juice ½ lime.

Stir yogurt and honey into zest and juice.

Add salt to taste, and cilantro if desired.

Fish

Heat a large nonstick pan, or a panini press to medium-high heat. Grill the fish on the first side over direct heat, until the fish starts to turn opaque - 2-3 minutes.

Turn the fish, and grill until cooked through, about 2 minutes more.

Remove the fish from the pan and set aside on a plate.

Grill the tortillas for about 30 seconds on each side, or until they have light grill marks, and are heated through on both sides.

To serve, center 1 piece of fish on each tortilla, top with Cabbage Slaw, and Pico de Gallo.

Add a dollop of Mexican Crema, fold in half, and serve immediately.
Notes
Recipe adapted from the Culinary Institute of America
Shortcuts: if you don't have time to make pico de Gallo from scratch, pick up a container at the grocery store. For the shredded cabbage, you can substitute a bag of shredded cabbage or coleslaw mix from the produce department.
Nutrition
Calories:
286
kcal
|
Carbohydrates:
23
g
|
Protein:
28
g
|
Fat:
10
g
|
Saturated Fat:
2
g
|
Polyunsaturated Fat:
2
g
|
Monounsaturated Fat:
6
g
|
Trans Fat:
1
g
|
Cholesterol:
58
mg
|
Sodium:
467
mg
|
Potassium:
697
mg
|
Fiber:
4
g
|
Sugar:
8
g
|
Vitamin A:
903
IU
|
Vitamin C:
21
mg
|
Calcium:
108
mg
|
Iron:
2
mg
Do you ever make fish tacos?
Eat well!