Easy Mango Habanero Salsa With Avocado
This vibrant mango habanero salsa recipe is packed with fresh mango, sweet red pepper, avocado, and spicy flavors. It's a colorful feast for your eyes, a treat for your tastebuds, and the perfect thing to serve with grilled salmon, fish tacos, or your favorite tortilla chips.
I'm pretty sure this homemade mango habanero salsa will be one of your favorite new recipes for summer.
Nothing against traditional salsa — unless it comes out of a jar. Because homemade salsa is truly amazing and so easy to make. I love fresh homemade pico de gallo with Mexican food. And my restaurant-style roasted tomato salsa is heavenly with a big bowl of chips and a side of guacamole.
But sometimes I'm in the mood for fruit salsa. With all that fresh, tropical flavor, I think it's an absolutely perfect topping for grilled fish or fish tacos.
I don't know this for sure, but I believe fruit salsa is a Caribbean invention that takes advantage of those beautiful tropical fruits. The first time I ever had it was in St. John in the US Virgin Islands. I remember the restaurant serving it on top of some kind of grilled fish. It was such a perfect combination of sweet, savory, and spicy flavors and I've been hooked ever since.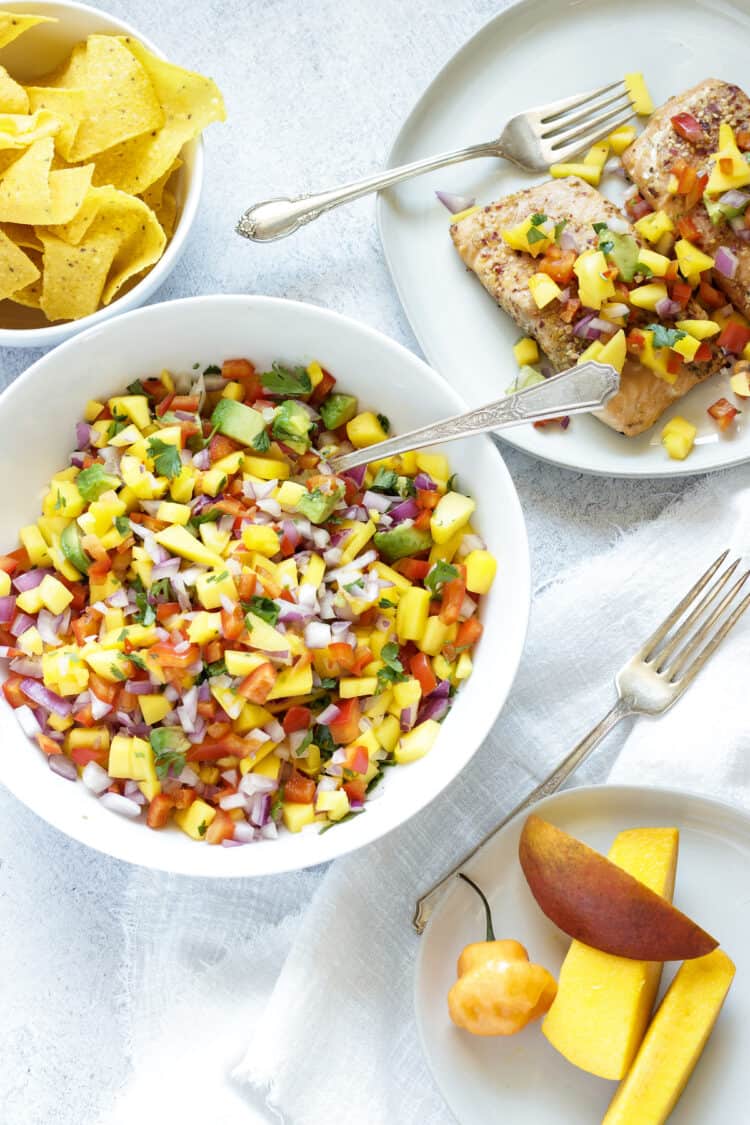 This fruit salsa is such a delicious treat when you can find ripe mangoes (or is it mangos? Apparently either spelling is correct). They're grown in tropical climates, but you can often find mangos year-round.
In the U.S. the most readily available mango variety is Tommy Atkins. Its peak season is March through July, and you can recognize this variety by the reddish skin with yellow and green accents. Give it a gentle squeeze to see if it's ripe.
Mangos and spicy habanero peppers have equal starring roles in this salsa. Habaneros are small, yellow-orange in color, and lantern-shaped. They are quite a bit hotter than jalapeno peppers or serrano peppers.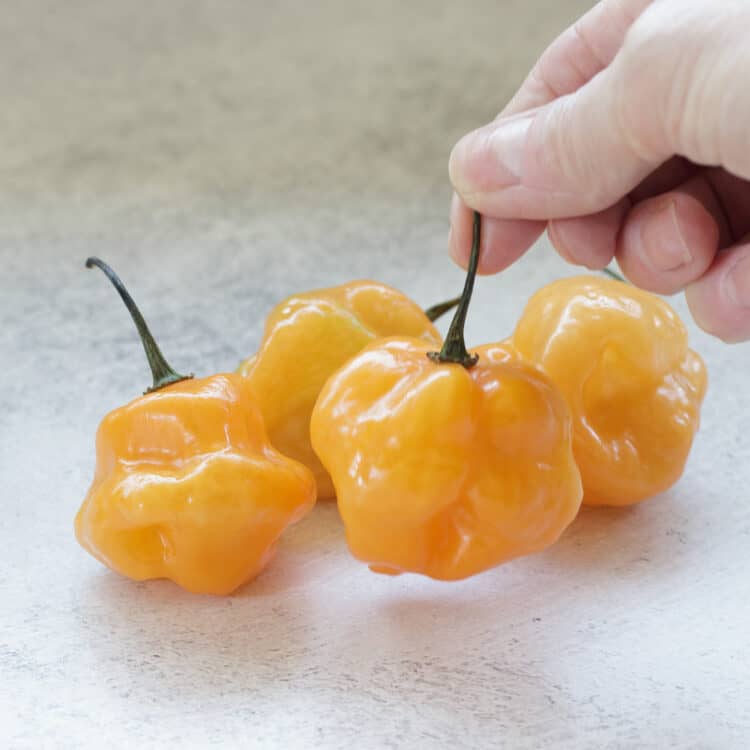 How Hot Are Habanero Peppers?
They're hot! Chili peppers are ranked on the Scoville scale, which is a measure of their heat. It ranges from 0-100 Scoville heat units, where you'll find sweet bell peppers, to 3,000,000+ Scoville heat units where you'll find pepper spray.
A habanero pepper ranks between 100,000 - 350,000 (depending on the variety)
A serrano pepper ranks between 10,000 - 25,000
A jalapeno pepper ranks between 2,500 - 10,000
Because habanero peppers are so hot, I highly recommend that you wear gloves when working with them. I like to keep a package of these disposable food service gloves in my pantry exactly for this reason. I learned my lesson the first time cut them with bare hands and then rubbed my eyes. OUCH!!
Keep in mind also, that their heat might transfer to your cutting board. Make sure you clean it well after mincing your habaneros.
But they're not just about heat. Habaneros also have a slightly smokey, citrusy flavor which is nice in this salsa. If you can't find habaneros (or you prefer a more mild heat in your salsa) you can absolutely substitute a different spicy pepper, like jalapenos or serranos here.
Personally, I love spicy food, so I'm all about the combination of hot peppers with the sweet flavor of ripe mango in this fresh, flavorful salsa.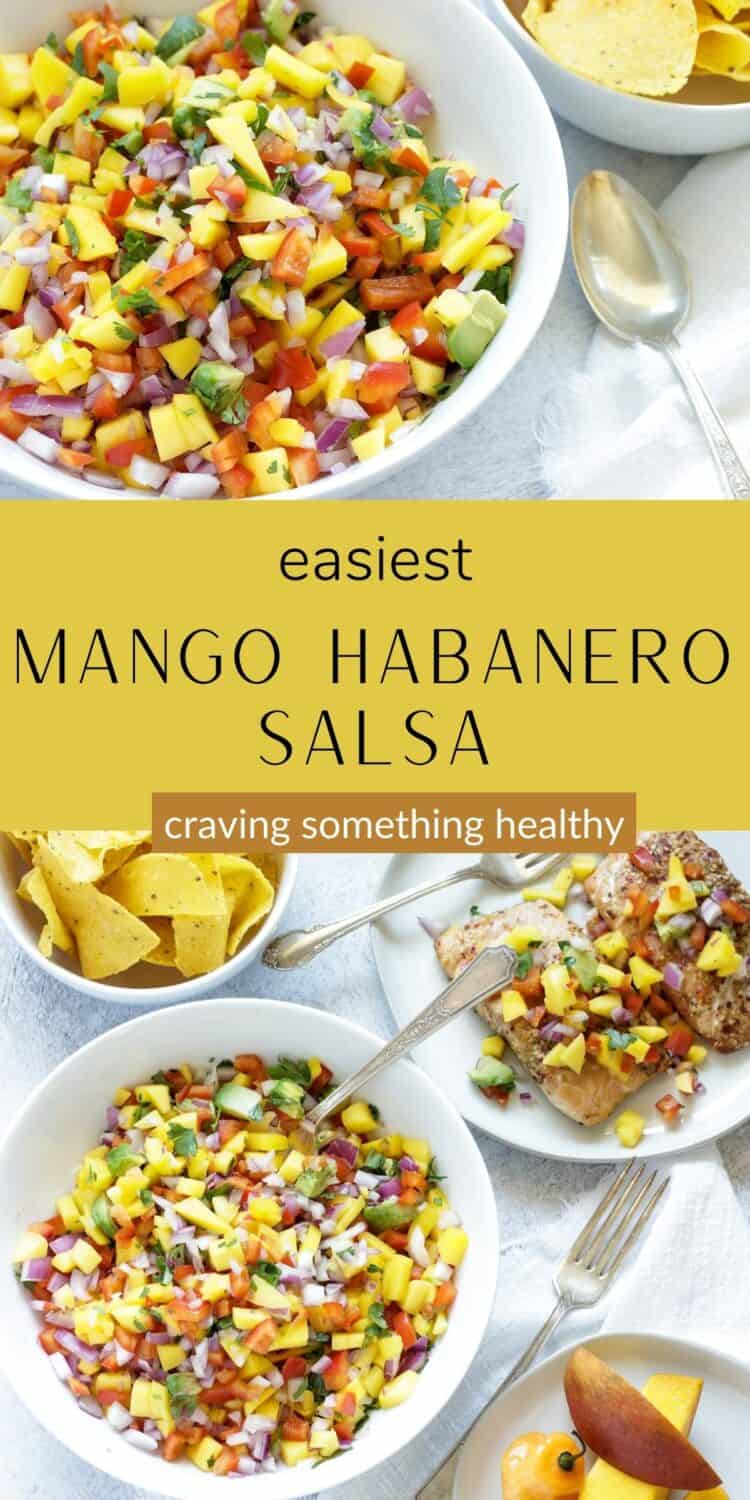 Other Substitutions
If you can't find ripe mangos, I've also made this salsa with fresh pineapple, nectarines, or peaches. They're all yum!
Don't feel like cutting mangos? They can be tricky, I know! This recipe also works with frozen, thawed mangos. Or check the cut fruit and vegetable section in the grocery store. You can often find cut mangos.
If you don't like red onion, white onion works just fine. I especially like the sweet Maui or Vidalia onions. You can also use minced scallions if you prefer a milder onion flavor.
Do you prefer a spicier salsa? No problem. Just adjust the spice level up or down by adding more or less habanero (or other) chili.
What about tomatoes? Personally, I don't like tomatoes in this salsa, but you do you!
I really REALLY like to dice my ingredients so I get a chunky mango habanero salsa, but I know that can be time-consuming. If you prefer to use a food processor, just pulse it a few times unless you prefer a smoother salsa. Then have at it.
If you love mangos, make sure you try my Mango Avocado Salad recipe. It has similar ingredients, but it's not as spicy and it's dressed in a lovely coconut, lime, and curry dressing. Yum!
Recipe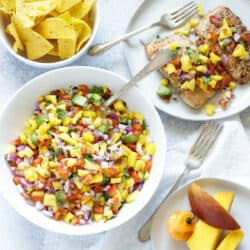 Easiest Mango Habanero Salsa Recipe
This fast and easy mango habanero salsa is delicious with grilled fish — or scoop it up with chips
Print
Pin
Ingredients
1 ½

cups

diced mango

½

cup

diced red onion

½

cup

red bell pepper

2

teaspoons

finely minced habanero pepper

or more to taste, divided

3

tablespoons

minced fresh cilantro

1

tablespoon

fresh lime juice

1

teaspoon

lime zest

⅛

teaspoon

sea salt, or to taste

1

medium

avocado, diced
Instructions
In a large bowl, combine the mango, red onion, red bell pepper, about 1 teaspoon of the habanero pepper, the cilantro, lime juice, and lime zest. Stir to combine.

Add a pinch of salt and taste the salsa. Add extra salt to taste, and the remainder of the habanero pepper if you like more heat. Stir to combine.

Stir in the avocado just before serving.
Notes
To make this salsa ahead of time, add all of the ingredients except for the salt and avocado. Season with salt and add avocado just before serving.
Make sure you wear gloves when mincing habanero peppers. OR be very careful to not touch your eyes or face after handling the cut peppers if you don't.
Nutrition
Calories:
250
kcal
|
Carbohydrates:
49
g
|
Protein:
4
g
|
Fat:
5
g
|
Saturated Fat:
1
g
|
Polyunsaturated Fat:
1
g
|
Monounsaturated Fat:
3
g
|
Sodium:
4
mg
|
Potassium:
218
mg
|
Fiber:
6
g
|
Sugar:
33
g
|
Vitamin A:
6694
IU
|
Vitamin C:
33
mg
|
Calcium:
40
mg
|
Iron:
3
mg
Have you tried fruit salsa? What do you like to eat it with?
Eat well!