Real, restaurant-style salsa with rich, roasted tomato flavor, is as close as your nearest sheet pan!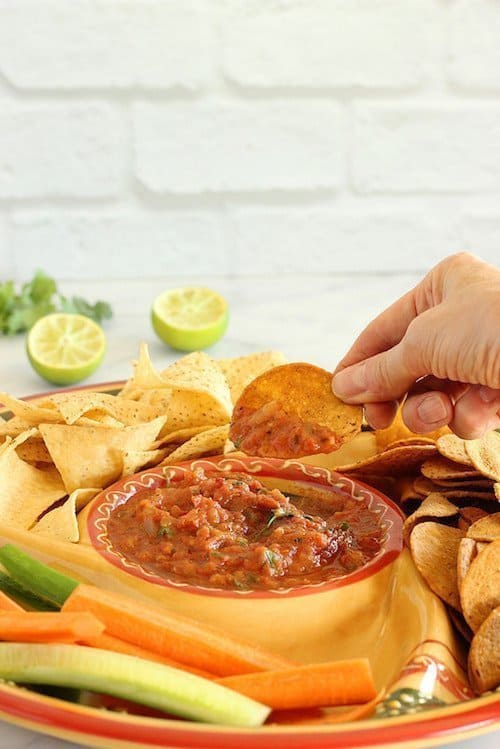 Remember your sheet pan? That poor, lonely, probably discolored and a little bit gunked up pan that only makes an appearance during the holiday season when it's time to bake cookies or one of those pumpkin jelly roll cakes with the cream cheese icing inside (I could eat those all day).
Well, it's time to pull out your sheet pan because it's a great kitchen hack tool when you need a quick dinner (or snack in the case of this recipe) with very little cleanup. And this month on the Recipe ReDux, we're sharing how healthy food bloggers love to use our sheet pans.
SO, the assignment was really to show a healthy sheet pan meal – everything goes on one pan and cooks together – but I'm cheating a bit and sharing a sheet pan salsa. If you're an empty-nester, like me, salsa can easily count as a meal. And I'm not embarrassed to say that it has been a meal on many nights in my house 🙂 It certainly has a full serving of vegetables. Just add some corn tortillas for your grain, and avocado for your healthy fat, and you're good to go.
I don't know about you, but for me, the thing that makes or breaks a Mexican restaurant is the salsa (and the margaritas of course). I can put up with so-so chips, and even a less than stellar dinner menu, if the salsa is amazing. It has to be slightly warm, with lots of roasted tomato flavor, chunks of onion, just the right amount of hot and spicy, and a fair amount of cilantro. I love to have that same deliciousness at home too, and clearly, you can't find all of that in a jarred salsa.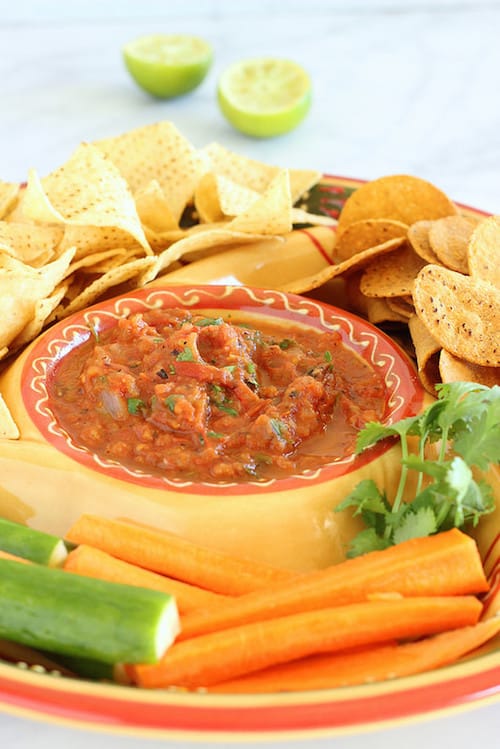 Since this is the end of tomato season, and I was fully stocked up on Roma tomatoes (they work best because they're more tomato and less water and seeds), this salsa was calling to be featured as my sheet pan "meal".  Here's how easy it is:
I totally understand that salsa isn't always an appropriate meal, so if, by chance, you have a hungry family who wants dinner and not chips and salsa, or you just want "a real meal", sheet pans really are the best. It's so easy to lay out your vegetables and protein (chicken or fish works best), and cook everything at once. For some delicious inspiration, click the Recipe ReDux image below to see that the other members are cookin' up.
On a side note – The one thing I do not love about my sheet pan is cleaning up the cooked on junk. So if that prevents you from using it more frequently, it's so worth it to invest in a Silpat silicone cooking/baking mat which just rinses clean in about half a second.  Or – just keep several boxes of Reynolds precut parchment paper on hand. (not sponsored, I just love it).
Why did it take someone so long to invent precut parchment paper that doesn't curl up when you put it on your pan! #Genious!
Thanks Reynolds 🙂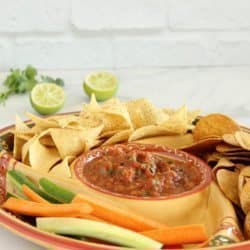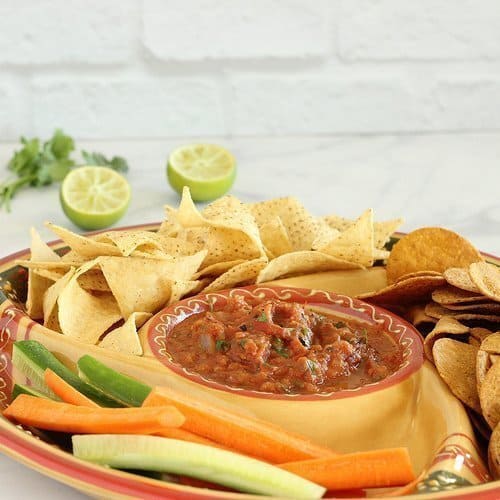 Print Recipe
Sheet Pan Restaurant-Style Salsa
Roasted tomato flavor just like the salsa at your favorite Mexican restaurant
Ingredients
2 1/2

pounds

Roma tomatoes (about 6)

sliced in half

2

large

jalapeños

stems and seeds removed, and sliced in half lengthwise

1

medium

sweet onion

peeled, and sliced in quarters

4

medium

garlic cloves

unpeeled

2

tablespoons

olive oil

1/2

teaspoon

kosher salt

1/2

teaspoon

cumin

1/4

cup

fresh cilantro, roughly chopped

(packed), more or less to taste
Instructions
Preheat the oven to 425 degrees.

Place the tomatoes, jalapeños, onion, and garlic in a mixing bowl. Pour the olive oil over and toss well to combine.

Spread the vegetables onto a lined sheet pan, in a single layer. Roast the vegetables for 20-25 minutes, or until they start to blacken in spots. Turn them after about 15 minutes, so they cook evenly.

When the vegetables are cooked, remove from the oven and let them cool for about 5 minutes.

When the vegetables are cool enough to handle, remove the skins from the garlic, and place all of the vegetables into a blender or food processor, along with the salt, cumin, and lime juice.

Pulse several times or blend/process to almost desired consistency. Add the cilantro, and pulse 3-4 more times to incorporate.

Taste and adjust any seasonings. Serve warm with chips or vegetables.

How often do you pull out your sheet pans?  Have you ever made your own salsa?
Eat well!
SaveSave
SaveSave
SaveSave
SaveSave
SaveSave
SaveSave
SaveSave
SaveSave
SaveSave