Sweet Carrot Cabbage and Beet Slaw
This easy Sweet Carrot Cabbage and Beet Slaw recipe is so colorful, crispy, and delicious. It's a tasty, healthy way to eat the rainbow, and I promise you'll love it even if you're not a beet lover!
I have a love-hate relationship with beets. They're incredibly healthy for you. Their vibrant color means they're packed with antioxidants that reduce inflammation and protect your DNA from oxidative damage. That means they reduce your risk of heart disease, cancer, and even some autoimmune diseases. If you've read my article on How to Reduce Your Blood Pressure Without Medication, you already know that beet juice is also full of compounds that naturally lower your blood pressure.
The thing is, I just can't get past their taste. Most people describe the taste of beets as "earthy." Let's just be honest, they taste like dirt! As a result, I rarely never eat roasted or raw beets - unless it's by accident.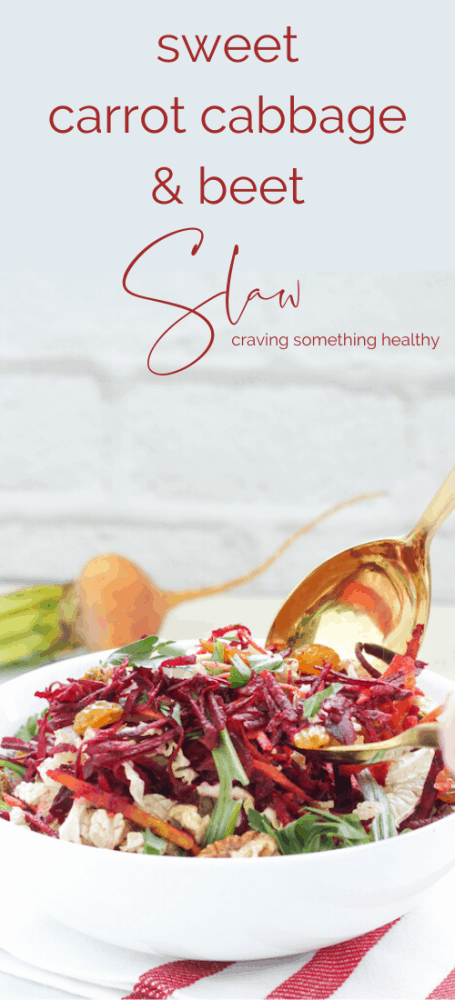 I really want to learn to like them, so I did some research on ways to prepare them. Here's what I discovered:
To Cover Up Their "Earthy Taste" Season Beets Well
To cover up their "earthy flavor" AKA dirt, beets need lots of salt, spices, and maybe some garlic if they're roasted. If you want to eat them raw, they benefit from some sweetness and acid.
So, I tried them raw. In a beet slaw, and guess what? I really liked it. In fact, I made a big batch of this recipe and I ate it with my dinner for three days. Who knew??
After experimenting, I found that a crispy and sweet combination was really good. I'm not gonna say there's zero sign of dirt, but all of the other things going on here make their earthiness so much better!
Eating them raw keeps them crisp and crunchy
Pairing them with sweet carrots, crunchy Napa cabbage, scallions, and fresh parsley turns the whole thing into a rainbow of color and flavors
Apples and raisins add a nice balance of sweetness
The sweet-tangy maple cider poppyseed vinaigrette was key for me. Just the right mix of sweetness and acidity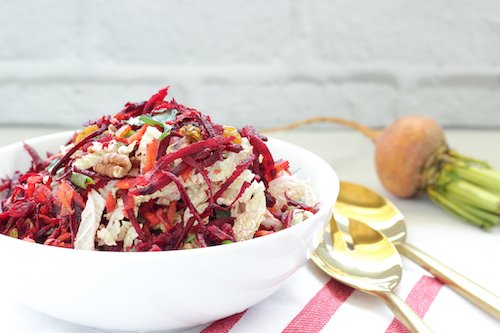 Plus, you have to agree that this dish is so colorful and bright. It's a perfect way to eat the rainbow.
FYI - Beets Will Stain Your Hands (and more)!
One more thing about beets - they stain! It will come off of your hands with some lemon juice and scrubbing (although you can also wear gloves when peeling them) but be careful with your clothes. And if you have a wood cutting board, line it with a sheet of parchment paper so your wood doesn't stain. 'Cause, trust me, it will.
The stain comes from compounds in beets called betalains. They're also responsible for many of the antioxidant and anti-inflammatory benefits of beets.
Beets will also stain the other vegetables in this slaw. That's just a visual thing - it won't affect the taste. However, if you want it to look all fresh and colorful, serve it immediately after tossing everything together.
Can You Make Beet Slaw Ahead of Time?
I'm a big fan of prepping things ahead of time, especially if you're making this for company, or if you just want a night off from cooking.
You can absolutely make this up to 3 days ahead of time. Keep it in the refrigerator in a covered container. Just be aware once you add the beets, the slaw will begin to turn red. If you want to assemble this beet slaw ahead of time without having it turn completely red, just keep the beets separate and add them, and the dressing right before serving.
Recipe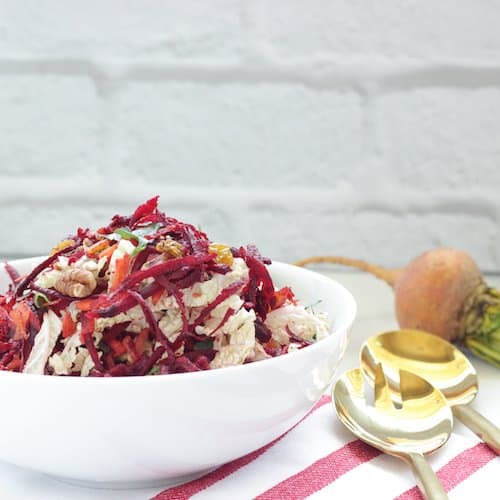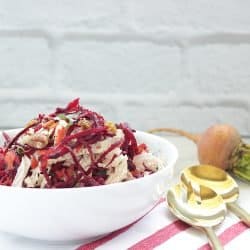 Sweet Carrot Cabbage and Beet Slaw
A delicious, crunchy and colorful salad or side dish
Print
Pin
Ingredients
Dressing
¼

cup

olive oil

3

tablespoons

apple cider vinegar

3

tablespoons

maple syrup

½

teaspoon

onion powder

½

teaspoon

sea salt

½

teaspoon

dijon mustard

1

teaspoon

poppy seeds
Slaw
2

cups

shredded Napa cabbage

packed

1

large

carrot, peeled

1

medium

apple, peeled

2

medium

beets, peeled

¼

cup

raisins

¼

cup

chopped pecans

2

tablespoons

parsley, chopped

3

scallions, chopped or sliced lengthwise
Instructions
To make the dressing, combine the olive oil, cider vinegar, maple syrup, onion powder, salt, mustard, and poppy seeds in a jar. Cover and shake well to combine. Set the dressing aside.

Place the shredded Napa cabbage in a large mixing bowl.

Using a food procesor with a grating blade, shred the carrot and apple. Add them to the mixing bowl with the cabbage.

Shred the beets in the food processor. Add them to the mixing bowl.

Add the raisins, pecans, parsley and scallions to the bowl. Pour the dressing over everything and toss well to combine.
Nutrition
Calories:
319
kcal
|
Carbohydrates:
37
g
|
Protein:
3
g
|
Fat:
19
g
|
Saturated Fat:
2
g
|
Sodium:
388
mg
|
Potassium:
645
mg
|
Fiber:
6
g
|
Sugar:
21
g
|
Vitamin A:
3439
IU
|
Vitamin C:
22
mg
|
Calcium:
95
mg
|
Iron:
2
mg
How do you feel about beets? Are there any other vegetables you wish you could learn to love?
Eat well!