Brussels Sprouts Slaw with Cranberries and Walnuts
This Brussels Sprouts Slaw is a crunchy and fresh way to learn to love this super-healthy vegetable, and get a good dose of cancer-fighting compounds.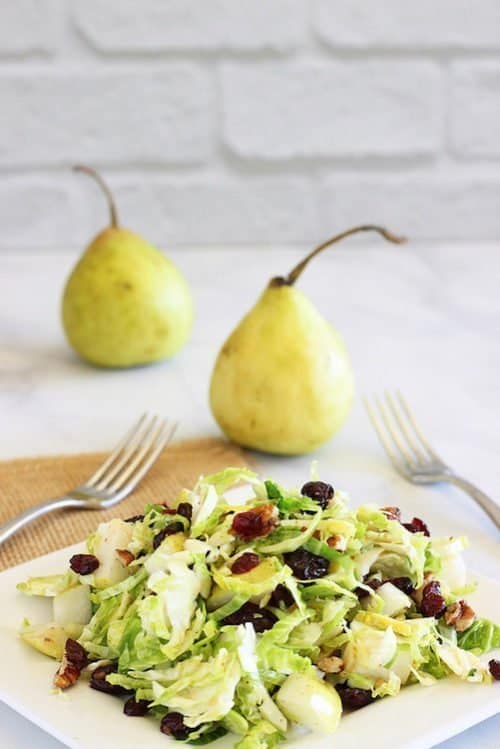 Brussels sprouts are cruciferous vegetables, and cousins to cabbage, broccoli, and cauliflower. While many dislike or won't even go near them because of their strong odor when boiled, Brussels sprouts (and all cruciferous vegetables) are worth a second look. They're high in fiber, vitamins C, K, and folic acid, and many cancer-fighting compounds.  Sulforaphane is the compound in cruciferous vegetables, which accounts for the strong odor. While it might not smell so good when cooked, sulforaphane has been shown to slow the growth of cancer cells, and even cause cell death of many types of cancer cells in lab research.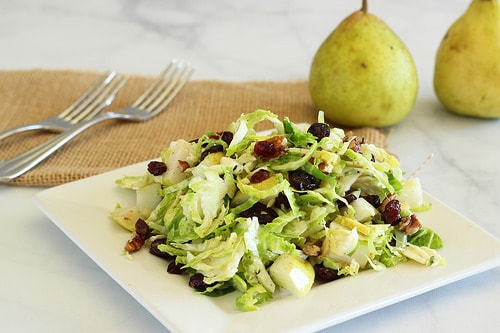 Brussels sprouts, and cruciferous veggies in general, smell (and taste) way worse when boiled and overcooked! SO just don't boil 'em people! To enjoy their flavor, toss with olive oil, salt and pepper and roast in a 400 degree oven until tender, crispy, and caramelized – or eat them raw as in this recipe adapted from the American Institute on Cancer Research.  By the way, their website is an excellent resource for information on cancer research and prevention.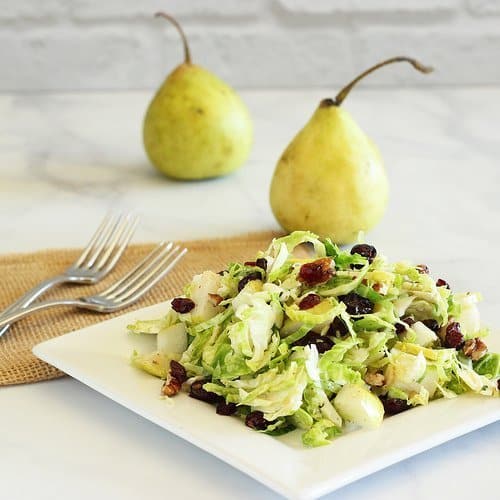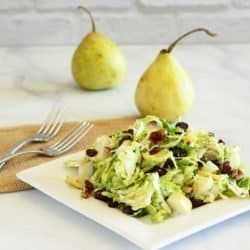 Ingredients
¾

lb

Brussels sprouts

1

ripe pear

cored and diced

⅔

cup

dried cranberries

½

cup

walnuts

toasted and chopped

¼

cup

lemon juice

2

Tbs

extra virgin olive oil

½

teaspoon

dijon mustard

1

Tbs

maple syrup, honey, or sweetener of choice

¼

teaspoon

kosher salt

⅛

teaspoon

freshly ground pepper
Instructions
Trim the bottom from sprouts and remove any loose or bruised leaves.

Shred the Brussels sprouts in a food processor, or cut into thin slices using a sharp knife.

Transfer shredded sprouts to a mixing bowl.

Add pear, cranberries, and walnuts to the sprouts.

Mix lemon juice, olive oil, mustard, sweetener, salt and pepper in a measuring cup and whisk well to combine.

Pour olive oil/lemon dressing over the slaw and toss well.

Cover and refrigerate slaw for at least 30 minutes. Re-stir before serving.

This slaw is best served within 24 hours.
Do Brussels sprouts ever make an appearance in your kitchen?  Here's another of my favorite BS slaw recipes 🙂
Eat well!
SaveSave
SaveSave
SaveSave
SaveSave
SaveSave