These delightfully easy roasted fall vegetables are the perfect side dish for your Thanksgiving or Christmas buffet table. Brussels sprouts, delicata squash, and whole cranberries are roasted to bring out their natural sweetness. And the super-simple balsamic glaze adds a special touch to this simple but elegant side dish.
This no-fuss roasted fall vegetable recipe needs only a handful of ingredients, but it's a real holiday show-stopper.
Recipe Ingredients
I make these roasted vegetables with just a few ingredients:
Brussels sprouts. They're a must for fall and especially Thanksgiving! For the freshest Brussels sprouts, look for the ones still on the stalk. If you can't find those, choose Brussels sprouts that are firm, with tight, green leaves. And use fresh instead of frozen ones for this recipe. You'll get a much better crispy texture when they're cooked.
Delicata squash. I love it because it's so easy (keep reading to learn why). If you can't find Delicata, cubed Butternut squash is a good substitute. Again, use fresh, not frozen, for a better texture in this recipe.
Fresh cranberries. They soften nicely when they cook, and they add a nice tangy flavor. Since they'll soften quite a bit, it's OK to use frozen cranberries if you can't find fresh ones. If you want to use dried cranberries, don't roast them. Add them in after the other vegetables are roasted because they'll burn. Keep in mind that dried cranberries are sweetened.
The easy Balsamic glaze is made with Balsamic vinegar and a bit of brown sugar. The vinegar becomes a bit sweet as it cooks down (I like it a bit sweeter, so I add brown sugar). But if you're limiting sugar, you can skip the brown sugar. Or use Swerve brown sugar substitute.
That's it! Just toss the vegetables in olive oil and sprinkle with salt and pepper. Everything gets roasted together on one sheet pan.
The Best Way to Cook Brussels Sprouts
Brussels sprouts are one of those love 'em or hate 'em vegetables. I'll admit, I don't eat them often enough. I love to eat them raw, in a shaved Brussels sprouts salad.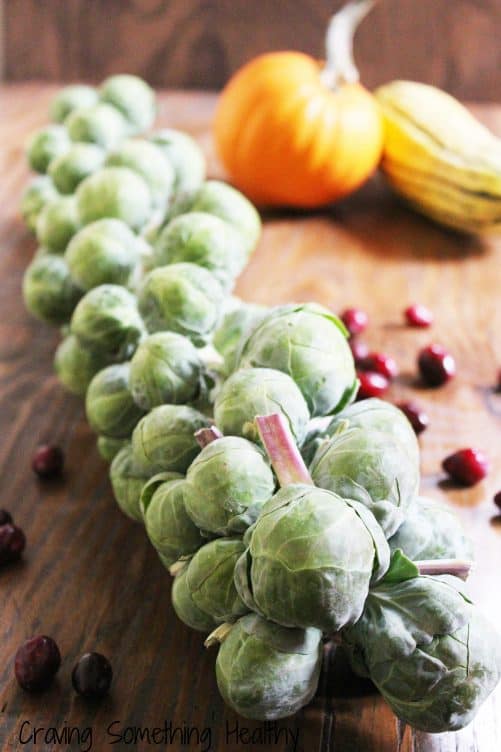 But like so many others, I don't often cook them because I still remember them smelling up the house as they boil!
The trick with Brussels sprouts is to roast them. Toss them in a little olive oil and sprinkle them with a pinch of salt. Then roast them in a nice, hot oven — about 400 or 425ºF.
Roasting allows them to get a little bit (or a lot) crispy and caramelized, and then they're kind of sweet and crunchy/crispy.
Brussels sprouts are also one of the healthiest vegetables you can eat because they fall into the cruciferous category. Other cruciferous vegetables include cabbage, broccoli, cauliflower, kale, bok choy, and arugula, and they all have many cancer-fighting phytochemicals.
How to Cook Delicata Squash
Delicata squash is a small-sized winter squash that's long, thin, and has green or orange stripes. I love it because of its soft skin that's so easy to cut through.
It's so much easier to work with than butternut or acorn squash. But it's just as delicious.
It looks large in this photo, but a delicata squash is only about six to eight inches long by about three inches wide.
What I love best about delicata squash is that you don't have to peel it. When roasted, the skin softens so nicely that you don't even know it's there. You can eat it right along with the flesh.
Cut the squash in half lengthwise and scoop out any seeds. Then cut each half into ½-inch wide slices. It's important to cut the slices fairly thin. That way, they'll take just as long to roast as the Brussels sprouts, and everything will be done at the same time.
Delicata squash tastes best tossed with a little olive oil, salt, and pepper and roasted in a hot oven. The heat helps caramelize the squash's natural sugars, making it a bit sweet and crispy around the edges.
Just like the Brussels sprouts. It's like they were made for each other!
The roasted Brussels sprouts go nicely with delicata squash. And the whole cranberries add a beautiful pop of color and sour tang.
The balsamic syrup adds a lovely hint of rich sweetness to balance out all of the flavors. I like to toss in fresh pomegranate arils and a handful of salty roasted pumpkin seeds before serving. They provide some crunch and an interesting texture against the softer, cooked vegetables.
This is a perfect vegetable side dish for fall and Friendsgiving or Thanksgiving. It's got ALL the flavors and colors of the season.
Can You Roast The Vegetables Ahead of Time?
If you're like me and like to have everything prepped (and, if possible, cooked) for Thanksgiving dinner, you can make these vegetables ahead of time. Here are some tips.
Roast the vegetables and cranberries until they're mostly cooked (about 20 minutes). Remove them from the oven and let them cool. Store them in an airtight container in the refrigerator for up to 2 days. If possible, try to place them in layers, so they maintain their shape.
Prepare the balsamic glaze and store it in a small jar in the refrigerator.
When you're ready to reheat them, lay them in a single layer on a baking sheet and place them in a hot oven (400ºF). Reheat them for 10-15 minutes or until evenly hot.
Bring the balsamic glaze to room temperature by running the jar under hot water or microwaving it (without the lid) for 15-20 seconds.
Drizzle the glaze over the vegetables just before serving. Top with the pumpkin seeds and pomegranate arils.
Favorite Thanksgiving Recipes
Looking for more Thanksgiving or holiday recipes? Start here.
Recipe
Roasted Fall Vegetables
A quick and easy side dish for fall or Thanksgiving featuring Brussels sprouts, delicata squash, and whole cranberries.
Print
Pin
Ingredients
1

pound

Brussels sprouts

ends trimmed and outer leaves removed

1

medium

Delicata squash

halved lengthwise, seeded and cut into 1-inch pieces

1 ½

cups

fresh cranberries

about half of a bag

2

Tbs

olive oil

Kosher salt and pepper

½

cup

balsamic vinegar

2

tablespoons

brown sugar

2

tablespoons

roasted pumpkin seeds

3

tablespoons

fresh pomegranate arils
Instructions
Preheat oven to 400 degrees.

Rinse all vegetables and cranberries well, pat dry and place in a large mixing bowl. Drizzle olive oil over all, and season liberally with salt and pepper. Toss well to coat with oil and seasoning.

Transfer brussels sprouts, squash and cranberries to a baking pan, so that everything is in a single layer.

Roast for about 30 minutes or until brussels sprouts turn brown and crisp in spots, and the squash has golden brown spots. Turn vegetables after about 15 minutes to cook evenly.

While vegetables are roasting, mix balsamic vinegar and brown sugar in a small saucepan and bring to a boil. Reduce heat and simmer for 10-12 minutes, or until mixture thickens and turns to a syrup consistency.

Let vegetables and cranberries cool a bit, and drizzle with balsamic syrup.

Sprinkle with roasted pumpkin seeds and pomegranate arils before serving.
Notes
Recipe adapted from The Pioneer Woman
To prepare this recipe ahead of time, roast the Brussels sprouts, squash, and cranberries and let them cool. Store them in an airtight container for up to 2 days. Prepare the balsamic glaze and store it in a jar with a lid.
Reheat the vegetables at 350 ºF for 10-15 minutes or until they're evenly hot. Bring the balsamic glaze to room temperature (or heat it in the microwave for about 20 seconds. Drizzle the balsamic glaze just before serving.
Nutrition
Calories:
120
kcal
|
Carbohydrates:
19
g
|
Protein:
3
g
|
Fat:
4
g
|
Saturated Fat:
1
g
|
Polyunsaturated Fat:
1
g
|
Monounsaturated Fat:
3
g
|
Sodium:
25
mg
|
Potassium:
479
mg
|
Fiber:
4
g
|
Sugar:
9
g
|
Vitamin A:
1213
IU
|
Vitamin C:
58
mg
|
Calcium:
49
mg
|
Iron:
1
mg
What's your favorite Thanksgiving veggie side dish? Do you like Brussels sprouts?
Eat well!