Lemon Thyme Roasted Vegetables
What's the one thing you think you should be eating more of? I'm going to guess the answer is vegetables. If so, you're not alone. I don't think there's a person on this planet who doesn't know that vegetables are good for us (OK that's an exaggeration. There are a few, but most of us know this fact). Eating lots of vegetables every day helps us to look and feel better, it keeps us healthier, and now a recent study suggests that vegetarians might even live longer.
I'm not a vegetarian by any means, but I do try to eat my veggies every day. Some days I eat lots, especially when I prepare a meatless dinner, and some days, I'll admit, I don't get nearly enough. I'm hoping it all evens out in the end.
Since vegetables contain much less starch or sugar than fruits, they don't give us quite the same sense of pleasure and satisfaction from eating them. I know lots of people who just plain don't like them, but force themselves to eat them. I've also met lots of people who just refuse to eat them because they really hate them. Sorry, but I don't buy that. You can't possibly hate an entire food group.
When I run into "vegetable haters" I start to run down the list, and inevitably, there's always at least one or two that they can put up with. When I ask how they prepare their vegetables, the answer is always the same. Boil. Well no duh! I'll have a large bowl of olive green colored, limp and soaking wet broccoli and brussels sprouts please. Said NO ONE ever!
If you're a "vegetable hater", please choose 2 or 3 vegetables you like (I know there are some), and try roasting them. Roasting your veggies brings out the natural sugars and makes them sweet and tender. If you roast at a high heat, the sugars will start wo caramelize and you'll get lovely little brown spots, which are sweet and crunchy and oh so delicious. If you add a few herbs or garlic cloves, or slices of citrus, to the mix, you'll take your vegetables to a whole new level. You might even turn into a veggie lover! 🙂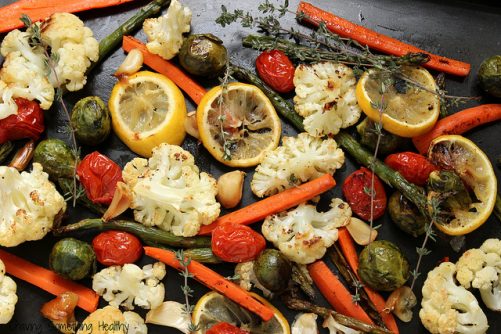 The key to roasting vegetables is to make sure they are all about the same size so they roast evenly.  Feel free to substitute any vegetables for this recipe.  And if you double it, you'll have less work for tomorrow!
And if you're still struggling with making peace with vegetables, try my Mixed Vegetable Casserole. It's got a creamy, cheesy sauce that everyone loves!
.
Recipe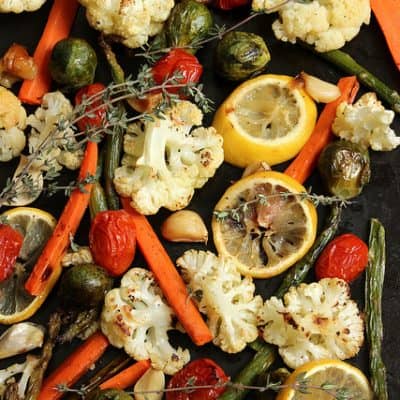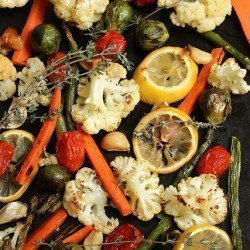 Lemon Thyme Roasted Vegetables
Easy, flavorful sheet pan roasted vegetables
Print
Pin
Ingredients
1

head of garlic

cloves split apart, unpeeled

3

large

carrots

½

pound

asparagus

½

head cauliflower

12

brussels sprouts

1

cup

cherry or grape tomatoes

1

fresh lemon

3

tablespoons

olive oil

Kosher salt

Fresh ground pepper

3-4

sprigs fresh thyme or ½ teaspoon dried thyme leaves
Instructions
Line a baking pan with foil or parchment paper for easier cleanup.

Place the garlic cloves in a small piece of foil, and wrap lightly to enclose them, but don't seal the package. Drizzle with 1-2 teaspoons olive oil. Place on the foil packet on the baking sheet and let roast for 30 minutes while you prepare the remaining vegetables.

While garlic cloves are roasting, clean, peel and trim vegetables:

Slice carrots into strips, ½ inch wide by 3 to 4-inches long.

Snap tough ends off asparagus.

Trim tough ends off of brussels sprouts, and cut in half if they are large.

Trim cauliflower into 2-inch florets.

Keep tomatoes whole.

Slice half the lemon into slices, and reserve the remaining half.

Place all vegetables and lemons into a large mixing bowl, and drizzle with remaining olive oil, and sprinkle with salt and pepper.

Spread vegetables onto the baking pan in a single layer, and leave packet of garlic cloves on the pan.

Increase the oven temperature to 400 degrees.

Roast vegetables and garlic for 20 minutes, or until tender, turning them occasionally, so they cook evenly.

When vegetables are tender, remove from the oven, and sprinkle thyme leaves over all. Let garlic cloves sit until cool enough to handle, and then remove the skins. Leave them whole, or gently mash.

Toss garlic and thyme with vegetables, and if desired, add an additional squeeze of fresh lemon juice.
Notes
Serve warm or at room temperature.
Store leftovers in an airtight container in the refrigerator for 1-2 days.
Nutrition
Calories:
123
kcal
|
Carbohydrates:
14
g
|
Protein:
4
g
|
Fat:
7
g
|
Saturated Fat:
1
g
|
Polyunsaturated Fat:
1
g
|
Monounsaturated Fat:
5
g
|
Sodium:
53
mg
|
Potassium:
567
mg
|
Fiber:
5
g
|
Sugar:
5
g
|
Vitamin A:
6736
IU
|
Vitamin C:
76
mg
|
Calcium:
58
mg
|
Iron:
2
mg
Are you a lover or a hater? Tell me why!
Eat well!