Simple Blue Cheese Vinaigrette Salad Dressing
If you love blue cheese vinaigrette salad dressing but want a simple, healthier version that you can make at home in just a few seconds— this recipe is for you!
This dressing is still creamy, but it's lighter than bottled and many other homemade blue cheese dressings because it doesn't have mayonnaise or sour cream. What it does have is a perfect combination of tangy vinegar and blue cheese (also called bleu cheese). And the best part is - you only need four ingredients to make it.
Truth be told, I'm kind of lazy about making my own salad dressing, even though I 100% know that almost all bottled dressings have:
Not the healthiest oils, like soybean or corn oil
Thickeners like gums
Preservatives like EDTA and sodium benzoate
Sweeteners like sugar, corn syrup, or high fructose corn syrup
More salt than you need
But unless it's a simple vinaigrette, it's a pain to make your own, right?
I always thought so until I checked three different stores and could no longer find my favorite Blue Cheese Vinaigrette dressing. Anywhere.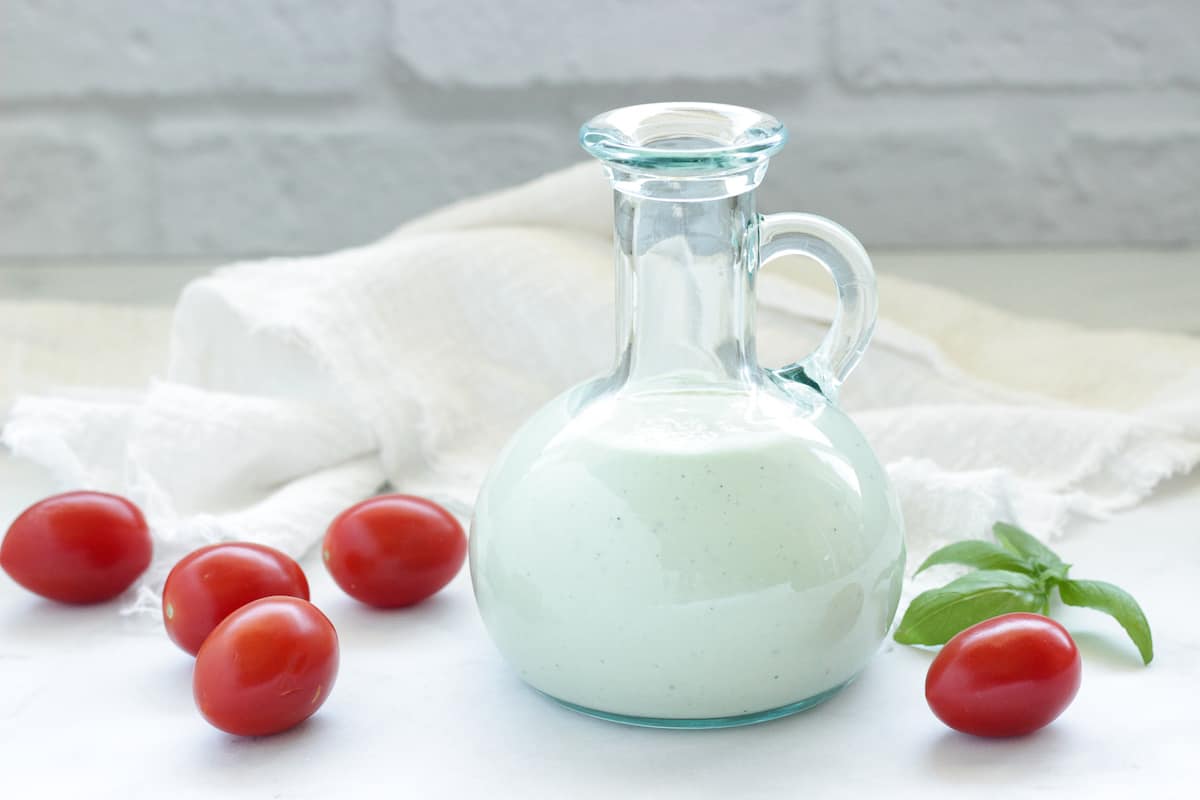 So, after I panicked for a few minutes, I did what any good dietitian food blogger would do. I bought some blue cheese, pulled out my NutriBullet blender (so much better for small batches of salad dressing), and got to work.
And I've gotta say - I nailed it with this simple recipe. It's SO good that I put it on everything.
It's positively heavenly to dress my favorite BLT salad. Or a plate of fresh sliced tomatoes with a sprinkle of bacon. Or a strawberry spinach salad.
I've even added a drizzle to my turkey, tomato, and avocado sandwich. SO good.
Recipe Ingredients and Substitutions
I never buy bottled blue cheese dressing anymore because this is so easy to make with just a handful of pantry staples (just remember to buy blue cheese) and about 30 seconds in the blender.
Blue cheese is key, of course, to any good blue cheese salad dressing. You don't have to buy top-quality imported blue cheese, but I wouldn't get inexpensive generic blue cheese crumbles either. My personal preference is Gorgonzola dolce, which is soft, creamy, and a little bit sweet.
There are A LOT of varieties of blue cheese out there, and you can't go wrong with any good quality blue cheese. Use any of these common varieties depending on your taste:
Danish Blue (Danablu) is similar to Gorgonzola Dolce in that it's soft, creamy, and milder flavored. Danish Blue and Gorgonzola Dolce are good choices if you like your blue cheese vinaigrette dressing on the creamy side because they blend smoothly.
Regular Gorgonzola (sometimes labeled Gorgonzola Picante) is a but more pungent and savory. It's aged longer than Gorgonzola Dolce, so it has a slightly drier, crumbly texture.
Stilton is a medium-flavored blue cheese with a nutty, earthy flavor and a soft crumbly texture.
Roquefort is a stronger, more pungent, peppery blue cheese. It tends to have large areas of blue veining throughout. Roquefort tends to have a soft crumbly texture like Stilton. Any crumbly cheeses are good choices if you like a blue cheese vinaigrette that's less creamy and has bits of blue cheese throughout.
I always use white wine vinegar. Champagne vinegar is also nice in this recipe. If you prefer a little bit of fruity sweetness, try apple cider vinegar. I don't recommend white vinegar, which can be too harsh, or balsamic, which can be too fruity. Regular balsamic vinegar will also turn your blue cheese dressing brown.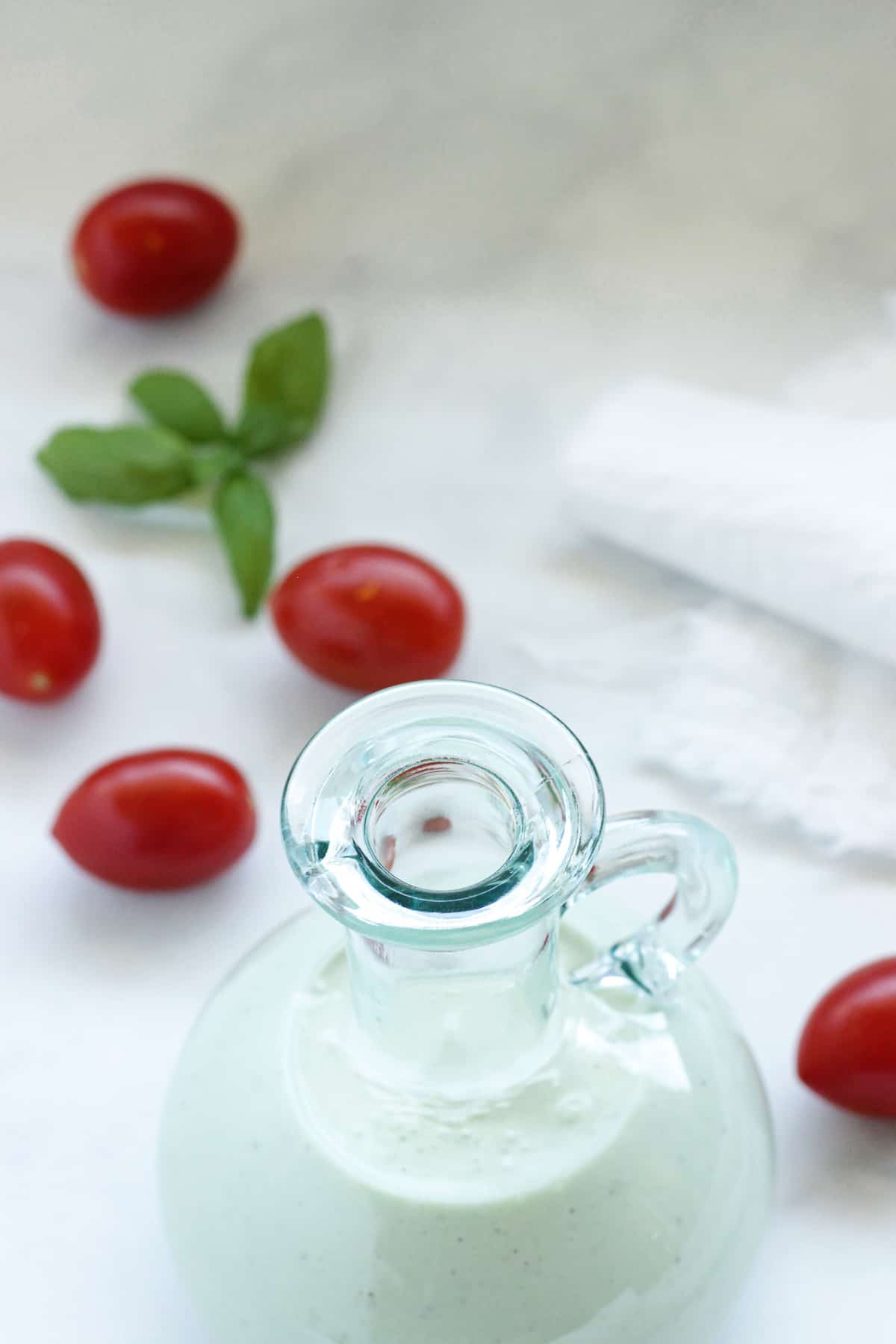 Either onion powder or fresh minced onion works. I like to keep this dressing super simple, so I use just a little bit of onion powder instead of fresh onion. But if you prefer fresh onion, feel free to swap it. You only need about a teaspoon of minced onion if using fresh onion. Mince it and then blend it with the other ingredients to ensure you don't get any chunks of onion in your dressing.
Creamy or Chunky?
The beauty of homemade salad dressing is that you can make it any way you like. I prefer mine smooth and creamy, so I blend all of the ingredients together until they're smooth. You can add a tablespoon or two of water at the end to get the desired consistency.
But if you prefer a blue cheese vinaigrette with bits of cheese throughout, blend the oil, vinegar, onion powder (or onion), salt, and pepper first, and then either crumble in the cheese by hand or pulse it just a few times with the blender, leaving some solid pieces.
Recipe FAQs
Is this blue cheese dressing keto-friendly?
Yes. This blue cheese dressing is keto-friendly. It has no added sugar, only 1g of carbohydrate, and 22g of fat per serving. Many bottled (and homemade) dressings have added sugar so if you need one low in carbs, check the label.
How long can you store this dressing?
This dressing is best used the day you make it, but you can store leftovers in a jar with a tight-fitting lid for up to 3 days. If it separates, shake the jar or whisk it.
Can pregnant women eat homemade blue cheese dressing?
Pregnant women can get seriously sick from a foodborne illness called listeriosis. Listeria bacteria can grow in raw milk or soft cheeses. Some imported blue cheese (like Roquefort) is not pasteurized, so you SHOULD NOT eat those if you're pregnant. The CDC advises pregnant women to avoid soft cheeses, including blue cheese.
Is blue cheese salad dressing heart healthy?
It depends on the ingredients. Blue cheese has some saturated fat, but much research suggests saturated fat from dairy foods doesn't hurt cholesterol levels. Salad dressings made with olive oil and simple spices are most often heart-healthy, whereas those with soybean oil and artificial ingredients are not heart-healthy.
Can you use this dressing as a vegetable dip?
This vinaigrette dressing makes a delicious vegetable dip. To make it thicker, don't add any water. You can also add an extra ounce or two of blue cheese and a scoop of Greek yogurt to thicken it and make it more dip-like.
More Salad Dressing Recipes
Inspired to make your own salad dressing? Don't miss these other homemade salad dressing recipes.
Recipe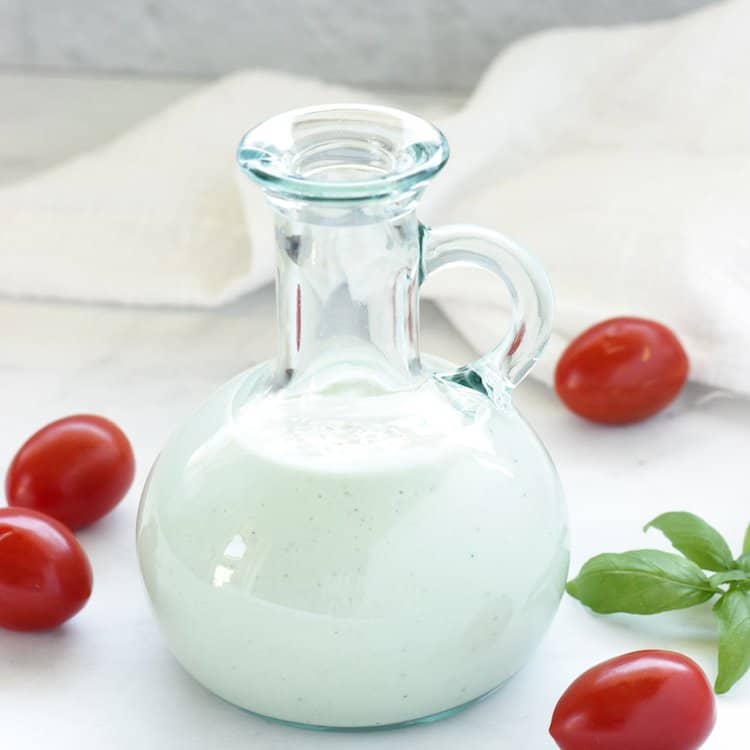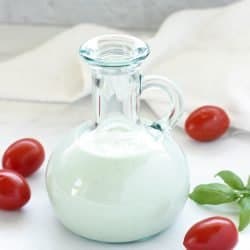 Simple Blue Cheese Vinaigrette Salad Dressing
A fast and easy homemade Blue Cheese Vinaigrette Salad Dressing
Print
Pin
Ingredients
5

tablespoons

olive oil

3

tablespoons

white wine vinegar

2

ounces

blue cheese

¼

teaspoon

onion powder

pinch

sea salt and ground pepper

2

tablespoons

water

more or less to achieve the desired consistency
Instructions
Combine the olive oil, vinegar, onion powder, and blue cheese in a bullet blender or mini food processor and blend until smooth.

Taste and season with salt and pepper. If the dressing is too thick, add water, 1 tablespoon at a time until you achieve the desired consistency.

Store leftover dressing in a small jar for up to three days.
Notes
If you prefer a non-creamy dressing, blend all of the ingredients EXCEPT for the blue cheese. Crumble the cheese in by hand, or add it to the blender and just pulse once or twice to break it up.
This dressing is best served immediately but you can store it in the refrigerator in a jar for up to 3 days. If it separates, shake the jar, whisk, or blend it.
Nutrition
Calories:
207
kcal
|
Carbohydrates:
1
g
|
Protein:
3
g
|
Fat:
22
g
|
Saturated Fat:
5
g
|
Cholesterol:
11
mg
|
Sodium:
199
mg
|
Potassium:
36
mg
|
Sugar:
1
g
|
Vitamin A:
108
IU
|
Calcium:
75
mg
|
Iron:
1
mg
Do you usually make your own salad dressing?
Eat well!