How to Make Foolproof Fruited Sun Tea
Sun tea (also called cold-brewed tea) is my favorite way to drink tea because it's so much smoother and less bitter than hot tea. Learn how easy it is to brew a perfect pitcher of Sun Tea (naturally sweetened with fruit if you like), even on the cloudiest day and even in the dead of winter.
Keep a pitcher in your fridge to enjoy tea's refreshing and delicious health benefits all year round.
I was never much of a tea drinker in my younger days because I've never loved hot tea's bitter, astringent taste. And growing up, we only had powdered and super-sugary iced tea from a canister. That kind of iced tea has not been on my beverage menu in a LONG time!
I discovered iced sun tea several years when I participated in the American Institute for Cancer Research (AICR) New American Plate (NAP) Challenge. It's a 10-week online challenge to improve your diet and lifestyle to reduce your cancer risk. I highly recommend the NAP challenge if you're unfamiliar with it.
Plain (unsweetened) tea got me off my cranberry juice and "occasional" Dr. Pepper fix (yes, it's true!). Tea is also a great way to reduce cancer risk. Not only does it cut out sugary beverages (which ups your risk), but also, tea is packed with antioxidants that protect your cells from damage that can lead to cancer.
Jump to:
What is Sun Tea?
Sun tea is tea brewed with cold water instead of hot water. Wait. What? If you've ever dropped a tea bag in a pitcher or glass of cold water, you might notice that nothing much happens.
But if you place that pitcher or glass in the sun, you'll see streaks of tea start to escape into the water within a few minutes. The sun helps heat your water a bit, encouraging your tea to brew.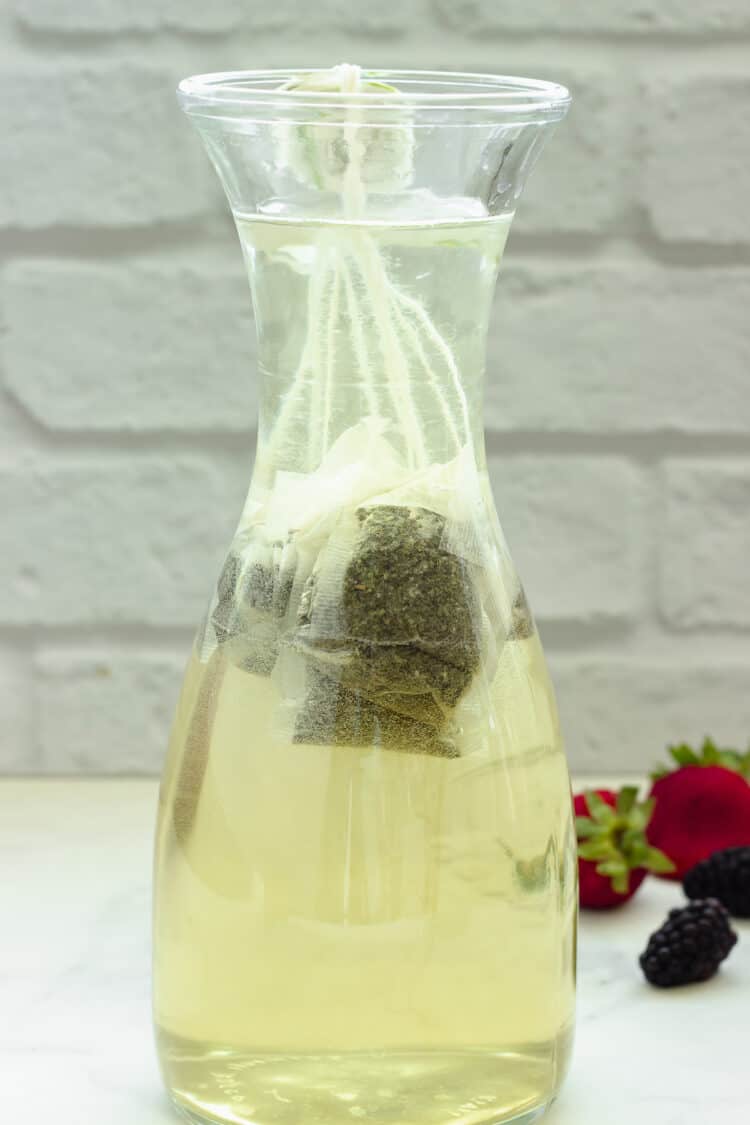 Sun tea is an old-school way to brew a large pitcher of tea that's ready to pour over ice and quench your thirst all day long.
Cold Brewed Tea vs. Hot Tea
All types of tea have tremendous health benefits. Green tea, in particular, has compounds called catechins, which can kill cancer cells or slow their growth. Hibiscus (herbal) tea is high in polyphenols which help reduce blood pressure. Other herbal teas have compounds that can support your immune system and blood sugar.
You will get these benefits whether you drink your tea hot or iced.
Of course, if you want iced tea, you could brew hot tea and add ice or chill it in the refrigerator. But the main difference between hot and cold brewing methods is the flavor. Cold-brewed or sun tea is less bitter and astringent than tea brewed with hot water. I prefer the smooth taste of sun tea, which encourages me to drink more tea.
Another important difference between hot and cold brewed tea is brewing time. Hot green or black tea brews quickly — in about 4 minutes because the heat helps release the flavor and health compounds from the tea leaves. Hot herbal teas take a little bit longer. Most manufacturers recommend 10-15 minutes for hot herbal tea. After that time, you'll have extracted most of the flavor and antioxidants.
Cold-brewed tea takes significantly longer to brew. According to the research, if you want to capture as many antioxidants as possible, you should let tea brew in cold water for about 12 hours.
I'm OK with a shorter brew time because I hate to wait. So I go by the color. When the color looks right, it's done. That often takes about four hours, but it depends on your method and how much sun you have.
How to Safely Brew Sun Tea
Sun tea is kind of a misnomer because, believe it or not, you don't need the sun to make sun tea. Crazy, right?!
Sun helps to heat your water, so your tea will brew faster. If you have it, feel free to use the sun. You can place your pitcher outside in direct sunlight if you like. But I think it's easier and safer to put it on a counter near a sunny window.
Here's why: Depending on the temperature outside, the sun can warm your water to 90ºF or more within a few hours. While that helps your tea brew faster, it's also warm enough for bacteria to grow. Here in Arizona, it's easily 110º outside in the shade in the summer, so that's a concern with true sun tea that's brewed in the hot sun.
Therefore, I prefer to make sun tea inside, where it's air-conditioned in the summer. If you start with cold water, your water temperature won't get that high, reducing the risk of bacteria growth.
And about the whole "sun" thing. You can still cold brew your tea on a cloudy day or in a not-so-sunny window. It will just take a little bit longer. I find in a sunny window my tea is ready in 2-3 hours, while in a shady spot, it takes about 4 hours.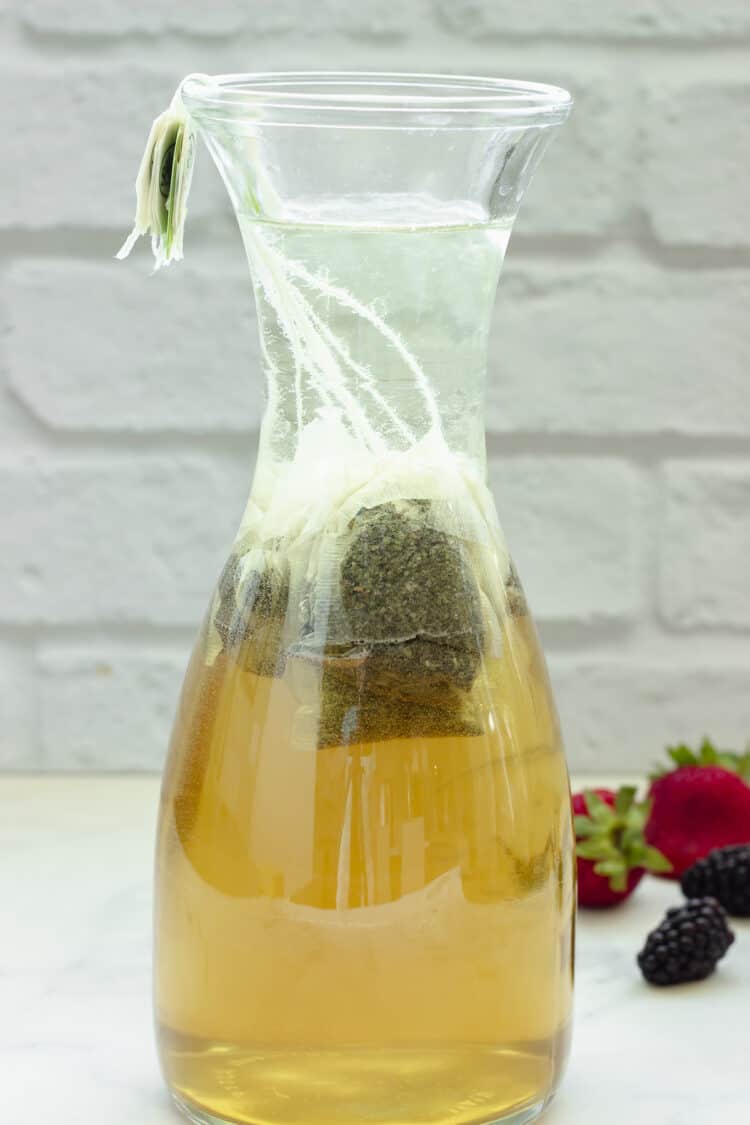 You can also brew your tea in the refrigerator if you have extra time. Since the water will start and stay cold there, it will take closer to 6 hours in the refrigerator, although it's fine to let it brew for up to 12 hours. The refrigerator method is the safest way to brew sun tea (or cold brew tea).
Making your tea at night is ideal because it will be perfect by morning.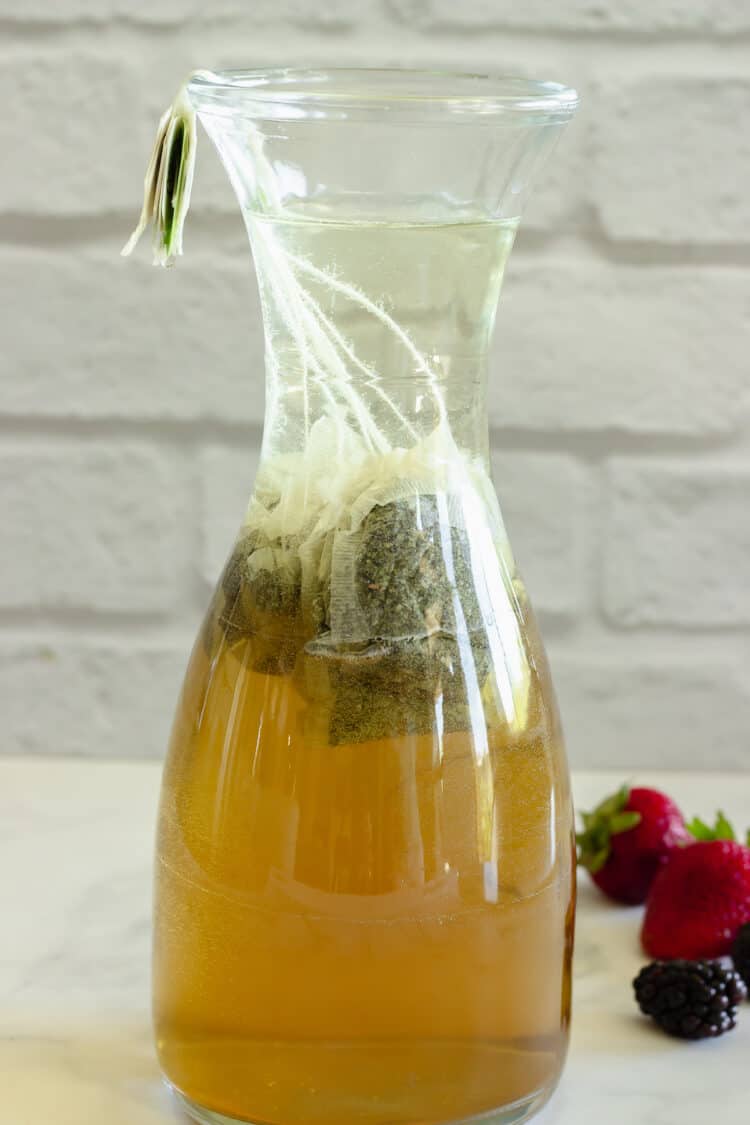 Which Fruit To Use
You don't have to add fruit to your iced tea, but I think a little bit of fruit enhances the flavor and makes your glass of tea more refreshing. It's also a nice way to take advantage of those fresh, seasonal fruits.
If you're planning to finish the pitcher quickly, say, within an afternoon, feel free to add fresh fruit directly to the pitcher. But if you'll be sipping your tea over the course of a few days, I recommend adding fruit to your glass just before serving. The reason is that the fruit will begin to soften once it's in the tea, and if it sits too long, it will get slimy. That turns your delicious glass of tea into yuck.
You only need a small amount of fruit for each glass — up to ¼ cup of cut fruit for a 12-ounce glass is plenty. When you add fruit to your glass, mash it with a muddler. It's a handy tool to have on hand for mashing things into a glass or small bowl.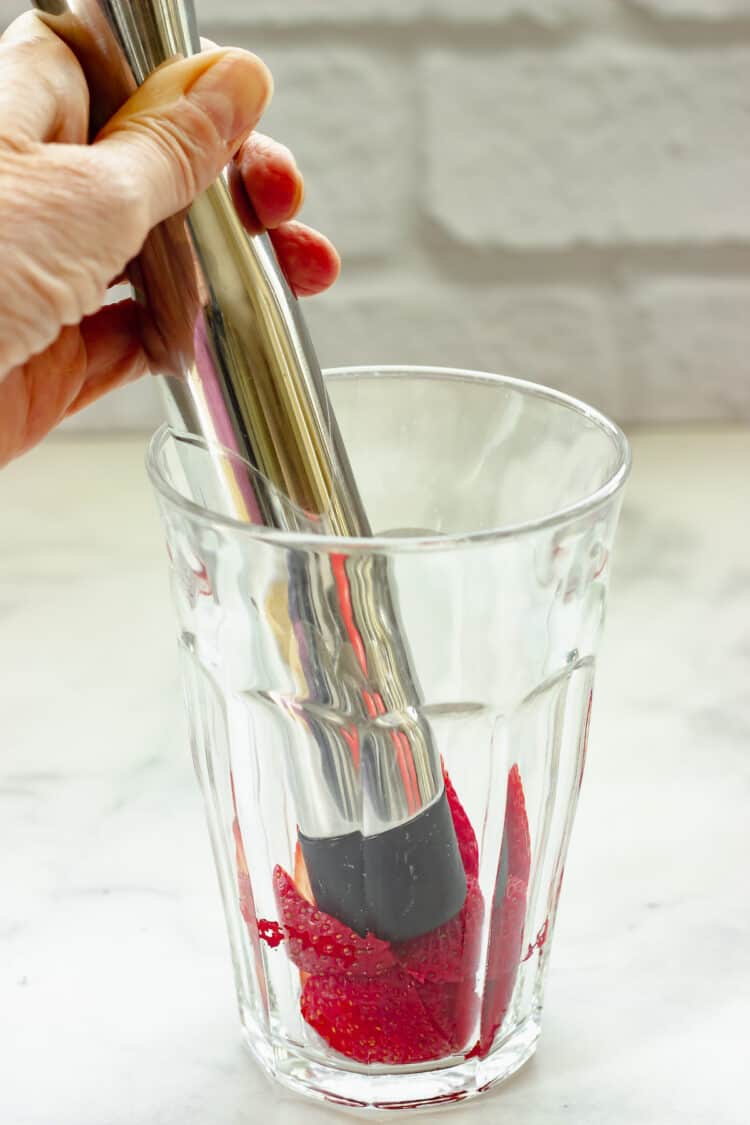 Here are some of my favorite fruits to flavor sun tea (and some herbs and other seasonings too). Make sure you rinse your fruit before adding it to the tea.
Fresh berries like strawberries, raspberries, blueberries, or blackberries (basil is delicious with berries)
Peaches or nectarines (no need to peel, just slice them up (Thai basil is great with these)
Citrus fruits like oranges, grapefruit, lemon, or lime (try a sprig of fresh rosemary or slices of fresh ginger with these)
Melon like cantaloupe or honeydew (mint partners well with these)
Apples (a few whole cinnamon sticks are nice with apples)
Feel free to experiment with your favorite fruit. The flavor will be mild, so you really can't go wrong.
Dos and Don'ts
Regardless of which cold brew method you choose, these tips will ensure a perfect pitcher of tea every time.
Always use cold, filtered water. It's the base of your tea, so quality counts. As mentioned, warm water might encourage bacteria growth. And unfiltered water straight from the tap might impart an off-flavor if your water supply is noticeably high in chlorine or certain minerals.
Avoid plastic containers. Use a glass pitcher, mason jar, or container instead. Plastic can also transfer off-flavors to your tea. Many plastic containers contain BPA, a compound linked to endocrine disorders.
Use one tea bag per cup of cold water, But if you plan to add ice (why wouldn't you?!), use 2 tea bags per cup of water. That ensures your tea has enough flavor to stand up to the ice. If you're using a quart pitcher, you'll need 8 tea bags. For a full gallon container, you'll need 32 tea bags.
Tie your tea bags together at the top. Trust me. It's no fun having to fish stray tea bags out of your tea. And even worse if a bag breaks open while trying to remove it.
Since brewed tea only lasts a day or two, only make what you'll drink within that time. No need for those fancy gallon containers if you're making it for yourself!
Green or black tea is a good base, but experiment with adding a few herbal tea bags too. I love hibiscus, turmeric, ginger, and lemongrass tea. My favorite iced tea contains a mix of green, black, and herbal teas.
Don't add sweetener, fruit, or herbs to your tea pitcher. Instead, add them to the glass when serving. All can encourage the growth of bacteria, so it's important to avoid adding them to the pitcher unless you plan to drink all of your sweetened/seasoned tea the same day.
Store your plain (unsweetened/unseasoned) brewed tea in the refrigerator and use it within 2-3 days.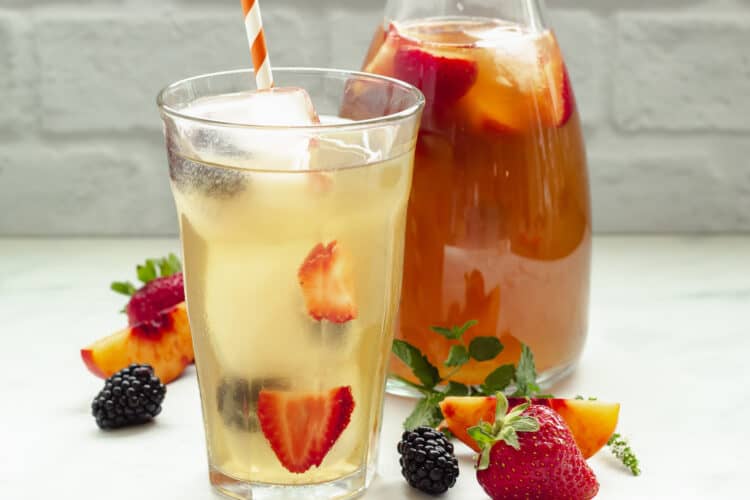 Questions And Tips
What's the best sweetener for cold brewed tea?
If you want to sweeten this tea, you can use a liquid sweetener like honey, organic agave syrup, or simple syrup (equal parts sugar and water heated until the sugar dissolves). Regular sugar won't dissolve well in cold tea. You can also use Monkfruit, erythritol, or stevia for a no-calorie way to sweeten your tea. These are usually finer than sugar and should dissolve, but you find it doesn't easily dissolve, mix it with a teaspoon of warm water and then add it to your tea.
Make sure you add your sweetener to the glass instead of the pitcher. That allows each person to sweeten to taste and helps your tea last longer in the refrigerator.
What else can I add to flavor my tea?
If you want to limit sugar, try adding some fresh fruits and/or herbs from the list above. My favorites are strawberries or other fresh berries, peaches, and nectarines. Lemon and orange slices are classic flavors for tea. Ginger and fresh herbs like mint, lemon thyme, or basil are also delicious. These add natural sweetness and a hint of fruit flavor.
When should you add fruit or herbs o your tea?
Fresh fruit or herbs impart fresh flavors to your tea. I recommend adding these to your glass and muddling them (using a tool called a muddler). Add the ice next, and pour the tea over everything.
What's the best tea to use for sun tea?
Any tea that you like to drink is great for sun tea! I do recommend using organic tea if available and within your budget. Tea leaves are often treated with pesticides, which are concentrated when the leaves are dried. I love to mix and match herbal and green or black tea. My favorites include hibiscus, lemongrass, ginger, and spearmint tea.
Recipe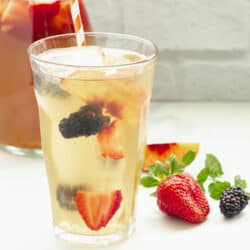 Foolproof Fruited Iced Sun Tea
A deliciously refreshing beverage that's packed with health benefits
Print
Pin
Ingredients
8

tea bags

black, green, or herbal tea

4

cups

cold water

Fresh fruit - cut into small pieces

(optional - any combination of strawberries, orange, peach, raspberries, nectarine)

fresh herbs and fresh ginger slices

optional
Instructions
Tie tea bags together to make it easier to remove them from pitcher.

Fill pitcher or jar with cold water and place tea bags inside.

Place pitcher on the counter for about 4 hours until tea is fairly dark in color. Or, place the pitcher with tea bags in the refrigerator for 6-12 hours to brew.

To serve, place several pieces of fruit and herbs if desired in the bottom of each glass. Using a muddler, or a wooden spoon, mash the fruit to release the juice.

Fill the glass with ice and pour the tea over.

Add ice to each glass, and brewed tea.
Notes
Store brewed tea in a covered container in the refrigerator for up to 3 days.
Nutrition facts include ¼ cup fresh fruit per serving. 
Nutrition
Calories:
3
kcal
|
Carbohydrates:
1
g
|
Protein:
0.1
g
|
Fat:
0.03
g
|
Saturated Fat:
0.003
g
|
Polyunsaturated Fat:
0.01
g
|
Monounsaturated Fat:
0.01
g
|
Sodium:
12
mg
|
Potassium:
14
mg
|
Fiber:
0.2
g
|
Sugar:
0.4
g
|
Vitamin A:
1
IU
|
Vitamin C:
5
mg
|
Calcium:
9
mg
|
Iron:
0.04
mg
Do you have any favorite sun tea flavors? Please share!
Eat well!